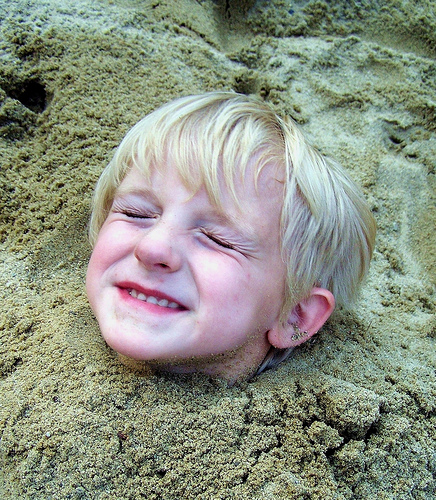 Some people might tell you you're crazy for bringing along your baby or small child on a trip, and they do have a point—it can sometimes feel more like a change in scenery rather than a true vacation, since obviously a baby or toddler needs a great deal of daily care, not to mention all the stuff you need to bring with you.
But let's say you're adventurous and don't want to let parenthood cramp your desire to explore and see new places. So you've decided to be brave and go on vacation with a young child. After figuring out flights or car drives (hopefully not too many hours) you need to decide where to stay, unless you're lucky enough to be staying with friends whose house accommodates a baby or toddler. Should you rent via Airbnb or book a hotel? Many might opt to rent a house or apartment via Airbnb, HomeAway or other rental service, and there are some pluses:
Usually more space than a hotel room
Full kitchen and sometimes laundry, giving you the option to prepare food and do laundry yourself, at no extra cost
Often more choices if you're outside a major city or tourist destination
More personal, perhaps with great local tips, if it's from the owner directly, rather than an agency
Can be cheaper than a hotel in the same area
There are several advantages hotels, especially nicer hotels have, however, and that's why I've picked them every single time traveling with my baby and now toddler:
Consistent level of quality and bed comfort: My husband and I consider that the most important thing wherever we stay is a good night's sleep. Seems obvious, right? On vacation, we want to be especially rested, especially since our days are so active running after a toddler, and yet so many vacation rentals and even some ostensibly upscale B&Bs have too hard, old, lumpy or otherwise uncomfortable beds. If we stay at the Westin or splurge on a 5-star property such as the Four Seasons, we know the bed there will be comfortable and we'll get a great night's sleep.
Crib: All good hotel chains have a crib available for our child, whereas it's the rare vacation rental or B&B that would have one.
Blackout drapery: it's a fact: kids (and adults, for that matter) sleep better when the room is completely dark. Good hotels always have blackout drapery that can make the room completely dark (or nearly so). Many vacation rentals and B&Bs lack blackout drapery, however, which means that your baby or toddler may not get to sleep as well or may wake up early, especially in the summer—not what you want on vacation.
Restaurant and Room Service: I don't know about you, but typically the last thing I want to do is spend time food shopping and cooking while on vacation. With kids, it's nice to know that we can just go down to the café or restaurant to grab something for my hungry kid, or even get room service in a pinch.
Housekeeping: It's nicer to come back to a room and bathroom that's been cleaned and tidied, than one that's not, especially since kids seem to always manage to make a room messier.
If something is wrong with the room: while it rarely happens, if there is something wrong with the room itself, the air conditioning, etc., a hotel will usually either send someone promptly to fix it or move you to another room. On the other hand, with a vacation rental you're stuck if it's something that isn't able to be fixed quickly, since you'll need to find a new accommodation altogether
Price: although usually the main disadvantage of a hotel is the higher price, even this isn't always true. I recently searched for vacation listings in the Palo Alto, California area, where I knew we'd be staying, and by far the best deal for the quality was the Westin Palo Alto, which was running a "stay for 3 nights, pay for 2" promotion, which worked out to $320 plus tax for the 3 nights. There were no rentals in the Palo Alto area I could find that offered anywhere near the quality or amenities of the Westin that were less than about $200/night.
Points: Only hotel chains offer loyalty points, which can be used for free stays, reaching an elite status that grants complimentary upgrades, or even traded in for airline frequent flyer points or other rewards. I'm a member of the Starwood Preferred Guest program, which includes Westin, Sheraton, Le Meridien, St. Regis and other hotel brands, so I received points both for this stay and for using a Starwood Preferred Amex card to pay for it.
That's my take on why I prefer staying in hotels, especially when traveling with kids, but of course travelers have different opinions—share yours with us in the comments.
Related Posts
Airbnb or Hotel? Top 10 Reasons to Pick a Hotel Over Airbnb
Top Hotel Credit Cards for Signup Bonuses, Perks and Spend
Is Mid-Tier Hotel Elite Status Worth It?
How Much Are Hotel Points Worth?
How to Complain to Airlines and Hotels – And Get Compensated
Need Award Booking Help? Our fee is as low as $75 per ticket if you book your hotel through us.
If you enjoyed this, please follow TravelSort on Twitter or like us on Facebook to be alerted to new posts.
Become a Member to find your perfect luxury or boutique hotel at up to 50% off: TravelSort Hotels
Photo: D Sharon Pruitt