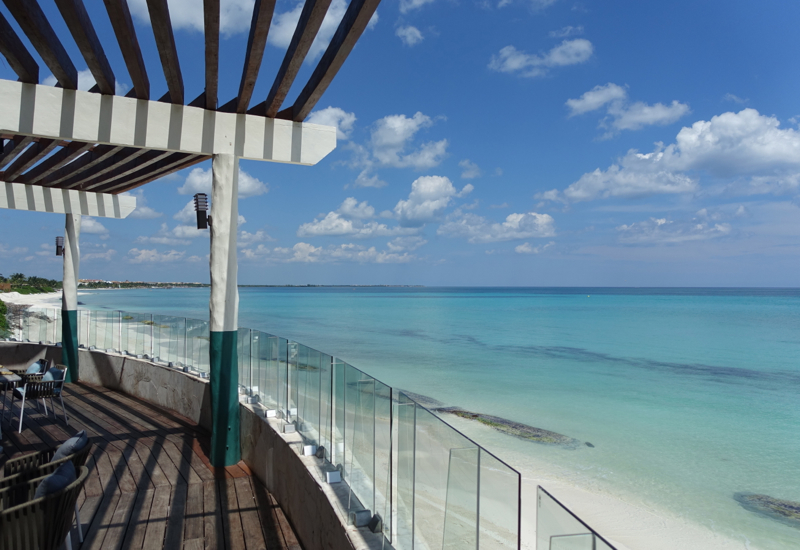 This Fairmont Mayakoba Breakfast and Dining Review is from recent business travel to Mexico's Riviera Maya for ILTM. For the prior post, please see Fairmont Mayakoba Review, Riviera Maya.
Daily buffet breakfast at La Laguna Restaurant is included for TravelSort Clients as a Virtuoso benefit.
Fairmont Mayakoba Restaurants
Fairmont Mayakoba has three main restaurants:
Brisas Restaurant by the beach is open daily, serving a la carte breakfast 8-11am, Lunch 11am-5pm, and dinner 6-11pm
El Puerto Restaurant serves Latin-Asian fusion fare for dinner only, 6-11pm and is closed Mondays.
La Laguna Restaurant and Lounge is the most casual of the three and serves both international and Mexican favorites daily for breakfast, lunch and dinner.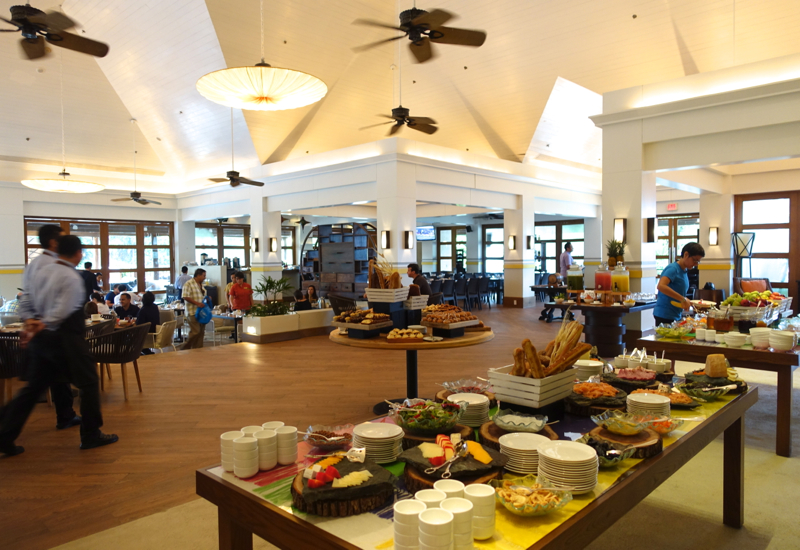 Breakfast at La Laguna Restaurant
Due to the resort buy-out La Laguna was the only option for breakfast, but the breakfast buffet had a number of choices. There was a good selection of fresh fruits, with pineapple, papaya, watermelon, whole fruits such as plums, apples, pears and bananas. Of course more expensive fruits such as berries were missing, but that's what I expected for the Fairmont.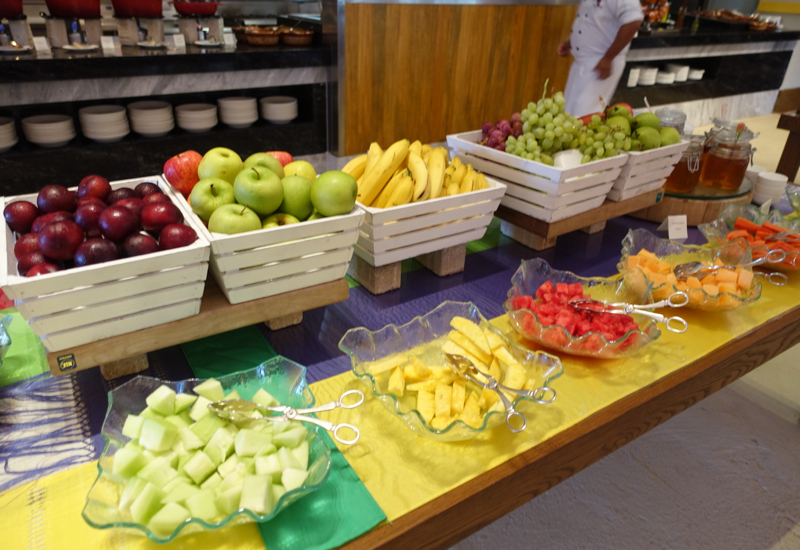 Smoked salmon, cold cuts, salad and cheeses were also available. The smoked salmon was ok, although I get better quality smoked salmon from Trader Joe's, and the cheese selection was very basic.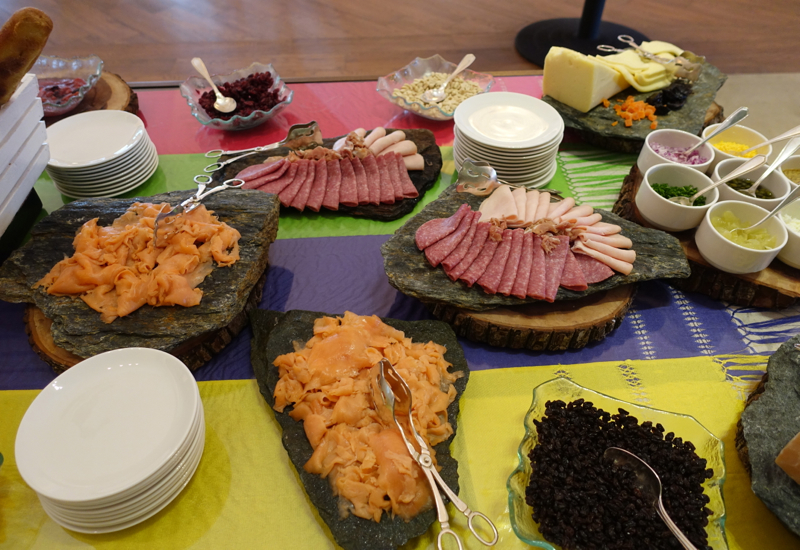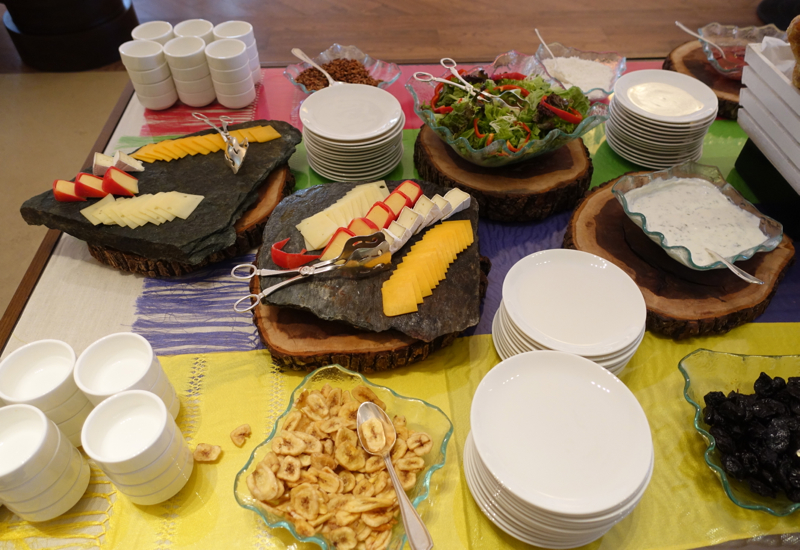 Hot dishes were attractively set out in red casserole pots, and flanked by some very fresh salsa and guacamole.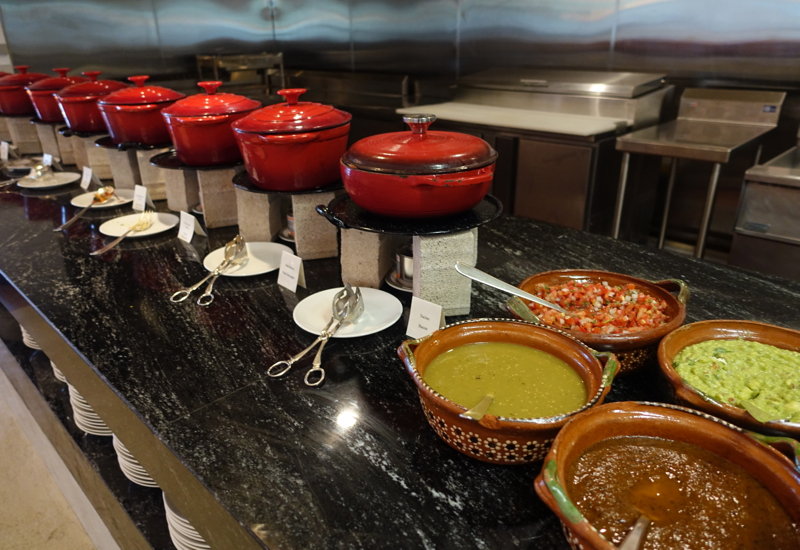 My favorite part of the buffet was the omelet station. While I don't usually make eggs for myself at home, it's a nice treat at hotel breakfasts. My favorite combination included a type of Mexican shredded beef (which I don't remember the Spanish name for), mushrooms and spinach. The omelet chef was also the nicest and most cheerful Fairmont staff member I interacted with all week–he should be given a raise and also train the somewhat obnoxious bellmen.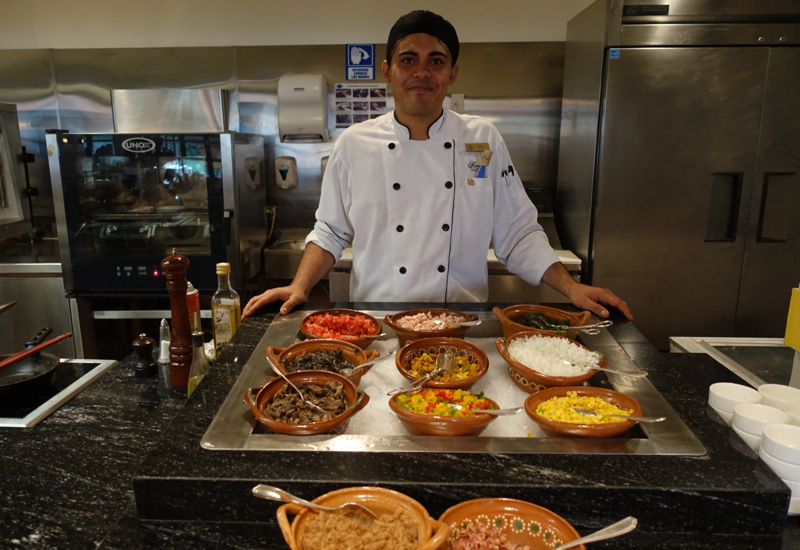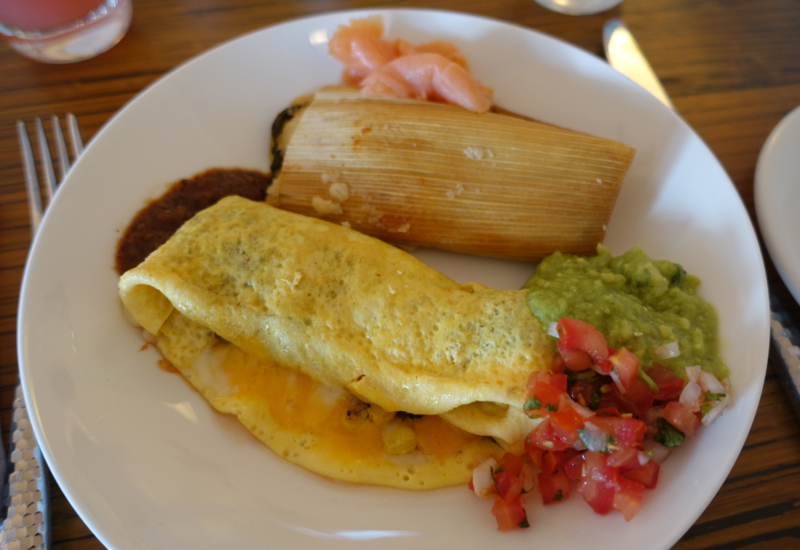 There were plenty of pastries, but quality-wise I preferred the omelets.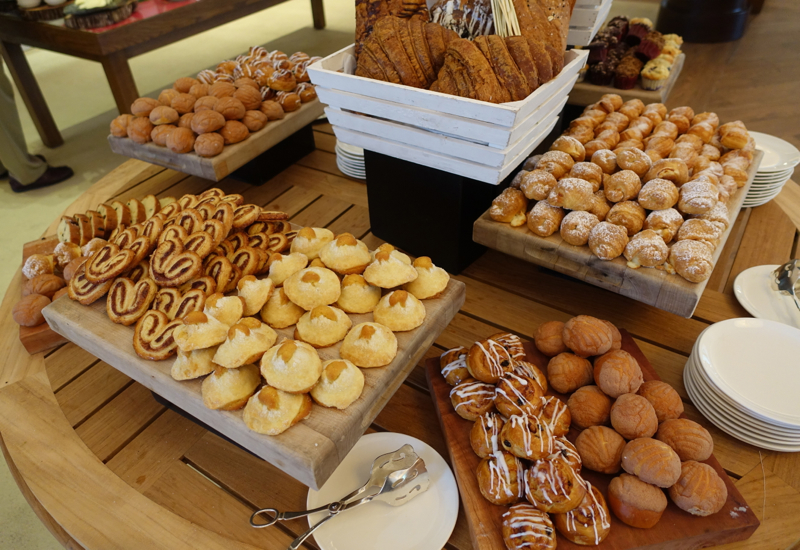 Yogurt was also a disappointment–rather thin and even the plain looking one was sweetened. The granola was quite good, however.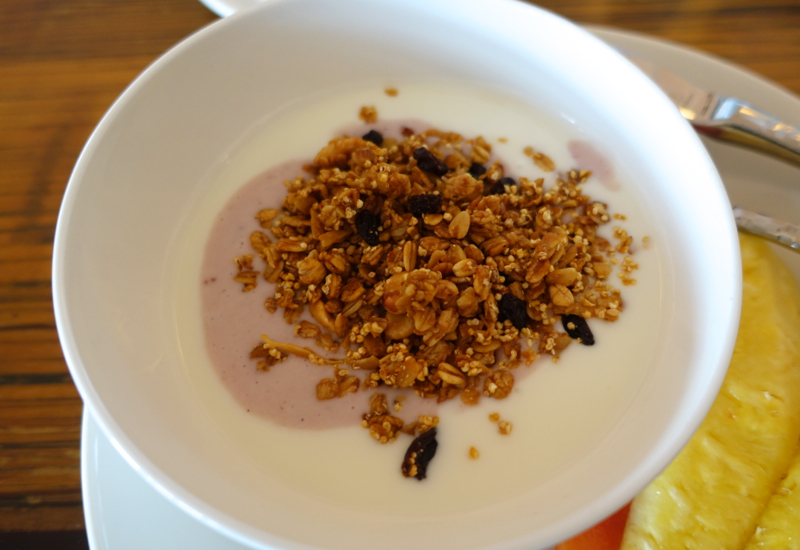 Lunch at Brisas Restaurant by the Beach
One of the issues with the size of the Fairmont Mayakoba property is how long it takes to get to the beach. Unless you have tons of time and don't mind the heat, don't attempt to walk it. Instead, either grab one of the bicycles dotted around the resort or ask for a golf cart to take you there.
Once you do get there, Brisas Restaurant matched up with at least my idea of what the Mexican Riviera should look like, with indoor-outdoor dining and great sea views.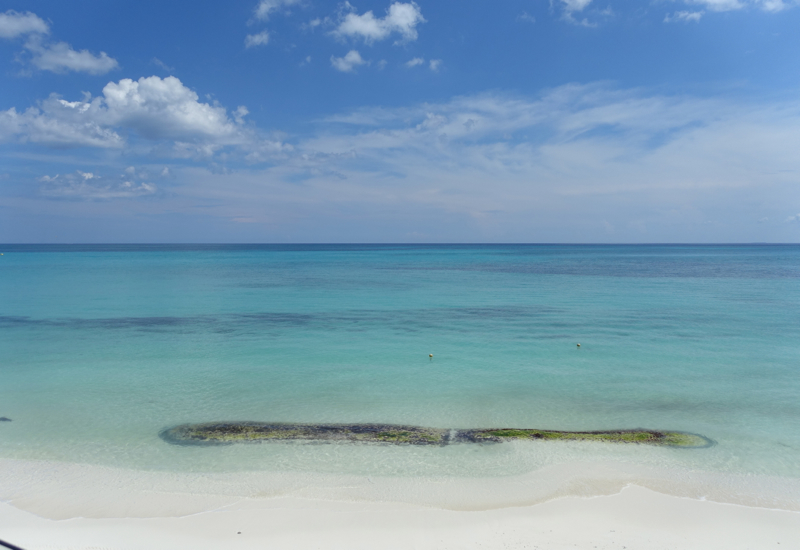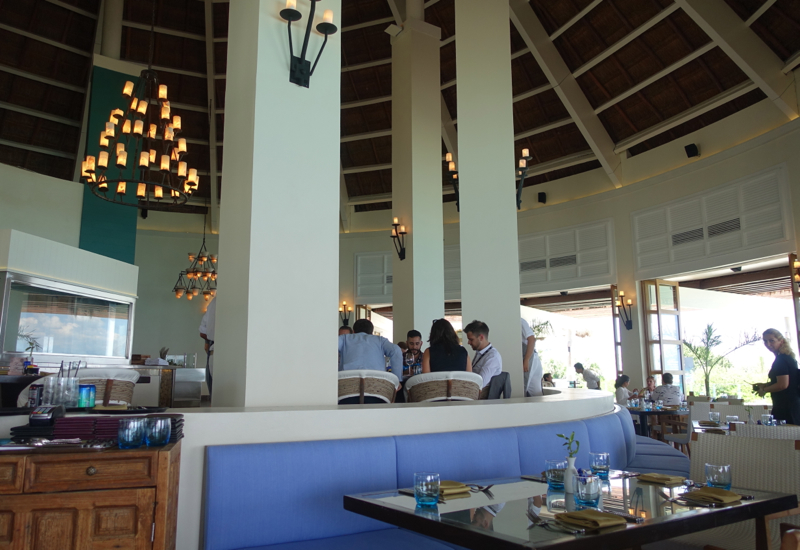 I was seated quickly, though since we had little time between our morning and afternoon meetings, there was no time to order most of the a la carte menu selections.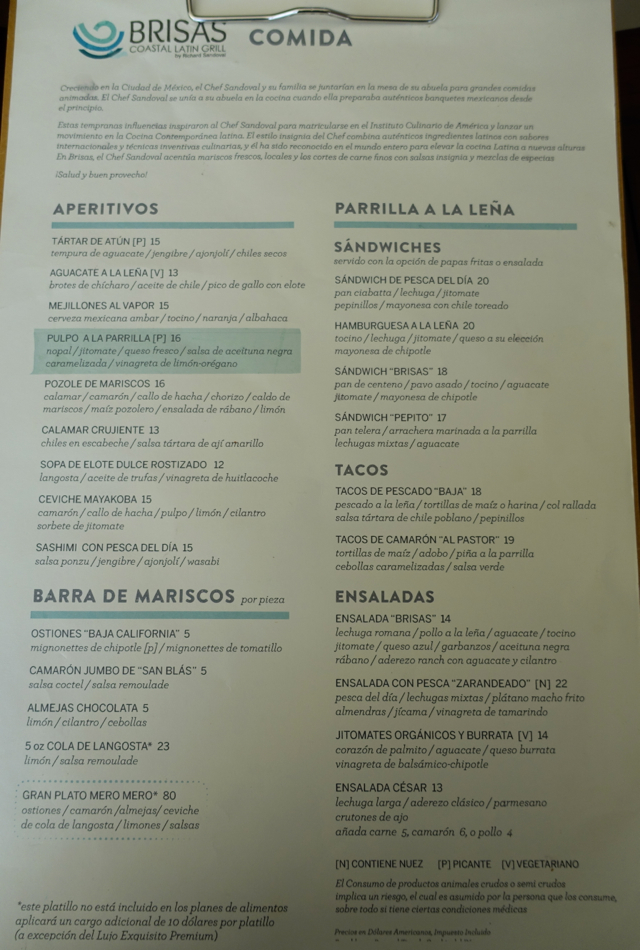 Instead, I ordered the Ceviche Mayakoba which featured shrimp, avocado and octopus crowned with tomato sorbet, served in a chilled glass bowl. It was excellent, better in fact than the ceviche I later tried at Rosewood Mayakoba (future review coming).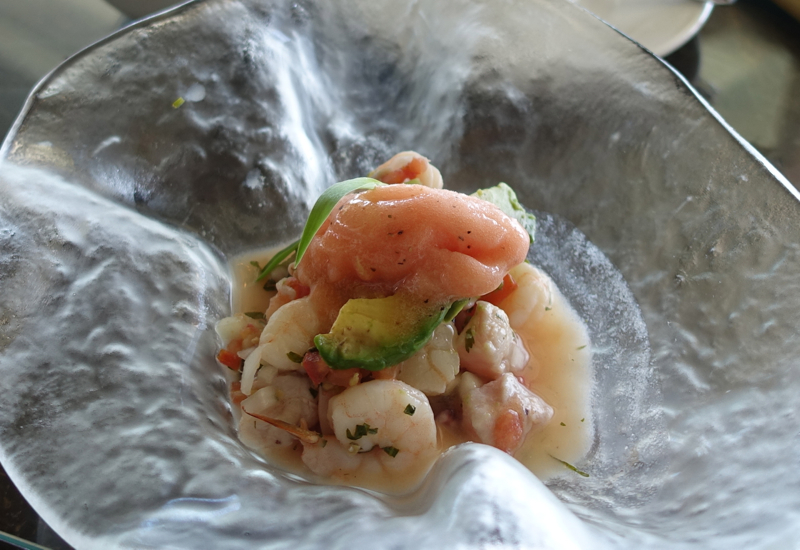 Homemade tortilla chips also accompanied the ceviche, and I asked for habanero hot sauce to accompany it–nice and spicy.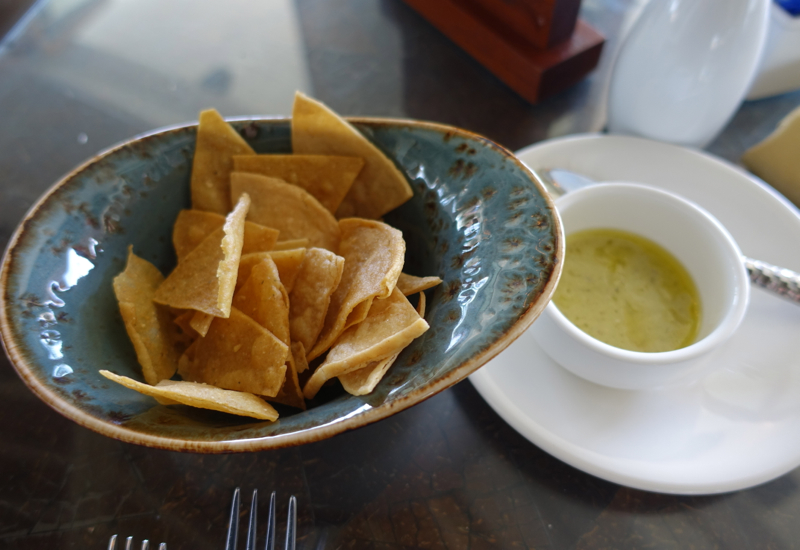 The Verdict
Brisas Restaurant at Fairmont Mayakoba is a must-try for lunch for its views and Mexican seafood, and I heard rave reviews by colleagues for its steak sandwich as well. I was less impressed by the Latin-Asian tapas that we were served from El Puerto for the ILTM opening party, although that could reflect my high standards for Asian cuisine, which I've been eating all my life. Breakfast at La Laguna was pleasant, with attentive service and very good made to order omelets, though the other buffet fare ranged from very good to mediocre.
Related Posts
Fairmont Mayakoba Review, Riviera Maya
Review: Fairmont Orchid Gold Floor Worth It?
When to Book Hotels for Christmas, New Year's and Thanksgiving Travel
Best Places to Swim with Whale Sharks
Disclosure: As an invited hosted buyer at ILTM Americas, ILTM paid for my stay and breakfast at Fairmont Mayakoba. I paid for my own lunch at Brisas Restaurant.
Need Award Booking Help? Our fee is as low as $75 per ticket if you book your hotel or cruise with us.
If you enjoyed this, join 200,000+ readers: please follow TravelSort on Twitter or like us on Facebook to be alerted to new posts.
Become a TravelSort Client and Book 5-star hotels with Virtuoso Perks and Four Seasons Preferred Partner Benefits