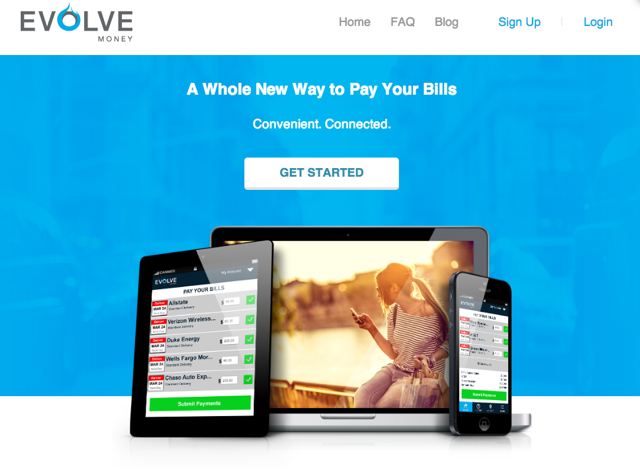 Use Evolve Money to pay your mortgage, utility bills, student loan or other bills and earn miles and points for payments you can't pay with credit cards. This is especially attractive given that you can no longer buy Vanilla Reloads with credit card at CVS or most other stores to load AMEX Bluebird, and not everyone lives close to a Walmart to make it practical to load Bluebird there using Visa gift cards.
A great use of Evolve Money, if you have the patience to buy Visa gift cards and enter them into Evolve Money with sufficient time between each transaction (see FAQ below) is to earn Ultimate Rewards points, since you can buy Visa gift cards from Staples and even online from Staples.com now, earning 5X with your Ink Bold or Ink Plus. Let's take an example:
$4000 monthly mortgage, currently paid via check or automatic deposit
Instead, buy 20 $200 Visa gift cards for $4139 ($206.95 per card, including the $6.95 fee)
Use an Ink Bold or Ink Plus card for the transaction to earn 5X. That equates to 20,695 Ultimate Rewards points. We'll see how long 5X lasts: see Will Chase End 5X for Ink Bold and Ink Plus Cards?
Use these 20 Visa gift cards via 4 Evolve money accounts to pay your mortgage over the weekend
Over a year, that's 248,340 Ultimate Rewards points, at a cost of $1668 in Visa gift card fees, or 0.67 cent per point, plus your time.
You can even bring down the effective fees if you have the Visa version of the Ink Bold or Ink Plus, since you can register your card for Visa SavingsEdge to save 1% on Staples and Staples.com purchases of $200 or more. The discount is provided as statement credit.
Now, clearly this won't be worth it to many folks given the time involved, but even if you don't do this every month, it could be a good way of topping off an account for an award ticket if you have significant mortgage or loan payments that normally don't earn you any miles or points.
Here's how Evolve Money works:
1. Sign Up for Evolve Money or Log In
Sign up for Evolve Money using your email, phone, zip code, security question and answer, and password. Or, if you already have an Evolve Money account, log in.
2. Search for Your Bill Payee
You first search for a payee. In my case, I searched for one of our loan providers, First Republic Bank. You'll be able to see the bank or payee name, category, and delivery time for the payment, which is ususally two days. Express Pay is available for some (but not all) payees, for an additional cost of $1.50 per payment.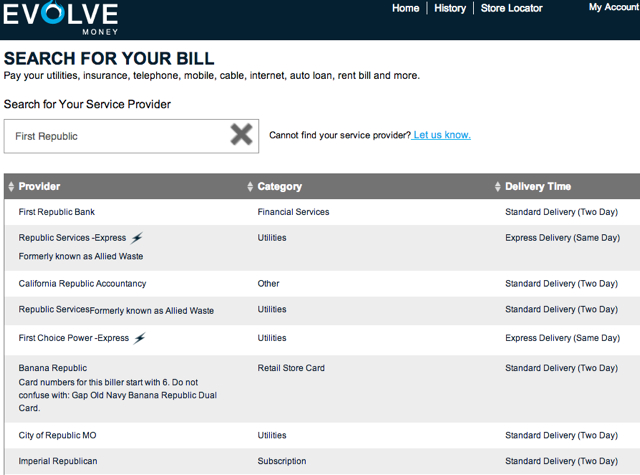 3. Add Bill, Then Enter the Bill Amount
You then add your bill, including your account number, first and last name, and enter the bill amount.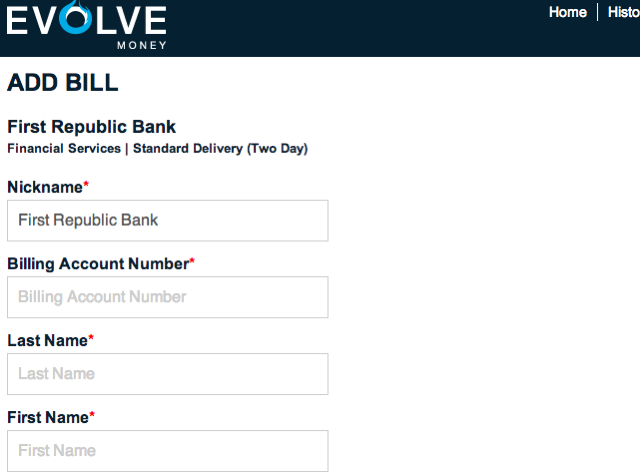 4. Add a Payment Method and Submit Payment
Next, you'll be prompted to add a payment method—this is where you can enter a Visa gift card, which you'll be using as a debit card. You do not need to register your Visa gift card prior to adding it as a payment method. Finally, submit your payment. You should receive an emailed confirmation of your transaction.
FAQ
What Are the Limitations of Evolve Money Bill Pay?
Evolve Money's free bill pay, as you'd expect, is a loss leader, so there are some key limitations:
$1000 maximum per account per day may be paid
May only pay using Visa or MasterCard debit cards/gift cards, Reloadit packs or Evolve Pay Bucks; can't pay using credit cards
Can't pay major credit card bills with Evolve Money; some store credit cards can be paid
How Can I Pay a Bill Larger Than the Gift Card Denomination I Have?
You'll need to make multiple payments: but don't make them one after the other. Wait at least 5 minutes (at least 6 minutes to be safe) between payment transactions, otherwise the Evolve Money system tends to reject it as a duplicate payment.
How Do I Pay a Mortgage Amount Greater Than $1000?
Most people have a monthly mortgage payment greater than $1000, and this will have to be paid using multiple Evolve Money accounts and multiple gift card payments. Again, as noted above, you'll need to ensure that you're not submitting payments 5 minutes or less apart. This includes payments from different accounts, so make sure to wait at least 6 minutes between payments, even from different accounts.
I've Heard That Mortgage Payments Are Sometimes Applied to the Principal, Instead of to the Monthly Payment—How Do I Prevent That?
Some Evolve Money users have found that partial payments to a mortgage lender are applied against the principal, instead of to their monthly payment. Make sure you pay the full monthly amount on the same day. It can be easier doing this on the weekend, since typically all the payments will then reach the lender on Tuesday.
Have you used Evolve Money to pay your mortgage, utility bill or other loan and earn miles and points?
Related Posts
Will Chase End 5X for Ink Bold and Ink Plus Cards?
Mortgage, Credit Score and Credit Card Churning Question
5X Points for Whole Foods Groceries via Staples and Ink Cards
Bonus Offers to Keep the Sapphire Preferred, Ink Bold and United MileagePlus Explorer
United Award Chart Devaluation: Strategy Going Forward
Need Award Booking Help? Our fee is as low as $75 per ticket if you book your hotel through us.
If you enjoyed this, join 100,000+ readers: please follow TravelSort on Twitter or like us on Facebook to be alerted to new posts.
Become a TravelSort Client and Book Your Hotel with Virtuoso or Four Seasons Preferred VIP Amenities!