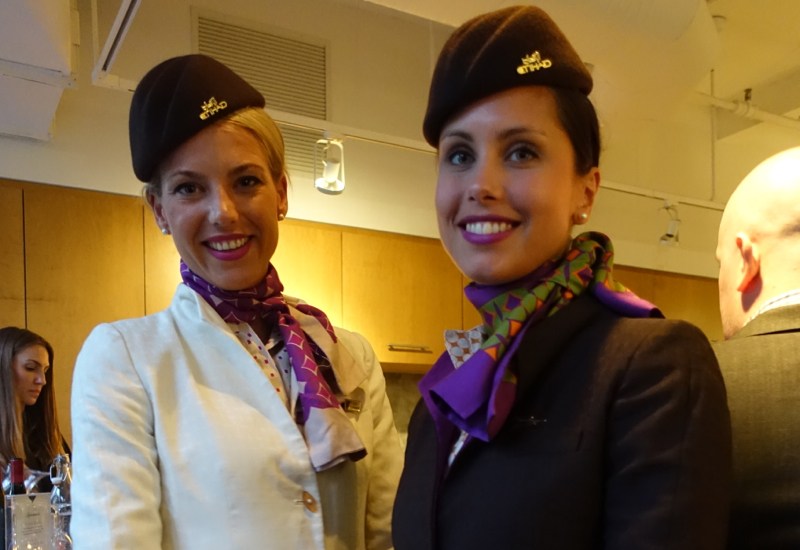 Etihad hosted a "Flavors of Arabia" event with Saveur Magazine and Abu Dhabi Tourism earlier this week that I attended, which included small plates from Etihad's menu, served by flight attendants in Etihad's new uniform. I also had a chance to briefly talk with some of Etihad's sales and marketing managers about the torrid pace of Etihad's new introductions, including the new Etihad A380 The Residence and First Apartments and Etihad's next A380 destinations.
Saveur's Test Kitchen got its share of talk–that's how small most NYC kitchens are, we covet greater space. Here's the kitchen with chefs at work:
One of Etihad's onboard chefs gave a brief introduction, and noted that it's unusual to have an onboard chef (although Turkish Airlines also has one). I do like that, at least on the flights we've been on, all the chefs are professionally trained and worked in restaurants prior to coming to work with Etihad.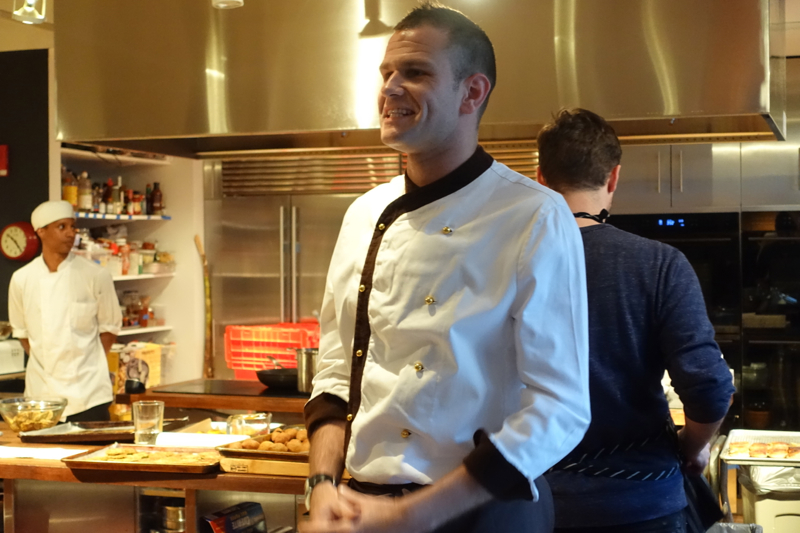 And some of the small plates of the Arabic mezze being prepared: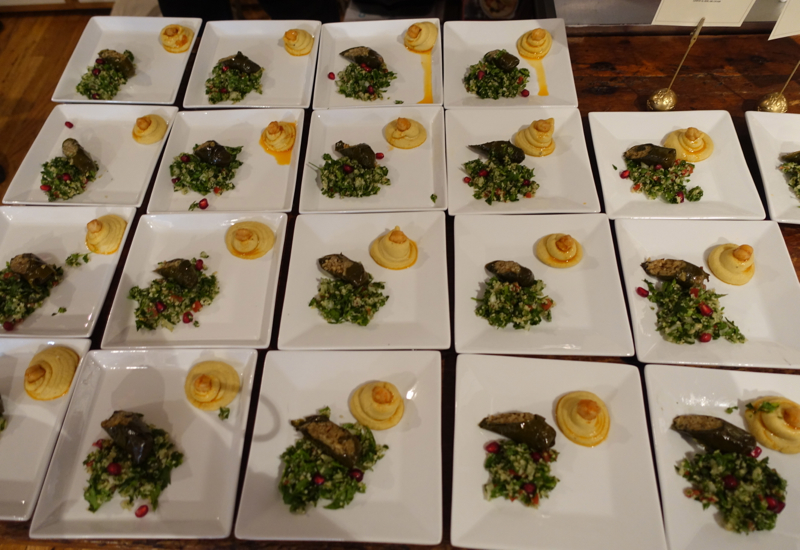 The bar had cute cocktails with a refreshing mixture that included gin, lime, ginger, rosewater and other juices muddled with fresh mint in mini bottles. I couldn't find it on Etihad's current cocktail list, but would love if it was added. It was so good I only remembered to take a photo midway through enjoying it.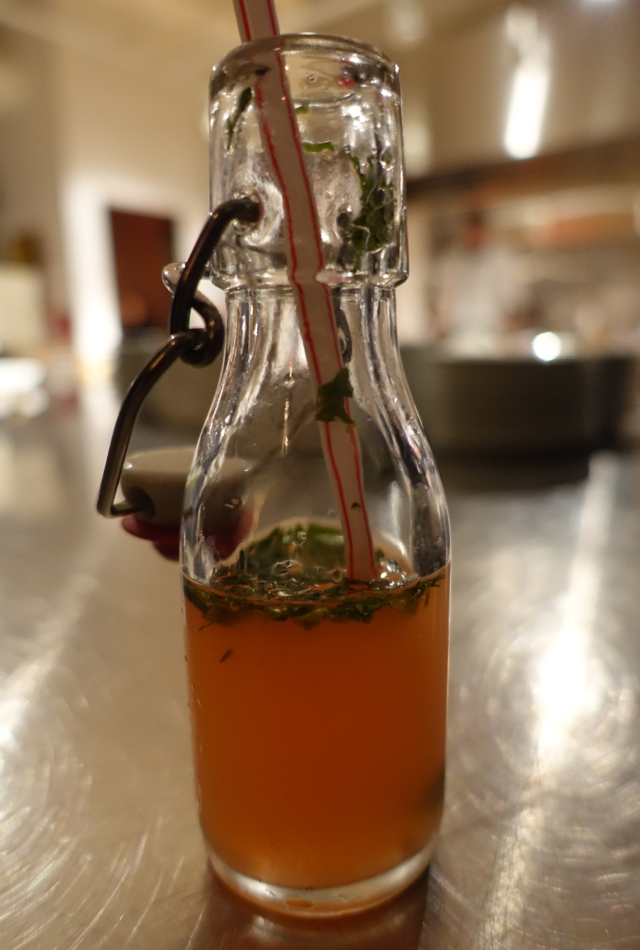 The first small plate to come out had the Arabic mezze: very fresh tabouli, creamy hummus with pita, stuffed grape leaf, and a savory meat pastry. I've always enjoyed the simple but fresh flavors in well made mezze, and this was no exception.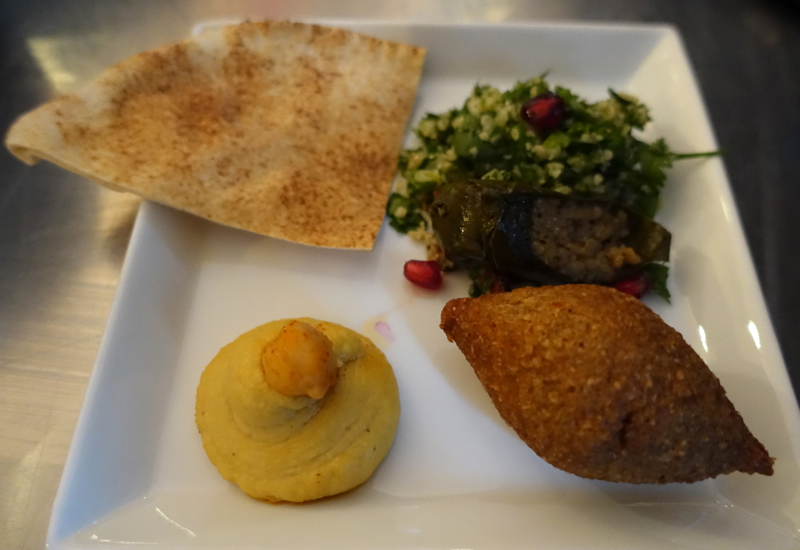 The next plate consisted of grilled meats: chicken skewers and lamb. I thought the dry rub, redolent of cumin, coriander, cardamom and chili, might be a bit spicy for the munchkin, who accompanied me, but it was so good that the lamb was gone practically before I could try some.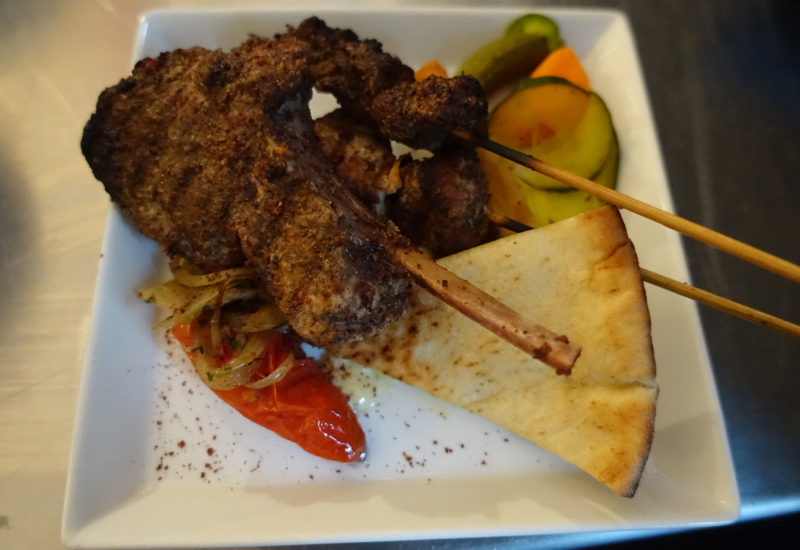 The braised lamb that was served next was good, but not exceptional–it could probably have done with a bit more braising to make it meltingly tender. The asparagus were a nice touch, however.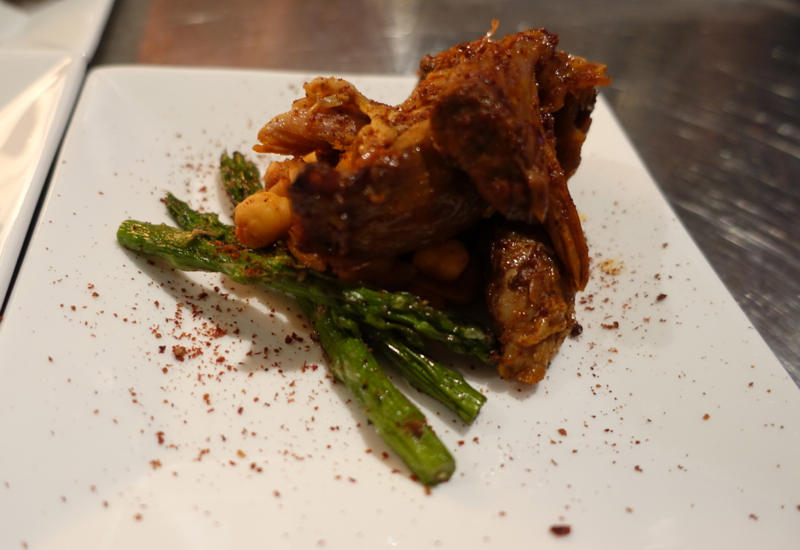 My favorite dish was the roasted quail. A little bit awkward to eat, but incredibly moist and flavorful–I do hope it makes it onto Etihad's menu as it was fantastic.
The Arabic dessert served was lgeimat. These doughnut-like creations are a favorite among Emiratis, especially during Ramadan. These ones were drizzled with a molasses syrup and piping hot. Good, although I wasn't that disappointed to learn that they are not part of Etihad's menu or likely to become part of it. It's too hard to do this well in the air, and there are other desserts that can be better executed in flight. There was, for example, that fantastic chocolate dessert I had on my first Etihad flight, whipped up by the onboard chef…but I digress.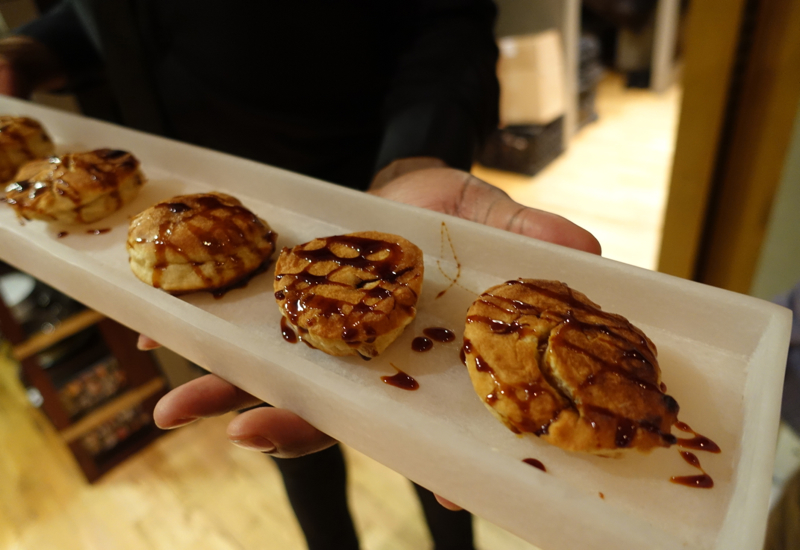 Etihad's New A380 Flight Routes
Currently Etihad flies the A380 between Abu Dhabi and London, with Etihad A380 service to Sydney to start June 1, 2015, and Etihad A380 service to NYC scheduled to start December 1, 2015.
I asked about future A380 routes, and was told that a priority would be to have all flights between Abu Dhabi and London be on A380, then expand A380 service to Melbourne, Paris and Shanghai (not necessarily in that order). Etihad has been lobbying to be able to increase capacity into and out of Australia, so I'm not surprised if Melbourne is a high priority for A380 service.
Have you flown on Etihad's A380 or have plans to fly it?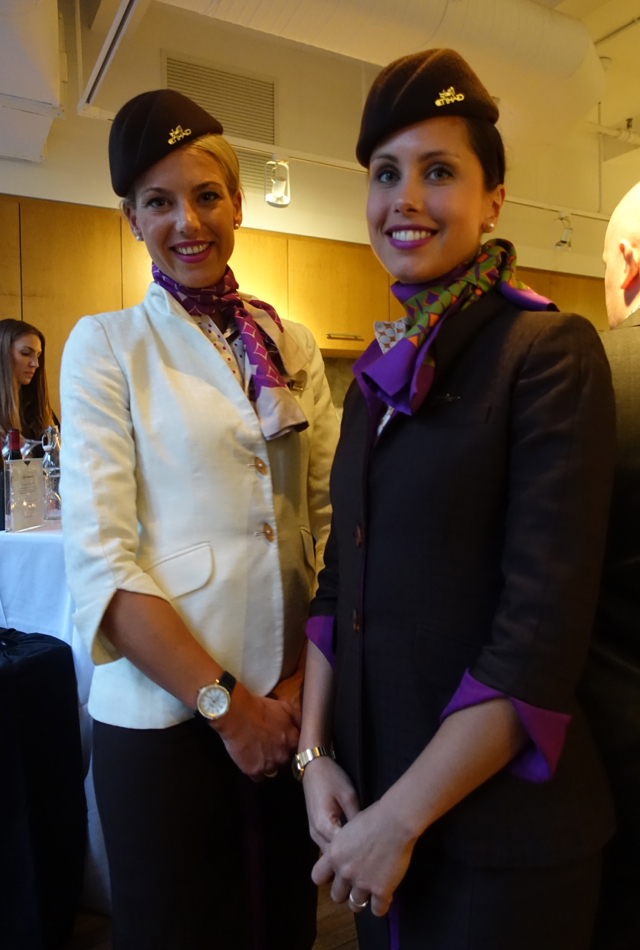 Related Posts
Etihad A380 The Residence and First Apartments
Etihad A380 First Class Apartment Award Space to Australia
Etihad A380 NYC to Abu Dhabi Starts December 2015
Etihad First Class 787-9 Review
Disclosure: I was invited by Saveur Magazine to this event, hosted by Etihad, Saveur Magazine and Abu Dhabi Tourism
Need Award Booking Help? Our fee is as low as $75 per ticket if you book your hotel through us.
If you enjoyed this, join 150,000+ readers: please follow TravelSort on Twitter or like us on Facebook to be alerted to new posts.
Become a TravelSort Client and Book 5-Star Hotels with Virtuoso or Four Seasons Preferred Partner Amenities!