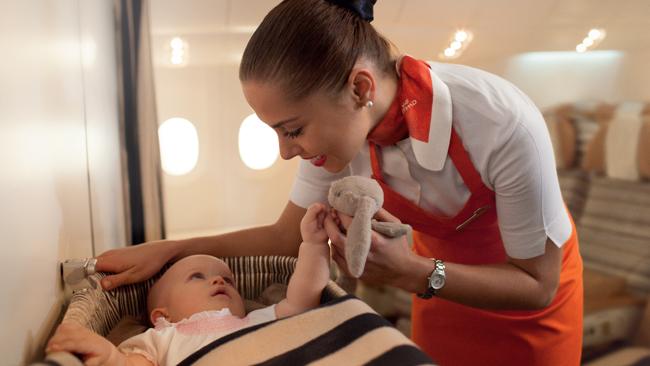 Etihad Airways is introducing Flying Nannies to offer childcare help to traveling families and unaccompanied minors, with about 500 Flying Nannies expected to be flying by the end of 2013.
The Flying Nannies, identified by bright orange aprons, are cabin crew members who have been trained by Norland College, a specialist school in the United Kingdom that includes training on early childhood development and psychology. Activities for younger kids will include arts and crafts that can be done at the child's seat, such as origami, special greeting cards for family and friends, paper cup hats, and sock puppets, while for older children there will be quizzes, competitions and simple magic tricks.
I flew Etihad First Class with my family, including the 5-year old munchkin, and I have to say that I love this initiative, which goes beyond the typical "family friendly" lip service and appears to be a very significant initiative for Etihad, given the number of staff who will be trained.
I very much enjoy our flights as a family and am happy to read books with and play games with the munchkin for a few hours (although see how our tic tac toe game below devolved into goofy antics):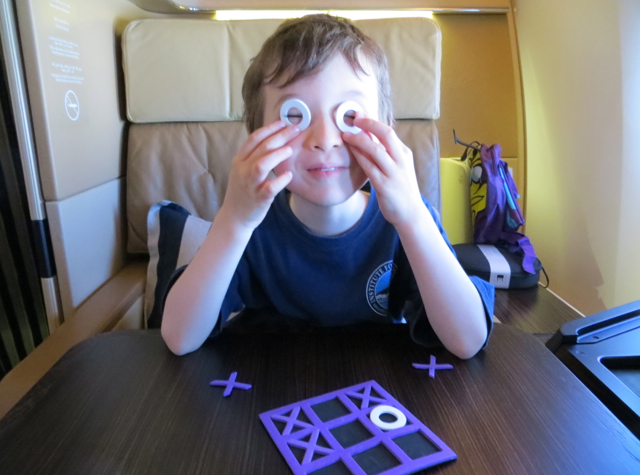 But we also do end up letting him watch films that far exceed our 30 minute per day threshold when we are at home, simply due to how long these international flights are. It would be great for my son and other kids to have another friendly adult and trained childcare specialist to engage them in some additional arts, crafts, puzzles and magic tricks–what's not to like?
FAQ
Which Etihad Flights Offer Flying Nannies?
All of Etihad's long haul flights offer flying nannies.
Are There Flying Nannies in Economy As Well as Business Class and First Class?
Yes, the Flying Nannies assist in each of Etihad's cabins.
How Do the Flying Nannies Help Children and Their Families?
The Flying Nannies will help kids and families by liasing with parents to ensure children's meals are served early in the flight, offering arts, crafts, games, and puzzles to help entertain and occupy kids, and also help settle children for sleep when they're tired.
Towards the end of the flight the Flying Nannies will help parents by refilling milk bottles for babies and offering drinks, fruit and snacks for older kids, and will also provide tips on the child facilities available at Abu Dhabi for families transiting to another flight.
What Tasks Can the Flying Nannies Not Assist With?
The Flying Nannies are there to assist, but they do need to help all the families on board, so they cannot assume full responsibility for a child. They also cannot change diapers or take a child to the bathroom.
I would love to see more airlines follow Etihad's lead with childcare help from flying nannies–what do you think?
Related Posts
Best Airlines for Kids and Families
Etihad First Class Lounge Review Abu Dhabi
Use American AAdvantage Miles for Etihad First Class
Etihad Business Class Review Male to Abu Dhabi
Need Award Booking Help? Our fee is as low as $75 per ticket if you book your hotel through us.
If you enjoyed this, join 90,000+ readers: please follow TravelSort on Twitter or like us on Facebook to be alerted to new posts.
Become a TravelSort Client and Book Your Hotel with Virtuoso or Four Seasons Preferred VIP Amenities!