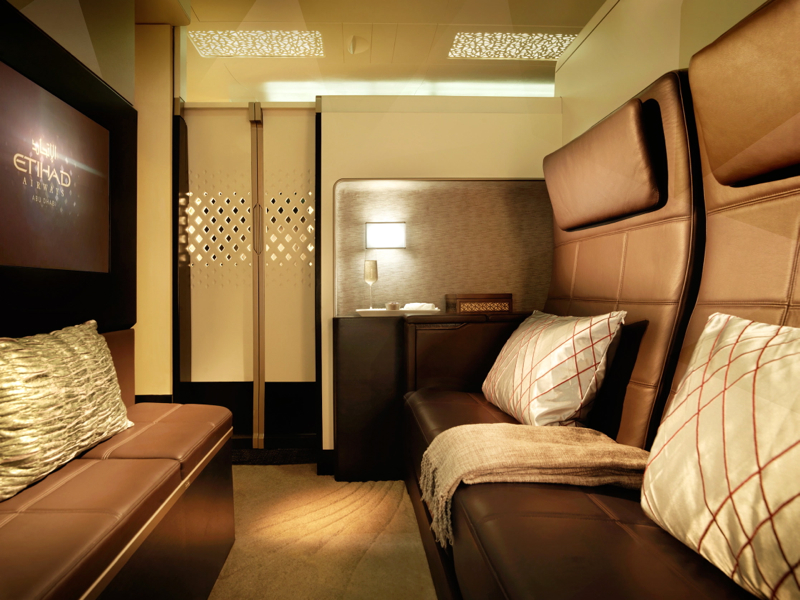 Etihad's new A380 will feature The Residence, a three room private living space with double bedroom, living room and ensuite bathroom with shower.
Etihad's A380 will also include 9 First Apartments also on the upper deck of the A380, with 74% more space than Etihad's current First Class Suites.
Wow. Etihad just raised the bar to whole new heights, in terms of first class on commercial flights. My family and I enjoyed Etihad First Class Suites on the way back from the Maldives, although the suites are narrow–not as spacious as Singapore Suites or Cathay Pacific First Class.
So, while I don't expect to see award availability *ever* for The Residence, and probably not for a long time for Etihad First Apartments (see FAQ below) it's nonetheless fascinating to see these wholly new first class products introduced on a commercial aircraft. Etihad's goal is to provide more of a boutique hotel experience, so we'll see whether service lives up to the enhanced hard product. Emirates A380 First Class isn't the only one with a shower any longer, and the ante has definitely been upped, given that The Residence gives you a private bathroom and shower.
Here are the full details, from Etihad:
Etihad A380 The Residence
125 square feet
3 Rooms: Double bedroom, living room, ensuite bathroom with shower
Furnishings upholstered by Poltrona Frau, suppliers of Ferrari interiors
Double bed is 82 inches long
Living room features a 32 inch LCD TV, and bedroom also has its own 27 inch LCD TV
Communications include broadband Internet, Live TV, HDMI, AC and USB ports
Dedicated private butler, trained by Savoy Butler Academy in London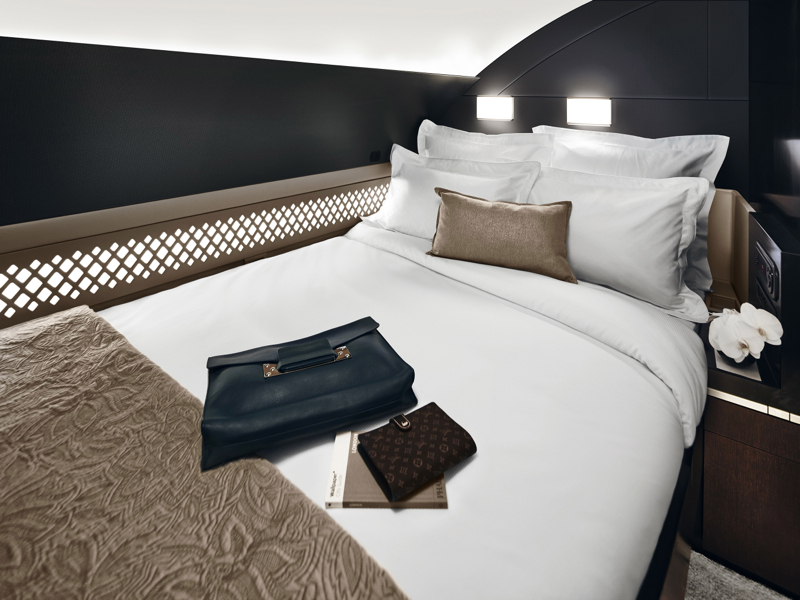 Etihad A380 First Apartments
39 square feet (74% more space than the current Etihad First Class Suite)
6 First Apartments have connecting doors, creating an apartment for guests traveling together
Furnishings upholstered by Poltrona Frau, suppliers of Ferrari interiors
30.3 inch reclining lounge chair
Bed is 80.5 inches long, 26 inches wide
Chilled mini-bar
Separate vanity with lit make-up mirrors
Access to Shower Room
The Lobby is located between the First and Business Class cabins, with a lounge and bar area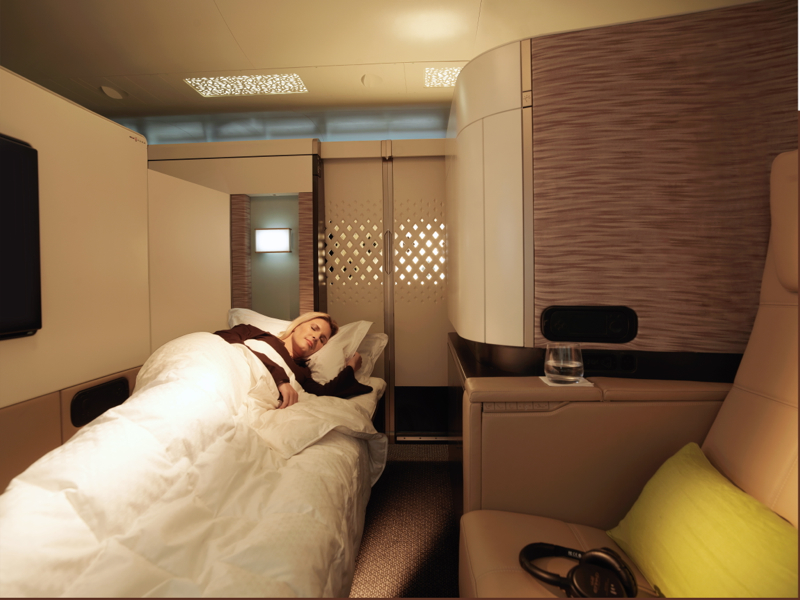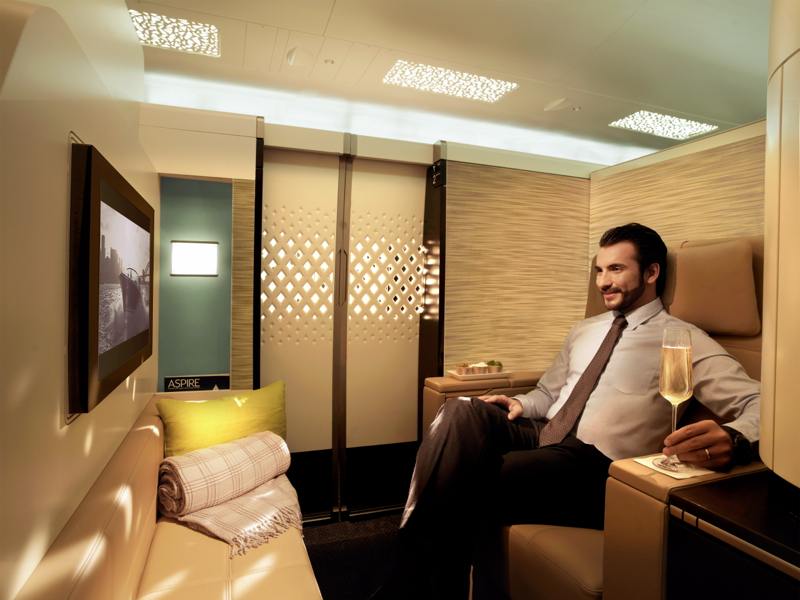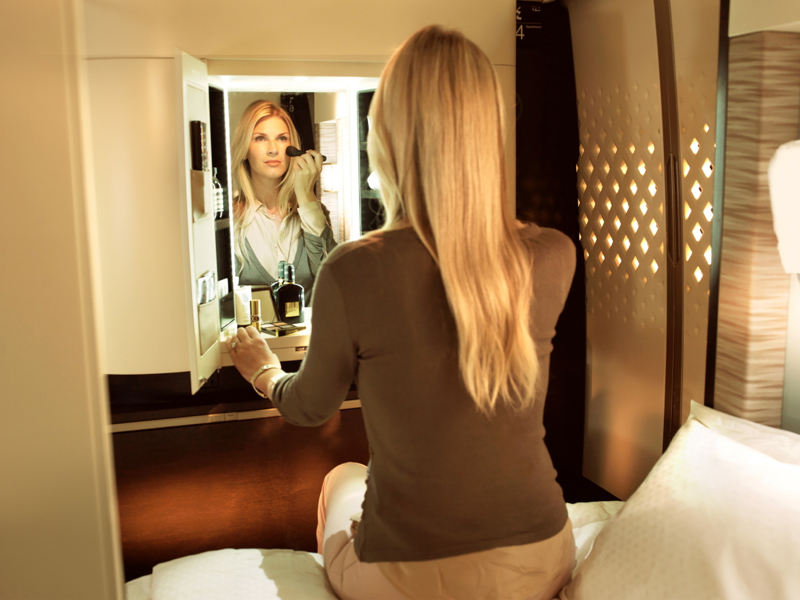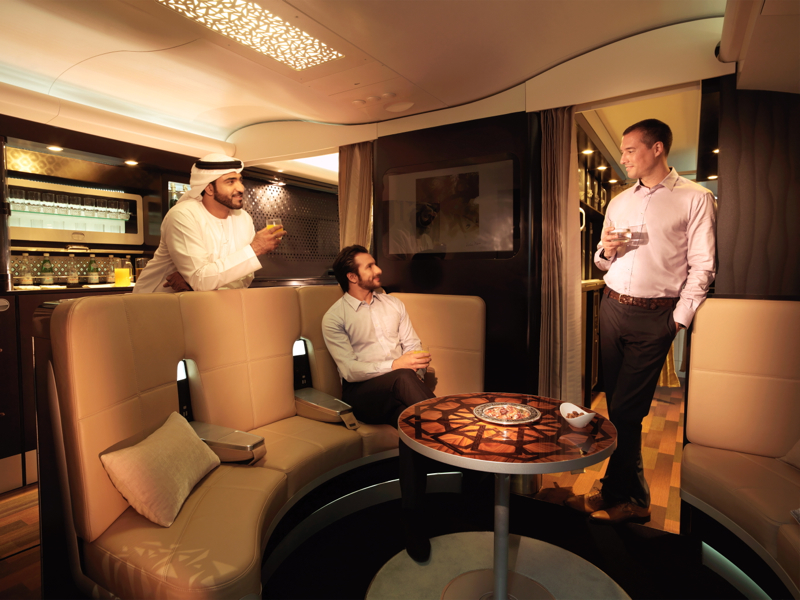 FAQ
Where Will Etihad Operate A380 Service?
Etihad will start its A380 service between Abu Dhabi and London at the very end of 2014, and later, during 2015, expand A380 service to Australia and New York JFK.
When Does Etihad Start A380 Service?
Etihad is scheduled to start A380 service December 27 to London: EY11 and EY12:
EY11 departs Abu Dhabi 2:35am, arrives London 6:35am
EY12 departs London 9:15am, arrives Abu Dhabi 8:05pm
How Many A380s Has Etihad Ordered?
Etihad had 10 A380s ordered so far: 1 in 2014, 4 in 2015, 3 in 2016 and 2 in 2017.
Do the Interconnecting First Apartments Feature Double Beds?
No; the interconnecting First Apartments do allow the divider to retract for the head and shoulder area, but a divider remains for the rest of the bed. But on Etihad's new Boeing 787s, the eight first class suites have armrests that retract and the divider put down to create a double bed.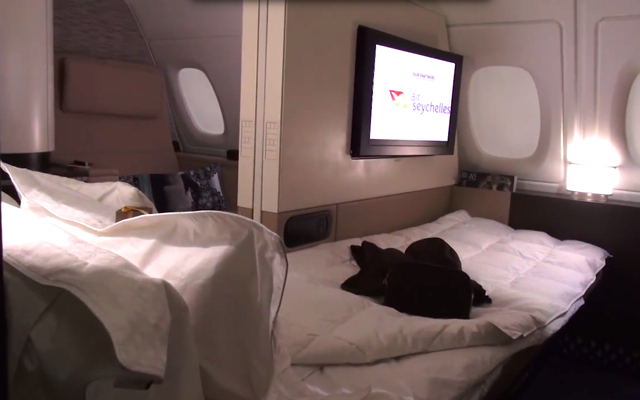 Will It Be Possible to Book The Residence and First Apartments as Awards?
Currently, there is no award space for First Apartments on the A380, and The Residence can only be booked with cold hard cash–no upgrades or awards. It's possible that First Apartments will at some point be bookable as awards, once Etihad has taken delivery of more A380s and can see load factors on its routes.
What do you think of Etihad's new A380 The Residence and First Apartments?
Related Posts