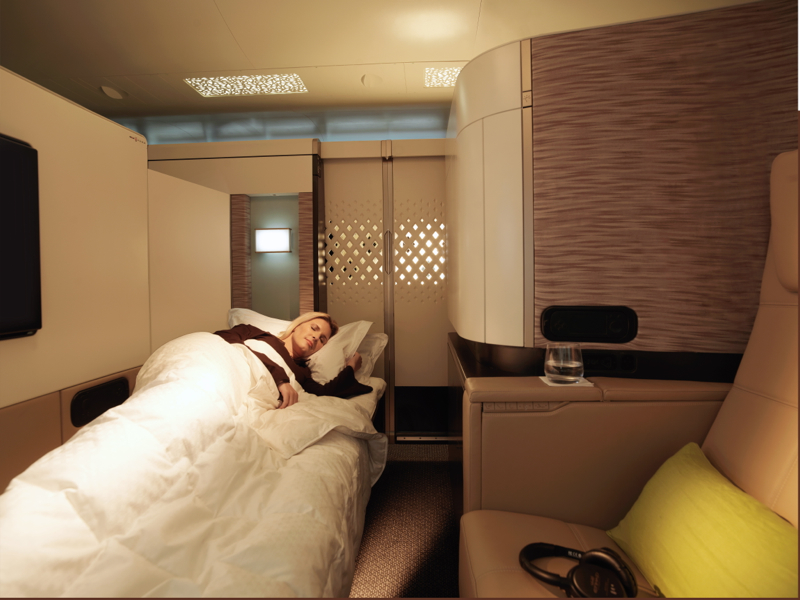 Etihad A380 First Class Award Space is now available to Australia, via Ben, which means you can use AAdvantage miles to fly in an Etihad A380 First Class Apartment from Abu Dhabi to Sydney starting in June 2015.
The Etihad A380 First Class Apartment previously has only been available on Etihad's route between London Heathrow and Abu Dhabi, which is only a 6-7 hour flight, so it's great to now see it available on a longer route, where you can enjoy the more spacious suite (74% more space than current Etihad First Class), access to a shower room, 80.5 inch long flat bed, and Lobby lounge.
Here are the Etihad A380 flight schedules, which take effect June 1, 2015:
Etihad Flight 454 departs Abu Dhabi (AUH) 9:50pm, arrives Sydney (SYD) 5:40pm the next day (This switches to a slightly later departure from Abu Dhabi of 10:15pm in November 2015, arriving Sydney the next day at 7:05pm)
Etihad Flight 455 departs Sydney (SYD) 9:50pm, arrives Abu Dhabi 6:25am the next day
Fares are as low as around $5550 each way, and since a one way first class award between Abu Dhabi and Sydney is 60,000 AAdvantage miles with ~$80 in taxes and phone booking fee, that's over 9 cents per mile in nominal value–a great value redemption if you're looking to fly first class between Australia and the Middle East.
Of course, keep in mind that if you're flying from or to the U.S., you'll need to book two awards, since the American AAdvantage One World award chart does not permit award flights to Australia to cross the Atlantic; if you want a first class AAdvantage award to Australia for 72,500, the only option is Qantas, which is *very* difficult to book.
The Qantas flights between Australia and London that transit Dubai are considered a single flight
, so those are bookable for 80,000 AAdvantage miles each way, but this isn't true for Etihad, which as the Sydney to Abu Dhabi and Abu Dhabi to London flights are different flights.
Which Etihad Flights Offer First Apartments?
Only Etihad's A380 aircraft offer First Apartments, so ensure that the flight you're booking has A380 designated as the equipment.
Can the First Apartments Interconnect if Traveling with a Partner?
Yes, although note that unlike Singapore Suites, there is a dividing wall that comes up until the shoulder area, so it will still feel like two separate compartments.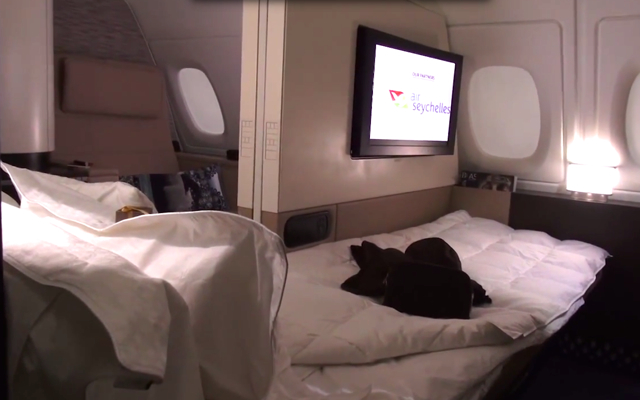 Can I Book Etihad with US Airways Dividend Miles?
Not yet, since Etihad is not part of oneworld and is currently only an American AAdvantage partner; you'll need to wait until the Dividend Miles and AAdvantage frequent flyer programs combine, sometime in Q2 2015 (no set date yet).
Can I Book Etihad with Alaska Mileage Plan Miles?
No, Etihad is not a partner of Alaska Mileage Plan.
What's the Best Way to Check Etihad Award Availability?
Go to Etihad Guest Reward Flights and run a search. If you see "Guest First" availability, you'll be able to call American AAdvantage and book the awards (assuming no one else grabs the space first!)
Is Etihad Chauffeur Service Offered?
Yes, Etihad Chauffeur is offered to Diamond First Class (including First Apartment) and Pearl Business Class (including Business Studio on the A380) passengers.
What is Etihad's First Class Lounge in Abu Dhabi Like?
Do you plan to fly Etihad First Apartment between Sydney and Abu Dhabi?