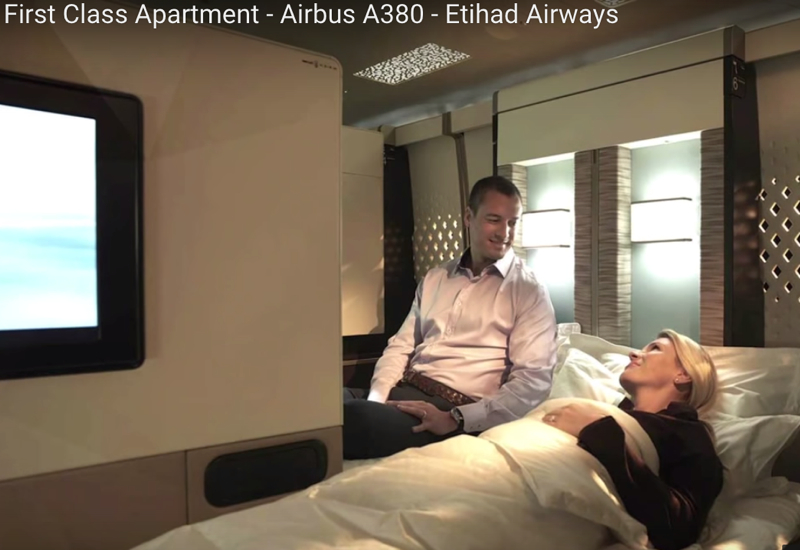 Etihad A380 First Class Apartment Award Availability–where is it? A TravelSort reader writes "I read your posts Etihad A380 First Apartments and Etihad A380 First Apartment: 2 Award Seats Between NYC and Abu Dhabi but I can't find any award space for even 1 Etihad A380 First Apartment award between NYC and Abu Dhabi. I'd love to try out Etihad's new product–has award availability completely dried up when using AAdvantage miles?"
No Etihad A380 First Apartment Award Space Between NYC JFK and Abu Dhabi Using AA Miles
There was a brief window earlier this year when it was possible to book Etihad A380 First Apartment awards using AAdvantage miles, but unfortunately there's no longer award space being released on that route. You can't blame Etihad for wanting to protect seat availability for paid bookings on that route, which is slated to start December 1, 2015.
It's definitely possible that after the route starts and Etihad has a better sense of the load factor for the flight, award space will again be released for some dates, but it's understandable that for this entirely new route Etihad first wants to see how paid bookings perform. Even on dates with 5 award seats on Etihad's Jet Airways configured 777-300ER flights (which are a rather poor first class product, hence the lower demand for them) there's no A380 award availability.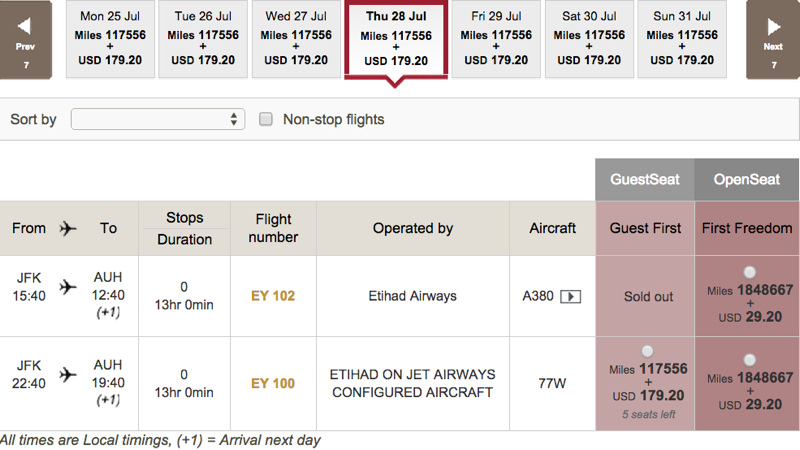 Scarce Etihad A380 First Apartment Award Space on London and Sydney Routes
Currently, the only other routes Etihad flies an A380 on are between London LHR and Abu Dhabi, and between Abu Dhabi and Sydney SYD. Unfortunately advance award availability is non-existent on the route between Abu Dhabi and Sydney, so really your only possibility of locking in advance award availability for Etihad A380 First Apartment is on the shortest route, between London and Abu Dhabi, which is Etihad Flight 20 from London to Abu Dhabi (6 hours 50 minutes) and Etihad Flight 19 from Abu Dhabi to London (7 hours 50 minutes). And even on these routes, advance award availability in Etihad First Apartment on the A380 is quite scarce, so you'll need date flexibility.
Best Bet: Last Minute Etihad A380 First Apartment Award Space
Your best bet if you want to fly Etihad A380 First Apartment is getting lucky with last minute award availability. As you'd expect, more award space tends to open up on the London route than on the Sydney route. A quick search yesterday turned up 5 Etihad First Apartment award seats on the A380 flight from Sydney to Abu Dhabi: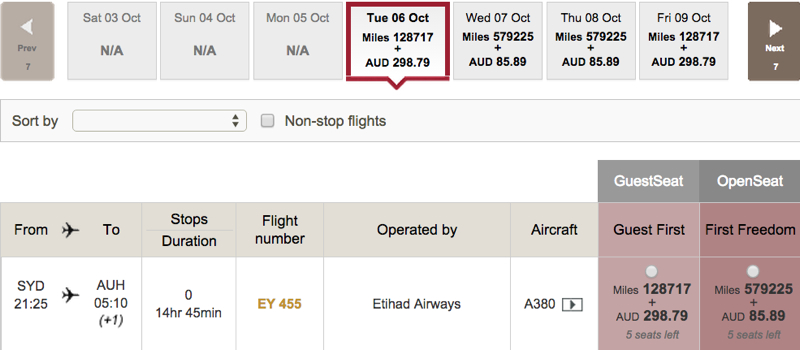 And here's some advance award availability for Etihad First Apartment on the A380 (as well as 777-300ER and A340) flights from Abu Dhabi to London: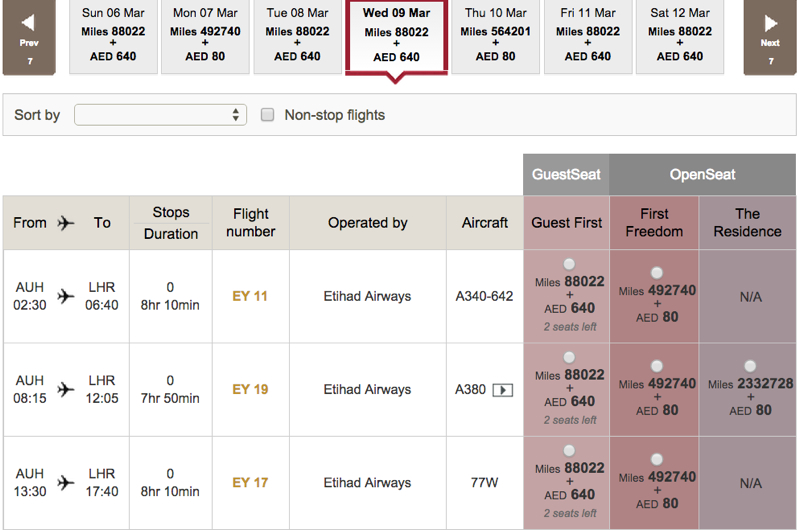 Backup: Book Etihad A380 Business Studio or Etihad First Class on the 777-300ER
Since you can't count on last minute award space opening up, you'll need backup flights booked if you're planning a trip rather than taking off on a whim, particularly since most of my clients and readers aren't based in Abu Dhabi. You could book A380 Business Studio award space in advance if flying the A380 and a new plane is most important to you: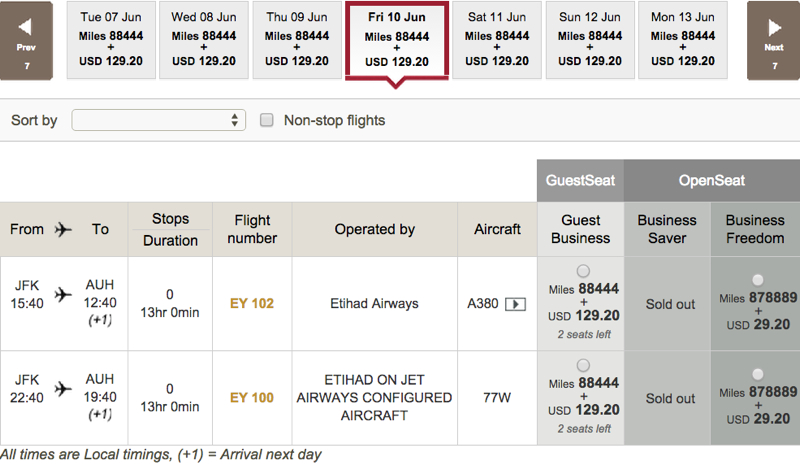 Or if some semblance of first class is most important you could fly Etihad First Class on a Jet Airways operated 777-300ER, though I recommend having low expectations, because the hard product is more worn and service is generally not as good as Etihad's own flights. Alternatively, consider making your backup flight in Etihad First Class 787-9, as it's a fresher product, though not without a few issues, as I described in my review.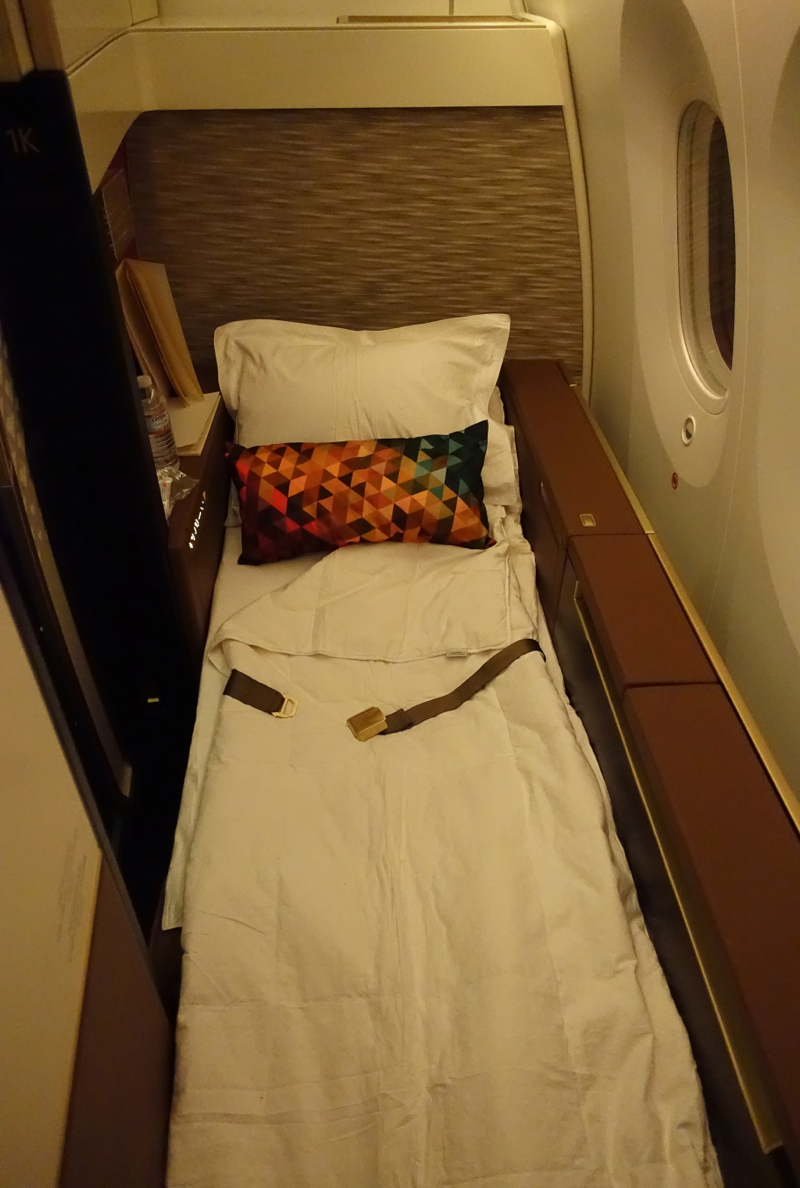 Alternative: Book Emirates A380 First Class with Alaska Miles
If your travel is to the Middle East, the Maldives, India, or a destination easily served by the UAE, a good alternative if there's award availability for your dates is Emirates A380 First Class. My husband had a great flight with them, though I was much less impressed with my own short-haul Emirates A380 First Class flight. The best way to book this award is using Alaska Mileage Plan miles; as a reminder, the current Buy Alaska Miles with a 40% bonus offer ends today, October 6.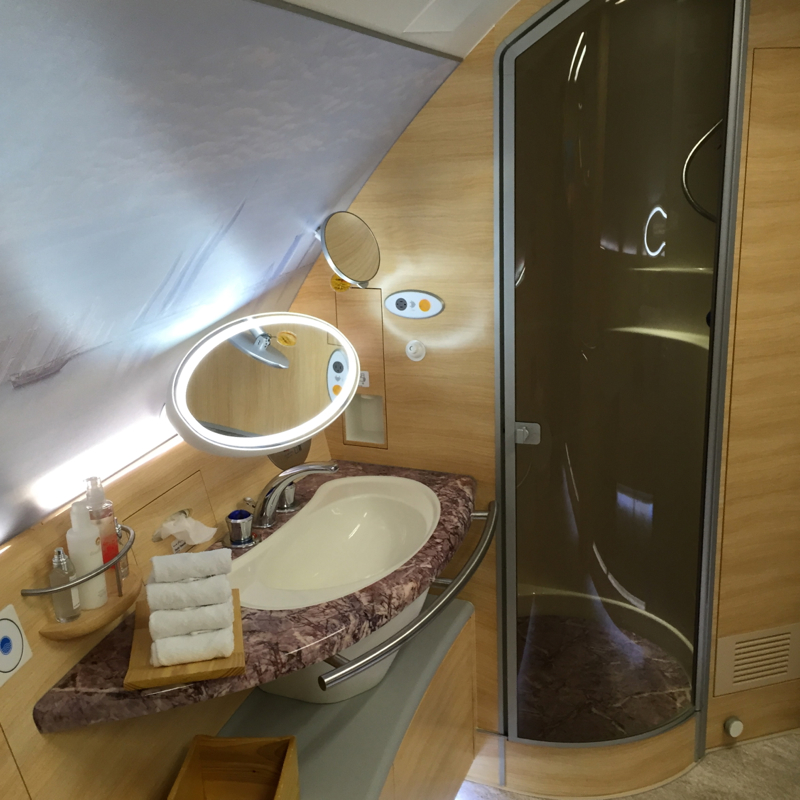 Have you flown in Etihad A380 First Apartments or do you plan to?
Related Posts
AAdvantage Miles Can Still Book Etihad A380 First Apartments and First Class
Etihad A380 NYC to Abu Dhabi Starts December 2015
Etihad A380 First Class Apartment Award Space to Australia
Etihad Flavors of Arabia Review and New Etihad A380 Destinations
Etihad First Class 787-9 Review
Need Award Booking Help? Our fee is as low as $75 per ticket if you book your hotel through us.
If you enjoyed this, join 200,000+ readers: please follow TravelSort on Twitter or like us on Facebook to be alerted to new posts.
Become a TravelSort Client and Book Your Hotel with Virtuoso or Four Seasons Preferred VIP Amenities!