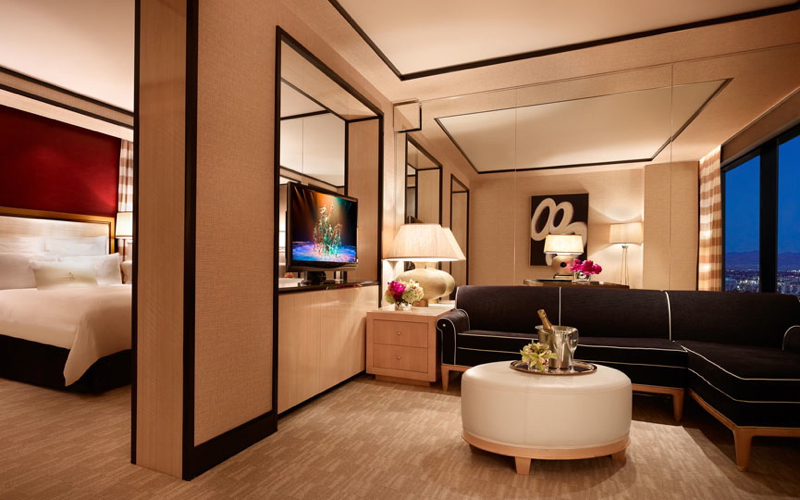 Hoping for an Encore at Wynn Las Vegas upgrade? Wondering if the $20 trick can work at Encore or if it's paid upgrades only? Here are some tips to maximize your chances of being upgraded:
1. Stay During an Off-Peak Time
This is a good rule to follow in general, but is especially important for Las Vegas, where room rates can fluctuate dramatically for peak and off-peak times. In general weekends are more expensive than weekdays, and certain weekends are especially hectic, for example holiday weekends such as Labor Day. Staying midweek during certain summer weeks (when most people avoid Vegas due to the extreme heat) can help your upgrade chances.
2. Book a Short Stay
Another general rule that also applies to Vegas is that shorter stays are easier to upgrade. I'm not saying a longer stay is impossible (I even recently had a client upgraded at a 5-star Hawaii resort for his 3 week stay during the summer holidays) but a short stay does make it more likely that an upgrade will be available.
3. Book a King Bedded Room
Because so many friends and families stay in Vegas, not to mention bachelor and bachelorette parties, rooms and suites with 2 Queen beds are popular. You likely will not be offered an upgrade if the category above yours is sold out of the 2 Queen bed options, and only King bedded suites are available.
4. Book with Virtuoso for a Complimentary Upgrade if Available at Check-In
If you want to have nothing to do with the $20 trick (or rather $50 trick–see below), book the Encore as a TravelSort Client with Virtuoso benefits, since one of the Virtuoso benefits is an upgrade to the next category, if available at time of check-in. Virtuoso benefits for Encore at Wynn and for Wynn Las Vegas include:
Upgrade on arrival to next room category,

subject to availability

A $30 per person breakfast credit per day

(max 2 people, any breakfast outlet excluding in room dining)

A $50.00 USD Resort Credit & $50 Spa Credit, once per stay

*Please Note: See Terms and Conditions for further restrictions.

Early check-in/late check-out,

subject to availability
5. Verify the Availability of the Suite Above the Category You Booked
It does no good to try to cajole an upgrade if there aren't any available, particularly none in the category above the one you booked. So before checking in, do a quick search to see if an upgraded suite is available for all nights of your stay, and what the incremental difference is. Even if you made a discounted booking and are considering paying for an upgrade, you'll have a better sense of the value proposition.
6. Be Polite But Persistent if Presented Paid Upgrades When Entitled to a Complimentary Upgrade
If you are booked with Virtuoso benefits or AMEX Fine Hotels & Resorts benefits, you may still be offered only paid upgrades. That's where #5 is important, because you can then show the front desk associate that suites in the category immediately above the one you're booked in are being sold, so you should be able to be upgraded to one. If you hate being persistent in this scenario, call your travel advisor while at the check-in desk and let them speak to the front desk and/or reservations. It's almost always easier to resolve this at check-in, before you've accepted the keys to your room or suite, than after the fact.
7. $20 Trick? Try $50 Instead
Vegas runs on tips, but most of the higher end hotels, including Encore at Wynn, have sought to rein in the practice by establishing clear paid upgrade offers, telling front desk staff they are not allowed to accept tips in advance of providing an upgrade, and sometimes even giving front desk agents a portion of these paid upgrades. So overall, your chances of providing a $20 "sandwich" tucked between your ID and credit card are worse at Encore than at more mid-range Vegas hotels.
That said, at least one commenter, Shaun, on this Canadian Kilometers post reports that $50 worked for him, getting him a double upgrade from a standard Resort King to a Tower Suite:
"…I checked in on a Sunday (6/8/14) around 6 PM for a 4 night stay…in a standard Resort King room at Encore…I handed the check in lady a $50 sandwich and asked if there were any complimentary upgrades available…She said she would check and asked if I was celebrating anything special. I told her we were celebrating my wife's birthday (which was actually a month away)…I ended up with a Tower Suite King on the 54th floor."
If you've tried recently for an upgrade at Encore Las Vegas, what was your experience?
Related Posts
Mandarin Oriental Las Vegas Review
Bellagio Las Vegas Review: Virtuoso Benefits and Hyatt Points
Four Seasons Las Vegas Hotel Review
MOzen Bistro Vegas Sunday Brunch Review
Need Award Booking Help? Our fee is as low as $75 per ticket if you book your hotel through us.
If you enjoyed this, join 150,000+ readers: please follow TravelSort on Twitter or like us on Facebook to be alerted to new posts.
Become a TravelSort Client and Book Encore at Wynn Las Vegas with Virtuoso Amenities!