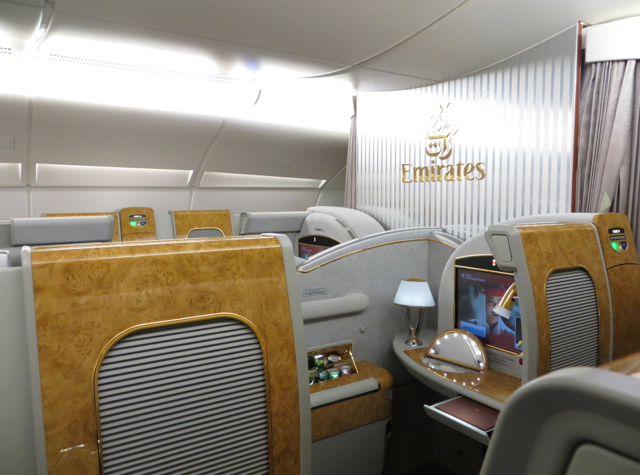 Emirates A380 flights to San Francisco and Houston will start daily in December 2014, replacing the current Boeing 777 birds on those routes. This is a great improvement, since on the A380 there are 6 more Emirates A380 First Class Suites than on the Boeing 777, the 2 shower suites (the only shower on a commercial aircraft until the Etihad A380 The Residence and Apartments launch at the end of 2014) and Emirates business class on the A380 offers fully flat bed seats (the 777 business class seats are angled flat).
Emirates A380 Service to San Francisco
Emirates A380 service to San Francisco starts December 1, 2014
EK226 departs San Francisco 3:30pm, arrives Dubai 7:25pm the next day
EK225 departs Dubai 8:50am, arrives San Francisco 12:50pm the same day
Emirates A380 Service to Houston
Emirates A380 service to Houston starts December 3, 2014
EK212 departs Houston 6:25pm, arrives Dubai 7:05pm the next day
EK211 departs Dubai 9:30am, arrives Houston 4:05pm the same day
FAQ
Are These New Emirates Routes to San Francisco and Houston?
No, these routes already operate using a Boeing 777; they are switching to Emirates A380s in early December 2014.
What Are the Key Differences Between Emirates A380 and Boeing 777, for First Class and Business Class?
A380's upper deck is exclusive First Class and Business Class
First Class: 6 more First Class Suites than on the Boeing 777
Business Class: 34 more business class seats than on the Boeing 777
First Class: 2 shower suites
Business Class: fully flat bed seats instead of angled flat
Onboard Lounge for First Class and Business Class passengers
What are Emirates' Other A380 Routes Between the U.S. and Dubai?
New York JFK: 2 daily flights to Dubai
Los Angeles LAX
Dallas Fort Worth DFW (starts October 1, 2014)
What's the Best Way to Book Emirates A380 First Class as an Award Ticket?
The best way is using Alaska Airlines Mileage Plan miles. For example, Emirates First Class one way between the U.S. and Dubai is 90,000 miles. That said, you can only redeem for Emirates awards between the U.S. and India, the Middle East, and Africa; it's not possible to redeem Alaska Mileage Plan miles for an Emirates award that doesn't touch the U.S.
If you do need an Emirates award that doesn't touch the U.S., Japan Airlines Mileage Bank is a good bet, especially now that one way awards are permitted. JAL has a distance based award chart, so use the Global Circle Mapper to determine your itinerary in miles, then check the required mileage on JAL's partner award chart. For example, the same one way between NYC JFK and Dubai would be 6849 miles, so would require 100,000 JAL Mileage Bank miles. You can transfer SPG points to JAL Mileage Bank and to Alaska Mileage Plan–see SPG Airline Partners: Transfer Starwood Points to Miles
Is There Any Emirates First Class Award Availability Yet for the New A380 Routes to San Francisco and Houston?
No, not yet. Hopefully it will be loaded soon, although in general Emirates First Class availability via Alaska Airlines has gotten harder to get, until close to departure.
How Does Emirates First Class on the A380 Compare to Etihad First Class?
To be honest, the main attraction for me of Emirates A380 First Class was the onboard shower. I also thought the food was well executed, and the main dish was a slight cut above Etihad's. That said, I definitely found Etihad's flat bed seat more comfortable, probably helped by the fact that the end of it is the solidly flat ottoman, whereas Emirate's seat doesn't have an ottoman and seemed at a bit of an angle. The massage function was good on Emirate's seat, however.
Do you plan to fly the Emirates A380 between San Francisco and Dubai or Houston and Dubai once it launches in December 2014?
Related Posts
Emirates A380 First Class Review Dubai to San Francisco SFO
Emirates First Class A380 Review
Emirates: New AMEX Membership Rewards Points Transfer Partner But Worth It?
Emirates First Class Award Fifth Freedom Bangkok to Hong Kong Flight?
Alaska Airlines: New Online Award Search for Emirates, Air France-KLM, Qantas
Need Award Booking Help? Our fee is as low as $75 per ticket if you book your hotel through us.
If you enjoyed this, join 100,000+ readers: please follow TravelSort on Twitter or like us on Facebook to be alerted to new posts.
Become a TravelSort Client and Book Your Hotel with Virtuoso or Four Seasons Preferred VIP Amenities!