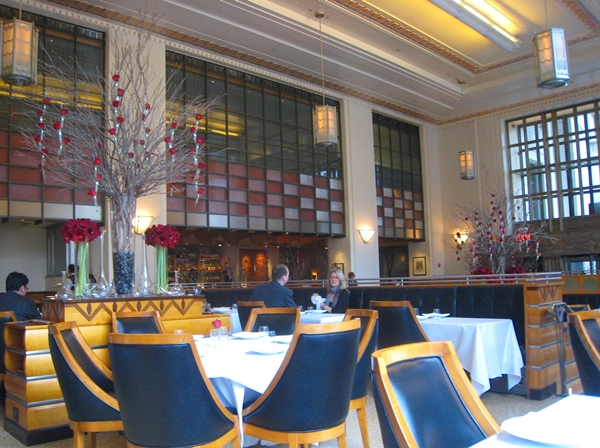 Eleven Madison Park has been an annual tradition for my husband and me, when celebrating our anniversary. Fortunately, this year, we were able to take advantage of the British Airways Visa Offer of $100 Off 2 NYC Michelin Restaurants ($50 credit for each of 2 dines). We had already enjoyed a free lunch at Jean-Georges by receiving a total of $100 in statement credit (since my husband also has the BA Visa, and we put the bill on our two cards) and we were able to do the same at Eleven Madison Park. In fact, this time I decided to also use an Open Table check for $50, so we got $150 off our meal.
But even apart from our savings this time, Eleven Madison Park is hands down my favorite New York fine dining restaurant, and our lunch yesterday did not disappoint. Eleven Madison Park is housed in a former bank in a landmark Art Deco building that used to house MetLife, and once you push the revolving doors to enter, you're greeted with a striking seasonal flower arrangement, currently a dramatic arrangement of red roses and amaryllis.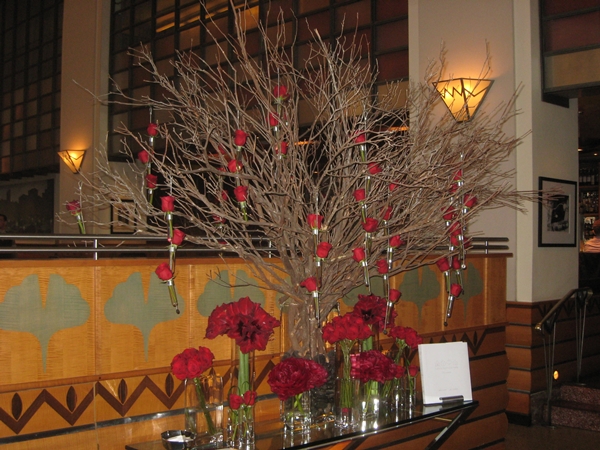 I was warmly greeted and helped with my coat, then led to our corner booth, where my husband was waiting. I love the comfort of a corner booth, and at Eleven Madison it also comes with fantastic natural light from the tall windows and a great view for both of us of the entire restaurant. While in general I'm happy to sacrifice space for great food (this is Manhattan after all, where space is at a premium and rents are sky high), at Eleven Madison Park you don't have to. They've made a conscious decision to focus on creating a superb overall dining experience, and that includes ambience and a great deal of individual attention for each guest.
As I sat down, I noticed with delight that there were two champagne flutes, and our server explained that to help us celebrate, they would like to offer us a complimentary champagne toast. Now, champagne is not normally something I enjoy, but I did enjoy this one, and it proved an excellent accompaniment to some of our appetizers and especially with our final cheese course. Soon after, our server brought us 6 complimentary mini cheese gougeres, warm from the oven. I view warm bread as a huge plus in fine restaurant, and Eleven Madison Park's warm cheese gougeres are heavenly. As you can see, I didn't even manage to take a photo until we had sampled 3 of the gougeres, as we were too distracted by how good they are.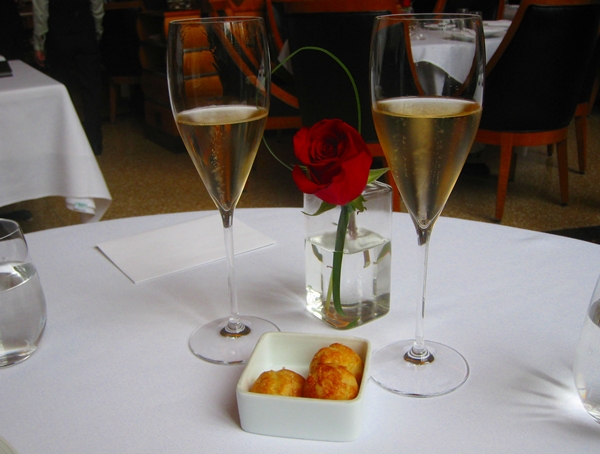 Another thing I love about Eleven Madison Park are the amuses bouches. Even though we were dining at lunch and had ordered the 4 course menu, and not the tasting menu, we were served not one, but two delicious amuses bouches. The first was comfort food taken upscale: housemade chicken liver pate on dainty toasts, and silky chicken veloute with parsley oil: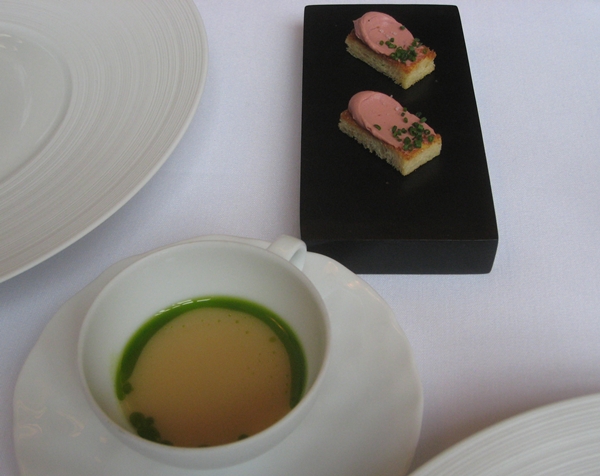 The second, smoked sturgeon sabayon, was elegantly presented in egg shells, which encased the creamy sabayon and smoked sturgeon. I marvelled at how perfectly cut the eggs were–I'm pretty sure if I attempted to do the same thing at home, even with the incredibly sharp knife that they use, I'd end up with a full dozen of cracked and unusable eggs.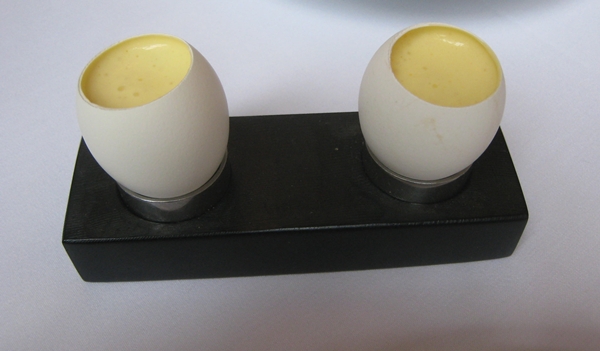 We were brought warm housemade bread with cow's milk and goat's milk butters and sea salt–this was different from past years, where they've had a bread basket with several different varieties of bread to choose from, yet room temperature. I much prefer this new housemade bread, which is buttery and served warm. My husband couldn't resist asking for another roll, and we also took a roll home for our son, who is a huge bread fan.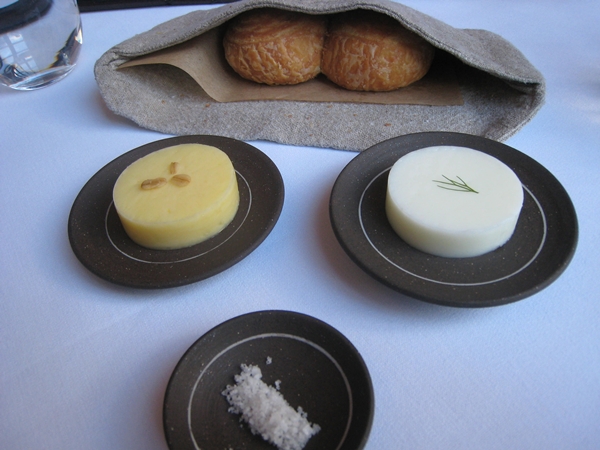 The menu at Eleven Madison is unique, in that it doesn't list detailed descriptions of dishes; instead, it's a simple page composed of 4 rows, with 4 ingredients listed in each row. For the 4-course menu, you choose your preferred ingredient from each row, and can ask the server about the preparation. While it's of course not as if the kitchen creates a different dish for each guest, the simplified menu keeps the focus on the ingredient, and encourages a dialogue with your server.
For the first row, I chose foie gras and my husband chose crab. For the second row, we both chose lobster; and for our main, even though not listed as an ingredient option, we chose the whole roasted Muscovy duck, as we'd had that in years past and it was the highlight.
Our first course arrived, a foie gras terrine beautifully plated with punterella (a seasonal Italian leafy green):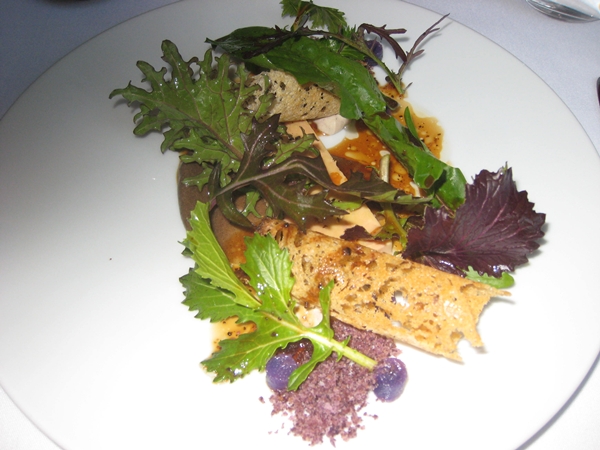 My husband was equally pleased with his crab, which came in a long roll wrapped with avocado slices and adorned with edible flowers: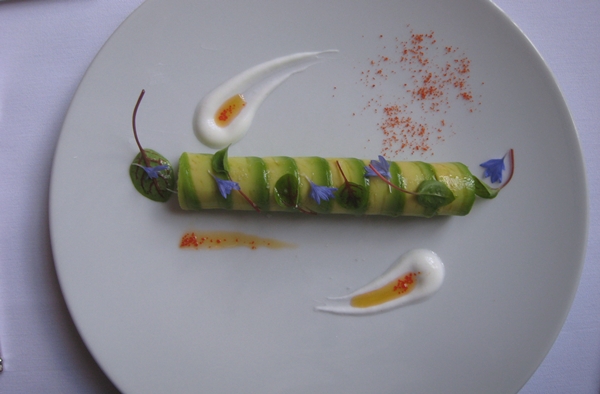 For our next course, we couldn't resist both ordering the lobster, and were glad we did. It came perfectly poached, with maitake mushrooms, greens, and mushroom puree. I remembered having this dish previously, and it was every bit as good as I remembered.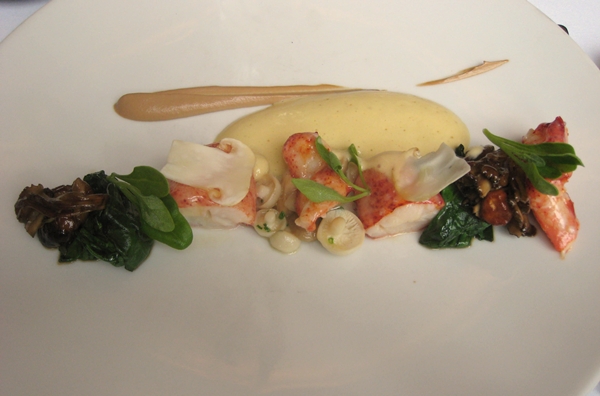 Although I thought the foie gras terrine portion was a bit on the small side, I was very glad it wasn't any bigger than it was when we had our main course of duck. It was truly a dramatic presentation, brought to our table in all its glory, glistening and stuffed with lavender, then carved tableside while guests at nearby tables looked on, impressed. The past time we enjoyed this, three years ago, it was shown to us but then taken back to the kitchen to be carved. The duck breast was carved and plated for us, then the rest of the duck was taken to the kitchen to prepare a duck confit second mini course.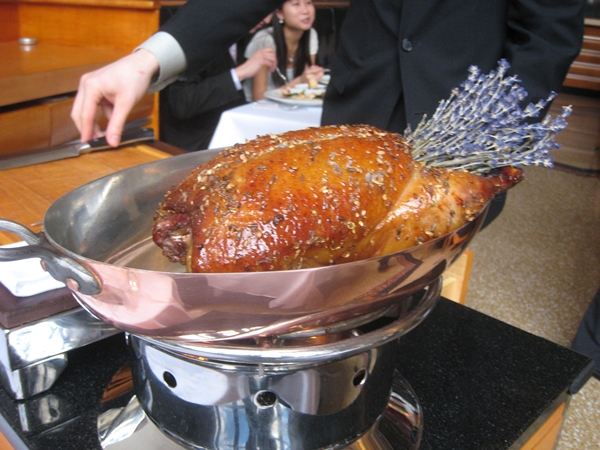 The duck was plated with fennel root and persimmon, which lent a delicious spicy sweetness that complemented the honey and lavender notes of the duck well. Since my husband and I enjoy a glass of wine but aren't huge drinkers, we split a glass of the Syrah (Patrick Jasmin, Cote-Rotie 2004) that our server recommended to us to accompany the duck.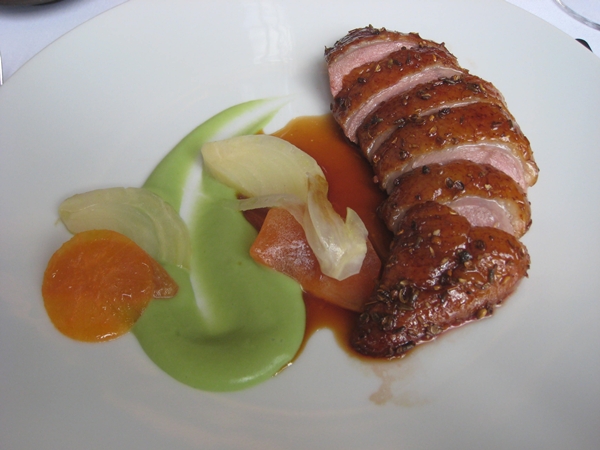 We were brought the duck confit topped with a decadent foie gras potato puree–the most decadent mashed potatoes imaginable, even though of course you can't tell from the picture.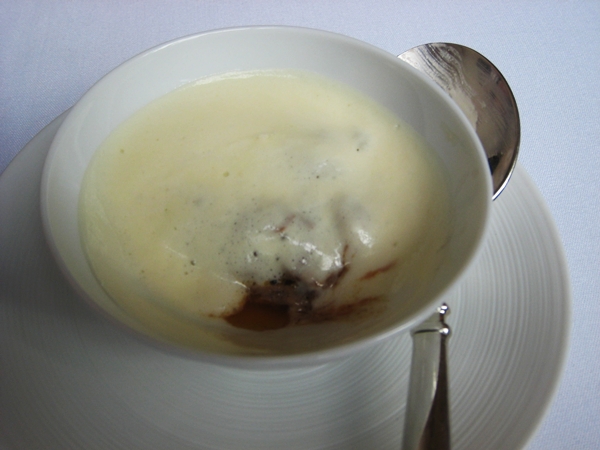 I'd read that some other foodies had managed to be treated to a kitchen tour, so I put in the notes of our Open Table reservation that we would love one too, if possible. Sure enough, the young woman who had confirmed my reservation and greeted me upon entering appeared, smiling, to invite us back into the kitchen of Eleven Madison Park–I was thrilled! She first showed us the servers' area, which used to be part of the dining area of the restaurant but is now used by servers as a staging area, used to prepare coffee, etc. Then we entered the main part of the kitchen, which was large, but not as large as I thought it might be given all the many labor-intensive and intricate creations that issue from it. While we were there, there was a military-like shout and chorus of "Oui!" which, we learned, is done as part of the brigade system, whenever a new order comes into the kitchen. It makes sense to me that with the kind of near flawless execution at Eleven Madison Park, it's a very regimented place in the kitchen.
That said, there's a reason why there are two Miles Davis posters, which almost seem an incongruity until you learn the back story, of how after critic Moira Hodgson, in a New York Observer review of the restaurant several years back, wrote that the restaurant needed "a bit more Miles Davis." That prompted Chef Daniel Humm and General Manager Will Guidara to come up with eleven words that were most commonly used to describe the jazz star, including Cool, Endless, Reinvention, Inspired, Forward-Moving, Fresh, Collaborative, Spontaneous, Vibrant, Adventurous, Light and Innovative. They continue to use these to inspire and guide them and their entire team in the future development of the restaurant.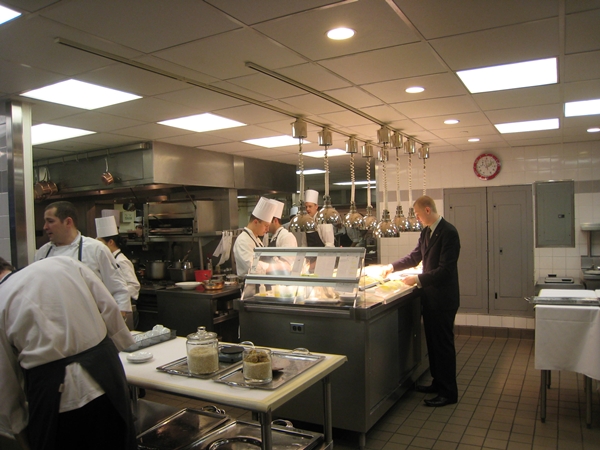 We were invited to stand by a Miles Davis poster, where a small high table had been set up, along with some interesting equipment–as it turned out, used by a pastry chef to prepare, right in front of us, Eleven Madison Park's version of a Jack Rose cocktail. As you can see, there was plenty of liquid nitrogen involved, to create a hard shell around the pomegranate sorbet. Then the spherical sorbet with hard shell was added to the cocktail, which also contained apple pieces and applejack–yum!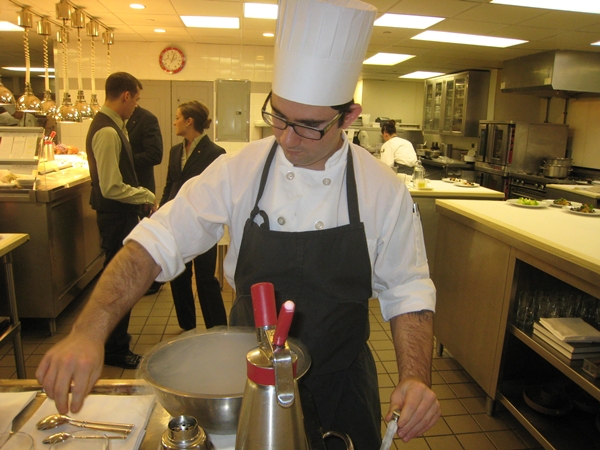 For our final course, we had both chosen triple creme cheeses. It might sound strange, given my sweet tooth, not to choose chocolate or one of the other choices, but I'm almost as much a cheese fan as a dessert fiend, and somehow it seemed appropriate for this 3-Michelin star French restaurant to finish, as the French often do, with cheese. We were first shown the whole rounds of triple creme cheeses, then our plates with tastes of each were brought out. If I had to criticize, I'd say that the cheese cart I remember from past visits was more impressive, but this is a minor quibble in an otherwise stellar menu and overall experience.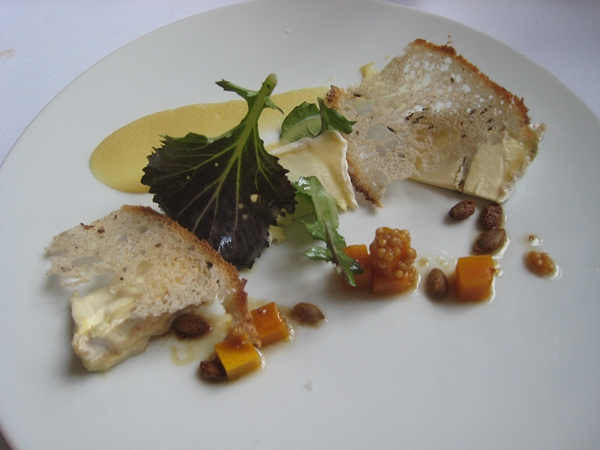 A last tableside experience awaited us: our server prepared an egg cream, with malt syrup, milk, a splash of olive oil and then the seltzer. It's just one of the things that root Eleven Madison Park firmly in New York, and not just fine French cuisine that could be anywhere.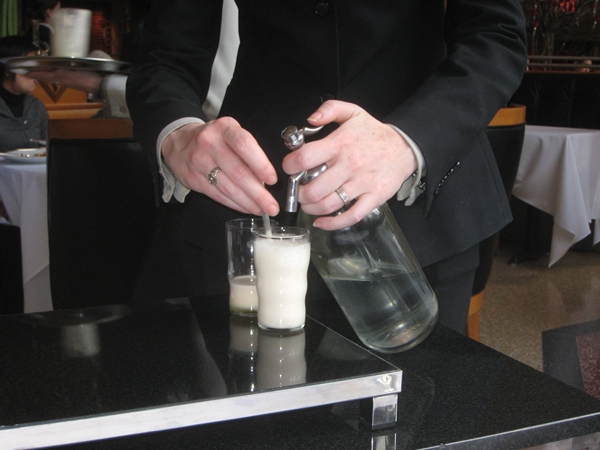 We finished off with delicate truffle ice cream mignardises–I especially enjoyed the chocolate one. It's not a flavor everyone would enjoy, and my husband didn't like it as much as I did, but to me the earthiness of the truffle was an inspired pairing with dark chocolate.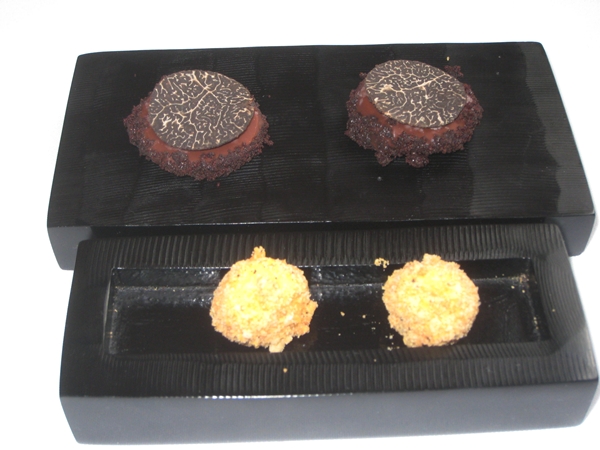 Now that Eleven Madison Park is a 3 Michelin Star Restaurant, it's harder than ever to secure a reservation. I would actually suggest going for a decadent lunch if you can, and not just because it's cheaper ($75 for the 4-course lunch menu, vs. $125 at dinner, which for food of this caliber is a great deal, even without the British Airways Visa credit). Lunch is easier to get a reservation for, and you get to fully appreciate the space, with its atrium feel, natural light flooding in, and views of Madison Park.
Looking for other New York Restaurant Reviews and guides? Here are a few you may be interested in:
Daniel Humm's The Nomad: NYC Restaurant Review
Tom Colicchio's Riverpark, NYC Restaurant Review
Hip Traif, NYC Restaurant Review
Splurging on New York's Best Special Occasion Restaurants
Romantic Getaway to New York City
Need Award Booking Help? Our fee is as low as $75 per ticket if you book your hotel through us.
If you enjoyed this, join 200,000+ readers: please follow TravelSort on Twitter or like us on Facebook to be alerted to new posts.
Become a TravelSort Client and Book Your Hotel with Virtuoso or Four Seasons Preferred VIP Amenities!