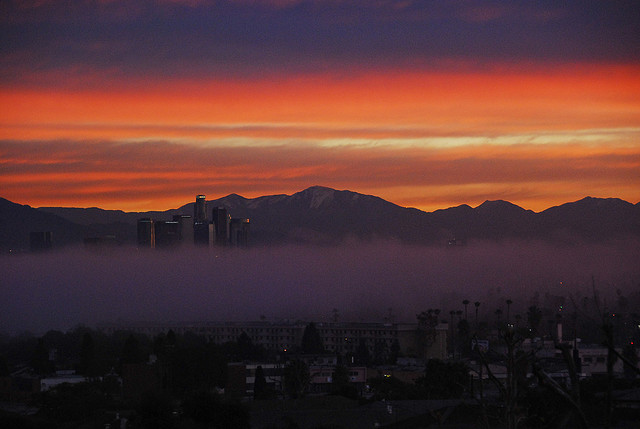 Why Go:
Scratch the surface and Los Angeles is more than its glamorous appearance in blockbuster movies and TV shows, or its superficial side that its detractors lambast. There's a boom in younger, hipper people relocating there instead of New York, especially in regards to the art community. Whether it's the documentary film festivals coming out of the Williamsburg of the west coast, Silver Lake, or the ever-growing gallery scene impervious to the dreaded summer group-show drought, Los Angeles is cool in ways it never has been before. Nowhere is this boom in culture as apparent as with fashion and shops in general, as up-and-coming designers seem to be flocking to Los Angeles and opening up storefronts en masse like never before.
At the same time that the arts and music scenes are growing throughout the entire city, different neighborhoods are all having their own booms at the same time. What were once originally sleepy residential sections are turning into enclaves for twenty-somethings seeking affordable rent and delicious Mexican food. Today's Echo Park is tomorrow's Silver Lake and who knows? Maybe Silver Lake is now closer to West Hollywood. No matter what, it's hugely important for visitors, especially first-timers and those who don't have local friends to act as guides, to get away from all of the usual tourist traps and obligatory activities if they want to experience a "real L.A." Otherwise, you run the risk of actually thinking an entire multicultural, complicated city is just a single street of luxury shopping and cement handprints.
Just as diverse as the neighborhoods' attitudes is the actual landscape of the city, where a couple of hours (if you're being optimistic) in a car can have you everywhere from running trails in the hills to front and center on a white sandy beach, working on your tan. Los Angeles is at once in the mountains, by the ocean, and even in the middle of a desert, and as urban an environment as it is, getting away feels a whole lot easier than in many other large cities in the States.
Insider tips
International flights and most domestic flights arrive to Los Angeles International Airport (LAX), but the city is also served by regional airports in Long Beach, Burbank, and Orange County's John Wayne Airport (SNA). More of the large carriers have started flying to those smaller airports in recent years, and they are less crowded and very convenient if you are going to be staying in those areas. Be aware that rental cars are typically more expensive when rented at a regional airport rather than at LAX.
Rent a car. Anyone telling you that you just don't need to is lying. Seriously, this cannot be stressed enough.
Mentally prepare yourself for the traffic right now, especially if you aren't used to being in rush-hour gridlock. No one wants to spend their vacation in traffic, but if you're going to be jetting around Los Angeles during your stay, it's going to become an issue sooner or later, even if you're taking the bus. Just take your cues from the locals. Usually, it's nothing to get that stressed about, and if you really hate traffic, plan your day around it, making sure to be wherever you want to be long before or after rush hour. This is also why picking your hotel's neighborhood is important: walking around West Hollywood for the day can be a lot more fun than walking around wherever you budget-rate Motel 6 is going to be located.
As the popular 1980s song by Missing Persons said, "Nobody Walks in L.A." This is generally true. There is a lot of foot traffic in Westwood, the neighborhood near the UCLA campus; in Beverly Hills around Rodeo Drive; in the beach town of Venice; at the Santa Monica Pier; in the heart of Hollywood; and a few other shopping and entertainment districts.
On the positive side, it's pretty much temperate and sunny year-round. Summer is consistently hot, so you'll want sleeveless or short sleeved shirts or dresses and lighter weight pants or skirts and sandals. The sun can be strong, so don't forget to use a hat or sunscreen. In winter a light jacket is sometimes needed during the day, but to be safe you should pack a fleece jacket or mid weight jacket for nighttime.
In terms of safety, there are some rough areas surrounding LAX Airport, particularly the car rental areas, so keep your car locked and do not walk around this area. Your main safety concern will be in a car since that is where you're likely to spend most of your time. Have a good map (Thomas Guide) or navigation system so you do not get lost and accidentally end up in an unfamiliar or unsafe neighborhood. Keep your car doors locked at all times, and avoid aggressive driving or negative interaction with drivers of other cars. If you have a GPS, lock it away out of view while parked since theft of these devices is common.
It is illegal in the state of California to use a cell phone or handheld device while driving, so you will need a hands free ear piece if you plan to use your phone in the car.
You will quickly notice that freeway signs have a tendency to indicate the direction you are traveling by the end destination rather than by direction. For example, if you are on Interstate 5 you will be directed to go in the direction of Sacramento or San Diego. If you're not from the U.S. you may not know that Sacramento is north and San Diego is south.
Parking can be difficult in congested areas, and pay close attention to parking restriction signs. Note that many meters in the county run until 8 p.m., so always check the meter carefully as fines are very high (usually $50 for a simple meter violation).
Where to stay
For a large city, Los Angeles has relatively good hotel rates, although if you're on a tight budget you'll still be looking at motels, hostels and (preferably, if you can) staying with friends. A good motel bet, since it's family run, is Jerry's Motel. It's a flat $75/night and rooms are simple but clean and comfortable, with fridge, microwave, and flat screen TVs.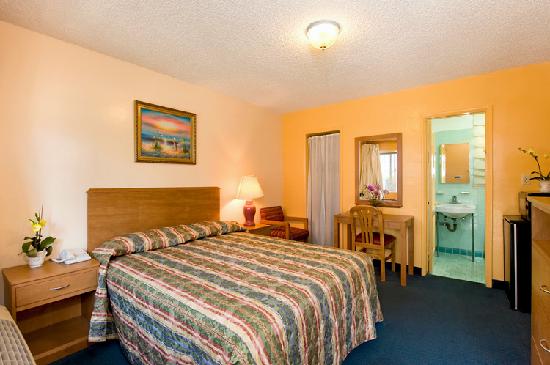 If you're looking for a more upscale experience for a splurge, forget about the Chateau Marmont as the most effortlessly cool place to stay while in Los Angeles, and try to get yourself a room at The Charlie. It's not going to be easy, since at any given time, there's only 11 to choose from, each individually decorated and named after someone who stayed here back when it wasn't a boutique hotel, but rather, was Charlie Chaplin's house. Far less gaudy and cheesy than most boutique and luxury accommodations in the area, the rooms are really private, peaceful, and surprisingly quiet, even though it's just a short walk to The Sunset Strip. I never thought I'd be hanging out in a garden while staying in Los Angeles, but lo and behold, you can actually do that here. Apparently, there are larger ones to choose from at way higher prices, but I was quite happy with "The Sasha," a one-bedroom, one-bathroom with beautiful porch. It's important to note that when I say the "value" here, I'm definitely referring to everything that you get for the price that you pay, not necessarily that this is an affordable place to stay for someone traveling on a budget. It's not.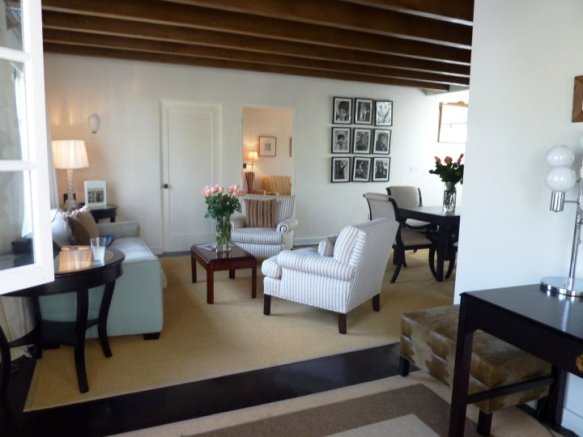 What to eat
There's pretty much an endless supply of cute cafes in West Hollywood, but MILK stands out for me because their baked goods were so delicious. Cupcakes, brownies, scones…you name something you wouldn't expect someone in such a carb-conscious city to be eating, they've got it. The coffee was surprisingly great, too, and it was packed without turning into a madhouse. I just stuck with coffee and baked goods, but all of my friends who live in Los Angeles rave about the homemade ice cream, so that's something to consider, too.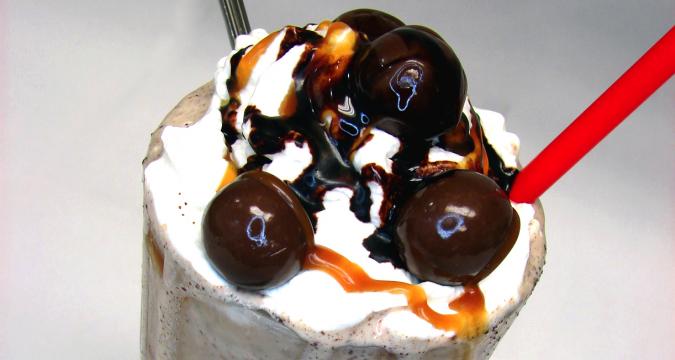 A lot more laid-back than your typical Hollywood restaurant, Speranza in Silver Lake (2547 Hyperion Ave, tel. (323) 644-1918) is super-cozy for dates. I got lucky when I was there walking in, but it seems as though reservations are key, because it sure got packed quickly. If you're an Italian food purist, the menu won't blow your mind, but the adorable little patio might manage to put any potential complaints on the back burner. A generous bring your own bottle policy means that you can bring whatever wine you want and not get charged a corkage fee. The liquor store across the street makes picking something up if you didn't know the deal before arriving a whole lot easier. Homemade pasta is worth paying a few bucks extra for, and if you're not sure what to order, the fettuccine puttanesca was prepared nicely. Don't forget to save room for luscious tiramisu and other desserts. Best of all, you're not actually overpaying for the ambiance.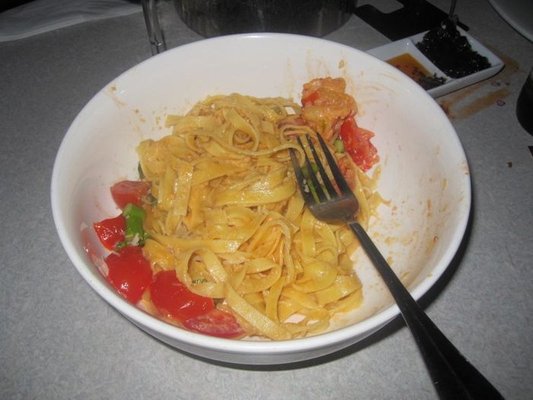 You'd be doing yourself a disservice to be in Los Angeles and not eat Mexican food (if I had it my way, I would have eaten only Mexican food, but that's another story entirely). If you're looking for something that's a little more cute than dirt cheap and still has delicious and authentic dishes, Alegria on Sunset is an excellent choice. Close to a lot of the popular bars in Silver Lake, you can get your evening started early with the epic amount of tequilas to choose from when it's time to order your margarita. I went twice, once for breakfast and once for dinner, just to give an idea of how good it actually was. Whatever you do, get some guacamole at some point, no matter what meal you're there for, as it is fantastic. One of the few places I've gone with vegan friends where we are both equally happy with our food choices and options.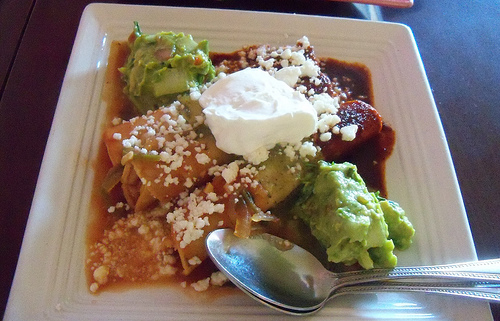 If you're on Twitter, start following the Kogi Korean BBQ taco truck right now. A pioneer in the world of Twittering mobile food stands, Kogi makes delicious Korean barbecue and then drives around Los Angeles, serving it up different spots around town. How to find out where this nomadic restaurant is? Their Twitter, of course, (with almost 80K followers), although their Web site also has the info. It's become sort of a cult amongst skinny, well-dressed hipsters, but that doesn't detract from the food, which is delicious and shockingly affordable.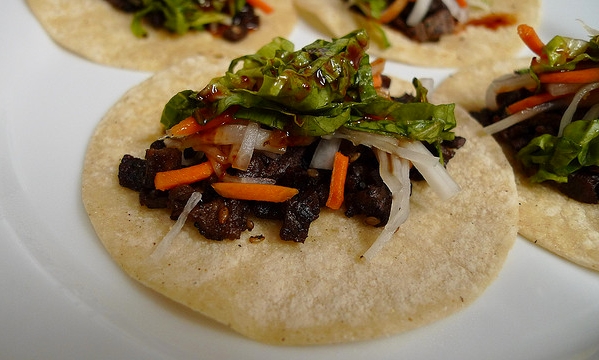 What to see
The enormous Hollywood sign on the hillside is a site recognizable around the world. It can be best seen from the area surrounding Griffith Park, where the observatory and planetarium can also be visited. In the city of Hollywood you can still try to fit your hands and feet into the prints left by movie stars in front of Grauman's Chinese Theatre (now Mann's) and walk down the Walk of Fame.
If you're on a budget, you're probably not going shopping on Rodeo Drive in Beverly Hills, which boasts boutique after luxury boutique, but you can always window shop. And if you must know where your favorite celebrity lives, you can pick up a map to the stars' homes from street vendors in the surrounding neighborhoods.
If a walk on or near the beach is more your style, head to Venice Beach, for a laid-back vibe, or to Santa Monica which has a more upscale Third Street promenade with plenty of shops and restaurants. More shopping can be found at the Farmers Market has for decades been a popular dining and shopping spot, and its newer neighboring The Grove shopping center has upscale shopping and is popular with celebrities.
Everybody is always raving about the views from the Getty Center, but what they neglect to mention is that it's absolutely free. One of the most beautiful buildings in Los Angeles, it's right on top of a hill and does offer a great place to take in the city (or to take some pictures). There's a shuttle from below, and don't even think about trying to bring your car up that hill unless you've made a reservation far in advance–but it's so expensive to park up top and so easy to take the shuttle that there's no reason to reserve, anyway.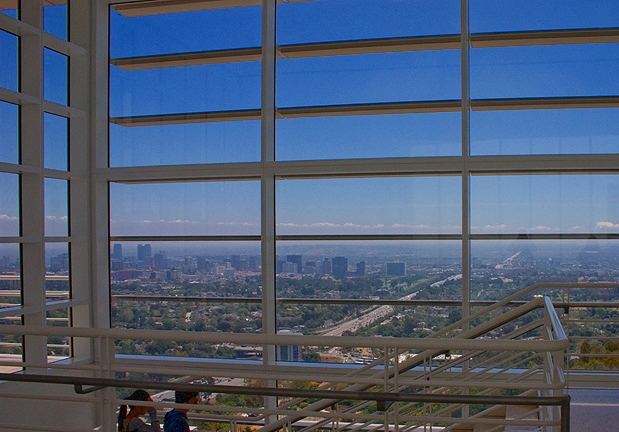 If you're looking for art, however, there are much better bets than The Getty Center. If you were looking for Getty's classical art collection, you'll need to drive to Malibu, where the Getty Villa houses the oil magnate's classical art collection.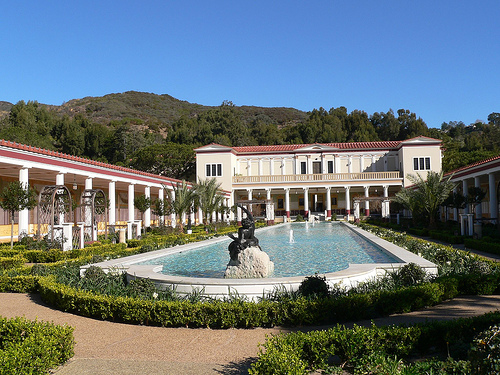 And if you're after a large museum experience of modern art, nowhere beats MOCA, Los Angeles' Museum of Contemporary Art. The permanent collection boasts pieces by Cy Twombly, Jean-Michel Basquiat, and Robert Rauschenberg and the museum has hosted traveling shows on many huge-name artists, including Louise Bourgeois, whose show at MOCA I was fortunate enough to see while it was up in Paris. This is some serious world-class art, and entrance isn't as steep as it could be.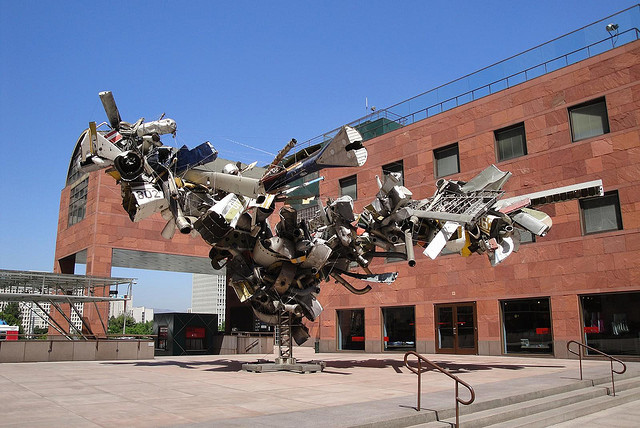 The Museum of Jurassic Technology is a project that falls somewhere between conceptual art and Ripley's Believe It Or Not. It is a tough project to explain, let alone to convince someone to go to, simply because telling too much about it will "give it away." Let's just say that a husband and wife team founded the museum, that you shouldn't take the name too literally, that those who are fans of the non-annoying quirky will love the museum, and that it has one of the best gift shops you would ever ask for. More than just a smarmy art student joke, The Museum of Jurassic Technology's co-founder David Wilson has received a Genius Grant. That won't matter as much to you when you're browsing the super-miniature sculptures or eewing when you see (what are hopefully fake) rats on toast, but anyone interested in the bizarre or myths of years past will really enjoy this museum. I'm actually very surprised that, out of all of the cities in the States, it's located in Los Angeles.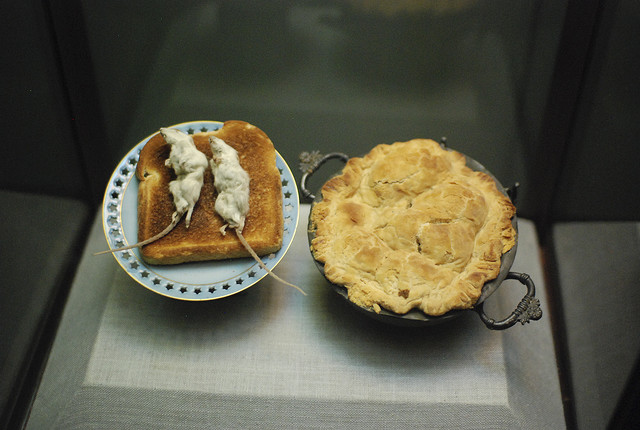 I know that technically perhaps a record store isn't an attraction, but believe me, this one definitely makes the cut. Amoeba Music in Los Angeles is the only one outside of the Bay Area, and is an all-in-one stop for new and used CDs and DVDs. Right on the Sunset Strip, it is also one of the few large record stores in the States that still keeps a large selection of actual vinyl. The outside of the building is pretty retro, and you can literally get lost inside. Just don't go here if you know you are bad at keeping to a budget, as you are pretty much guaranteed to find at least ten records or CDs that you just can't live without.
Maybe it's because of seeing the movie "My Girl 2," but I always had it in my mind that it was essential to see the La Brea Tar Pits in person once I finally made it out to Los Angeles. Granted, I am now a 20something and not a small child, but this was still a pretty great, albeit slightly kitschy, experience. The tar pits themselves are real, having been there since long before the city itself was built around them, but the gigantic plaster wooly mammoths caught in them? Totally fake. Unlike the museum next to the tar pits, which costs money, just going to see the pits themselves is free, which makes this a great activity after you've already spent most of your money elsewhere. Best of all, they even actually bubble from time to time. Just don't expect to be completely overwhelmed.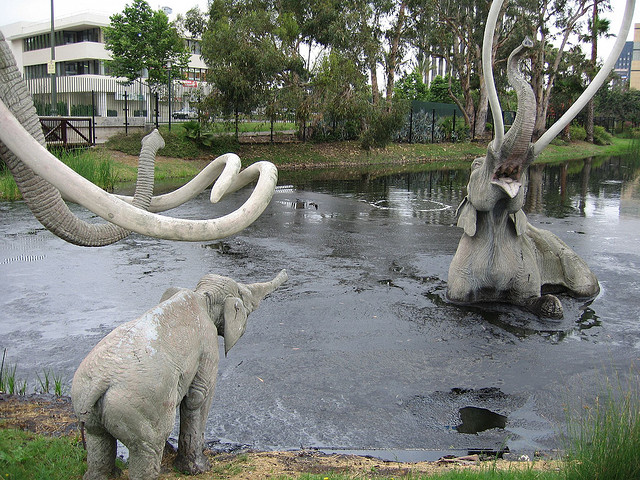 Need Award Booking Help? Our fee is as low as $75 per ticket if you book your hotel through us.
If you enjoyed this, join 100,000+ readers: please follow TravelSort on Twitter or like us on Facebook to be alerted to new posts.
Become a TravelSort Client and Book 5-Star Hotels with Virtuoso or Four Seasons Preferred Partner Amenities!