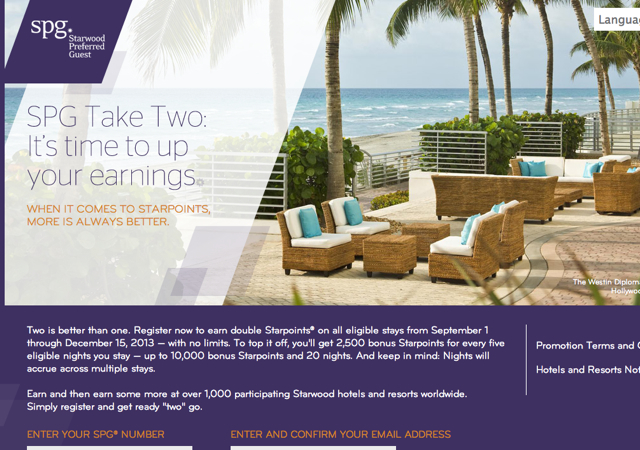 How can you earn SPG points faster? Can you transfer frequent flyer miles to SPG? A TravelSort reader writes: "I would like to transfer United or Ultimate Rewards miles to Starwood Preferred Guest (SPG) then transfer to Alaskan Air for the purpose of booking Qantas flight LAX/SYD. I've done a great deal of research myself but I can't seem to find a way. Any suggestions?"
Unfortunately, as I wrote this reader, it's simply not possible to transfer United miles or Ultimate Rewards points to SPG. It is of course possible and often worthwhile to transfer SPG points to airlines, including Alaska Airlines, as the reader notes (also see Starwood Preferred Guest Airline Transfer Partners: Turn SPG Points Into Miles). Just note that transfers are NOT instant, so you do run the risk of award space disappearing before the transfer goes through.
But back to the question: how do you earn these SPG points faster?
It can be a real problem, unless you stay in many Starwood hotels, since the only category bonus, as you'd expect for a hotel loyalty card, is for Starwood hotel stays.
Here are my Top 10 ways to earn SPG points faster:
1. SPG AMEX (Personal Card): Apply When the Bonus is 30,000 SPG Points
While the usual bonus for the Starwood Preferred Guest AMEX is 25,000 points, once a year, usually in August, the bonus is 30,000 SPG points. This year's offer ended in early September, so you'd need to wait almost a year for the next 30,000 SPG points offer. See SPG AMEX 30,000 Points Bonus Offer: Worth It?
2. SPG Business AMEX: Apply When the Bonus is 30,000 SPG Points
Similarly, the SPG Business AMEX bonus is also usually 25,000 SPG points, but once a year, at the same time as the SPG personal AMEX, the bonus is 30,000 points. You can apply for both cards and get the bonuses, assuming you don't already have the cards and haven't had the card within the past 12 months.
3. Ensure Your Spouse or Travel Partner Also Gets Both SPG AMEX Cards
If you each apply for both the personal and business SPG AMEX cards when the bonus is 30,000 points, that's 60,000 SPG points for each of you, for a total of 120,000 SPG points.
4. Pay for All U.S. Starwood Stays Using Your SPG AMEX
You'll earn 2 SPG points per dollar of eligible Starwood spend in addition to the 2 (or 3, if you have SPG elite status) SPG points that you earn from Starwood, for a total of 4-5 SPG points per dollar of Starwood spend when paying with the SPG AMEX. Just remember not to use your SPG AMEX abroad, since the card does unfortunately charge 3% in foreign transaction fees.
5. Leverage SPG Promotions
While I generally stay in Starwood hotels on Cash & Points rates, if you stay on paid rates, take advantage of the regular SPG promotions. The current one is SPG Take Two, offering double Starpoints on all eligible stays September 1 through December 15, 2013. You also earn 2500 bonus Starpoints for every 5 eligible nights, up to 10,000 bonus Starpoints for 20 nights. Just watch out for the non-participating Starwood hotels and resorts.
6. Pay for All U.S. Hyatt Stays Using Your SPG Business AMEX: 5% Discount with OPEN Savings
If may seem counterintuitive, but if you value SPG points at 2 cents per point or more (and most people do) then you're better off paying for U.S. Hyatt stays with your SPG Business AMEX and pocketing a 5% discount (received as statement credit) and the 1 SPG point per dollar of spend, rather than using your Hyatt Visa. Of course, since the SPG AMEX charges foreign transaction fees, don't do this for international Hyatts. Also see Which Credit Card to Use to Maximize Miles and Points.
7. Earn SPG Points and Elite Stay Credits for Booking Multiple Rooms
See Faster SPG Elite Status by Booking Multiple Rooms
8. Earn SPG Points on Delta Flights with Crossover Rewards
While I personally almost never fly Delta, if you do a fair amount of Delta flying, definitely register for Crossover Rewards so that you can earn 1 SPG point per dollar spent on eligible fares. You can register here.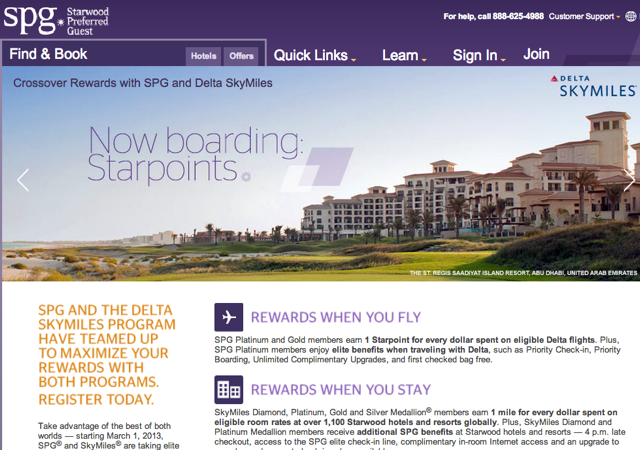 9. Earn SPG Points at Starwood Restaurants Even When Not Staying at the Hotel
Even if you're not staying at a Starwood property you can earn SPG points for dining charges greater than $10, excluding alcohol where prohibited by law. Make sure to provide your SPG number at the time of payment and mention that you wish to earn SPG points for your dining bill. The problem is that it can be a real hassle to get these points to post properly. Make sure you keep your receipt, and contact research@starwoodhotels.com if points don't post.
10. Green Choice at Sheraton and Westin
Sheraton Green Choice and Westin Green Choice programs enable you to earn 500 SPG points per night that you decline housekeeping. See 500 SPG Points for Declining Housekeeping at Starwood Hotels with Green Choice.
What are your favorite ways to earn SPG points faster?
Related Posts
SPG: 56% Transfer Bonus to BA Avios: 20,000 SPG Points Become 31,250 Avios
Starwood Cash and Points Devaluation and FAQ
Starwood Luxury Privileges: Top Hotels to Book
Top 10 Best Ways to Use SPG Points
Need Award Booking Help? Our fee is as low as $75 per ticket if you book your hotel through us.
If you enjoyed this, join 90,000+ readers: please follow TravelSort on Twitter or like us on Facebook to be alerted to new posts.
Become a TravelSort Client and Book 5-Star Hotels with Virtuoso or Four Seasons Preferred Partner Amenities!