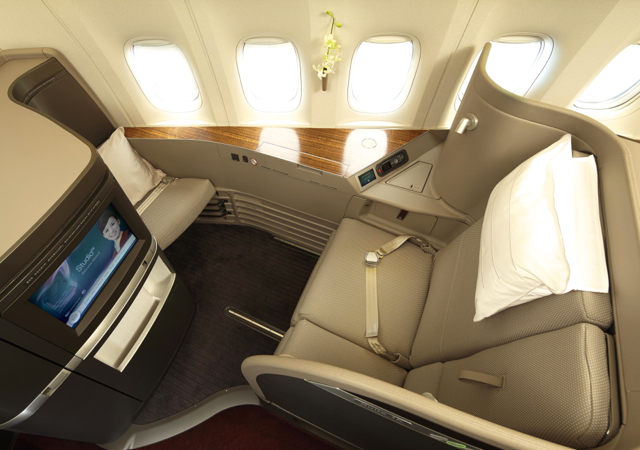 What are the Best Ways to Earn Miles and Points as a Non-U.S. Resident? TravelSort reader Johannes writes "I am a frequent traveler and try to get the best out of credit card sign ups. Unfortunately I live in Germany and there aren't as many good deals as in the United States. In summer this year I'll be in Miami for vacation and was wondering if it's possible to sign up for some credit cards during that time. Do you know whether there are ways to sign up for some cards as a foreigner and without having a U.S. social security number?"
Most U.S. Credit Cards Require a SSN or ITIN
Unfortunately, as I mentioned in my post Rewards Credit Card Without Social Security Number, the lucrative high signup bonuses offered by U.S. credit cards are only available to those with a U.S. SSN, or at least an ITIN (Individual Taxpayer Identification Number). And to get an ITIN, you'll need to pay U.S. taxes. Most non-U.S. residents who want U.S. credit cards and don't meet these requirements aren't going to get a green card via the annual U.S. Green Card Lottery, get an H-1B Visa from a U.S. employer willing to sponsor them, buy U.S. real estate or marry a U.S. citizen just to become eligible for U.S. credit cards, but if any of these happen to you, a nice side benefit could be great U.S. credit card signup bonuses.
What About the Fidelity Bonuses?
Another question I sometimes get is whether a non-U.S. resident can earn the up to 50,000 AAdvantage miles by opening a Fidelity brokerage account. Unfortunately not–terms state "Offer is not valid for non-U.S. residents…"
Flying
While we earn almost none of our miles and points this way due to almost exclusively flying on award tickets, for non U.S. resident road warriors, frequent flyer miles from actual flying are often a large part of their miles and points earning. Just make sure that you're actually earning miles, such some discount fares earn either no miles or less than 1 mile per mile or unit of currency. And beware Delta SkyMiles revenue based earning and United MileagePlus revenue based earning, which may give you a nasty shock in terms of how few miles are earned for certain trips.
Best Non-Credit Card, Non-Flyer Miles and Points Earning for Non-U.S. Residents: Buying Miles and Points
If you're not a U.S. resident and have exhausted the best credit card and other miles and points opportunities in your home country, generally the best deal will be buying frequent flyer miles and points. For example, until April 30, 2015, you can Buy AAdvantage Miles with a 60% Bonus if you buy 100,000 AAdvantage miles. Note that your AAdvantage account has to be at least 30 days old and you can buy a maximum of 100,000 miles per calendar year per account.
Actually, that can work to some members' advantage if they haven't yet combined their US Dividend Miles and AAdvantage accounts, since they can buy miles with their new AAdvantage account created by transitioning from Dividend Miles before merging their two AAdvantage accounts.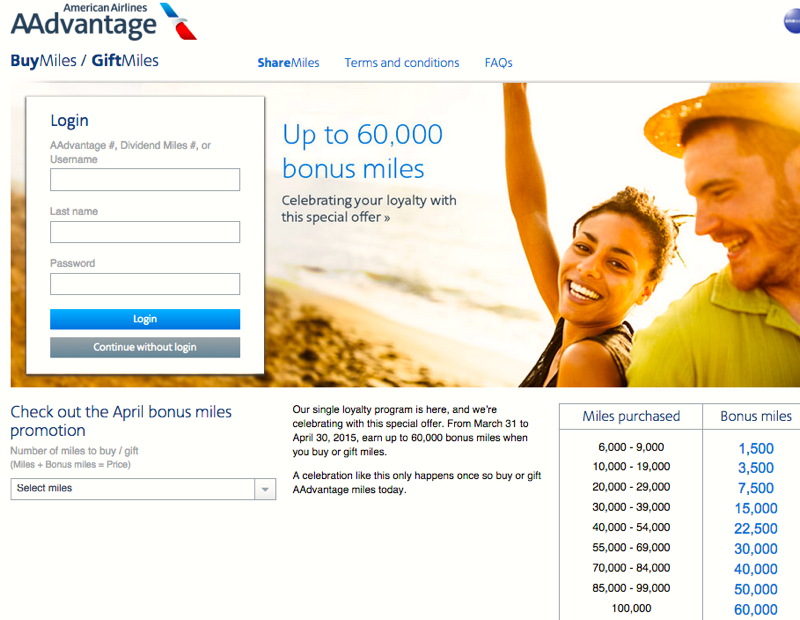 Note that some non-U.S. residents have reported problems buying Alaska MileagePlan miles, but often have been able to get around this by using a U.S. address, a VPN to mask their IP address, and by paying with PayPal.
Another annual opportunity that many non-U.S. residents use to buy points is Daily Getaways, although this is mainly hotel points and typically the best offers, for Hyatt Gold Passport points, sell out in fractions of a second which make this a frustrating and fruitless exercise for most.
Earn SPG Points with Hotel Stays, Starwood Restaurants and Emirates Flights
SPG Starpoints are uniquely valuable among hotel points currencies, due to their ability to transfer out to airline partners with a 25% bonus, when transferring in increments of 20,000 points (see SPG Airline Partners: Transfer Starwood Points to Miles).
There's a UK SPG AMEX, but if there's not an SPG AMEX in your home country, the best way to earn points is either with hotel stays at Starwood properties, where you earn 3 Starpoints per dollar spent at SPG properties if you're an SPG Gold or Platinum elite member.
You can also earn 1 Starpoint per dollar spent on Emirates flights, with the SPG and Emirates Your World Rewards partnership.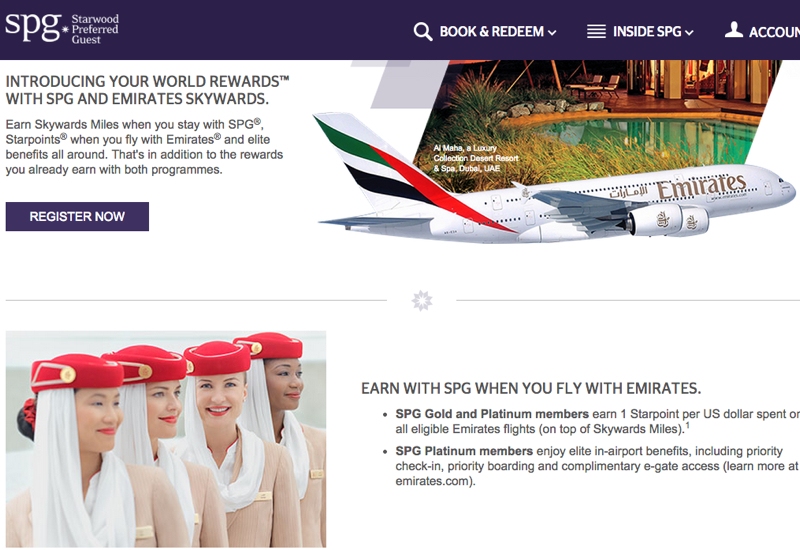 Earn 3 AAdvantage Miles per Dollar Spent on Spafinder Gift Cards
If you frequent spas (or if your wife, girlfriend or significant other does) then you may want to look into this AAdvantage offer, where you earn 3 AAdvantage miles per dollar spent on Spafinder gift cards.

Use Fewer Miles and Points with Points + Cash Awards
Although not on the earnings side, a way to use fewer miles or points when redeeming is to redeem with programs, such as British Airways Executive Club ("Avios + Money") and Avianca LifeMiles (where it's called the "Flexible Payment Option") so as to use fewer points and more cash for the award. Do the math to make sure you're getting the best deal that your existing points allow. And if you're redeeming British Airways Avios points for British Airways First Class or British Airways Business Class, you may want to do that soon, given the new British Airways Avios Devaluation that goes into effect on April 28, 2015.
If you're a non-U.S. resident without an SSN / ITIN, what are your favorite ways to earn frequent flyer miles and points?
Related Posts
Rewards Credit Card Without Social Security Number
Buy AAdvantage Miles with 60 Percent Bonus: FAQ and Top 5 Awards
When Buying US Airways or AAdvantage Miles is Worth It
Top 10 Best Ways to Use SPG Points
Need Award Booking Help? Our fee is as low as $75 per ticket if you book your hotel through us.
If you enjoyed this, join 150,000+ readers: please follow TravelSort on Twitter or like us on Facebook to be alerted to new posts.
Become a TravelSort Client and Book 5-Star Hotels with Virtuoso or Four Seasons Preferred Partner Amenities!