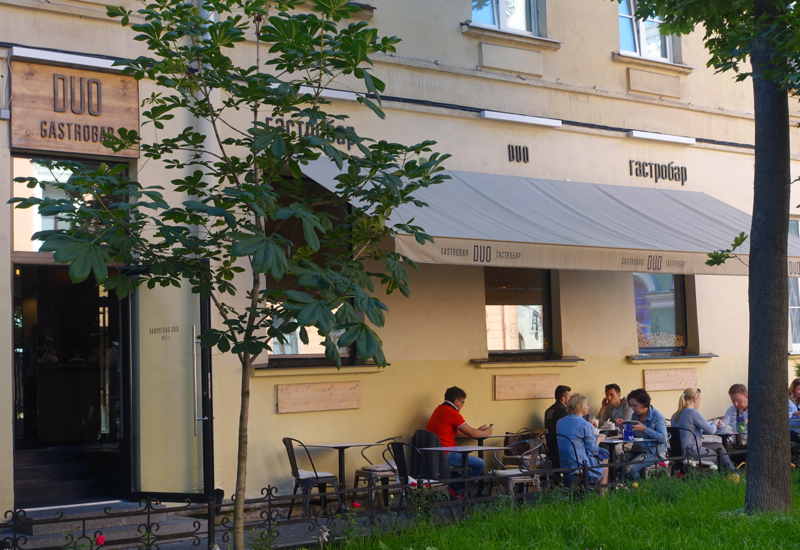 This Review of DUO Gastrobar in St. Petersburg, Russia is one of our several St. Petersburg dining reviews. DUO Gastrobar is the brainchild of Renat Malikov and Dmitry Blinov, who opened DUO Gastrobar in 2014 after stints at other top restaurants in St. Petersburg, and designed the gastrobar as the type of place their friends would love to hang out in.
Visiting St. Petersburg, Russia? See our 10 Travel Tips for St Petersburg, Russia.
Prior posts include:
Review: Hotel Astoria St. Petersburg, Russia
Review: Astoria Cafe, St. Petersburg, Russia
Vkus Est (Taste to Eat) Review, St. Petersburg, Russia
Summer Garden (Летний сад), St. Petersburg, Russia Review
Duo Gastrobar, St. Petersburg Location and Hours
Duo Gastrobar is located at Kirochnaya Street, 8A, about a 5-10 minute from the closest metro station, Chernyshevskaya. It's a more residential area and off the main tourist path, but a visit to Duo Gastrobar can be nicely combined with a visit to the Summer Garden on a nice day, and/or the Museum of the Defense and Siege of Leningrad (note that the museum is temporarily closed for repairs, but is slated to reopen starting September 8, 2016).
Duo Gastrobar is open daily from 1pm until midnight, but unless you're coming at an off-peak hour such as 4pm, I highly recommend making a reservation well in advance. The small restaurant is very popular with locals, so it's often full, and generally you're given 1.5 hours for your meal, as there will be another reservation following yours.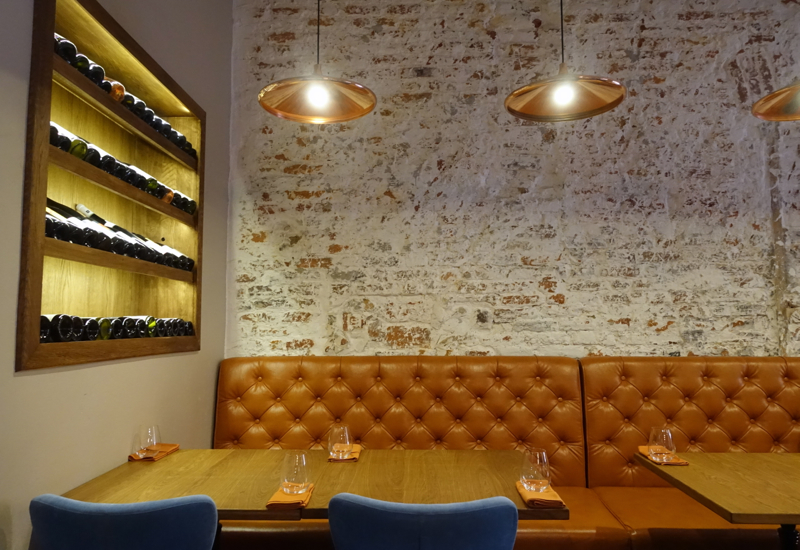 The Scene
We visited three times during our 3 week stay in St. Petersburg, and each time almost all guests were Russian, mostly late 20-something and 30-something couples or small groups of friends. We did see an expat couple with a baby and Russian friends of theirs on one occasion, and on another, a German-Russian couple with their daughter.
As there are only about 16 seats inside, nice days are better to go as there is also some outdoor seating on a narrow patio outside the restaurant.
Duo Gastrobar Menu and Food
The Duo Gastrobar menu is oriented around small plates, so there are a number of appetizer choices, and some of the mains are also on the small side. As you'd expect, there's also a good sized wine list, with about 12-13 wines by the glass in case you don't want a full bottle.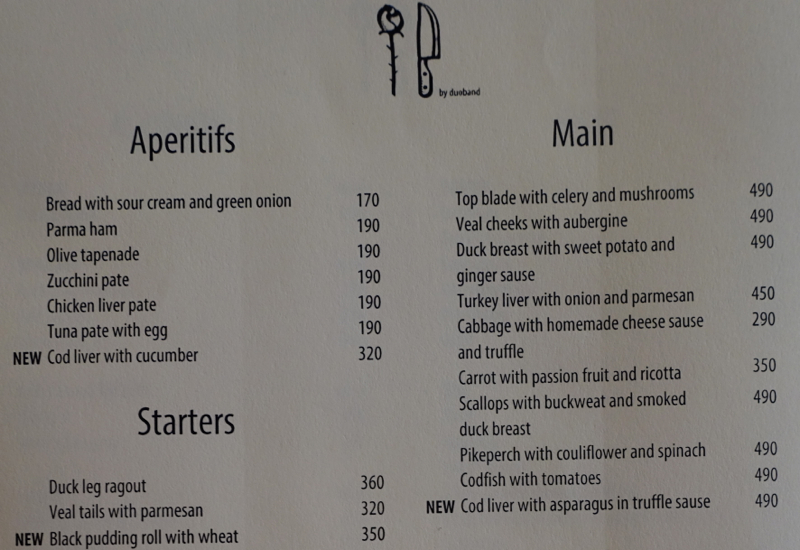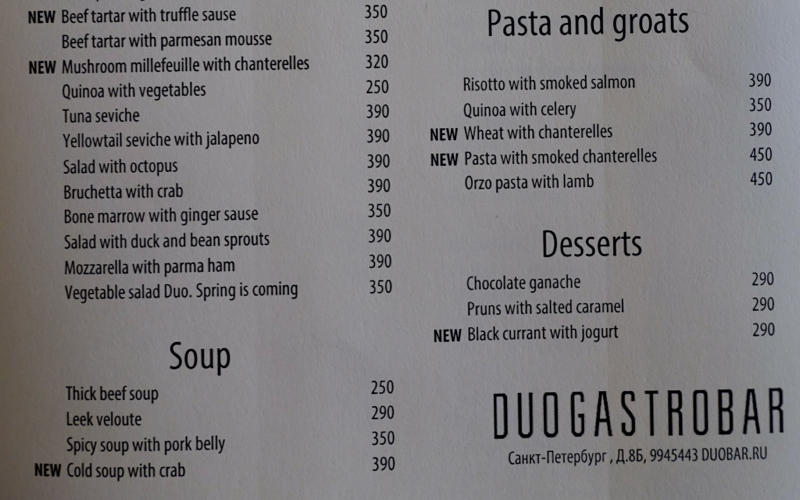 The highlight of the starters that we tried was the Crab Bruschetta, with a generous portion of crab and shredded hard boiled egg atop the rye bread, with some sunflower seeds for crunch. Highly recommended.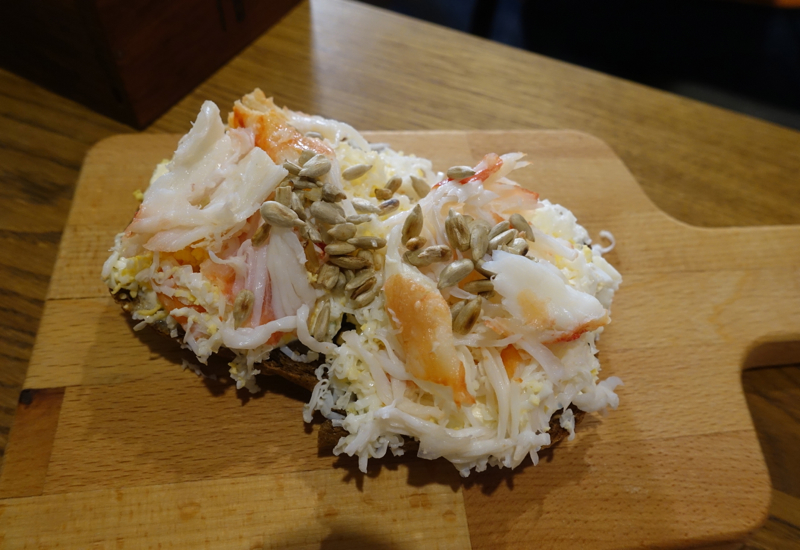 Another appetizer we really enjoyed was the "Mille Feuille" with Chanterelles. Note that this is not a conventional mille feuille preparation, but rather refers to the layering of the chanterelles with other ingredients. This is also likely to be a seasonal offering, when fresh chanterelles are available.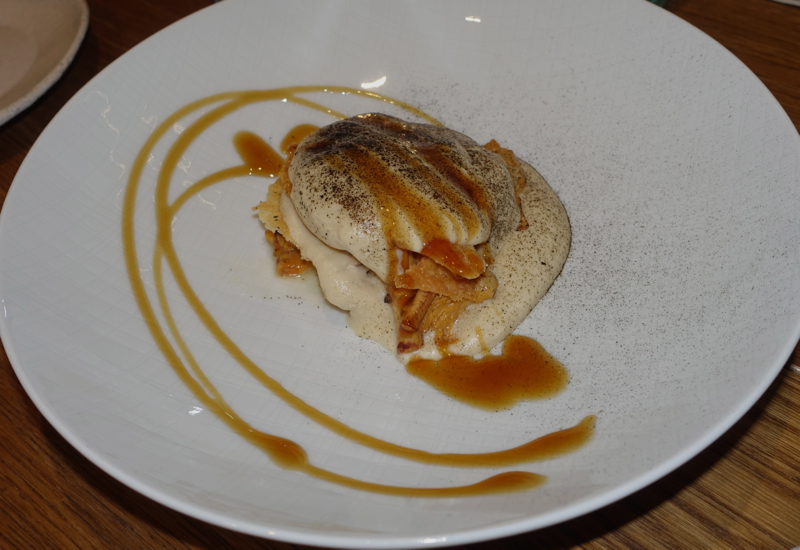 The Tuna Seviche, on the other hand, was a bit disappointing, with more cucumber and less tuna than I expected, although tasty.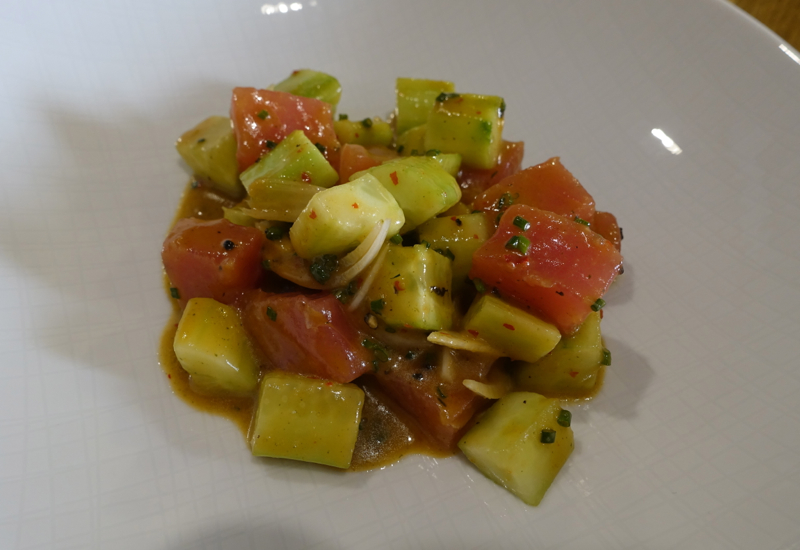 One of my favorite main dishes was the Wheat with Chanterelles. It may not sound like much on paper, but this is one of the best vegetarian dishes I've ever tasted–al dente wheat in a creamy sauce with an abundance of fresh, lightly sauteed chanterelles. And at only about $6, an amazing deal for a dish that would easily cost triple that or more in NYC.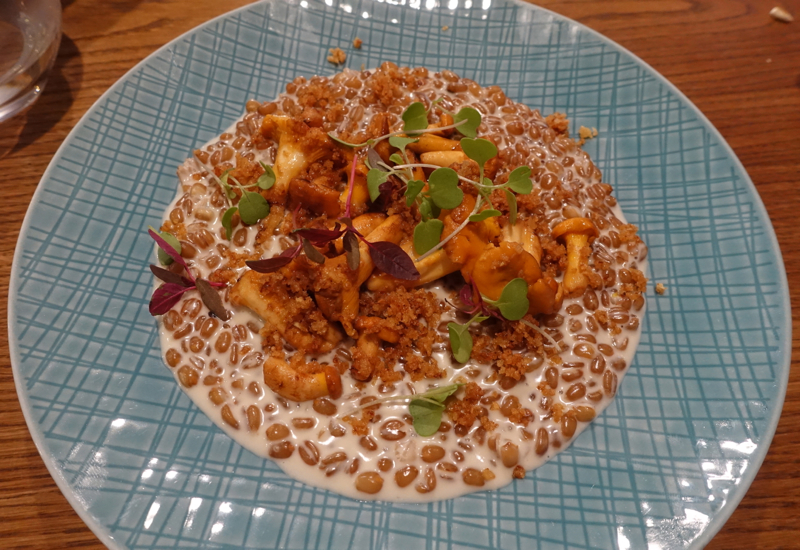 I also tried the Pasta with Smoked Chanterelles on another occasion, which was also delicious, although the Wheat with Chanterelles was more generous with the Chanterelles and remained my favorite.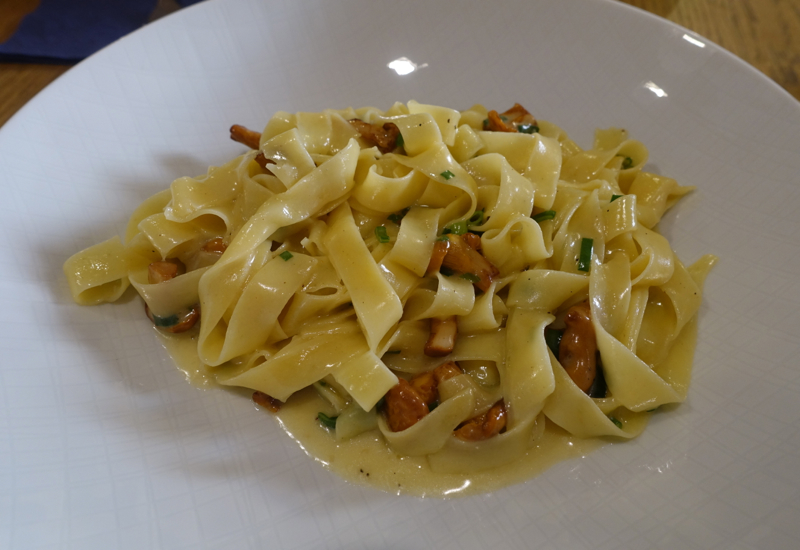 My son's favorite main dish was the Roasted Duck with Sweet Potato Puree, Ginger Sauce and Cherries. While a fairly standard dish, it was cooked perfectly medium rare (granted, I would love loved a crispier skin), and was a hit as well with the Russian friend we treated to dinner one night.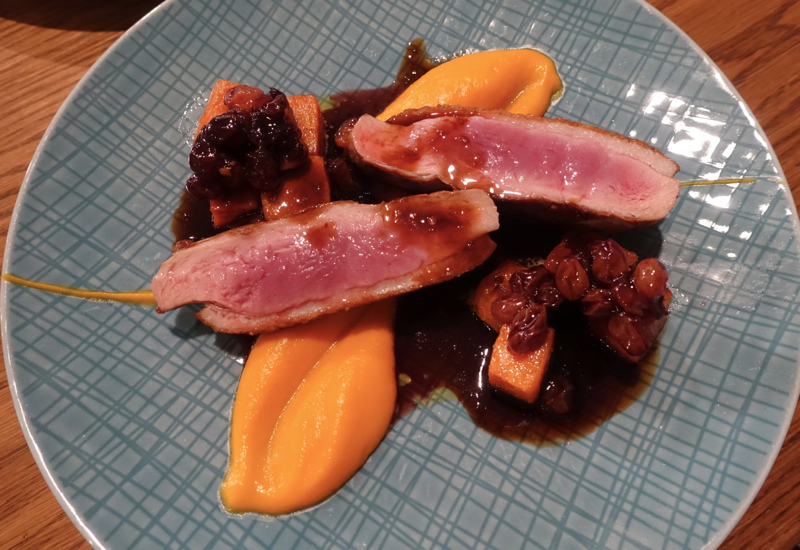 Although listed under main dishes, the Roasted Carrots with Passion Fruit Sauce and Ricotta would have been small for all but the most modest appetites, but it was an inventive and delicious dish. The roasting brought out the sweetness of the carrots, and the Passion Fruit Caramel Sauce was a lovely complement, along with the creamy richness of the fresh ricotta cheese.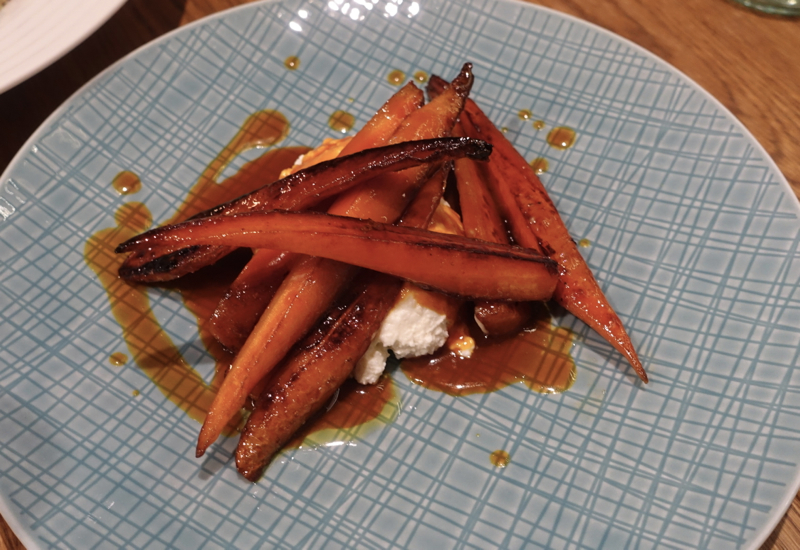 The Scallops with Buckwheat were presented a little oddly, and I'm still not quite sure what the shavings were–they looked like Japanese bonito fish flakes but didn't taste fishy at all–but the large, plump scallops were perfectly seared, fresh and sweet, and the buckwheat provided a nice nutty flavor and textural contrast.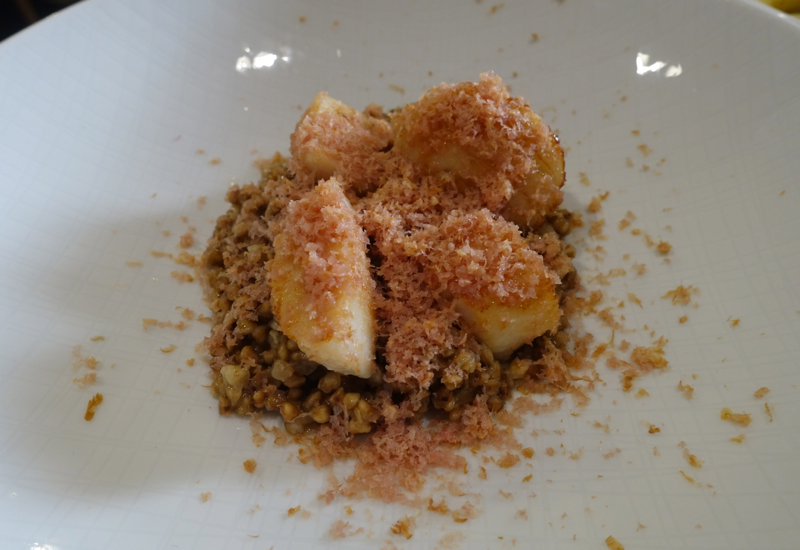 The desserts are very simple, as to my knowledge there's no pastry chef. My favorite of the two we tried were the Prunes with Cream and Salted Caramel, with Pecans: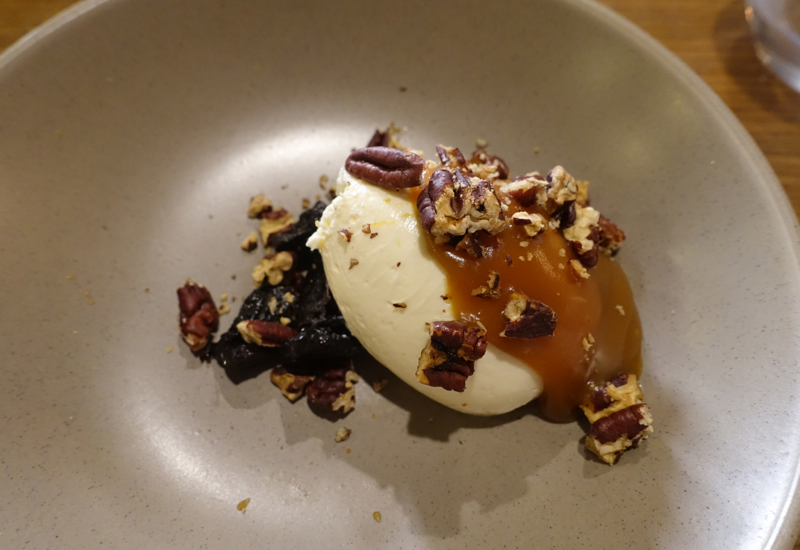 The Chocolate Ganache with Cherries was also good, although I tend to prefer darker, more bittersweet chocolate desserts.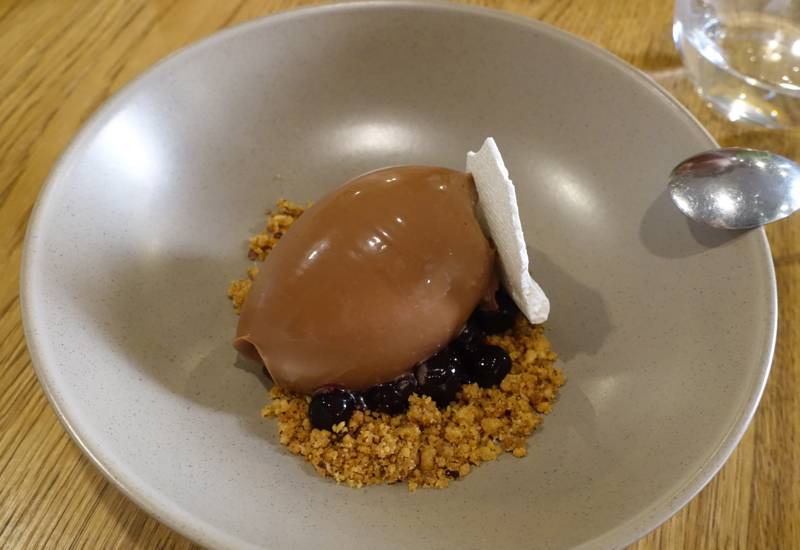 The Verdict
Duo Gastrobar is popular, so reservations are essential for regular dining times, and advisable in general. Because of its popularity, it's not a place you can count on lingering for a long time, but it is an excellent choice for great food at a very reasonable price, given the quality of the ingredients and preparation. Highly recommended dishes include the Crab Bruschetta, Wheat with Chanterelles if available, Duck with Ginger Sauce and Sweet Potato, Carrots with Passion Fruit and Ricotta, and Prunes with Salted Caramel.
Related Posts
Vkus Est (Taste to Eat) Review, St. Petersburg, Russia
Summer Garden (Летний сад), St. Petersburg, Russia Review
Review of Cat Cafe: Great Georgian Food in St Petersburg, Russia
Volkonsky Bakery Cafe (Пекарня «Волконский») St Petersburg, Russia Menu and Review
Review: Four Seasons St. Petersburg Breakfast and Dining
Need Award Booking Help? Our fee is as low as $75 per ticket if you book your hotel or cruise with us.
If you enjoyed this, join 200,000+ readers: please follow TravelSort on Twitter or like us on Facebook to be alerted to new posts.
Become a TravelSort Client and Book 5-star hotels with Virtuoso Perks and Four Seasons Preferred Partner Benefits