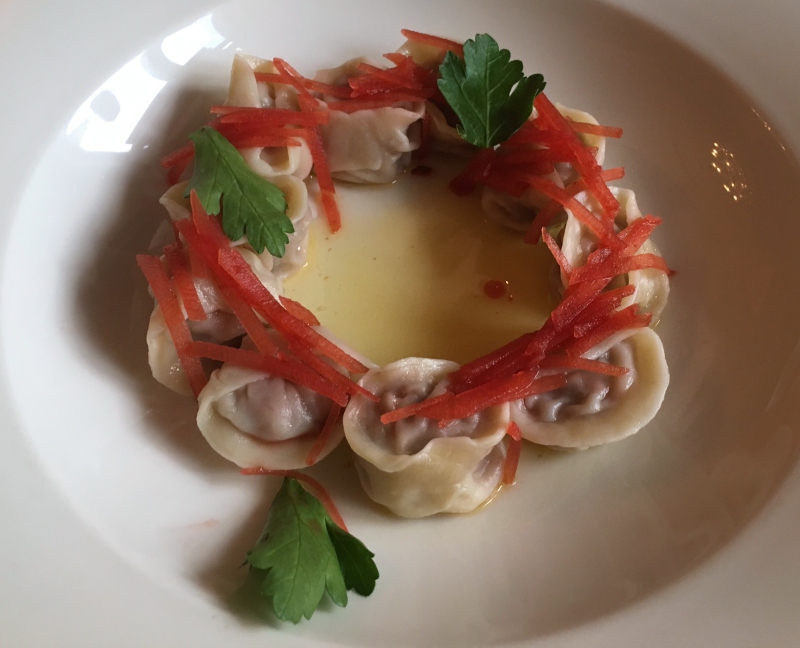 This Review of Dom Restaurant in St. Petersburg, Russia is one of our St. Petersburg dining reviews. We spend time in St. Petersburg, Russia every summer, and also send clients to this "Venice of the North." Dom was a restaurant recommendation from a client who was also recently there, so we decided to try it.
Dom, St. Petersburg Russia Location and Hours
Dom is located on the River Moika Embankment (Набережная реки Мойки), 72, about a 6-8 minute walk from St. Isaac's Cathedral and Four Seasons Lion Palace St. Petersburg. It's open daily for lunch and dinner, from 12noon to 11:30pm on weekdays and from 1pm-11:30pm on weekends.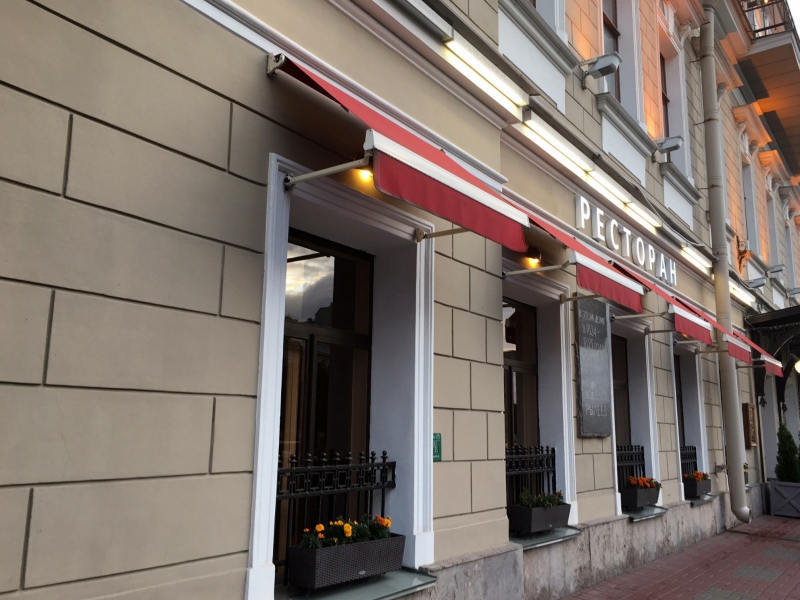 The Scene
Dom means "house" in Russian, and the name is apt: you feel as though you've stepped into the home of a Russian aristocrat, with its several rooms and cozy bar. We were there on a Friday evening for dinner, and there were already several couples seated, but the tables are spaced well apart, so there's sufficient privacy. We were able to choose a window seat, which had great natural light even at 8pm at night, given the long northern summer days, even on this rather rainy Friday night.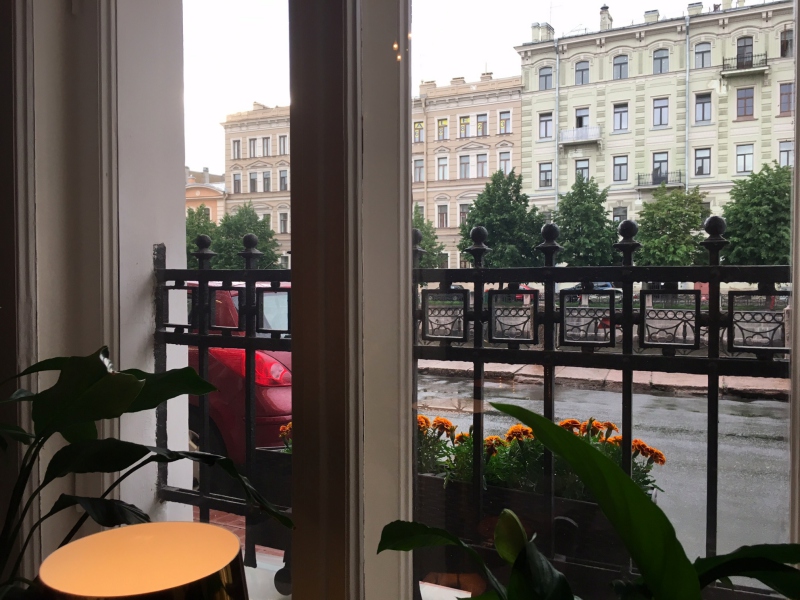 My son was the only kid, and I can see why the venue is favored by couples, with its white tablecloths and flowers. It's definitely one of the more upscale non-hotel restaurant venues in the city–and prices reflect this.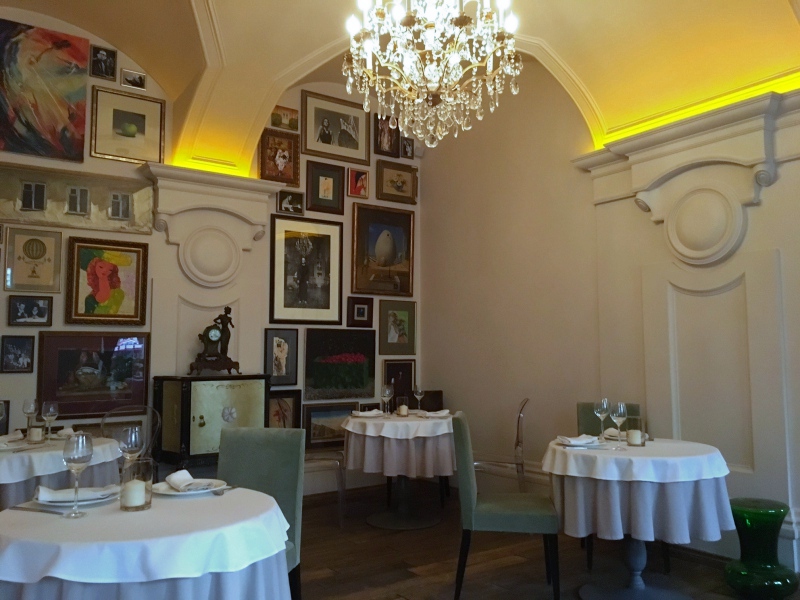 Dom Menu and Food
Dom focuses on updated versions of Russian classics prepared extremely well, with meticulously sourced ingredients. The menu is quite extensive, given the restaurant's relatively small size: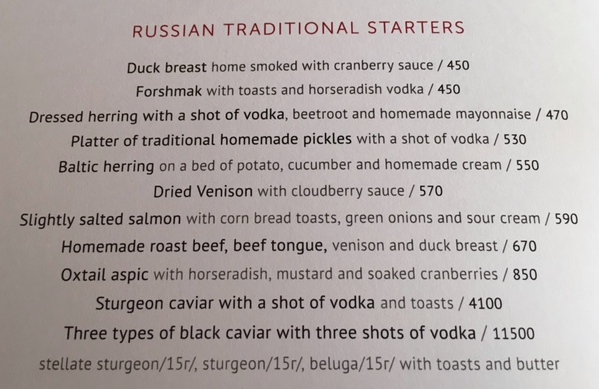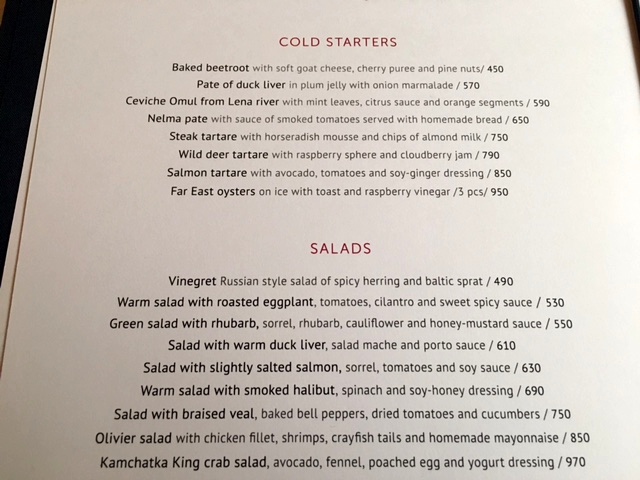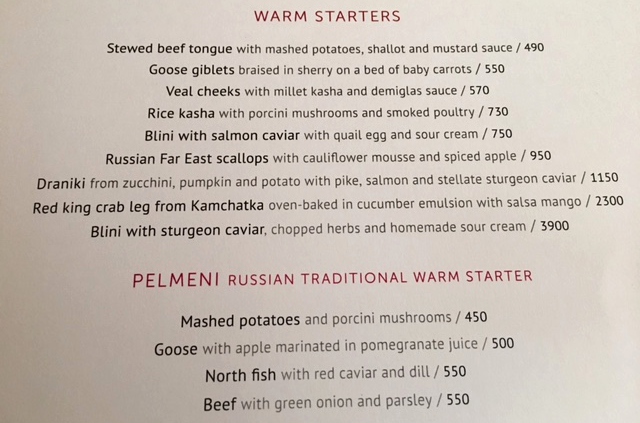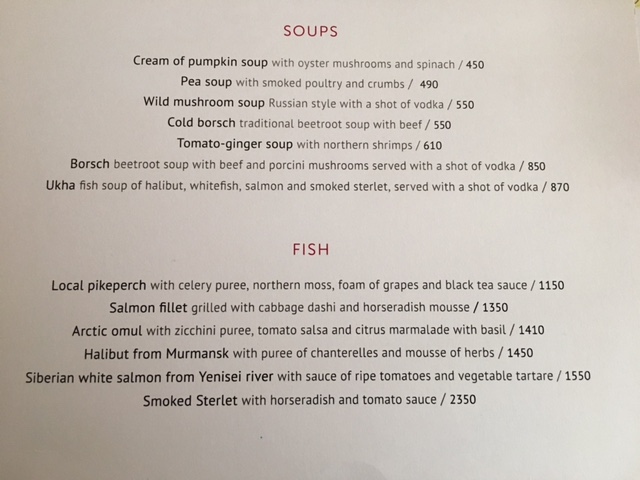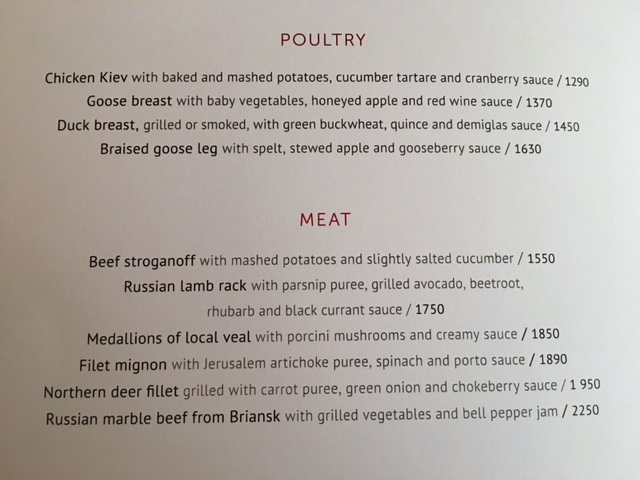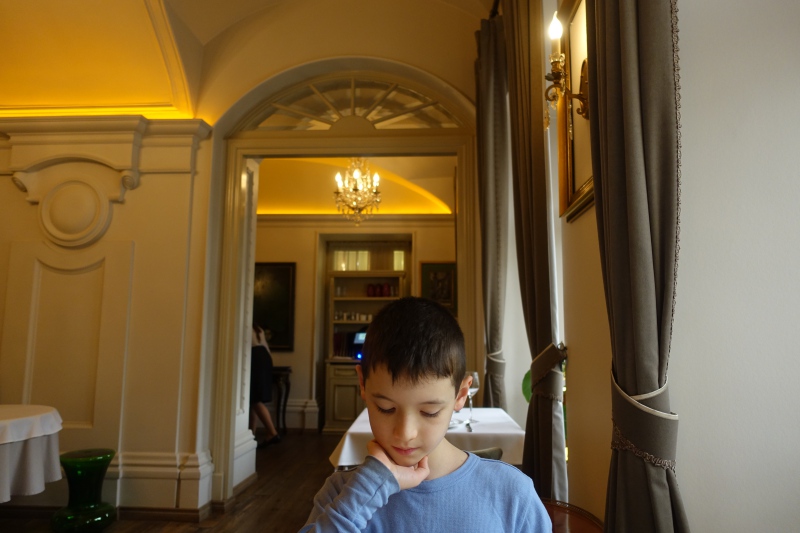 We both ordered mors, Russian berry juice that's very lightly sweetened. My son ordered the cloudberry mors (a version I'd never seen, likely due to the expense of using cloudberries) and I ordered more traditional cranberry mors. Both were excellent, and as good a version of mors as you're likely to find in Russia.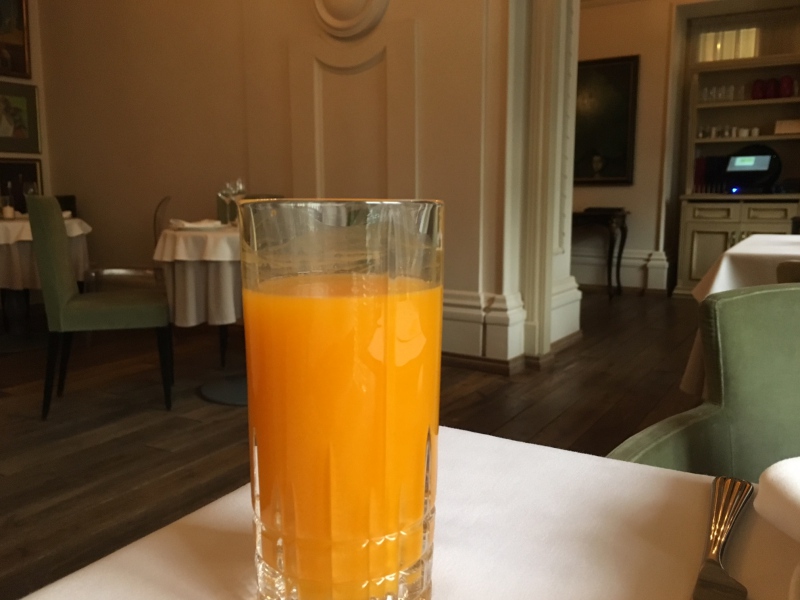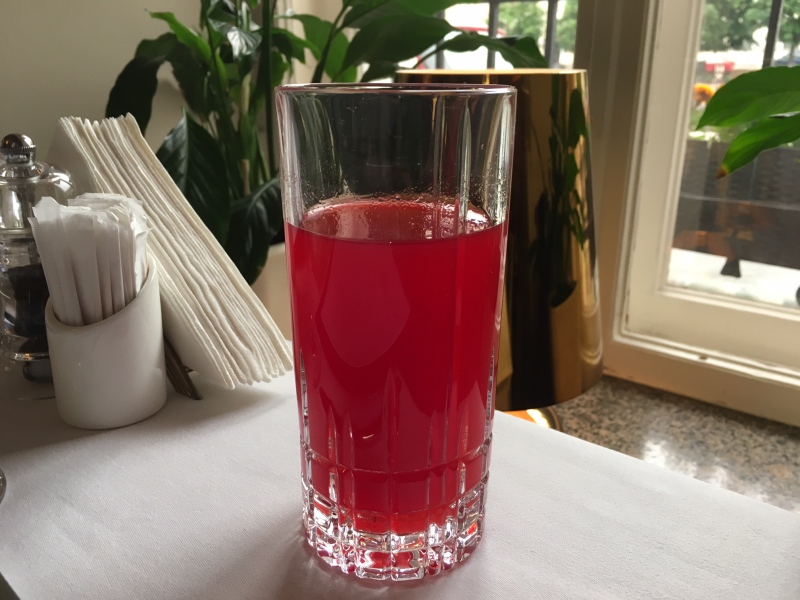 Oftentimes I prefer Russian hot appetizers, soups and dumplings to main courses, so that was our focus here. We started off with an order of two pirozhki, one with a mushroom potato filling, and the other cabbage and egg. These are very traditional fillings, and pirozhki are ubiquitous in Russia, but these were excellent renditions.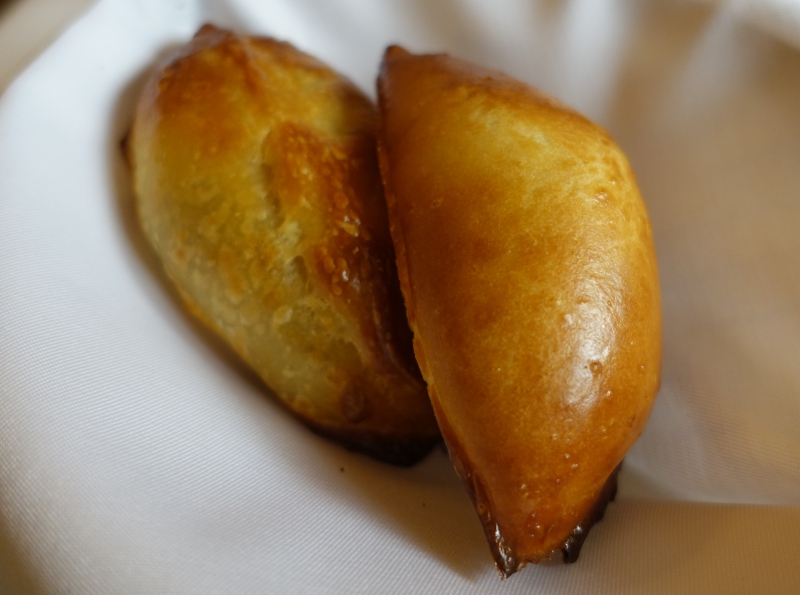 These got my son's "two thumbs up."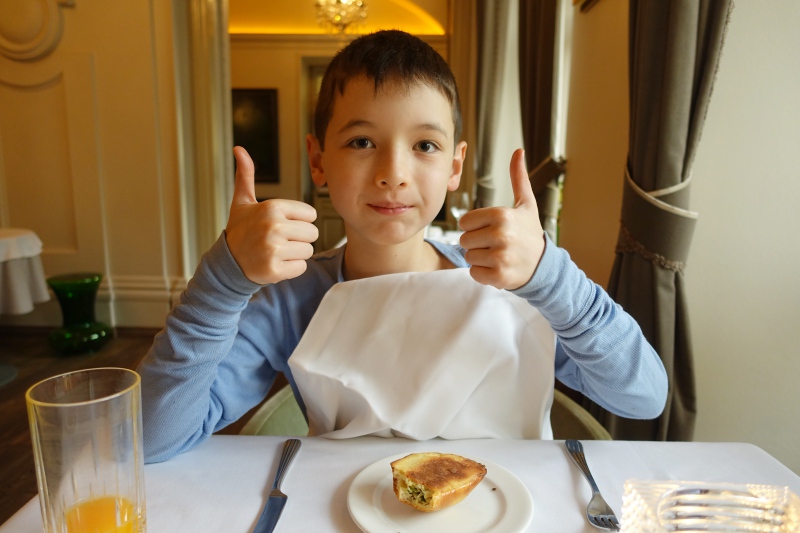 For our first course, I ordered Borscht (beetroot soup in a beef broth) and this was served with the traditional sour cream and herbs, but also with black bread that was spread, half and half, with mustard and with a rich and flavorful spread that was probably lard of some kind. The borscht was very good, and the favorite version of this soup that I had on this trip to St. Petersburg. This was all handily washed down with the accompanying shot of vodka.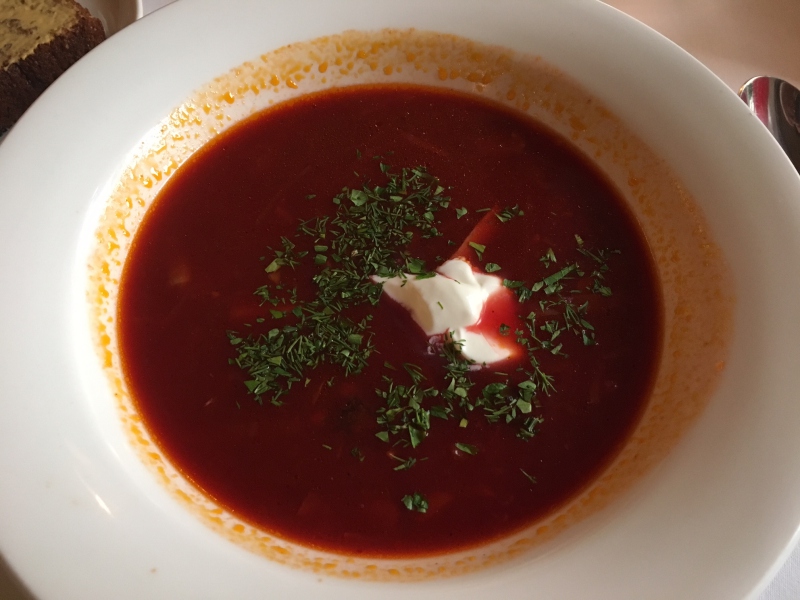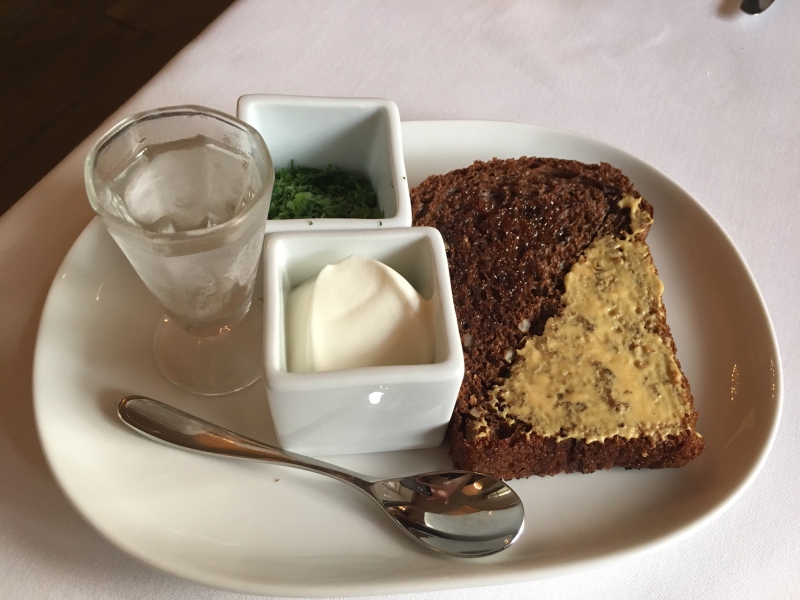 My son's first course was beautifully presented and even more delicious than its presentation: plump goose pelmeni (dumplings) with pomegranate-marinated apple adding a sweet-tart note. If I find myself at Dom again, these are a must-order.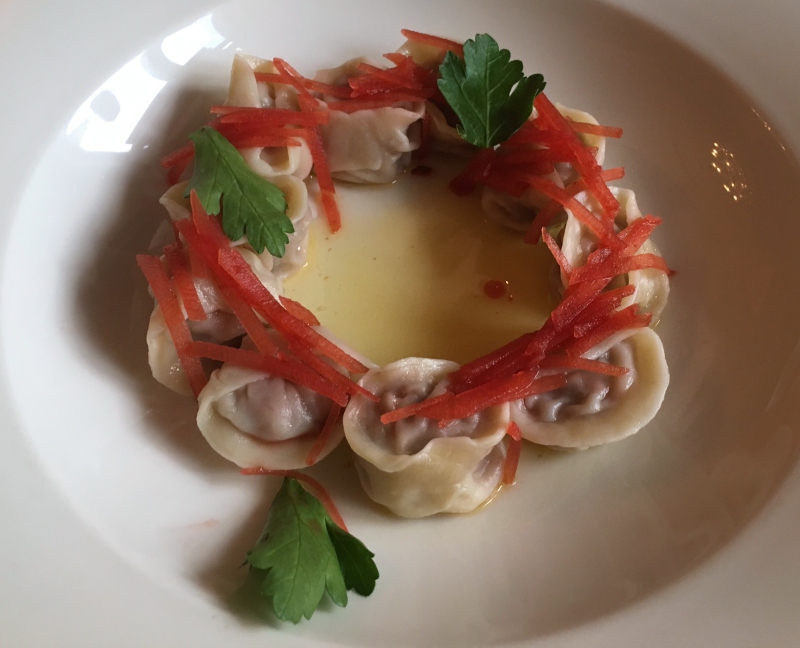 For his second course, my son chose Buckwheat Kasha with fresh porcini mushrooms, poached egg, and fresh grated parmesan on the side. This is a great dish for vegetarians and non-vegetarians alike, and typically Russian, apart from the parmesan cheese. Buckwheat is a staple Russian food, with a nutty taste, and very healthy to boot. It's a simple dish, so not one for those wanting something fancy, but rather comfort food.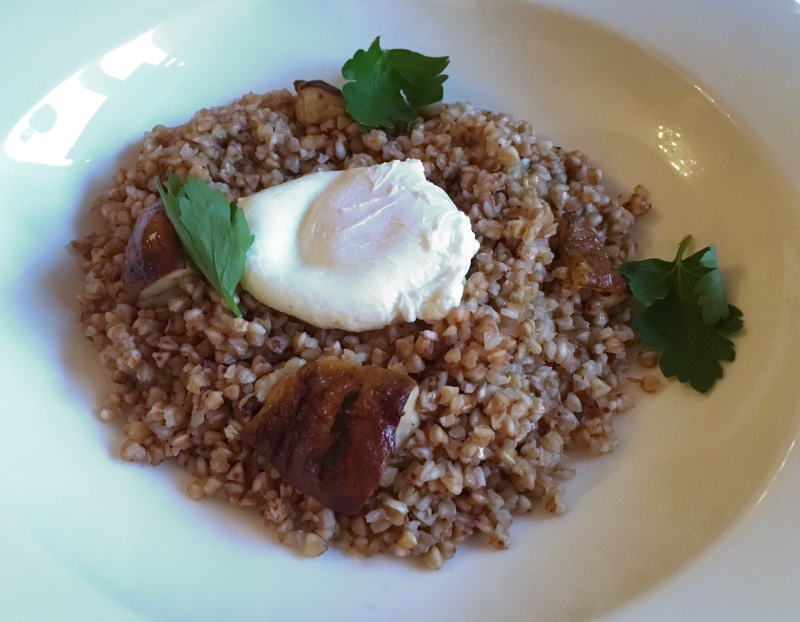 I chose to try the Draniki, another typically humble Russian dish of fried potato pancakes, although this was an elevated version that also incorporated shredded zucchini and pumpkin into the pancakes, and was topped by pike, salmon and sturgeon caviar, and sour cream. Delicious, although since I'm not much of a caviar connoiesseur, I might not order these again given the price and appetizer size of the dish.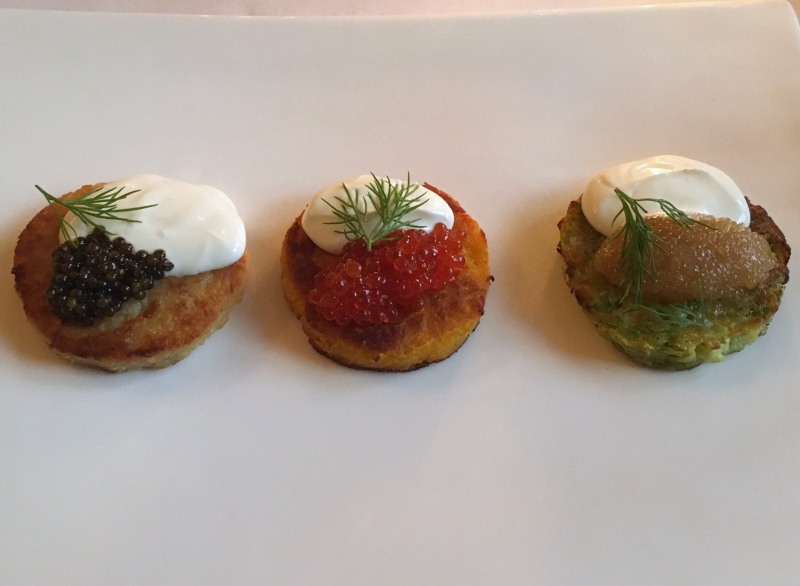 The Verdict
We enjoyed our dinner at Dom. It's more expensive than most restaurants serving traditional Russian cuisine in St. Petersburg, but justifiably so given the quality of cooking, ambience and level of service. Still, there's so much interesting new Russian-Nordic cuisine in the city that I personally would find it hard to justify more than one visit here during a short stay, since even these very well executed dishes hew quite closely to Russian classics and there are other interesting variations to try.
If you've dined at Dom, what was your experience?
Recommended Posts
Review: Hamlet + Jacks, St Petersburg Russia
Vkus Est (Taste to Eat) Review, St. Petersburg, Russia
Review: Four Seasons St. Petersburg, Russia
10 Travel Tips for St. Petersburg, Russia
Need Award Booking Help? Our fee is as low as $75 per ticket if you book your hotel or cruise with us.
If you enjoyed this, join 200,000+ readers: please follow TravelSort on Twitter or like us on Facebook to be alerted to new posts.
Become a TravelSort Client and Book 5-star hotels with Virtuoso Perks and Four Seasons Preferred Partner Benefits