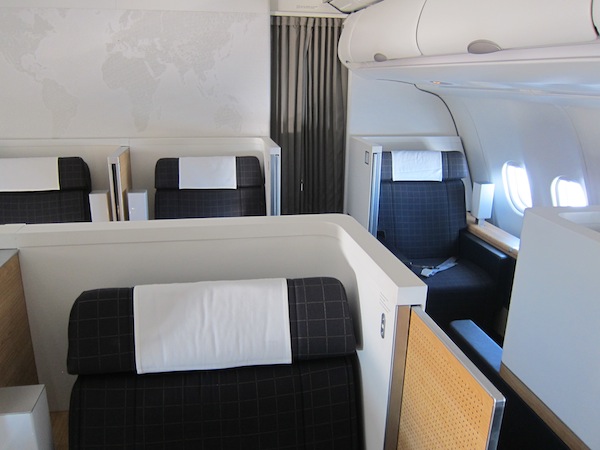 TravelSort reader Prachya comments: "I think now Swiss does not open F award seats to other Star members anymore as well. I was booked on LX F YUL-ZRH in December 2012. They canceled the flight on the specific date that I was booked. Then I searched the entire calendar for all the long-haul Swiss flights, and no F award seats were available 🙁 , not even for last minute dates"
Unfortunately, Prachya is absolutely right as of end of May/beginning of June 2012, if you're trying to use United miles to book a Swiss Airlines award in First Class. This wasn't the case as recently as just a few weeks ago, in early-mid May, when you could still find last minute Swiss First Class availability using United.com, often for same-day or next day travel, occasionally even from LA LAX or Chicago ORD, in addition to Montreal (YUL).
Why the fuss over Swiss First Class? It's a great hard product, with a roomy seat that can accommodate two for dinner (other guest must also be flying in First) comfortable bedding, turndown service and pajamas, and, according Ben, the best dining experience of any airline. See his report of Swiss First Class Chicago to Zurich Here's the Swiss Airlines video for First Class:
While I don't know the details behind the elimination of Swiss First Class award space to flyers booking with United or Aeroplan miles, I thought these comments on FT were interesting:
Lufthansa Flyer, May 20, 2012
"I'm trying to move from C to F for a flight from ORD to FRA on 30 May, and its show F availability on LH431, however when I called UA, I spoke to a service director who explained that its not phantom inventory per se, but rather UA making an assumption of what LH SHOULD make available. HUH? If thats the case, you wonder if UA is just makin' stuff up!"
MatthewLax, May 21, 2012:
"LOL.
My theory is that UA/AC, but not NH, are accessing M&M space, not regular Starnet space. Odd…"
OptionsCLE, May 26 2012:
"It looks like as of earlier this week, that's no longer the case. The availability on Swiss has almost entirely dried up for United miles. It did appear that the availability UA got was something closer to M&M."
In any case, what's done is done–now to figure out what your options are instead of Swiss First Class:
1. Book Swiss Business Class Last Minute for U.S.-Europe Transatlantic Flights
Although it's seemingly impossible to get a first class award on Swiss even last minute, you can find some business class award availability from U.S. cities. You'll need to be VERY flexible though–for example, this LAX-ZRH award departs tonight!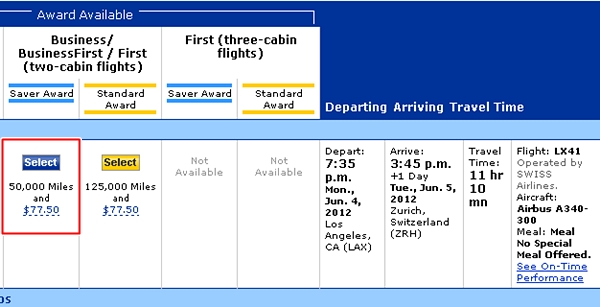 2. Book Swiss Business Class in Advance to or from Montreal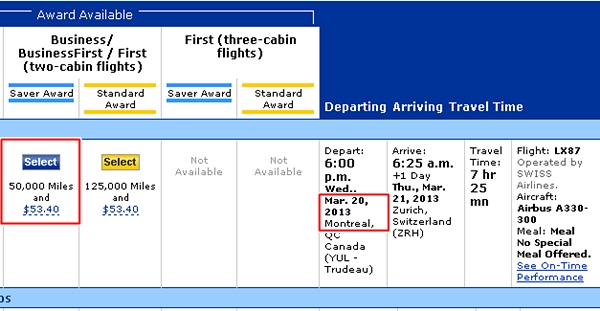 3. Book Swiss Business Class in Advance to Asia and non-U.S. Destinations
It used to be a lot easier to find Swiss First Class from Zurich to Asian destinations such as Bangkok and Shanghai. No longer. I wasn't able to find a single Swiss First Class award period, even for last minute departures (although of course now that we're in June, entering summer travel season, that doesn't help). Even Zurich to Bangkok business class is very tough. I did find quite a bit of availability in business class to Shanghai (PVG), and you could also try other non-U.S. destinations Swiss serves in the Middle East, Africa, etc. See Swiss Airlines Destinations and Route Network
4. Book Lufthansa First Class Last Minute
While you'll again need lots of flexibility to make this work, you can try to grab last minute Lufthansa First Class seats. It's usually easier from Washington DC (IAD), say, then from NYC. Here's a last minute first class award on Lufthansa from DC to Munich: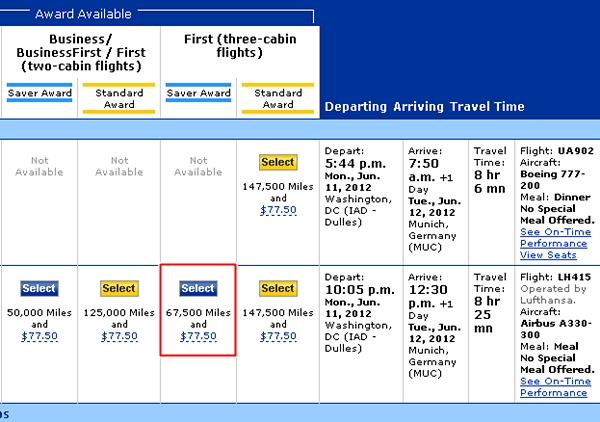 Lufthansa First Class is excellent, even if we managed to nitpick in our Lufthansa First Class Review
5. Book First Class on United or Envoy Class on US Airways
I know, I know–not a good substitute, and I personally would try to get Swiss Business Class instead, for fewer miles, but have to cover all the options.
6. Book Swiss First Class with Miles & More Miles
Again, just to cover all the options–if you somehow have access to Miles & More miles from belonging to Lufthansa's frequent flyer program (shared with Swiss) you may still be able to book Swiss First Class, because there's more award availability for Miles & More members. That said, it will cost you more miles, and obviously it's much harder to earn lots of Miles & More miles (mostly have to fly, and discounted Lufthansa and Swiss flights earn fewer miles) so this isn't a practical option for most U.S.-based flyers.
This pretty much covers the Star Alliance options. As you can see, if you can be flexible, you can still book Swiss business class awards (including some advance awards) and last minute Lufthansa first class awards using United miles, for a reasonable number of miles and taxes:
67,500 United miles + $77.50 each way U.S. to Europe for Lufthansa First Class IAD-MUC
65,000 United miles + $43.10 each way Europe to Asia for Swiss Business Class ZRH-PVG
50,000 United miles + $77.50 each way U.S. to Europe for Swiss Business Class LAX-ZRH
If you apply for the Sapphire Preferred and meet the $3000 minimum spend with travel or dining spend at 2x bonus, that would give you 46,000 United miles, almost enough for one-way U.S.-Europe in Swiss business class. Or apply for the MileagePlus Explorer for 50,000 United miles after first purchase; log in to United MileagePlus and make sure you have miles in your account to see the offer.
You can earn even more miles if you also apply for the Ink Bold business card; Chase will often approve you for a personal and business card that you apply for at the same time.
If you apply for the Ink Bold or Ink Plus, the 50,000 sign-up bonus gives you one-way U.S.-Europe in Swiss Business Class, and if you meet the $10,000 spend with office supply store spend at 5x bonus, that would give you another 50,000 United miles for the return trip.
Apply for the Ink Bold – 50,000 points
Apply for the Ink Plus – 50,000 points
Related posts
How to Deal with No More Lufthansa Advance First Class Availability
10 Best International First Class Seats
A Hipper Zurich for Budget Travelers
Check out and apply for the Best Travel Credit Cards.
If you enjoyed this, please follow TravelSort on Twitter or  like us on Facebook to be alerted to new posts. 
Become a Member to find your perfect luxury or boutique hotel at up to 50% off: TravelSort Hotels