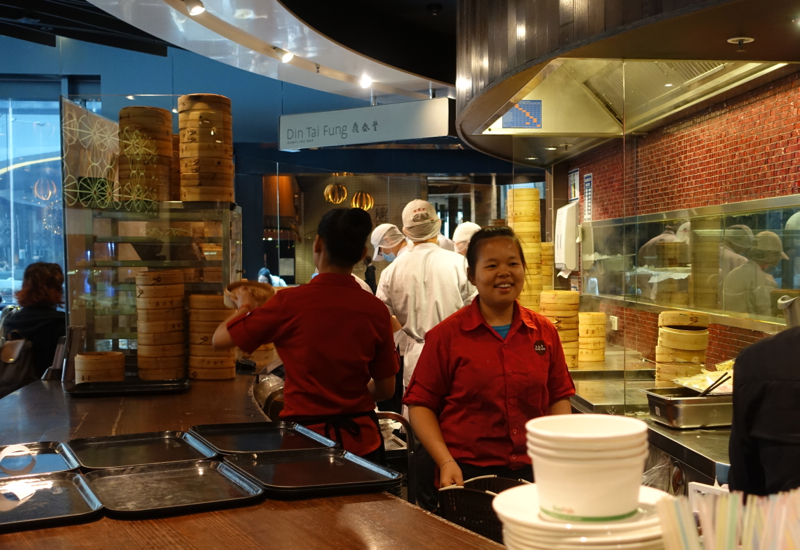 This Din Tai Fung Sydney Review of the Westfield Sydney food court location is from our recent trip to Sydney, Australia. For the prior Australia-related posts, including Etihad First Apartment to Sydney and Qantas First Class to Melbourne, please see:
Review: Qantas First Class A380 London to Dubai
Review: Emirates First Class Lounge Dubai DXB
Review: Qantas First Class A380 Dubai to Melbourne, Australia
Review: Etihad Business Class Lounge Abu Dhabi
Review: Etihad A380 First Class Apartment Abu Dhabi to Sydney
Review: Qantas International Business Class Lounge, Melbourne MEL
Review: Shangri-La Sydney and Horizon Club
Review: Park Hyatt Sydney Opera Deluxe Room
Social Brew Cafe Sydney Review
Review: Featherdale Wildlife Park Near Sydney, Australia
Review: Palm Beach and The Boathouse Palm Beach
Review: Manly Ferry from Manly Beach to Circular Quay, Sydney
Review: Park Hyatt Sydney The Dining Room Restaurant
Din Tai Fung History, Location and Hours
I'd never heard of Din Tai Fung, a Taiwanese dumpling specialist, before the Concierge at the Park Hyatt Sydney recommended it to me, but it started in Taipei over 40 years ago in 1972, and now has locations not only in Taiwan but also in Hong Kong, Japan, China, Macau, Malaysia, Thailand, Korea, Singapore, the U.S. (LA, Orange County and Seattle) and Australia.
I'm not a soup dumpling expert, but according to Din Tai Fung's site cites a key differentiator as quality control: each pork dumpling pastry is handmade, measuring 4.8 to 5.2 grams, before being filled to weigh between 20.8 and 21.2 grams. The dumplings are then steamed exactly three minutes to order.
Din Tai Fung has multiple locations (8 at time of writing) in Sydney and New South Wales, but we went to the Westfield Mall Food Court location. The Westfield Mall is at 188 Pitt Street, a 15-20 minute walk from Sydney Opera House. Once there, go up to the 5th floor food court to find Din Tai Fung, which during our visit was by far the busiest restaurant.
The Westfield Mall location is open 10am-6:30pm Monday-Wednesday, 10am-9pm Thursday, 10am-8pm Friday-Saturday, and 10am-6pm Sunday. Dumplings and noodles are made in an open part of the kitchen (here, preparing won ton):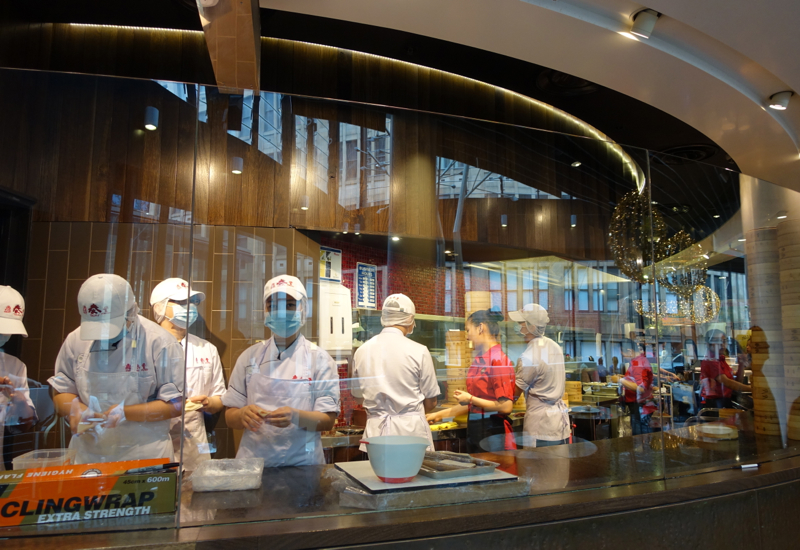 The Scene
The Westfield location is a food court, so there's no reserved seating and it's very casual–just find a free table, and don't forget to bus your own table when finished. Since it was weekday lunch hour, the seating near Din Tai Fung was busy with business people, students, retirees, and probably a few travelers such as us.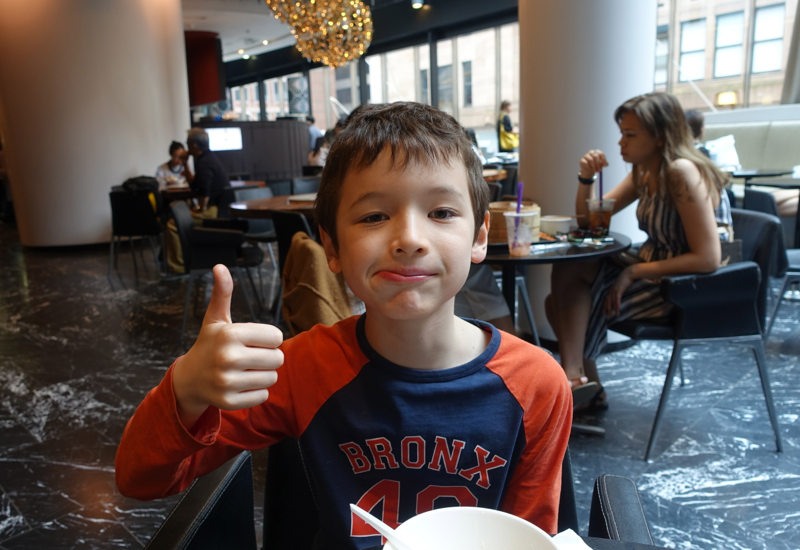 Din Tai Fung Menu and Food
Menu choices are visible on an illuminated wall behind the cashier: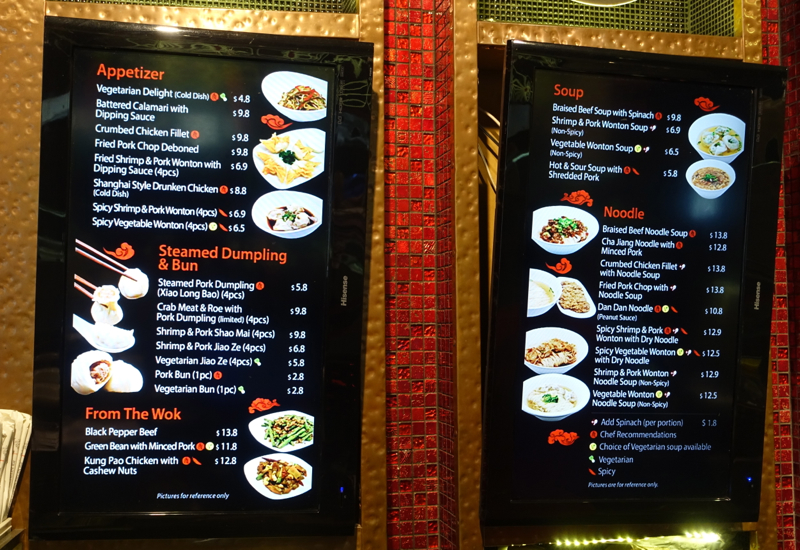 There's also a helpful picture menu on the counter you can consult: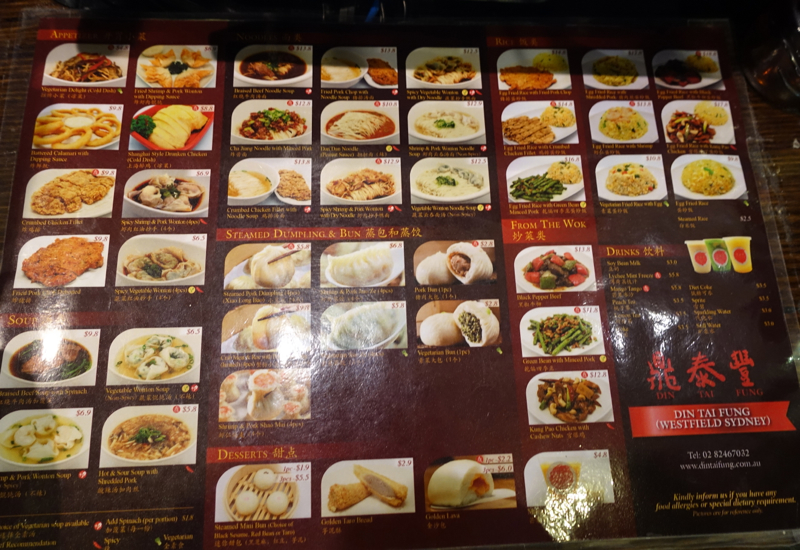 And finally, there are paper menu order cards–take one and remove yourself from the fast moving line while you fill it out, if you're indecisive.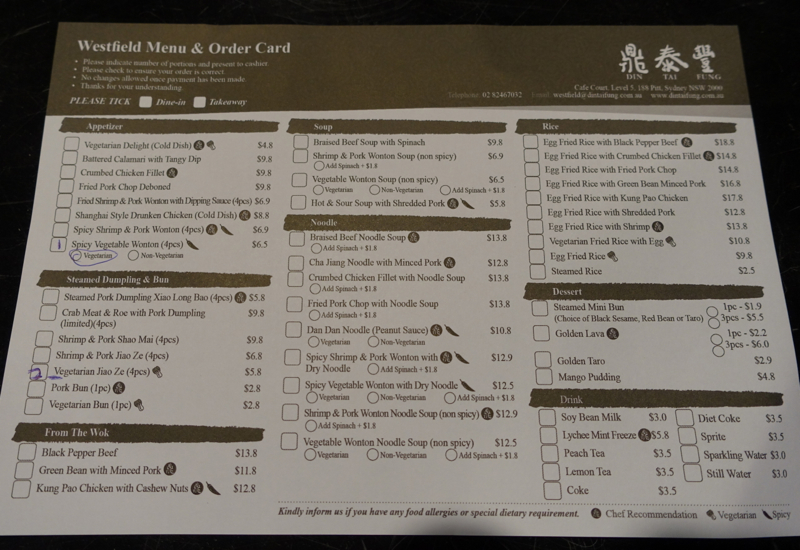 We placed two orders of Din Tai Fung's famous Xiao Long Bao, the steamed pork soup dumplings that propelled Din Tai Fung's rise and expansion. This is a must order: thin skins and a delicious hot soup interior along with the ground pork. They come four to an order, and trust me, you'll want at least four (or more) per person.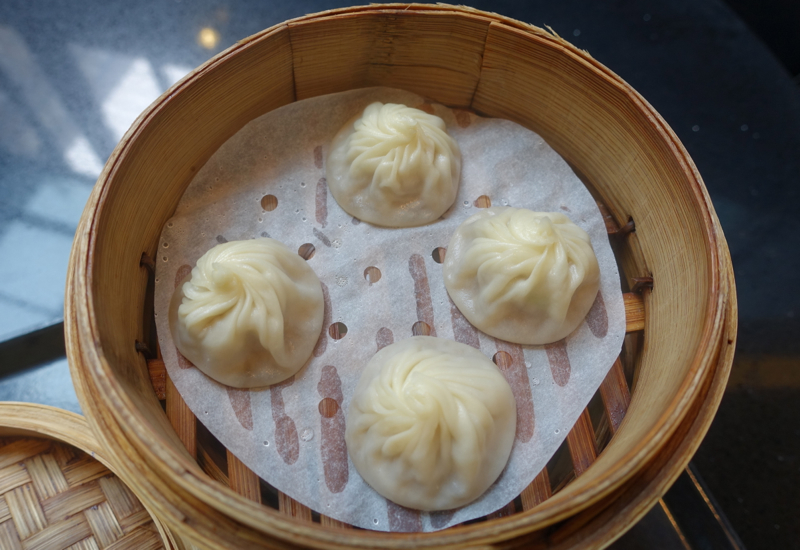 While my son enjoyed his soup dumplings plain, I loved eating them with the hot roasted chili sauce: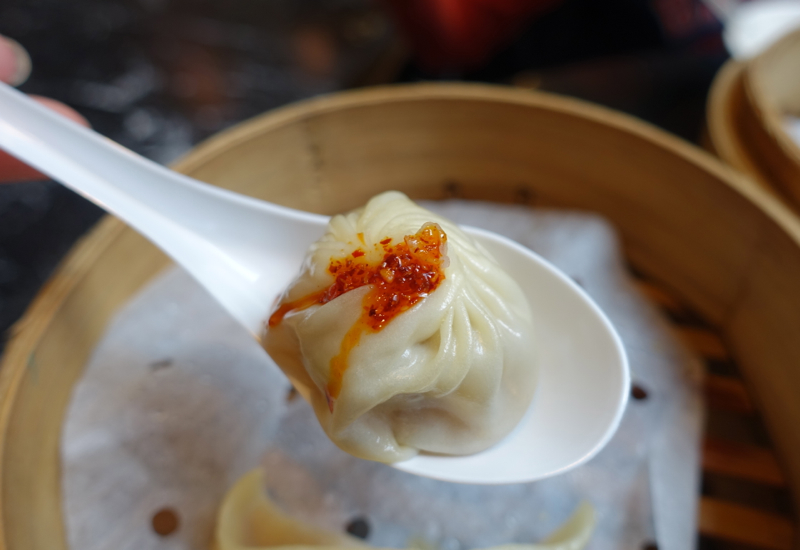 We also ordered Shrimp and Pork Jiao Ze, also 4 pieces to an order. These were also very good, although not as distinctive as the soup dumplings.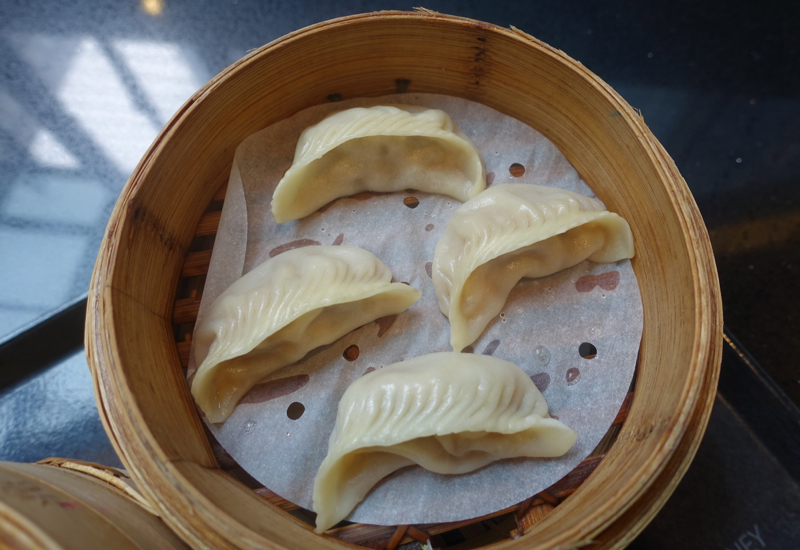 Finally we rounded out our order with a steamed pork bun (char siu bao). My son liked this, although I admit to preferring the baked version from Tim Ho Wan.
Coincidentally, Tim Ho Wan was under construction on the same floor at Westfield Mall, and is now open.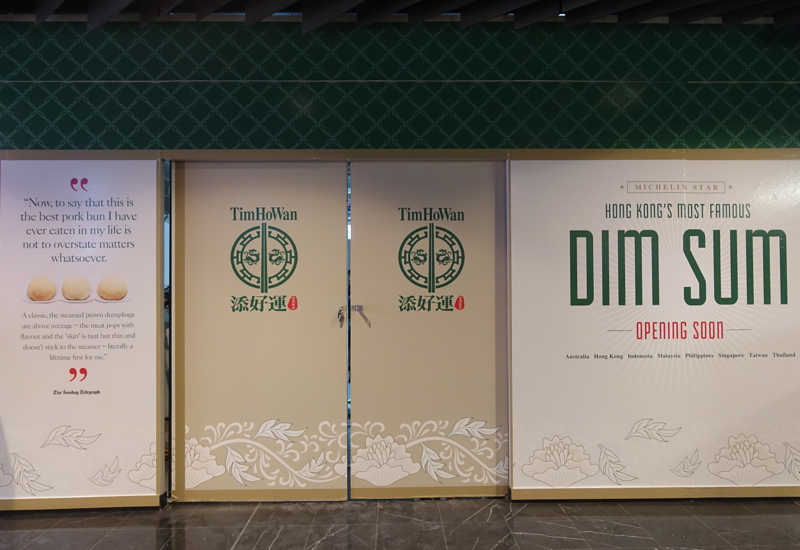 The Verdict
After a visit to the Sydney Opera House or elsewhere in downtown Sydney, I highly recommend Din Tai Fung if you're craving dim sum or dumplings. Soup dumplings are the specialty, so be sure to order at least one order of four per person. Some additional steamed dumplings, such as shrimp and pork or vegetarian, along with a soup or noodle dish would round out the meal. For pork buns, however, I'd recommend heading over to Tim Ho Wan for their signature baked char siu bao offering–it's just a few steps away, having opened in late 2015.
Related Posts
Review: Manly Ferry from Manly Beach to Circular Quay, Sydney
Review: Park Hyatt Sydney The Dining Room Restaurant
Review: Park Hyatt Sydney Opera Deluxe Room
Review: Palm Beach and The Boathouse Palm Beach
Social Brew Cafe Sydney Review
Need Award Booking Help? Our fee is as low as $75 per ticket if you book your hotel or cruise with us.
If you enjoyed this, join 200,000+ readers: please follow TravelSort on Twitter or like us on Facebook to be alerted to new posts.
Become a TravelSort Client and Book luxury hotels with Virtuoso or Four Seasons Preferred Partner Amenities!