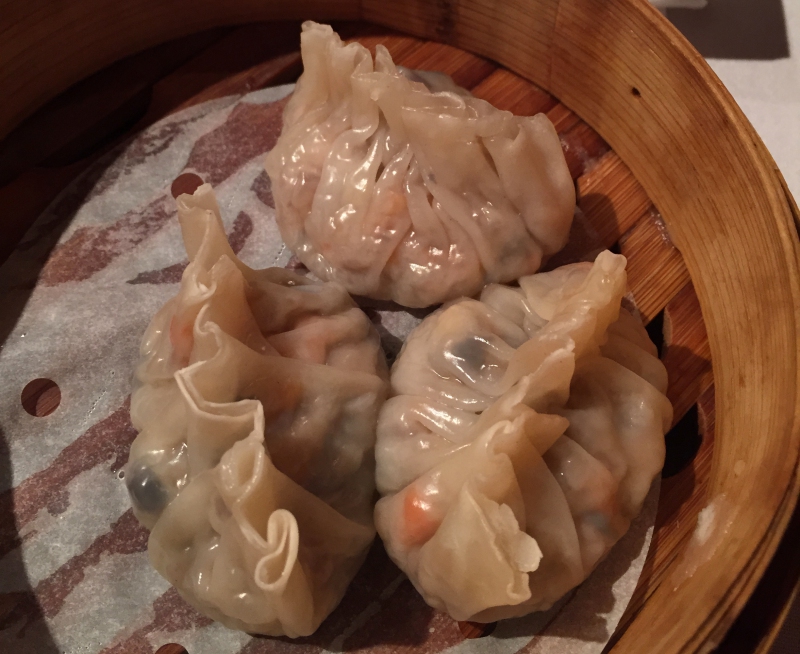 This Dim Sum Go Go NYC Review is one of our many NYC Restaurant Reviews. Visiting New York? See all of our posts tagged NYC.
Dim Sum Go Go NYC Location and Hours
Dim Sum Go Go is located at 5 East Broadway in Chinatown, about a 10 minute walk from the Chambers Street Subway Station (J, Z trains) or Brooklyn Bridge-City Hall Subway Station (4, 5, 6 trains). It's open 10am-11pm daily.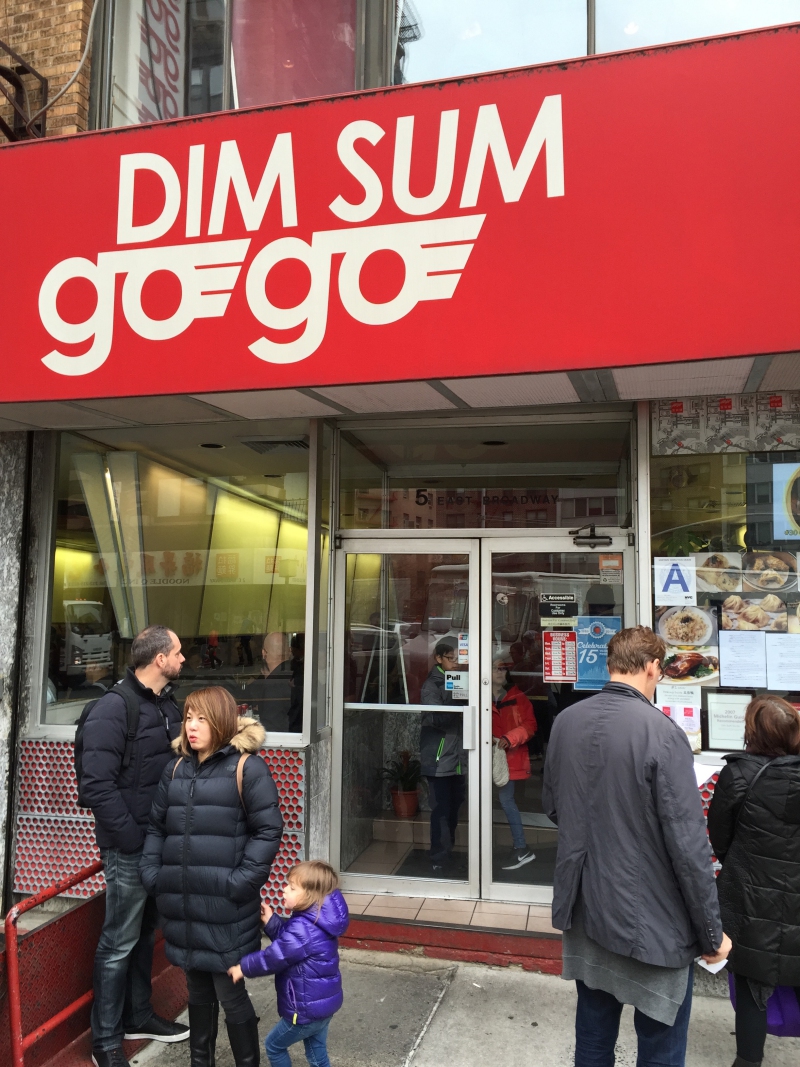 The Scene
Dim Sum Go Go is popular with visitors, so you generally won't see as many Chinese diners as at more traditional dim sum places. Most diners were 20 or 30 somethings during our visit, both groups of friends and families. There's seating both downstairs, at street level, and upstairs.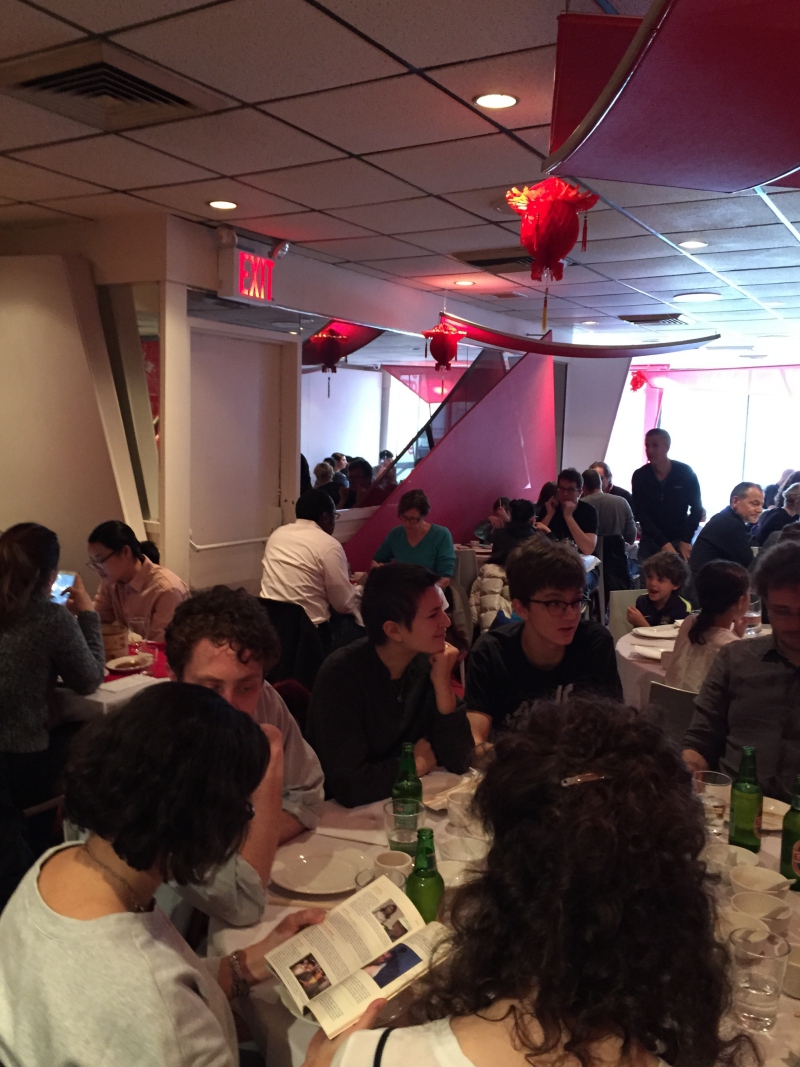 Dim Sum Go Go Dim Sum Menu and Food
At Dim Sum Go Go you order your dim sum from a menu (no carts) so there is some waiting involved, and was fairly long in our case, since we came at a busy time and had a lot of items in our order. Here's the dim sum menu: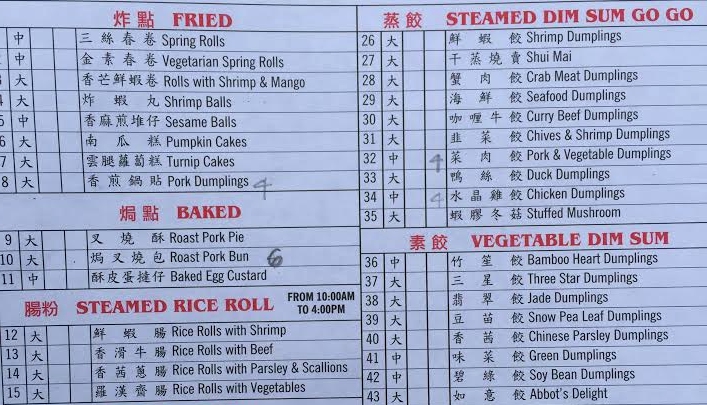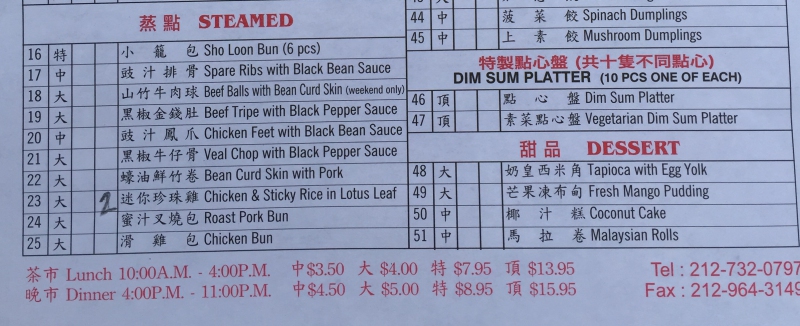 Since one in our party is vegetarian, we ordered Mushroom Dumplings, which were good, and some of the better vegetarian dumplings I've tried.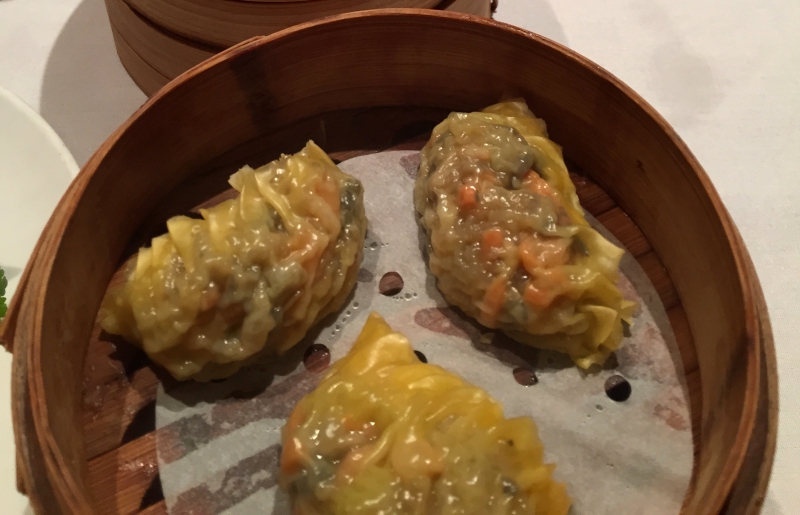 The kids enjoyed the Pork Dumplings, so much so that I never got to try one: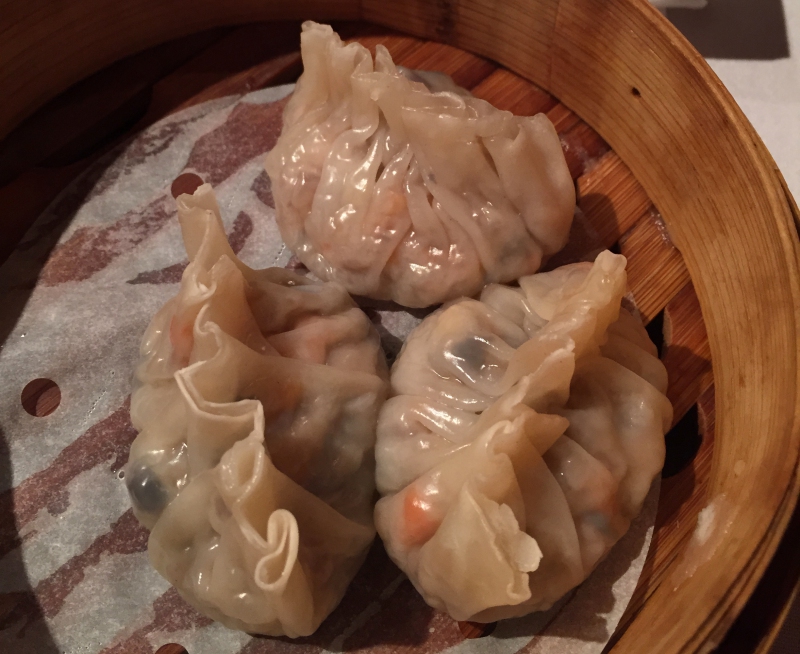 I liked but didn't love the Crab Dumpling-the wrapper was a bit too thick, and it seemed to have other seafood in it (probably to make it more economical to make) whereas I had been hoping the filling would be only crab.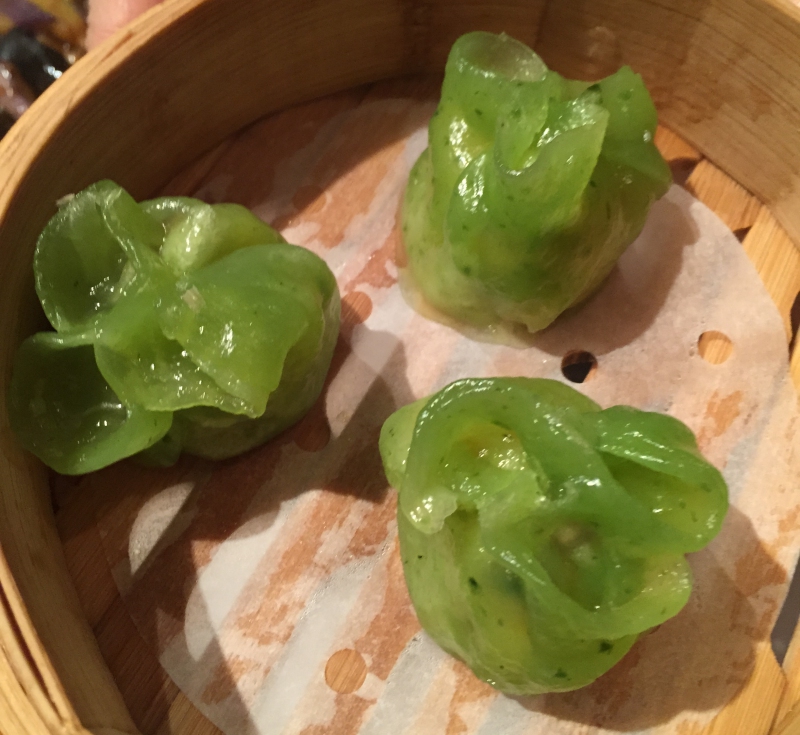 My favorite was the Cheong Fun, the Rice Noodle Roll with Shrimp, although it wasn't any better than the ones we have at Oriental Garden, which are cheaper.
The Lotus Leaf Wrapped Sticky Rice was good, although again I prefer the version at Oriental Garden, which has some dried mushrooms and Chinese sausage as well as dried shrimp in it; this was mainly minced chicken as the filling.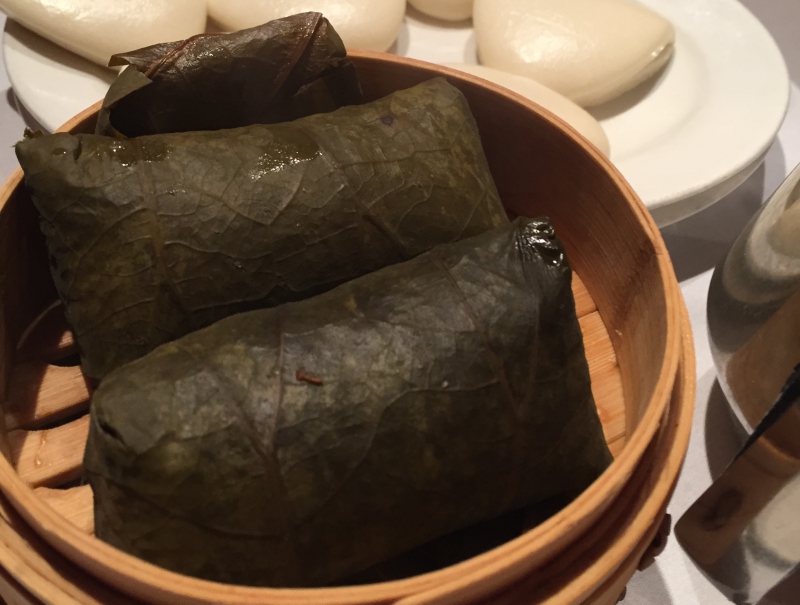 We also looked at the regular menu and ordered Peking Duck, which was solidly executed, with quite crisp skin and tender meat. The sauce it was served with wasn't quite hoisin sauce, however, which I found disconcerting. Overall, I still slightly prefer Wa Jeal for Peking Duck.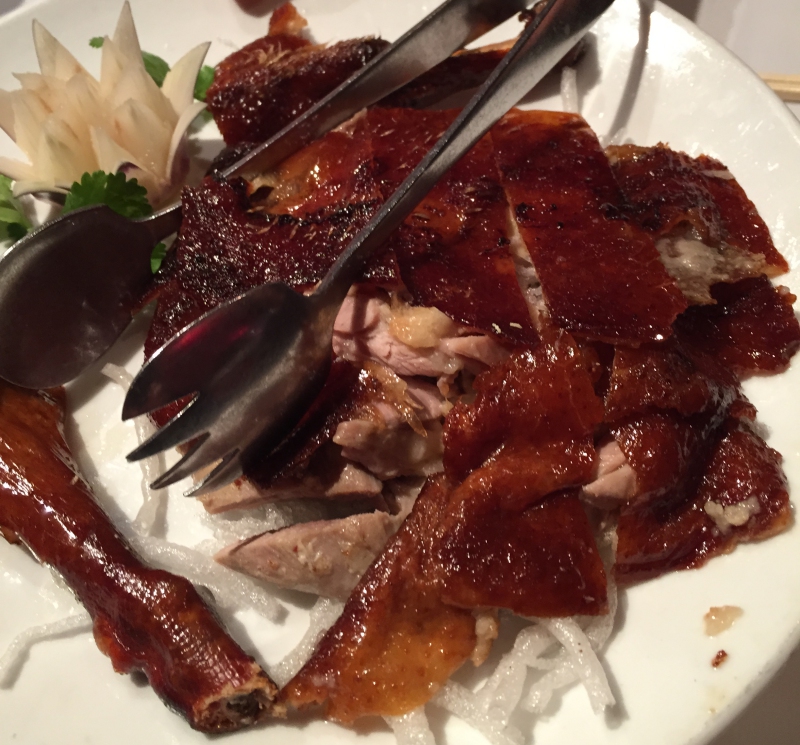 We also tried the Spicy Chinese Eggplant Casserole, which was excellent and good value at $10.95, and the Chinese Long Beans, also good, although a bit too spicy for the kids.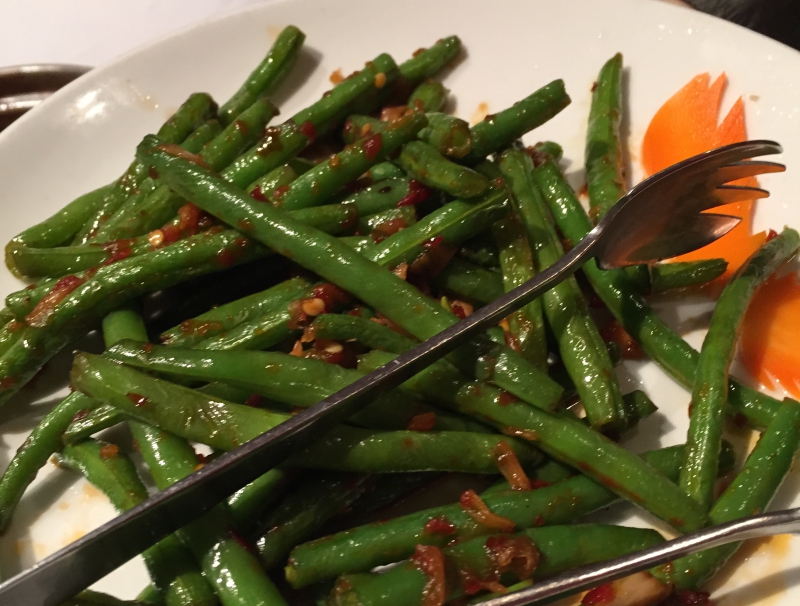 We had ordered the Baked BBQ Pork Buns, but when we asked about them, we were told they were out of them. Instead we ordered the BBQ Pork Pies, which held a similar char siu pork mixture but in a flaky crust, similar to that used for the crust in egg custard tarts. The filling was good, but we would have preferred the baked bun instead of the pie crust exterior.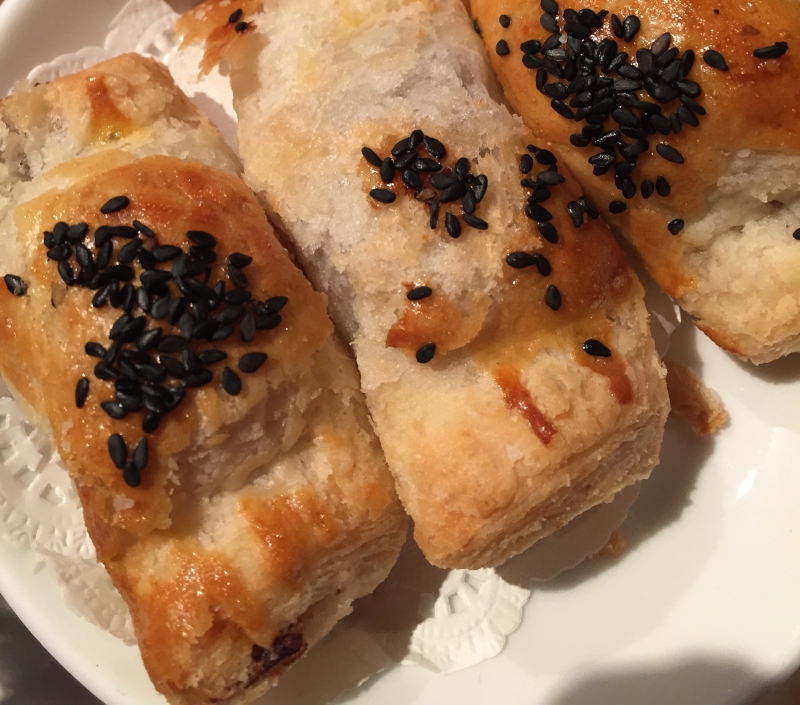 The Verdict
Lunch for our group of 6 (4 hungry adults and 2 hungry kids) was $143 + tax and tip, so more expensive than our more humble Chinatown favorite Oriental Garden, but not terrible given the variety of offerings, especially vegetarian options, given that one person in our group is vegetarian. Our favorites were actually not the steamed dumplings, but the Cheung Fun rice noodle with shrimp, the Spicy Eggplant Casserole and the Peking Duck.
While our overall experience was fine because we were with great friends, if we go back, I'd definitely aim to visit earlier, for a couple reasons: even at 1:15pm the restaurant was out of several dishes (Baked Char Siu Bao; Duck Dumplings; and Egg Custard Tarts) and we waited about 25 minutes to get into the place, as well as another 20 minutes or so for our dishes to arrive after ordering them. And I had to ask about the dishes we ordered not arriving, before I was told they were out of them.
If you've been to Dim Sum Go Go, what was your experience?
Related Posts
Oriental Garden Dim Sum: NYC Restaurant Review
Maison Kayser NYC Brunch Review
Yan Toh Heen Review Hong Kong, 2 Michelin Stars
Need Award Booking Help? Our fee is as low as $75 per ticket if you book your hotel through us.
If you enjoyed this, join 200,000+ readers: please follow TravelSort on Twitter or like us on Facebook to be alerted to new posts.
Become a TravelSort Client and Book Your Hotel with Virtuoso or Four Seasons Preferred Partner Benefits!