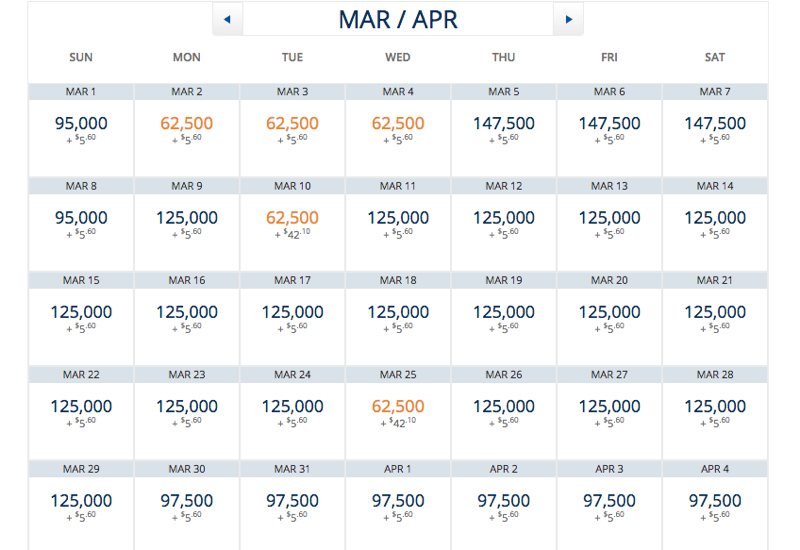 Delta's Award Charts Have Been Missing since Friday, and while I write very little about Delta SkyMiles since I don't collect them, I've received emails from concerned readers who are captive to a Delta hub wanting to know why Delta's Award Charts have disappeared and where they can find the prior 2015 award charts.
While I'm not privy to Delta's thinking, it does seem odd that after taking the time to put them together, including the complexity of 5 tiers of award pricing (see New Delta 2015 Award Chart: More Info Needed) that Delta would so suddenly pull them. Pure speculation, but one or more of the following may be at work:
Prompted by bad press on Delta's 2015 changes, after articles covered the lack of Level 1 (saver) awards
Caused by Delta frequent flyers complaining about computer mispricing award tickets
Enables Delta to "enhance" (devalue) their award prices more easily, since no award charts need to be updated
As part of the above, Delta moving to distance based awards, similar to Avios
Differentiated award pricing, based on customer elite status, number of SkyMiles, or other criteria
Delta Award Charts
Business Class from Continental U.S., Alaska and Canada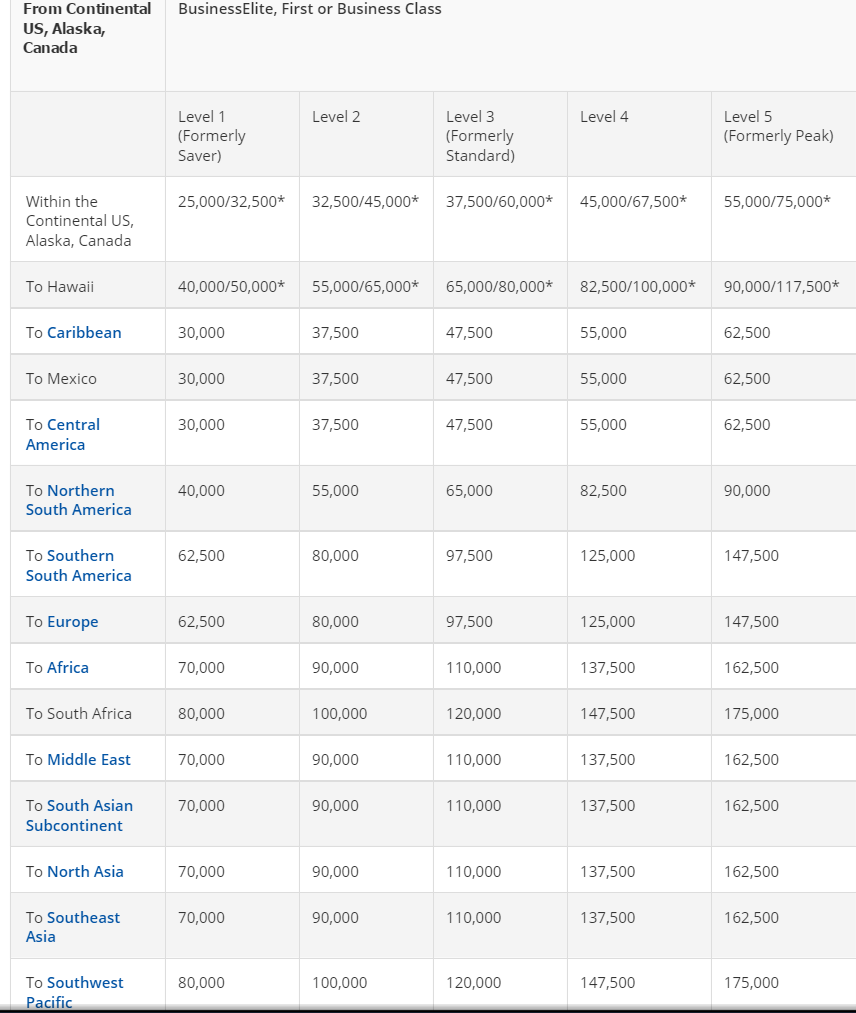 Business Class from Hawaii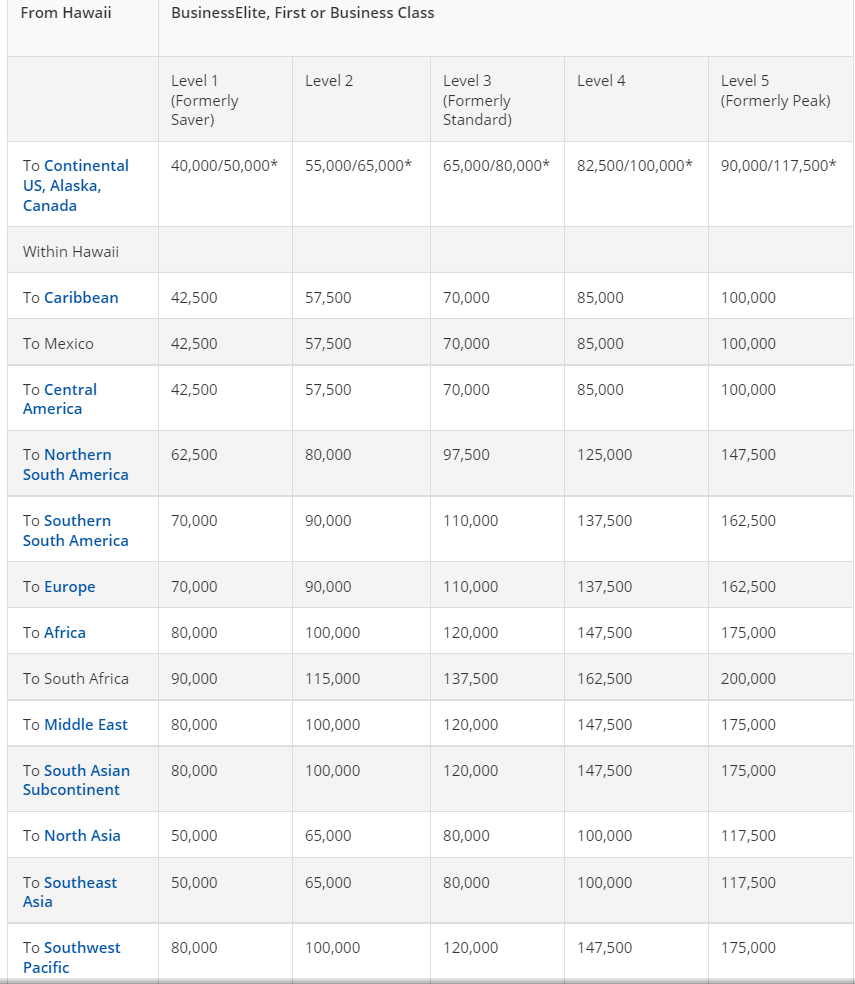 Business Class from Caribbean
Countries: Anguilla, Antigua and Barbuda, Aruba, Bahamas, Barbados, Bermuda, Bonair, BVI, Cayman Islands, Cuba, Curacao, Dominica, Dominican Republic, Grenada, Guadeloupe, Guyana, Haiti, Jamaica, Martinique, Montserrat, Puerto Rico, Saba, Saint Eustatius, Saint Kitts and Nevis, Saint Lucia, Saint Maarten, Saint Vincent and the Grenadines, Trinidad and Tobago, Turks and Caicos, USVI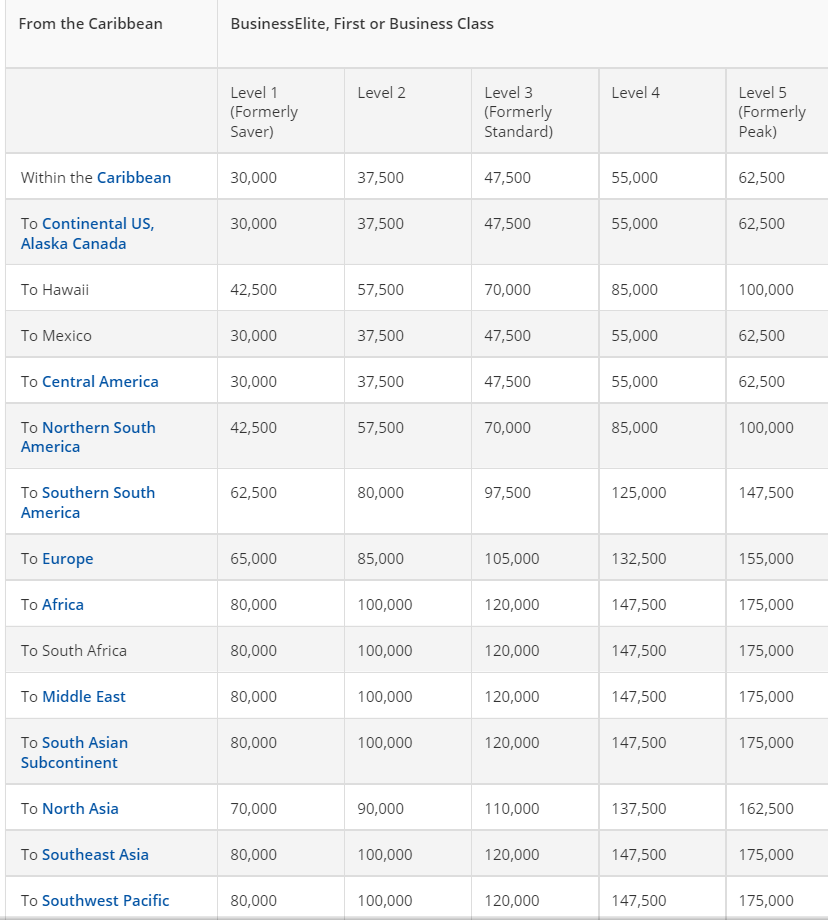 Business Class from Mexico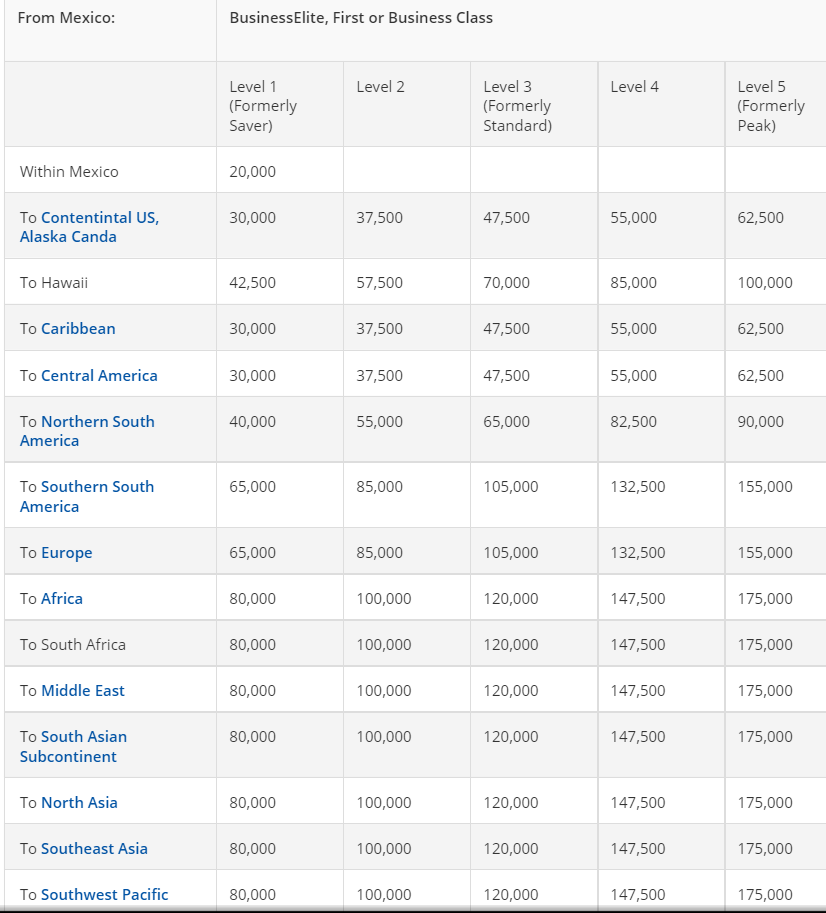 Business Class from Northern South America
Countries: Bolivia, Colombia, Ecuador, French Guiana, Peru, Suriname, Venezuela
Business Class from Southern South America
Countries: Argentina, Brazil, Chile, Paraguay, Uruguay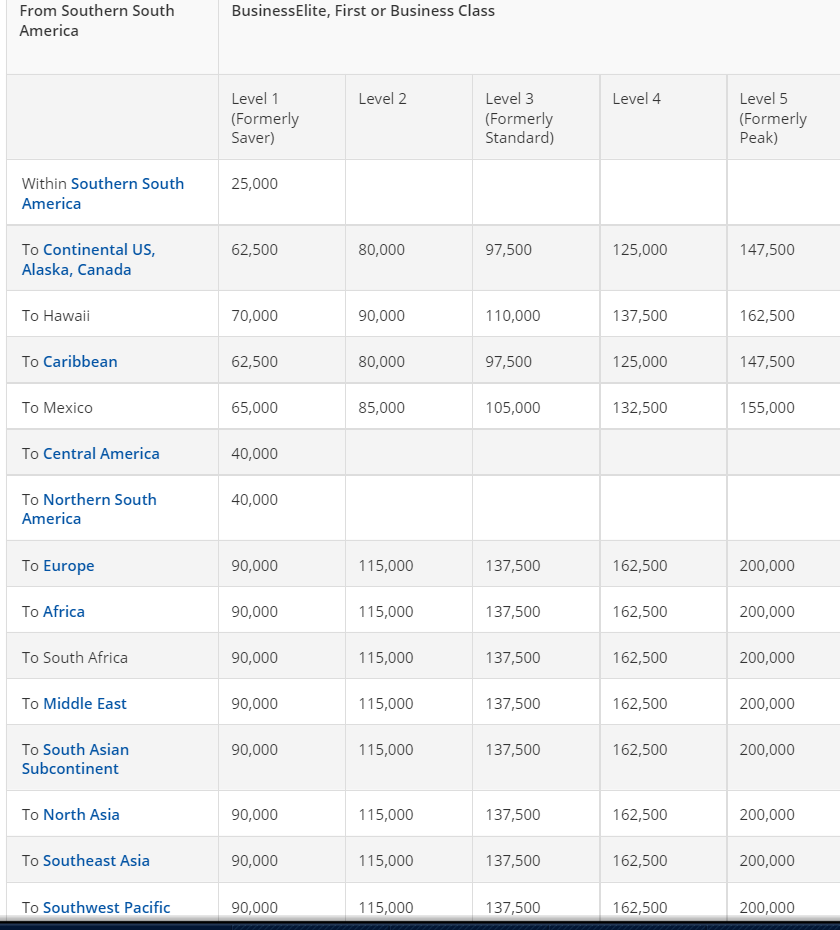 Business Class from Europe
Countries: Albania, Algeria, Andorra, Armenia, Austria, Azerbaijan, Belarus, Belgium, Bosnia and Herzegovina, Bulgaria, Croatia, Cyprus, Czech Republic, Denmark, Estonia, Faroe Islands, Finland, France, Georgia, Germany, Gibraltar, Greece, Hungary, Iceland, Ireland, Italy, Latvia, Liechtenstein, Lithuania, Luxembourg, Macedonia, Malta, Moldova, Monaco, Montenegro, Morocco, Netherlands, Norway, Poland, Portugal, Romania; Russia (West of Urals), San Marino, Serbia, Slovakia, Slovenia, Spain, Svalbard and Jan Mayen Island, Sweden, Switzerland, Tunisia, Turkey, Ukraine, United Kingdom, Vatican City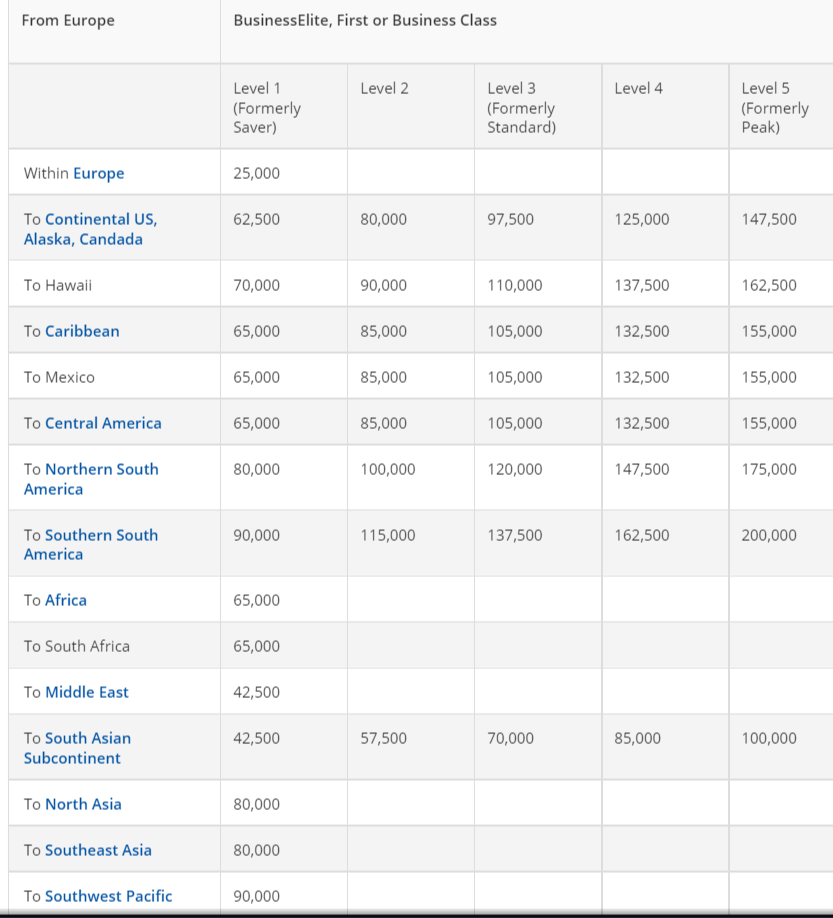 Business Class from North Asia
Countries: China, Guam, Hong Kong, Japan, Korea, Micronesia, Philippines, Taiwan, Russia (East of the Urals), Saipan, South Korea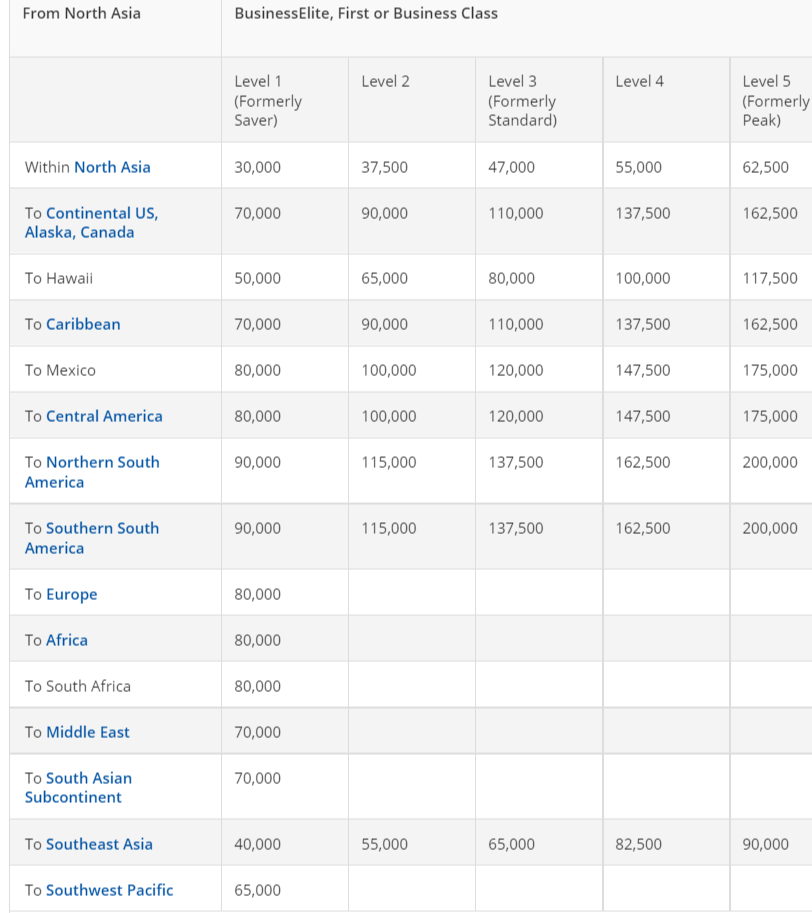 Business Class from Southeast Asia
Countries: Brunei, Cambodia, East Timor, Indonesia, Laos, Macau SAR, Malaysia, Mongolia, Myanmar, Papua New Guinea, Singapore, Tajikistan, Thailand, Turkmenistan, Vietnam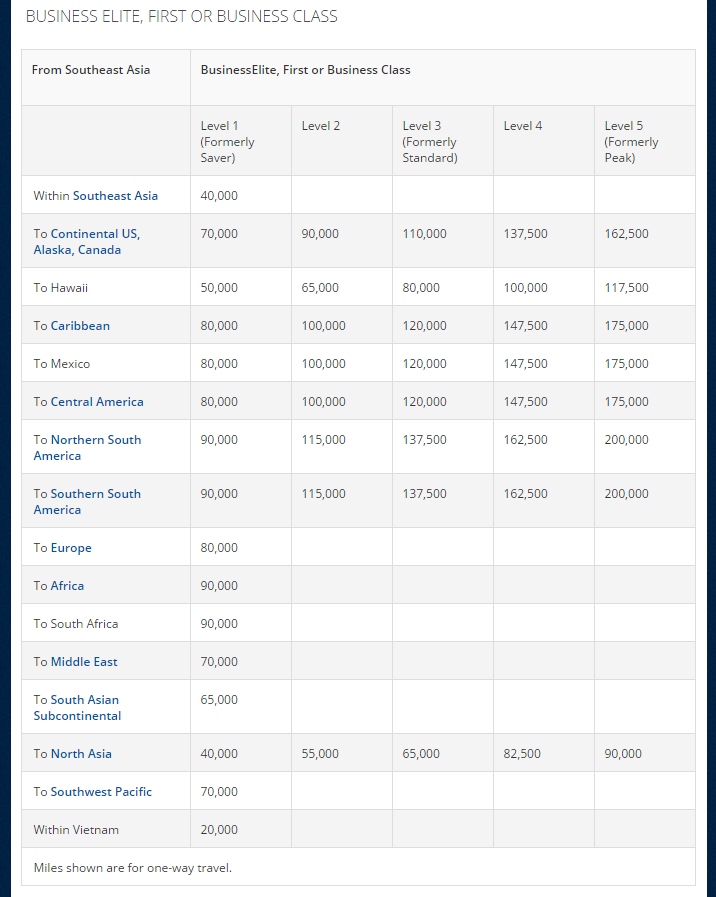 Business Class from India and South Asia
Countries: Afghanistan, Bangladesh, Bhutan, British Indian Ocean Territory, India, Nepal, Maldives, Pakistan, Sri Lanka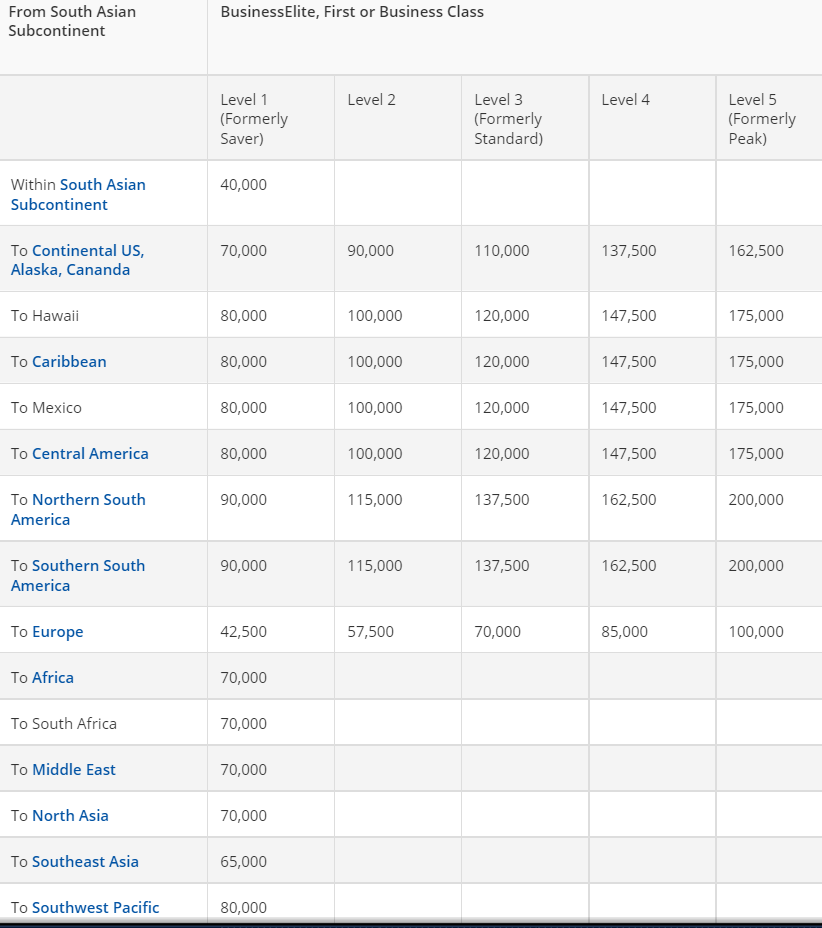 Business Class from Australia and Southwest Pacific
Countries: American Samoa, Australia, Christmas Islands, Cocos (Keeling) Islands, Cook Islands, Fiji, French Polynesia, Kiribati, Nauru, New Caledonia, New Zealand, Niue, Norfolk Island, Pitcairn, Samoa, Solomon Islands, Tokelau, Tongo, Tuvalu, Vanuatu, Wallis and Futuna Islands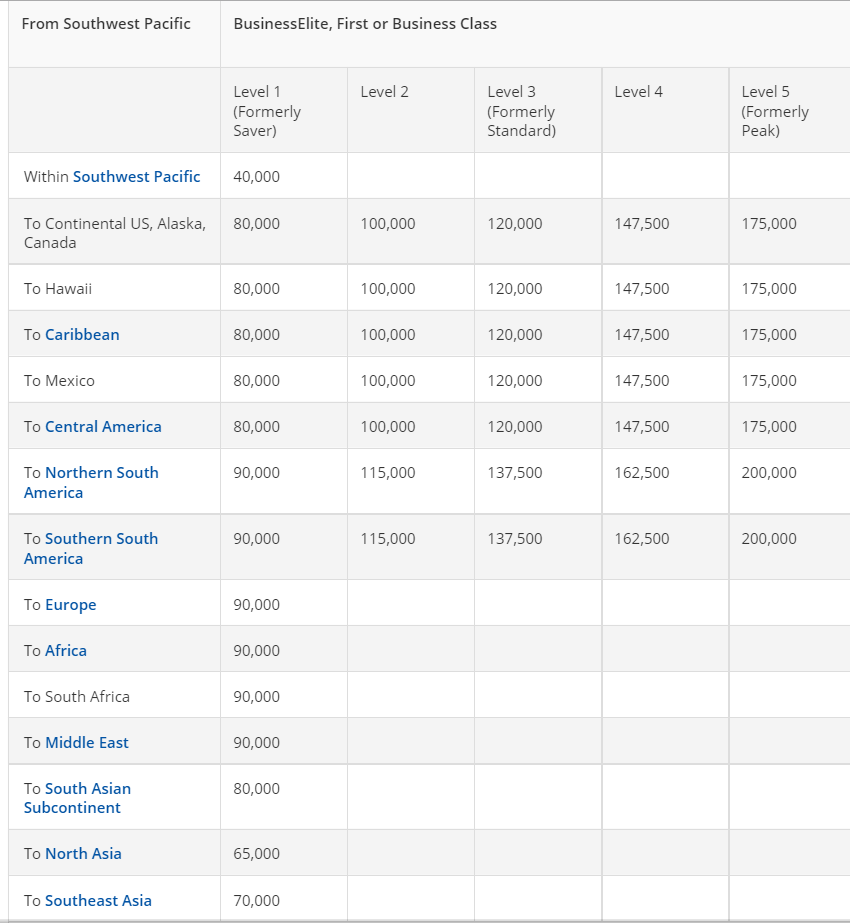 Whatever the reason Delta removed its award charts, it's not customer friendly, and just another reason I'm glad not to hold any SkyMiles. Here are my other reasons I've never bothered to collect any SkyMiles (and this doesn't even include the Delta Devaluation to a Revenue Based frequent flyer program, since we earn few of our miles from flying):
1. Sky High Award Pricing
Even Delta's Level 1 pricing is often higher than the saver level using American AAdvantage miles or United MileagePlus miles, and that's *if* you can actually find Level 1 pricing. For example, here's the award calendar for a Delta Business Class award Atlanta to Paris in March–just a handful of days with Level 1 pricing, which is 62,500 miles each way.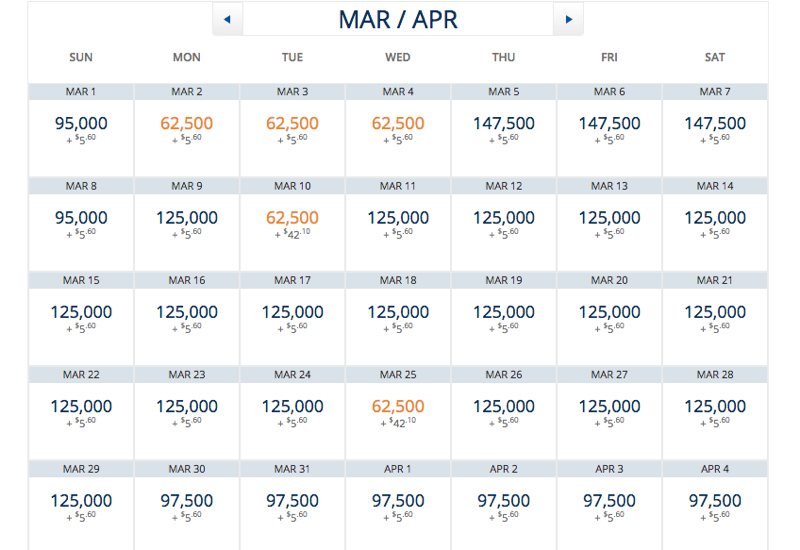 That's 12,500 miles more than a one way AAdvantage award, which is 50,000 miles:
And it's also more miles than MileagePlus, which is 57,500 miles each way on United flights (and currently the same price on Star Alliance partners such as SWISS, thanks to Discounted United Partner Business Class Awards.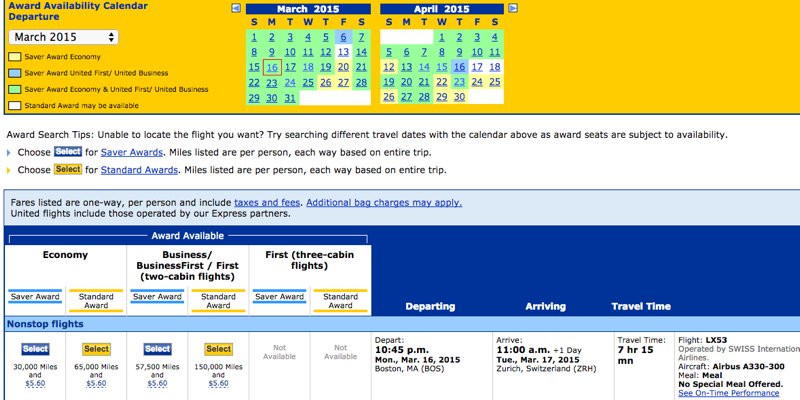 2. Lack of Great Partner Airlines
Star Alliance has Singapore KrisFlyer, Lufthansa, Asiana, and SWISS; Oneworld has Cathay Pacific, Japan Airlines (JAL) and Qantas; and SkyTeam has… let's see: China Airlines, Saudia and Kenya Airways. Ok, to be fair, SkyTeam also has Korean Air (probably the best partner), Air France/KLM and Alitalia, but you get the picture.
3. No International First Class Awards
Delta itself doesn't have a first class product, so it likewise doesn't offer international first class awards on any of its partners–so much for aspirational awards. That severely limits the maximum value you can get from a Delta SkyMile, and means you can't use Delta SkyMiles to fly Korean Air First Class. You can, however, book Korean Air First Class by transferring points to Korean Air Skypass.
4. Only AMEX Credit Cards
If you don't fly many paid flights, you'll need to earn the bulk of your frequent flyer miles from credit card signup bonuses, spend, category spend bonuses, and shopping portal bonuses. There are several problems with this when it comes to Delta, which only partners with American Express:
Low Credit Card Signup Bonuses: The regular public offers for the Delta AMEX cards are typically only 30,000 miles or less, with very occasional offers for 45,000 or 50,000 miles
Fewer Merchants Accept AMEX: If you're relying on credit card spend, the fact that fewer merchants accept AMEX (especially abroad) can be a real problem. The reason, of course, is that AMEX charges merchants more to process transactions than either MasterCard or Visa do.
Worse Category Spend Bonuses: Whereas it's possible to earn 5X or more with cards that transfer to United MileagePlus, Singapore KrisFlyer, British Airways and Korean SkyPass, no AMEX cards offer 5X points on any category. That makes it harder to earn high multiples of SkyMiles.
5. No Award Changes or Redeposits <72 Hours Prior to Departure
Whereas most other frequent flyer programs allow you to make changes or redeposit your award ticket up until time of travel, or at least up until 24 hours prior to departure, SkyMiles forbids any changes or redeposits within 72 hours of departure. Have an emergency? You're out of luck, you can kiss those miles goodbye.
What do you think about Delta's missing award charts? Are SkyMiles still worth it to you in spite of the disadvantages?
Related Posts
New Delta 2015 Award Chart: More Info Needed
Delta Devaluation: SkyMiles Program Now Revenue Based
Delta: No More Medallion Upgrades to Westin Heavenly Bed on Transcons
Delta SkyMiles for Virgin Atlantic Upper Class: Top 10 Tips
Need Award Booking Help? Our fee is as low as $75 per ticket if you book your hotel through us.
If you enjoyed this, join 150,000+ readers: please follow TravelSort on Twitter or like us on Facebook to be alerted to new posts.
Become a TravelSort Client and Book Your Hotel with Virtuoso or Four Seasons Preferred VIP Amenities!