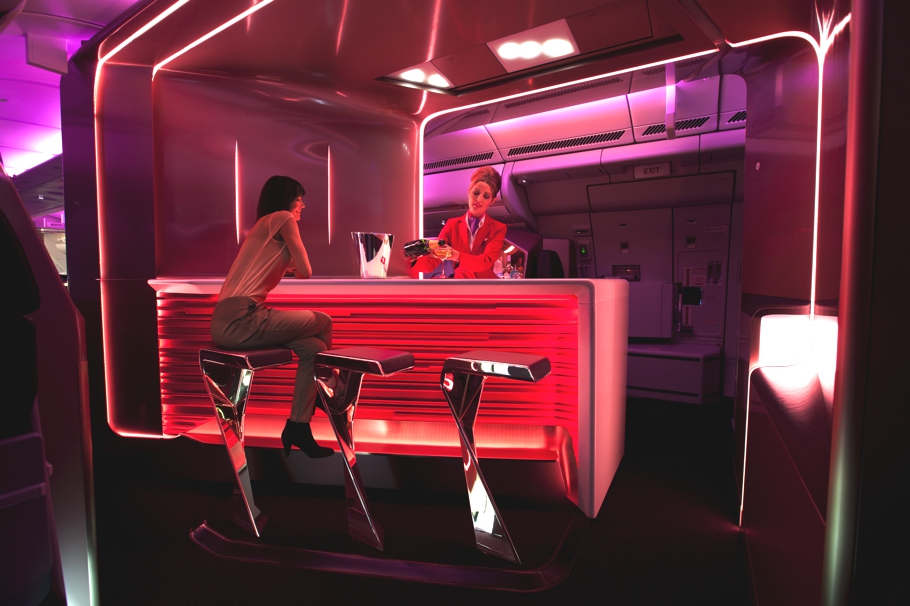 Delta miles can be used to book Virgin Atlantic awards, including Virgin Atlantic Upper Class, since late June 2013. But if you want to use your Delta SkyMiles to fly Virgin Atlantic Upper Class from the U.S. to London, particularly for two people, good luck–you'll need it.
Why? Because it's virtually impossible to find. This is not to say you can't find Virgin Atlantic awards at all using Delta SkyMiles; in fact, there are many Virgin Atlantic economy awards to be had. But Virgin Atlantic Upper Class is the goal for many, and it's very tough to find, as I've now had to tell several clients who have optimistically contacted me seeking to book Virgin Atlantic Upper Class (during peak periods, no less) with their Delta SkyMiles.
A few explanations and tips:
1. No Fuel Surcharges on Delta SkyMiles Virgin Atlantic Awards from the U.S.
The reason using Delta SkyMiles for Virgin Atlantic awards is more attractive than using Virgin Atlantic miles IF there's space is that Virgin Atlantic charges high fuel surcharges, similar to British Airways. Count on ~$800-$1000 for a roundtrip award between the U.S. and Europe, if booking with Virgin Atlantic miles. Delta doesn't charge these fuel surchages for awards from the U.S., making it an attractive use of SkyMiles.
2. As Always, Delta Charges the Same for One Way and Round Trip Awards
Sure, you can book a one way award using Delta SkyMiles–but you'll pay the same number of miles as a roundtrip, unlike United MileagePlus, American AAdvantage, or most major frequent flyer programs where a one way is half the price of a roundtrip.
3. Search Virgin Atlantic First, But Know That Delta Only Has Access to a Subset of That Award Space
An easy way to see if your desired Virgin Atlantic Upper Class award has any chance using Delta SkyMiles is to first do a search on Virgin Atlantic Flying Club to see if Virgin Atlantic has award space available for its own members. If it doesn't, you can be sure it won't be available on Delta either.
Even if Virgin Atlantic does show award space, don't get too excited–Delta offers a *very* small subset of Virgin Atlantic award availability, so it's very likely you still won't see award space when you search on Delta.
4. Virgin Atlantic Award Space on Delta.com is at the Low Level: Forget Using the Award Calendar
While Delta.com's award calendar function can be useful for Delta flights, it doesn't come into play at all for partner award such as Virgin Atlantic Upper Class award space.
5. Search Segment by Segment
As usual when searching for award space, search segment by segment and one way at a time. If you search for a roundtrip and only Delta high level award space is available on the return, that's what you'll see; you want to be able to pinpoint the low level Virgin Atlantic award space.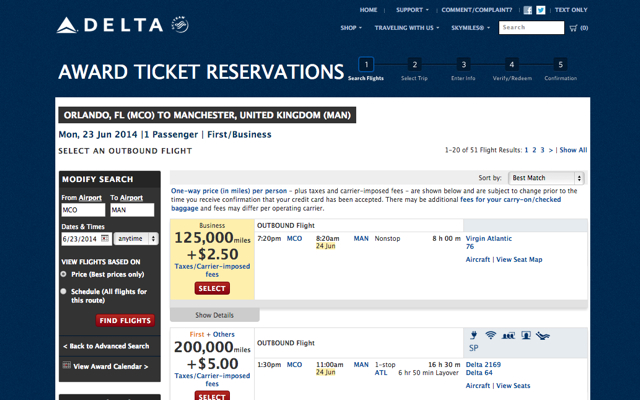 6. Use Award Nexus to Search Multiple Days at a Time
Using Delta.com can be painfully slow, so after you check award availability on Virgin Atlantic, you can go to Award Nexus (sign up for an account using your FlyerTalk username, or pay for a premium account) to search multiple days at a time, based on what you see on Virgin Atlantic.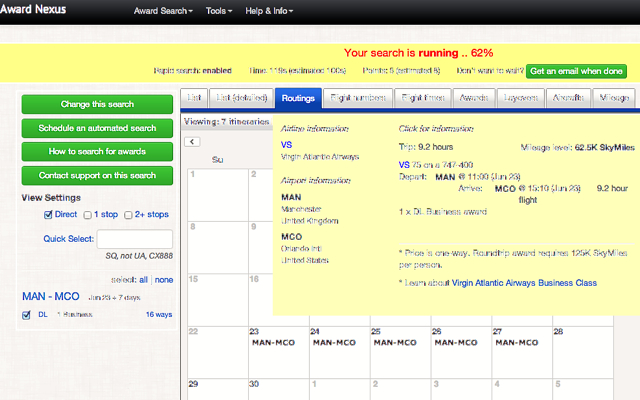 7. Sort By Miles Per Passenger
Typically Delta options are highest in the search results, and can bury the more attractive partner options such as Virgin Atlantic. So sort by miles per passenger, bringing the cheapest award options to the top.
8. Award Availability Better from June 2014 On, Due to Increased Saver Level Award Costs
As you may know, Delta "enhanced," er, devalued its award chart a bit such that low level saver awards between the U.S. and Europe, for flights in June 2014 and on, are 125,000 Delta SkyMiles rather than 100,000 SkyMiles. Saver business class awards to many other regions, such as Southeast Asia, Middle East, Southern South America, South Africa etc. have also increased. Because of this, you're more likely to find award space for June 2014 and on, although note that it's still very limited for Virgin Atlantic Upper Class
9. Use Delta SkyMiles Rather Than High Opportunity Cost SPG Points or AMEX Points
While I refuse to earn any Delta SkyMiles for a number of reasons (lack of first class awards on partners, one ways aren't 50% the cost of roundtrip awards, lack of award availability just to name a few) if you do have Delta SkyMiles, definitely use them rather than transferring SPG points or AMEX Membership Rewards points to Delta. Both of the latter types of points are in my view much more valuable than Delta Sky Pesos, er SkyMiles, so burn those SkyMiles if you find an award that works for you.
If you do need a few more SkyMiles, see if you're targeted for a 45,000 Gold Delta SkyMiles AMEX offer using the CardMatch tool.
10. Earn Other Frequent Flyer Miles and Points
My biggest tip: diversify out of Delta SkyMiles into other frequent flyer miles and points, to give you more options to Europe and other international travel. See Diversify Your Miles and Points Portfolio: Top 8 Reasons
Have you successfully booked a Virgin Atlantic Upper Class Award with Delta SkyMiles?
Related Posts
Top Tips for Using Delta SkyMiles for Asia Award Tickets