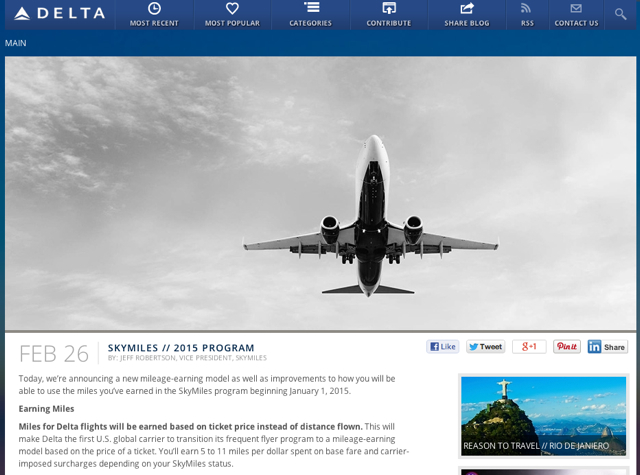 Delta's SkyMiles Program is going fully revenue based, effective January 1, 2015, marking a significant devaluation for many Delta flyers. This means that all SkyMiles earnings for Delta flights will be based on the ticket price, instead of the distance flown, similar to the revenue based programs at JetBlue, Virgin America and Southwest. See the Delta announcement.
In today's WSJ article (subscription required to read full article), Jeff Robertson, VP of the Delta SkyMiles program notes "The top 4% of Delta customers drive more than a quarter of its revenue…it is important for Delta to give a higher rewards accrual rate to the passenger who spends thousands of dollars a year on Delta, has elevated elite status and may take many short but costly flights, than to an infrequent, leisure traveler."
While it makes sense that Delta, or any airline, would want to ensure the top spenders are well rewarded, I also think Delta is counting on United and American following its lead in making their frequent flyer programs revenue based. After all, there's the other 75% of Delta's revenue from the other 96% of Delta customers, and leisure travelers who individually are insignificant to revenue, collectively can make a difference if enough of them shift to other, more rewarding loyalty programs. But if United and AA follow suit and the current cabotage laws prevent foreign airlines from introducing some competition to U.S. domestic routes, then Delta has little to worry about.
While I've never collected Delta SkyMiles for a few reasons–no ability to redeem for international first class, no one way awards, an expensive award chart, mediocre credit card bonuses vs. the best travel rewards credit cards–I do feel for my Award Booking Service clients and readers who are based in Delta hubs and primarily fly Delta, earning SkyMiles. My advice to those with mainly Delta SkyMiles is to diversify away from the program, leveraging credit card signup bonuses, category spend bonuses, and online shopping portal bonuses. See Diversify Your Miles and Points Portfolio: Top 8 Reasons
Here are the details on earning levels. Unfortunately (see FAQ below) we don't yet have info on the new award chart redemption levels.
Non Elites: Earn 5 SkyMiles per dollar spent
Silver Medallion: Earn 7 SkyMiles per dollar spent
Gold Medallion: Earn 8 SkyMiles per dollar spent
Platinum Medallion: Earn 9 SkyMiles per dollar spent
Diamond Medallion: Earn 11 SkyMiles per dollar spent
By way of comparison, here is the current SkyMiles earning chart for travel prior to January 1, 2015: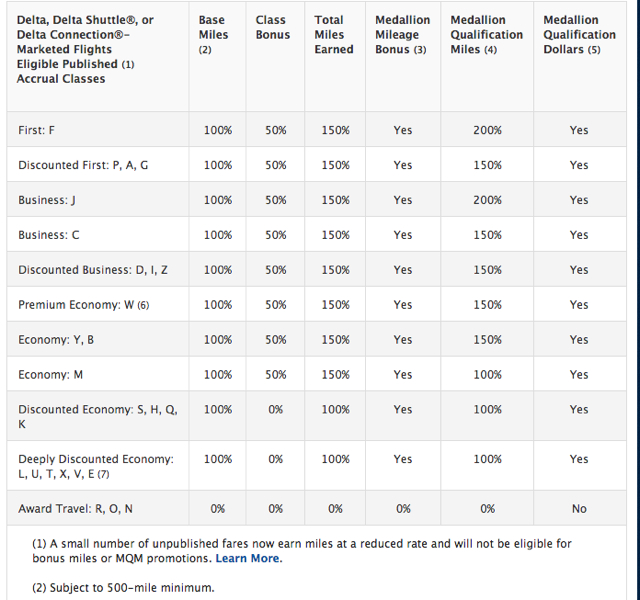 Example 1: Deeply Discounted Economy on Delta JFK-LAX Flight for $179, Non-Elite
Current SkyMiles Earning Prior to 1/1/15: 2475 SkyMiles
Future SkyMiles Earning Starting 1/1/15 for a Non-Elite: ~782 SkyMiles (note that the 5 miles per dollar excludes government taxes and fees)
The new SkyMiles program would award only 32% of the currently earned SkyMiles for a non-elite on this deeply discounted economy fare.
Example 2: Delta Business Class JFK-SEA for $1221 (I Fare), Diamond Medallion
Current SkyMiles Earning Prior to 1/1/15: 3631 SkyMiles (50% Class Bonus)
Future SkyMiles Earning Starting 1/1/15 for a Diamond Medallion: ~12,375 SkyMiles (note that the 5 miles per dollar excludes government taxes and fees); or 14,625 SkyMiles if booked with a Delta SkyMiles credit card, for an extra 2 SkyMiles per dollar
That's 340% (400%, if booked with the Delta credit card) of the currently earned SkyMiles for a top-tier Delta elite on this discounted business fare.
FAQ
Who Wins with the Delta SkyMiles Frequent Flyer Program Changes?
Passengers booking the most expensive fares, often business travelers
Who Loses from Delta's Changes?
Passengers booking the lowest, discounted fares, typically leisure travelers
Who's Indifferent?
Folks who earn all or most of their Delta SkyMiles via credit card bonuses and spend…at least until Delta reveals what the new award chart looks like, since SkyMiles redemption rates obviously affect everyone holding SkyMiles
Are There Any Good Delta SkyMiles Changes if I'm Not a High Spending Business Traveler?
1. More Award Seats at Low Levels? Delta *claims* that there will be "more award seats available at the lowest redemption levels" but we'll have to see how that plays out, given that there will also be more redemption levels.
2. One Way Awards: The best new change is that there will be one way award tickets for half the price of round-trip tickets. Of course, Delta is playing catch-up here, given that United, American, and most international frequent flyer programs already allow one way awards for half the price of roundtrip awards.
3. Miles & Cash Awards: You'll be able use a combination of miles and cash to pay for awards. New for Delta, although not new for programs such as British Airways Executive Club, which also allows cash and Avios awards, and of course this is already established for hotel programs such as SPG Cash & Points, Hyatt Cash and Points, etc.
What Doesn't Change?
Delta SkyMiles credit cards continue to earn an additional 2 miles per dollar on Delta purchases
SkyMiles don't expire
Medallion Qualification revenue requirements (the earlier announced changes already took effect January 1, 2014) remain in place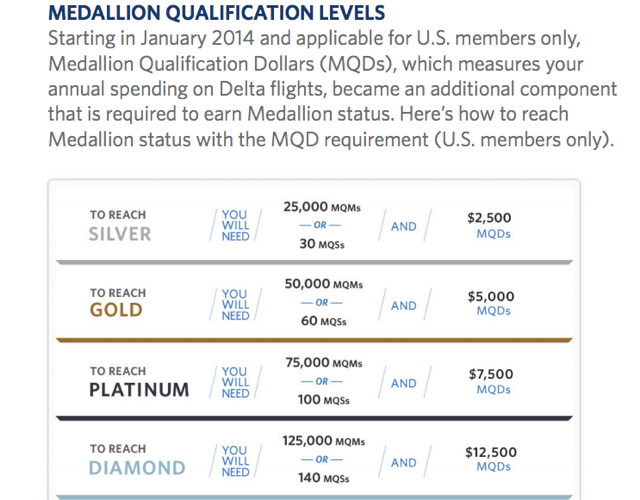 What Do I Earn From SkyTeam Partner Flights?
The mileage earned will be "based on a percentage of distance flown and fare class paid. More details will be announced later in 2014."
Where is the 2015 Delta SkyMiles Award Chart?
TBD: "They will be available later in 2014."
What do you think about Delta's fully revenue-based SkyMiles program?