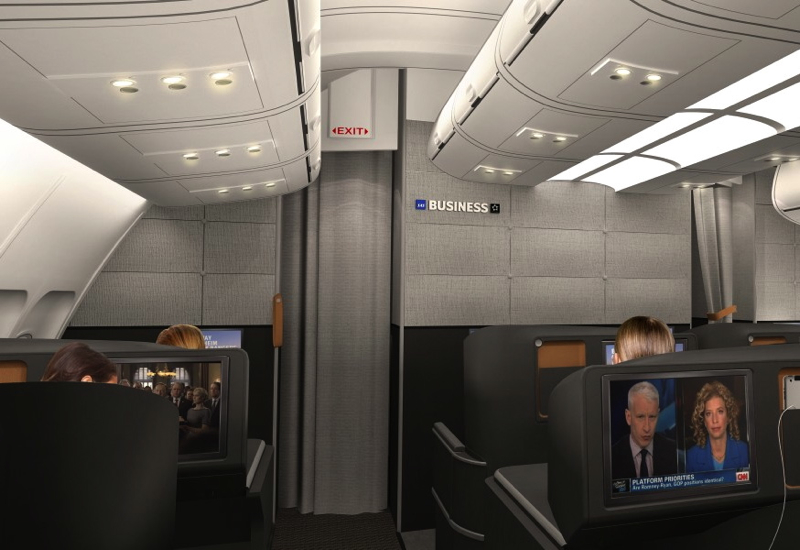 SAS New Business Class is supposed to be on all its aircraft. But SAS has a dirty little secret it won't tell you: One plane has old business class in a 2-2-2 configuration. TravelSort reader Victor emailed to complain about his flight, as he'd been expecting SAS new business class:
"I was recently in Europe on vacation, and had taken Lufthansa First Class on the outbound, with a layover in the excellent Lufthansa First Class Terminal in Frankfurt. As my final destination was Denmark, I flew back to NYC from Copenhagen. SAS offers a nonstop from Copenhagen to Newark EWR, and, while not Lufthansa First Class, I was looking forward to trying out SAS Business Class, which I understand debuted 2015 and is supposed to be on all aircraft. The seat configuration is four across, solo window seats, two in the middle, and solo window seats, and I purposely chose seat 2H, near the window, for extra privacy, since it's one of the window seats closest to the window rather than the aisle. These are also billed as fully flat bed seats. I was looking forward to one of the most modern business class seats given how recently SAS introduced these seats.
My experience was the opposite: we boarded an ancient aircraft that wasn't even SAS colors, and it was 2-2-2 seating with worn out seats. What?! I and several other passengers complained, and the crew was apologetic, but obviously there was nothing they could do, they're not in charge of aircraft scheduling. What IS this old product, and why doesn't SAS make it clear on its Web site that you could be paying money or miles for this poor excuse for business class? I would never have booked SAS had I known this is what I'd be flying. I've also complained to SAS, but have yet to hear back."
This SAS plane is LN-RKP, and as Victor noted, it's unlike SAS New Business Class A340 in key aspects. Instead of four seats across in a 1-2-1 configuration, it has 6 seats across, in a 2-2-2 configuration, so window seats do NOT have direct aisle access, and face the awkward prospect of stepping over a seatmate if s/he is reclining or sleeping. The seats are fully flat but are not staggered the way the new SAS business class is.
Why is this plane different? SAS initially leased this old LAN Airbus 340 back in 2014, to give them some spare capacity, then subsequently acquired it in 2016, but did not update it to have the new business class, so it still has the old LAN Business Class interior, including its old seats, old IFE system (which basically has stopped working, forcing flight attendants to hand out tablets instead), and no WiFi capabilities.
I checked with SAS Chat today, and the agent claimed "All of our fleet is now operating with the new business class."
This simply isn't true, since LN-RKP, known as Torfinn Viking, is very much in service, as the logs indicate: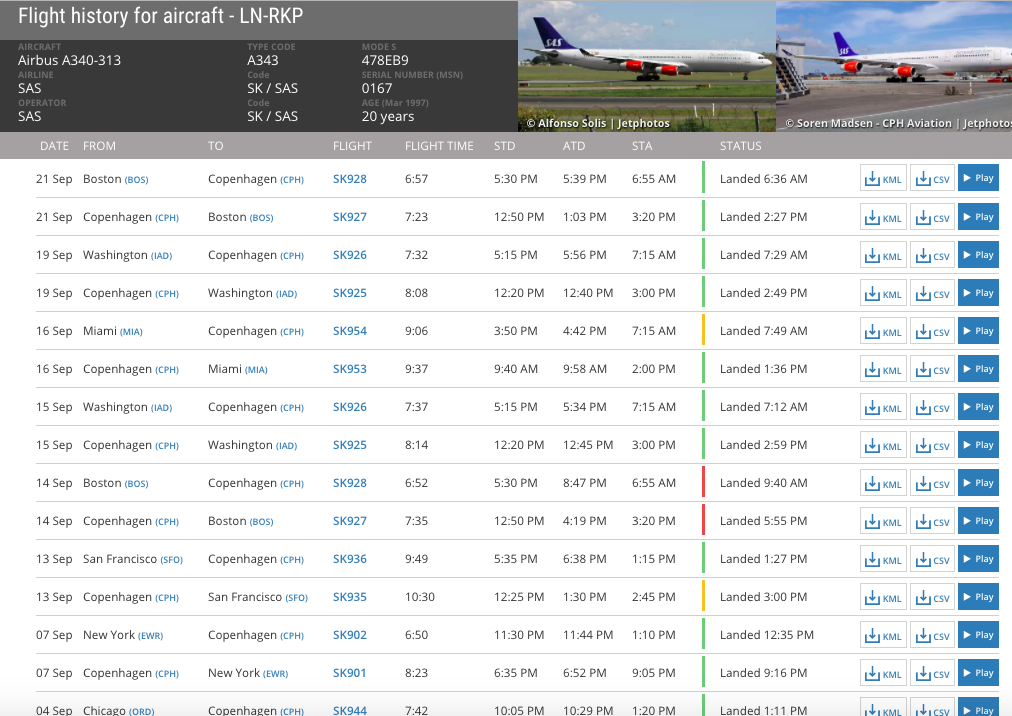 When I pointed out that LN-RKP was actively flying, the agent claimed "The aircraft might be in use in case of last minute special need." Well, 14 flights over 14 days means that SAS has a lot of special needs…
SAS should really come clean about this, given how different the product is from its new business class. Have you flown this product?
Recommended Posts
Review: SWISS A330 Business Class
Review: Austrian Airlines 767-300 Business Class
Review: Therm-a-Rest Portable Mattress Pad
Review: Austrian Airlines Business Class Lounge, Vienna Airport
Need Award Booking Help? Our fee is as low as $75 per ticket if you book your hotel through us.
If you enjoyed this, join 200,000+ readers: please follow TravelSort on Twitter or  like us on Facebook to be alerted to new posts. 
Become a TravelSort Client and Book 5-Star Hotels with Virtuoso or Four Seasons Preferred Partner Amenities!