12/6/11 Update: Aeroplan's social media community manager Valerie has posted that this is not a glitch and is an Aeroplan offer for certain routes and destinations. Planned promo or not, it's good to know that Aeroplan will be honoring these bookings. It could end at any time though, so if you're still hoping to take advantage, don't wait!
"I am the social media community manager at Aeroplan. We wanted to let you know that Aeroplan is offering special mileage levels to select travel regions/destinations for a limited period of time.
Members may book these flight reward tickets online or thru the contact center (booking fees apply). This sale is not a website glitch and this offer could end at any time.
Thank you."
[Emphasis in bold is mine]
As Matthew writes on his Upgrd blog, discount Aeroplan awards are currently available: get Business Class awards for the price of Economy, and First Class awards for the price of Business. This would be a great opportunity to fly Swiss First Class from Montreal to Asia for 125K miles, with low taxes (no fuel surcharges added yet to Swiss), go to Australia or New Zealand for 80K miles, or do a mini round-the-world trip (you would need to call in to book a RTW though).
For example, here's a quick search on did for Swiss First from Montreal to Tokyo: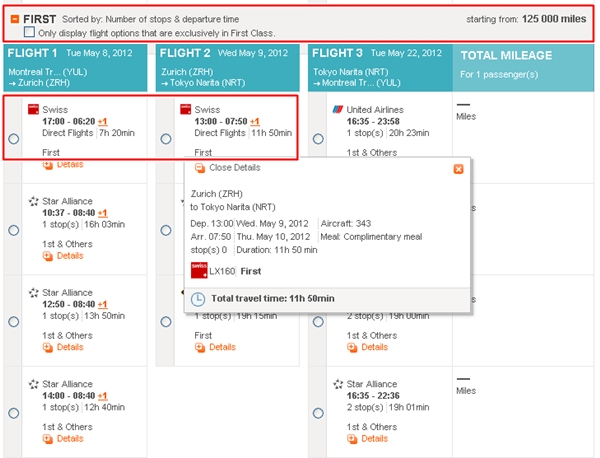 1. Check out miles required on the Aeroplan Award Chart
2. Search for flights using Aeroplan Award Flight Search (you can book until mid November 2012)
3. If needed, transfer miles over from AMEX Membership Rewards. I did this last night, and unfortunately it's not quite as instant as I'd like–it took half an hour for me–but others have had it occur faster. You can't put an Aeroplan itinerary on hold, so proceed at your own risk. Note that you will most likely NOT receive the current Aeroplan bonus in time to book this deal, so take that into account when transferring.
4. If you see something that works, I'd recommend you book asap, before these mistake award fares are fixed. You can pay $90 to cancel and redeposit the miles, which seems good as an option cost.
Here's another example, business class from NYC to SIN via FRA, with the Frankfurt-Singapore leg on Singapore Airlines. Unfortunately Lufthansa awards do come with fuel surcharges now, but still in my view a good deal given you're saving 50K miles: 75K miles instead of 125K miles. And with any luck Lufthansa will have replaced a lot of those angled lie flat seats with true flat bed seats in Business Class by late next year.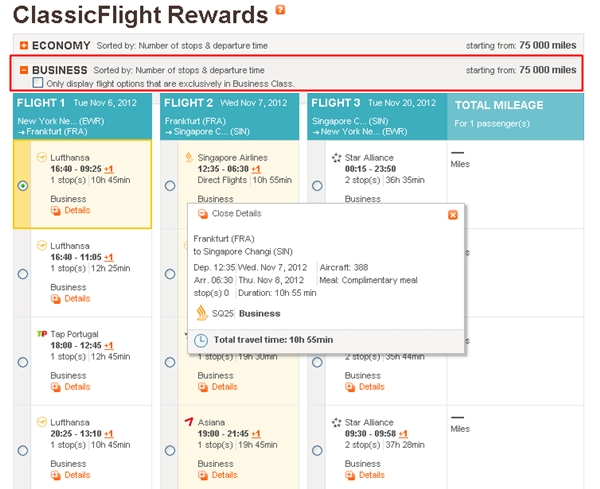 As Matthew says, this is somewhat sweet, given all the recent Aeroplan devaluations. Time to burn those Aeroplan miles, if you haven't already!
If you enjoyed this, please follow TravelSort on Twitter or like us on Facebook to be alerted to new posts.
Become a Member to find your perfect luxury or boutique hotel at up to 50% off: TravelSort Hotels