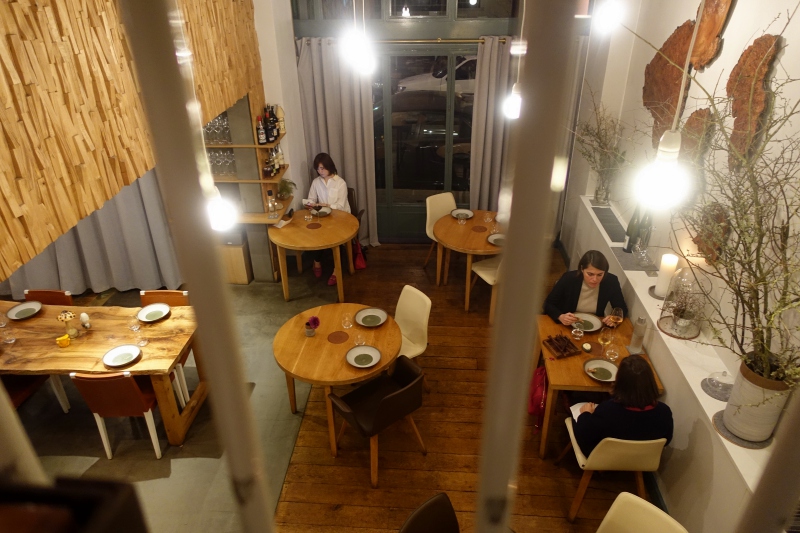 This Review of David Toutain in Paris is from my recent visit, when I stayed at The Peninsula Paris. David Toutain has worked with the best of the best, from Alain Passard (Arpege) to Bernard Pacaud to Pierre Gagnaire, and many diners know his work from Agape Substance. His namesake restaurant in the 7th arrondissement has earned him 1 Michelin star, and it's one of the most exciting tasting menus in Paris for the price.
See all our Michelin star restaurant reviews and posts.
Getting to Restaurant David Toutain and Hours
Restaurant David Toutain is located at 29 rue Surcouf in Paris, so the closest metro stations are La Tour Maubourg (line 8) and Invalides (RER C, metro lines 8 and 13). The restaurant is open for lunch Mondays to Fridays from 12noon to 2pm, and for dinner from 8-10pm. It is closed Saturdays and Sundays. I was able to make a reservation by email; just remember to reconfirm your reservation the day before dining (as at many Paris restaurants) otherwise it will be cancelled.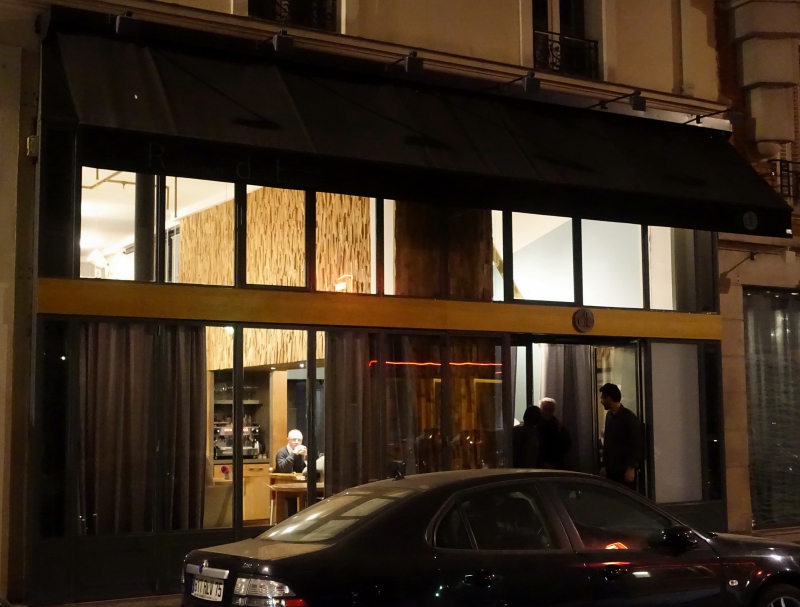 The Scene
When I arrived for dinner, most of the tables on the lower level were already seated (as I was a running a bit late for my 8pm reservation) and there was one other couple seated on the second floor. While most of the tables were couples, there was also a table of four diners that appeared to be two couples who were close friends, and there was another solo diner as well.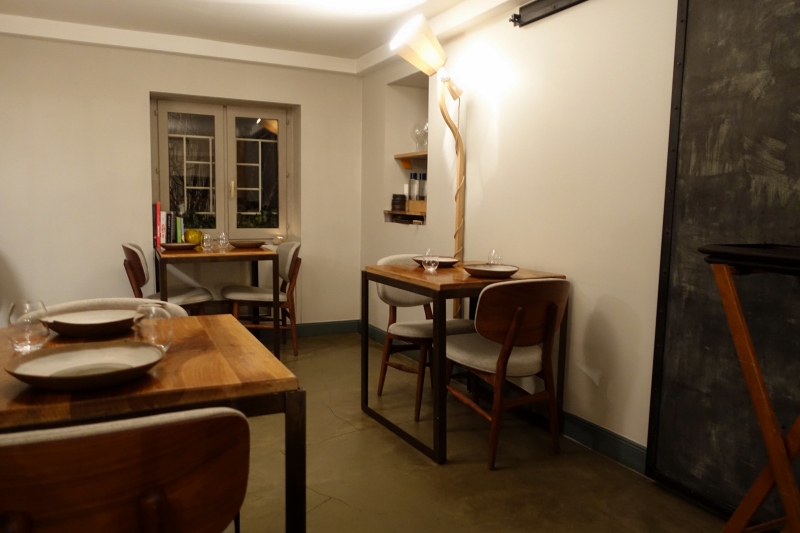 Tasting Menu and Food
At lunch, there's currently the choice of a simple 3-course menu for EUR 55, or the Menu Eglantine tasting menu for EUR 80 or the Menu Reine des Pres for EUR 110. At dinner as of 2017, the sole choice is the Menu Reine des Pres, which is the one I chose, although at the time I dined, there was also the choice of the slightly shorter Menu Eglantine for EUR 80.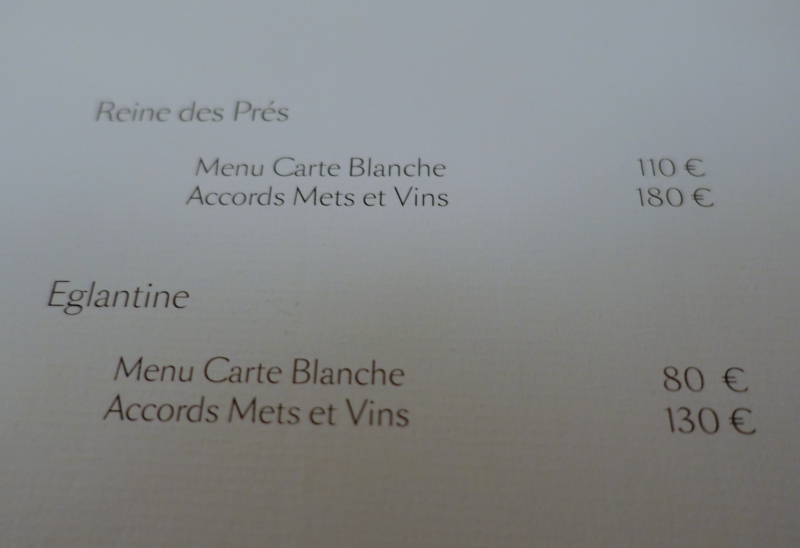 After being seated and choosing the Reine des Pres menu, I was in good hands, and the amuses bouches were some of the more creative vegetable-based amuses I've tasted. I especially enjoyed the Salsify Wood, cooked until the center was soft, a bit like a Japanese yam, which you dipped in a white chocolate cream–it may sound strange, but it was fantastic, and I'd happily have eaten a whole course of this.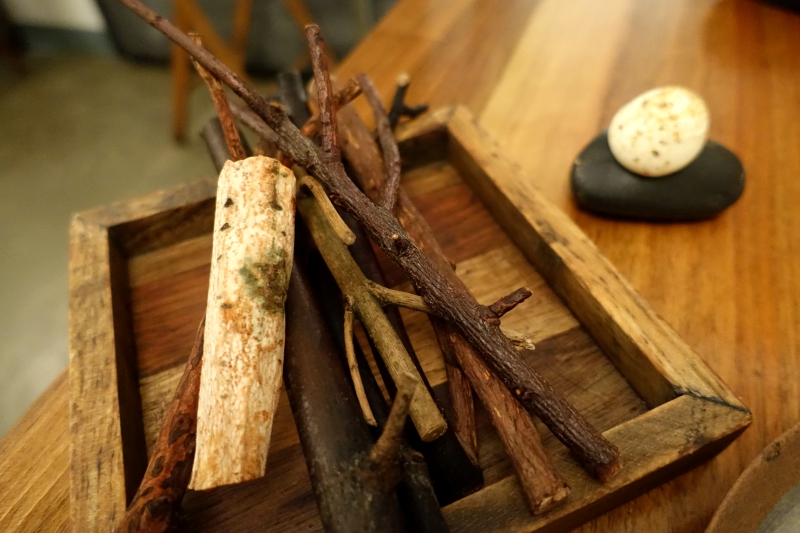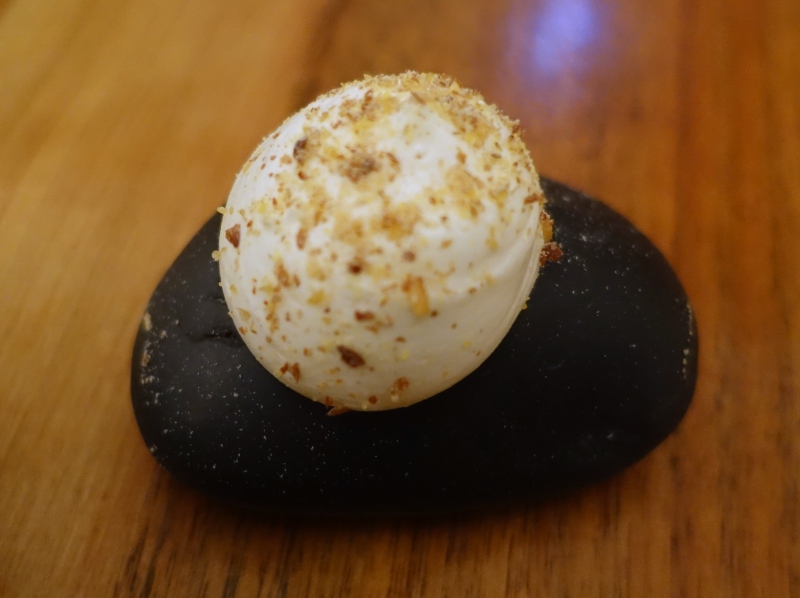 Next up was wild sorrel wrapped around a sorrel-juniper cream. Initially I didn't realize the interior was creamy, hence the messy photo, but it too was unique and delicous.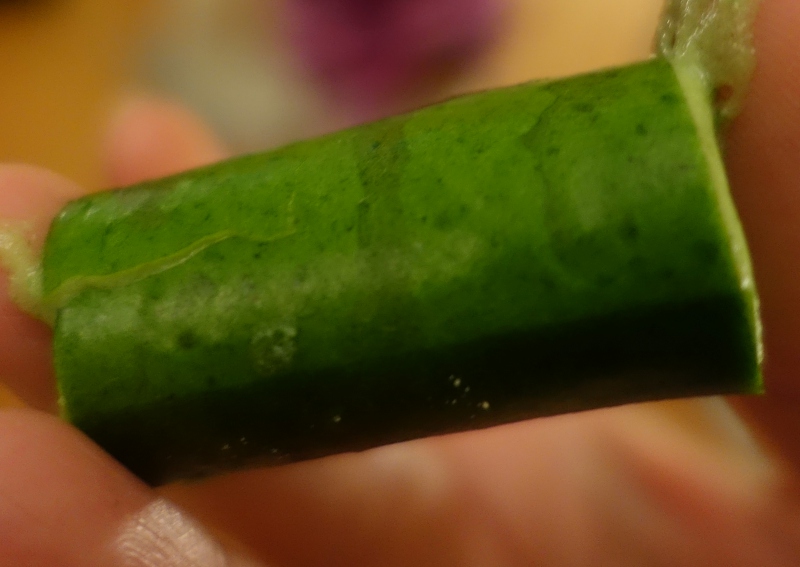 The most conventional was this squash and praline tart, which was good, if not as memorable.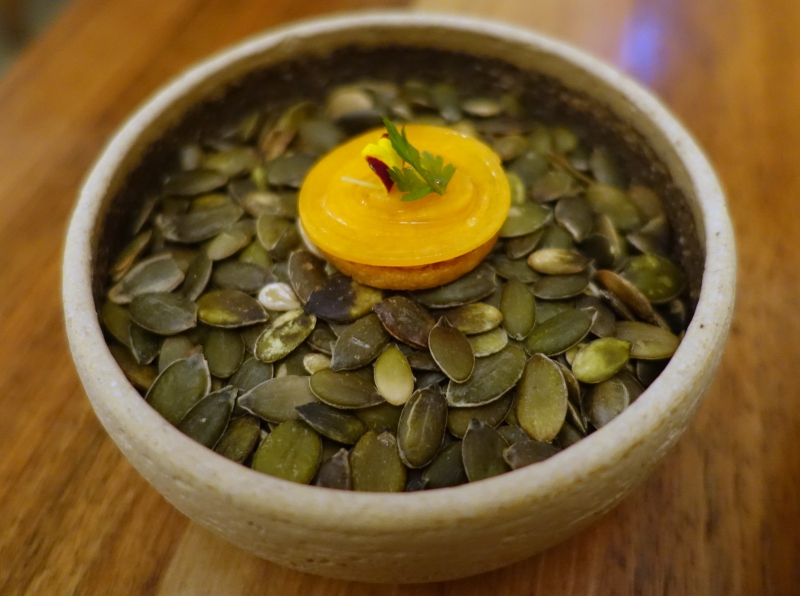 The first course was of a hollowed egg shell, in which a soft, gently cooked egg yolk was nestled in corn foam and drizzled with caramelized caraway. Yum! I had to smile though on seeing the accompanying corn bread, which had also featured at the Palme d'Or restaurant in Cannes. I think of cornbread as quintessential American comfort food, so it felt odd to have it two days in a row at French Michelin star restaurants, no less.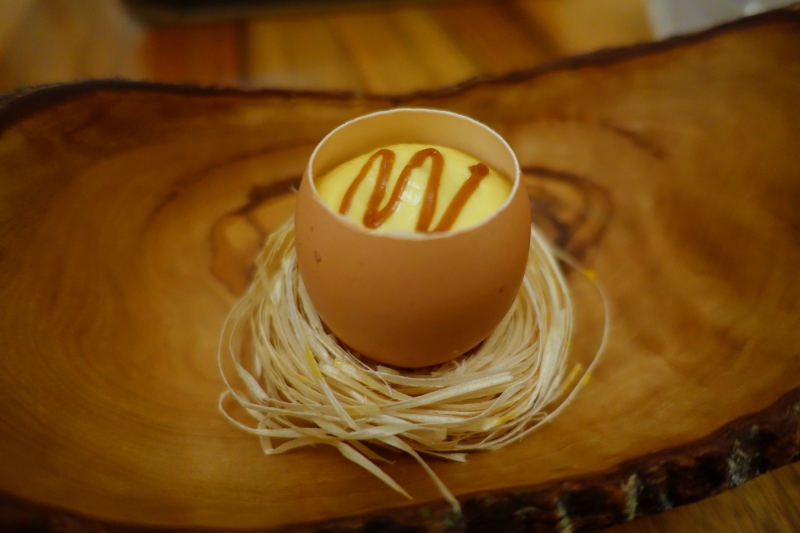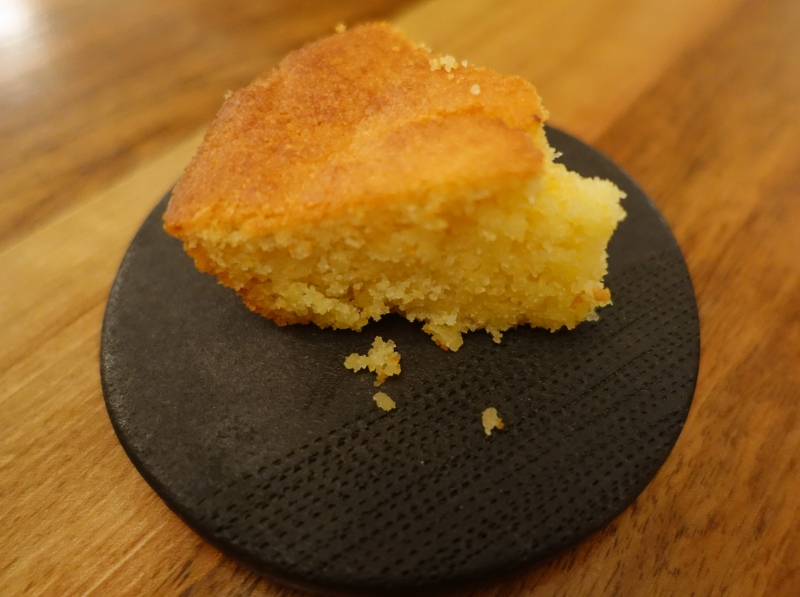 The next course was Celery Tagliatelle with chestnuts, which was much tastier than I expected, given that I hate celery.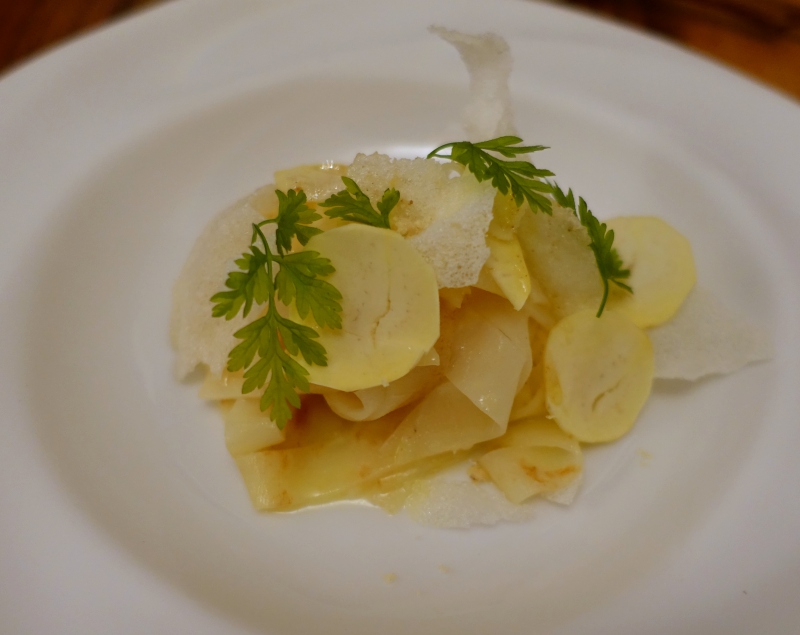 Still, I preferred the next course of a wonderfully fresh sea scallop, accented with sea urchin and, of all things, coffee. Somehow David Toutain manages to pull together flavors you wouldn't think would go together at all, and have them not only complement but enhance each other.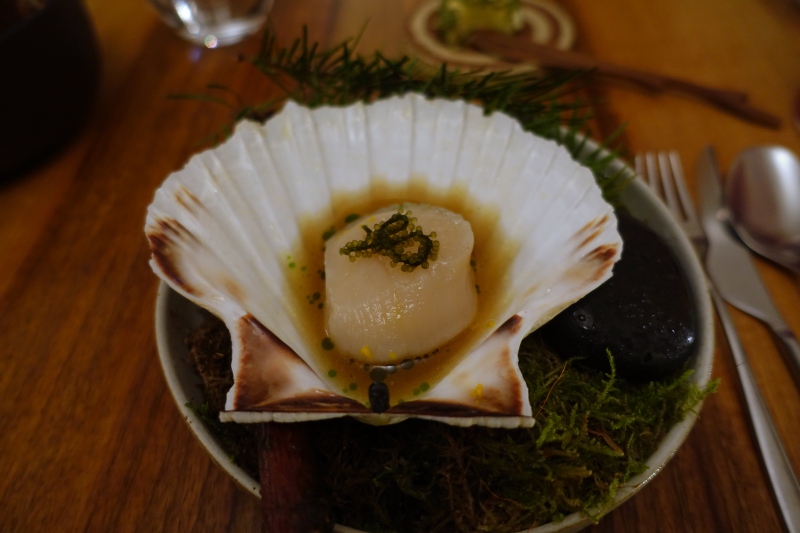 The next course featured cod and parsley root, and again, while I'm not really a fan of cod, which seems like one of the least interesting fishes to me, here it was cooked perfectly and the parsley root and creamy sauce had me mopping up every last bit.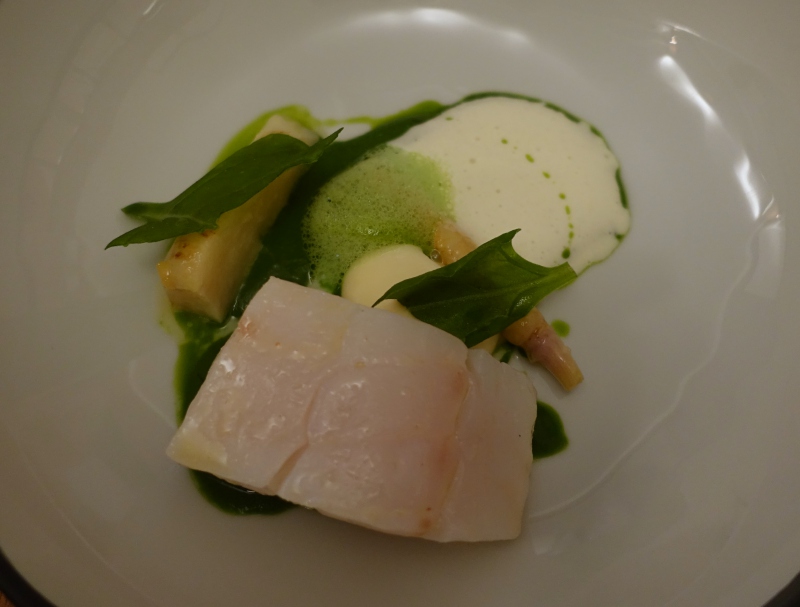 One of my favorite dishes of the evening was smoked eel with a hearty black sesame puree.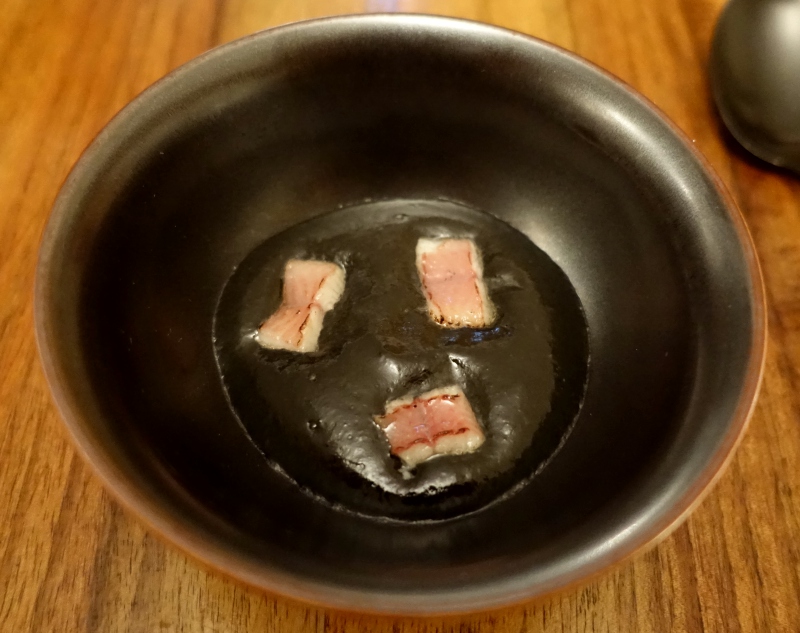 The main course was duck with plump sweet potato gnocchi and roasted brussels sprouts–one of the more straightforward dishes of the evening, but immensely satisfying. The only thing I wished for was for the duck skin to have been crisper, with more fat rendered from it.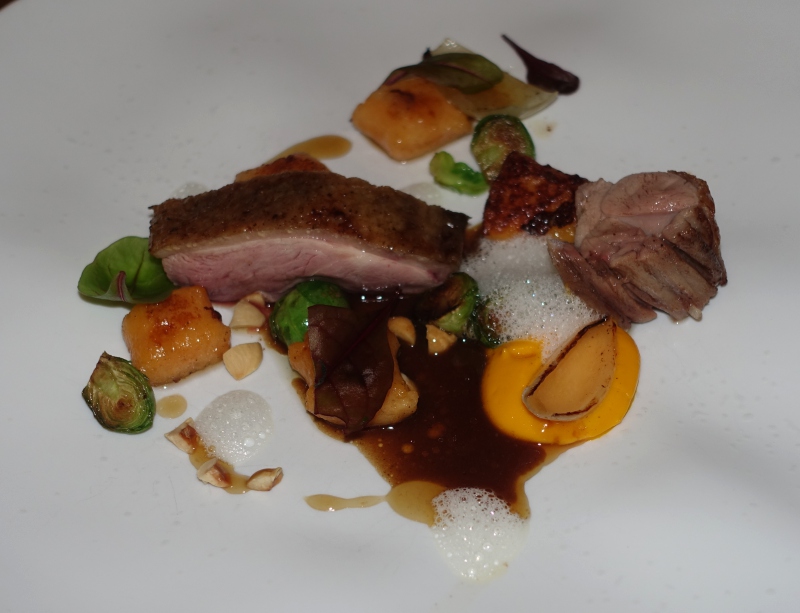 A cheese course was free form, and tasted a bit like Tete de Moine, one of my favorite cheeses, but not sure exactly what it was: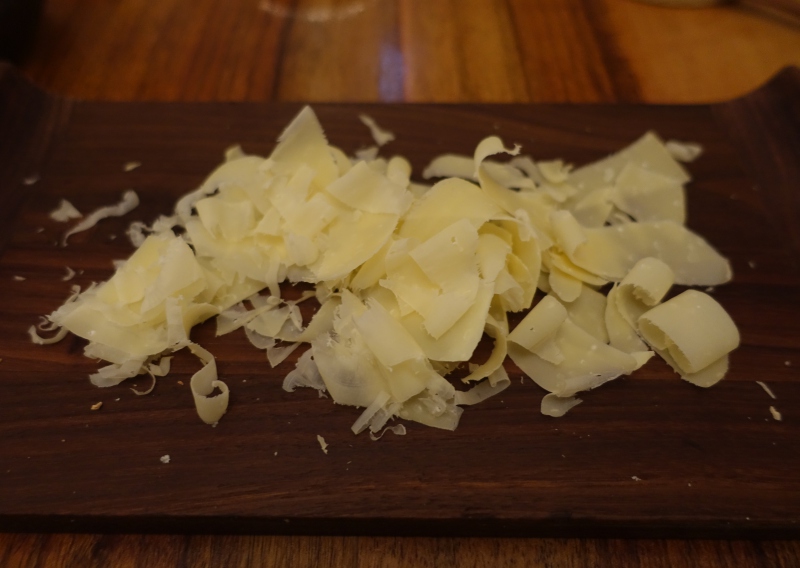 A superb palate cleanser followed, that I'd love the recipe for, given its surprising ingredients: a mousse of cauliflower and white chocolate, with coconut sorbet. I'm betting that even my son, as much as he hates cauliflower, would have eaten up this dish and asked for more.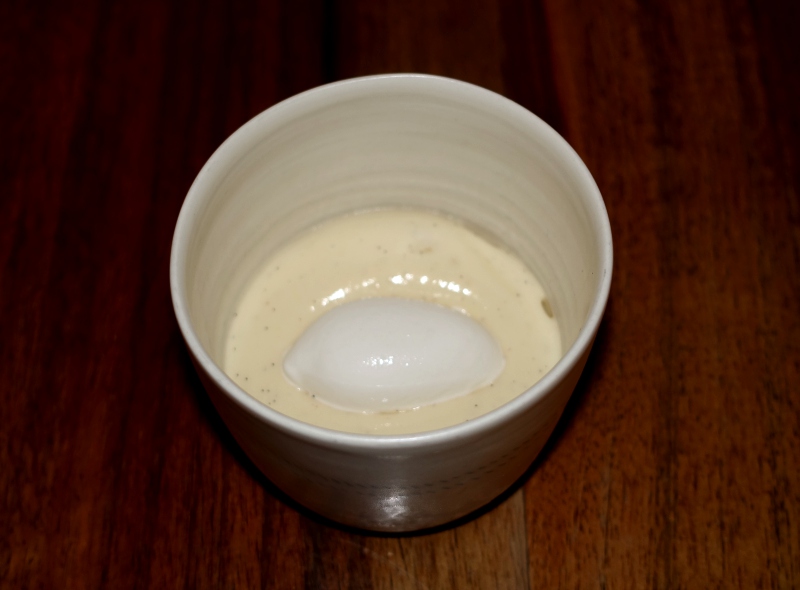 The next two courses were more underwhelming for me: the first was meant to be quince and gianduja, but I've had many quince dishes that I've enjoyed much more.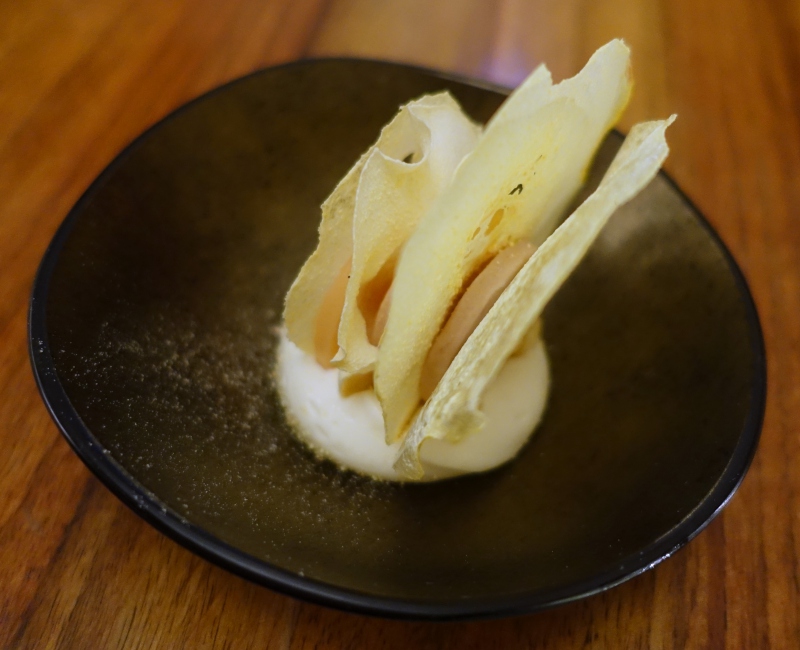 The next was citrus fruits and carrot, and while I like citrus fruits, I honestly would have preferred to have had fresh unadorned pomelo instead of this dish.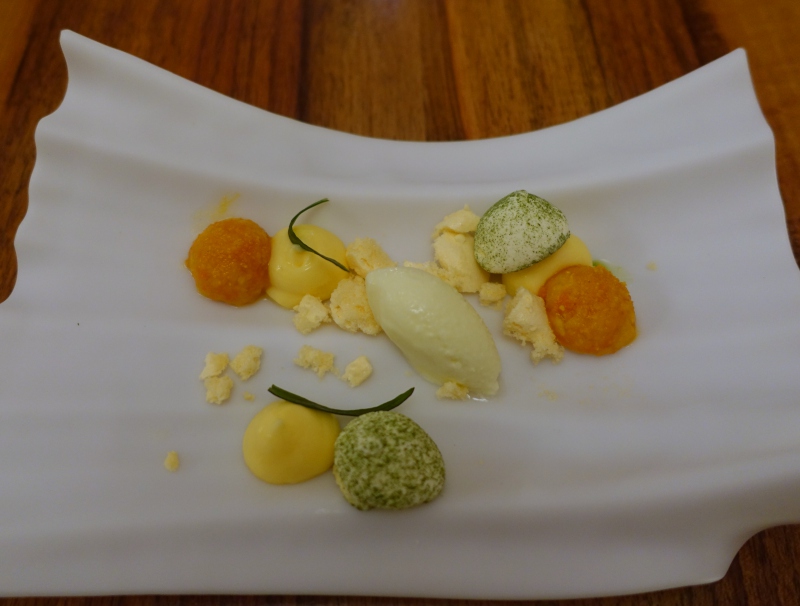 Fortunately the mignardises that followed were the perfect ending, particularly the one that reminded me of a mini churro (except much better) and the chocolate truffle.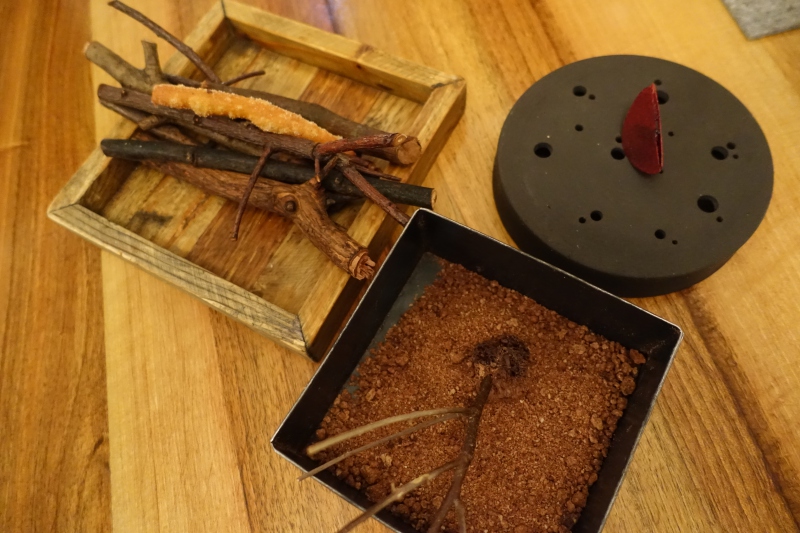 The Verdict
I love the surprise elements of David Toutain. In general, I'm not a fan of molecular gastronomy, or anything that seems gimmicky or more form over substance. So I was thrilled that, while the dishes were clearly plated with care and there was some "show" in terms of the twigs, bed of pumpkin seeds or things the food was nestled against, the emphasis was on great taste and letting the essence of the food shine through. Humble vegetables were used to great effect, from sorrel and squash to celery, corn, sweet potato and carrots. This also meant that although there were 10 tasting courses, not including the amuses bouches, it was the perfect amount, and I left feeling satisfied but not stuffed.
The only aspect that I found a bit disappointing were a couple of the sweet courses towards the end. It's not clear to me if there's a dedicated pastry chef, but I think to get to 2 Michelin stars one will be needed.
Recommended Posts
Le Cinq Paris Restaurant Review, 3 Michelin Stars
Review: Mathieu Pacaud Histoires Paris, 2 Michelin Stars
Need Award Booking Help? Our fee is as low as $75 per ticket if you book your hotel through us.
If you enjoyed this, join 200,000+ readers: please follow TravelSort on Twitter or  like us on Facebook to be alerted to new posts. 
Become a TravelSort Client and Book your Paris Luxury Hotel with Virtuoso or Preferred Partner Benefits