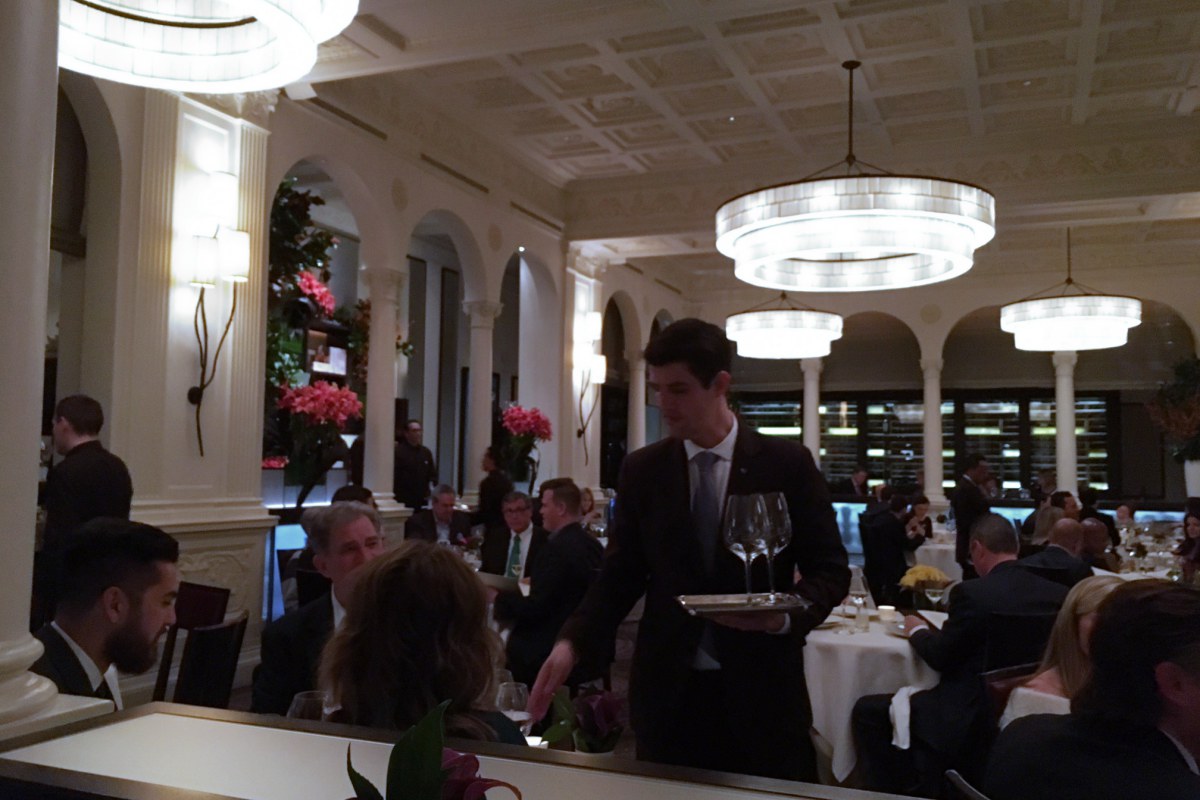 This review of Daniel, NYC is from a recent belated birthday celebration dinner at Daniel Bouloud's eponymous restaurant on the Upper East Side, which has 2 Michelin stars. French friends of ours who have impeccable taste (and cook much better than I do) recommended it, so we were looking forward to our dinner.
Visiting New York? See all of our posts tagged NYC.
Daniel Location and Hours
Daniel is located at 60 East 65th Street, between Park Avenue and Madison Avenue. This coveted location was the original location of Le Cirque, where Chef Daniel Boulud served as Executive Chef for 6 years. When Le Cirque moved, in 1997, Chef Boulud bought the space, converting the original Le Cirque space into a private dining room and the L'Orangerie area of the former Mayfair hotel into the Daniel dining room.
Daniel serves dinner Monday-Thursday 5:30-10:30pm, and Friday-Saturday 5-10:30pm. Reservations are accepted up to 60 days in advance, and particularly for weekend and holiday reservations, it's crucial to book well in advance.
The Scene
We were there on a busy Saturday evening, at 7:30pm, and every table was occupied or being prepared for new guests. Slightly over half the tables were couples, with the others tables of 3 or more. Most guests appeared to be in their 30s-50s, and I heard several tables speaking French–a good sign.
Menu and Food at Daniel, NYC
Due to our babysitter being late, my husband arrived first, and enjoyed a martini until I was able to get there. We loved our table, with a great view of the dining room.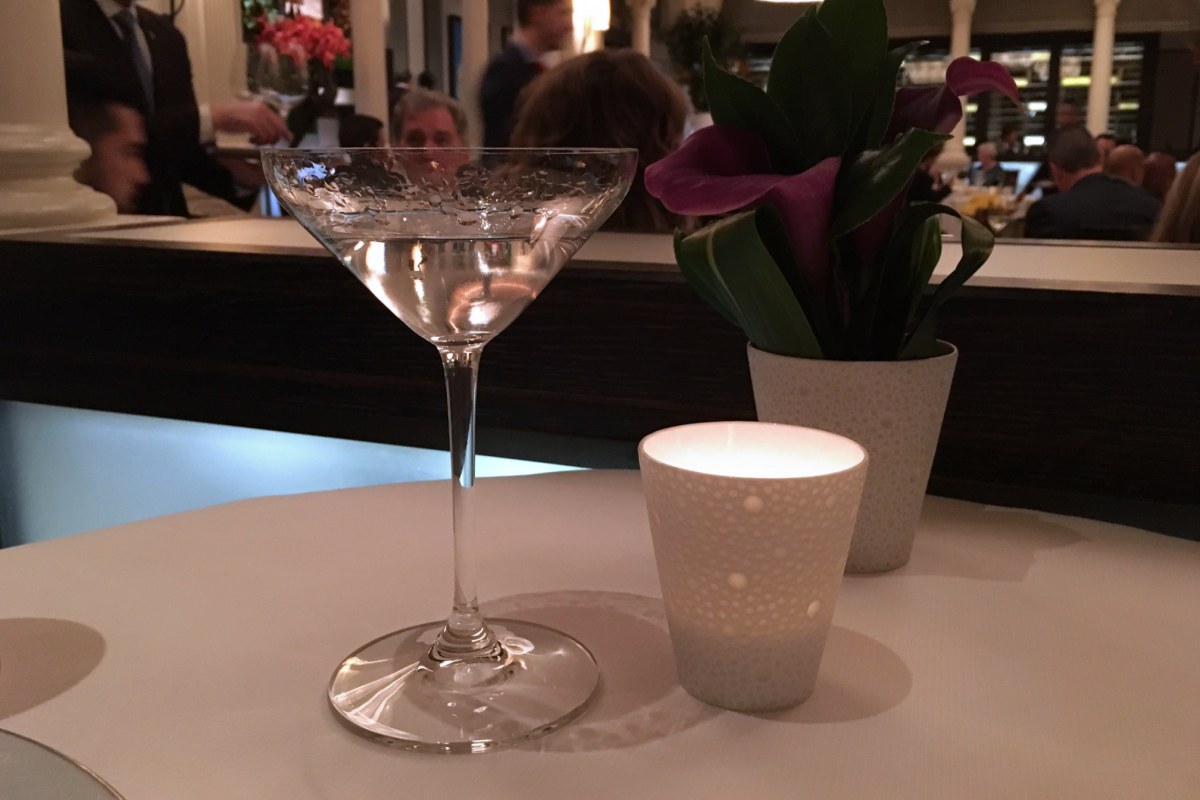 Once I arrived, we perused the menu. Since we didn't want to get home too late, we chose the 4 course menu, for $151. This gives you a choice from each column of the menu: one cold appetizer (except for the soup, which is warm); one hot appetizer, a main course, and a dessert. There's also the option of a wine pairing, for $82, or $142 for special reserve wines.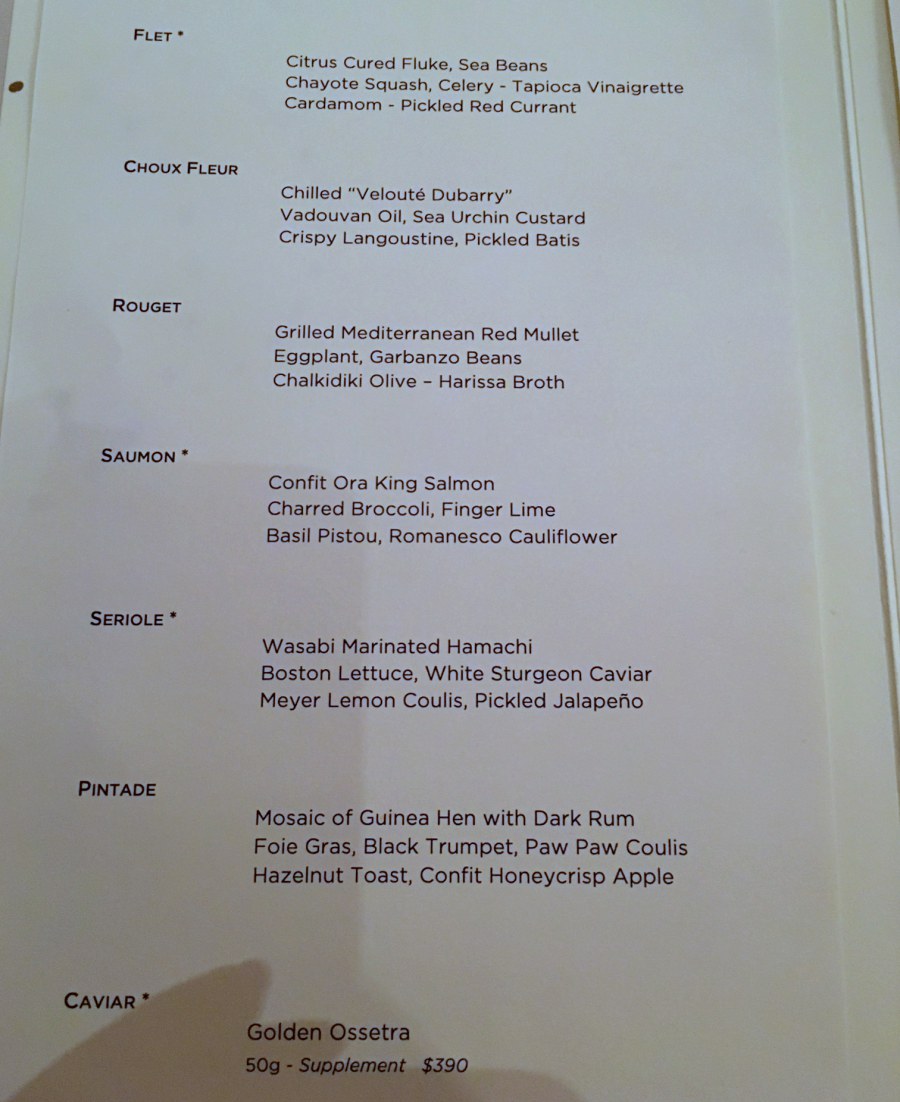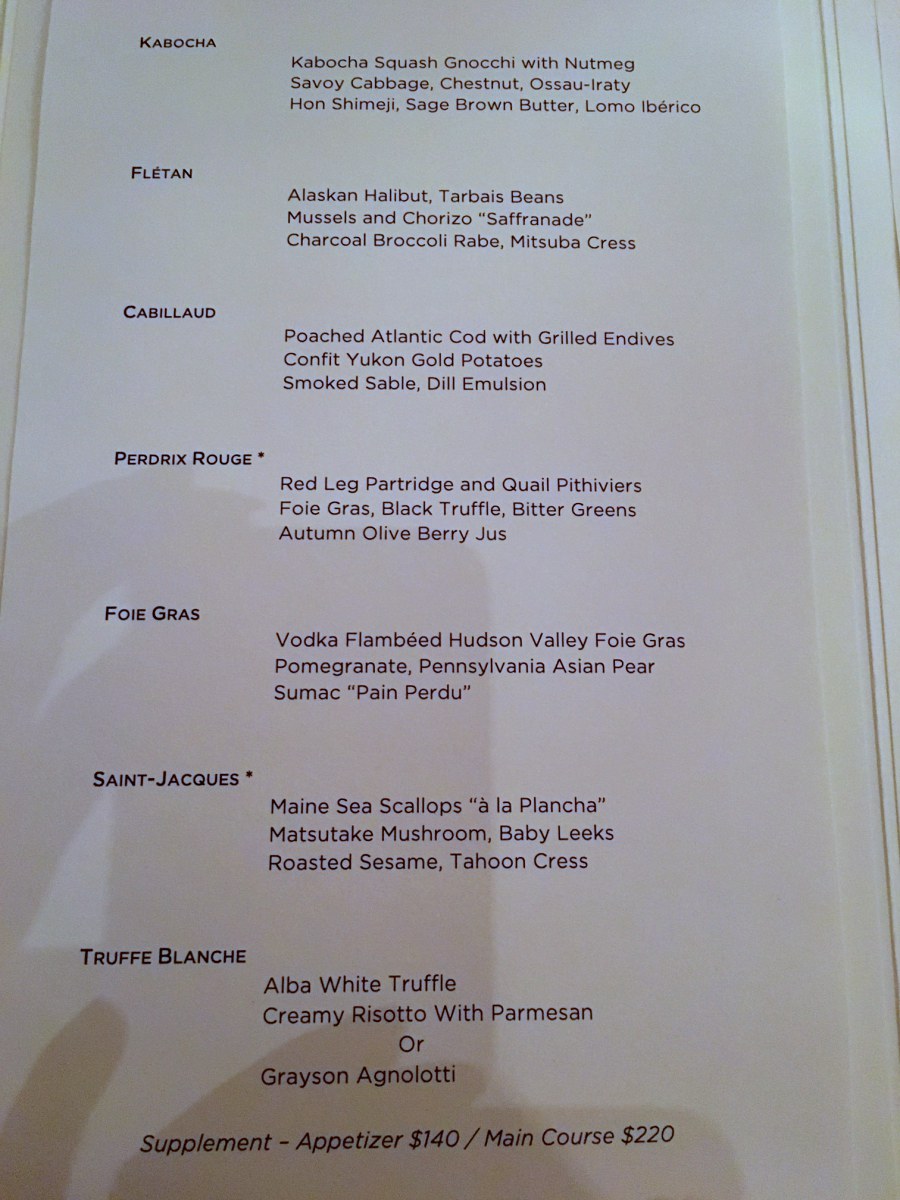 Our dinner began with a delightful herbed ricotta amuse bouche on a crisp wafer, followed by a trio of beet flavors. I know not everyone is a fan of beets, but I am and thought this was delicious, especially the beet puree with cardamom and apple, in the center.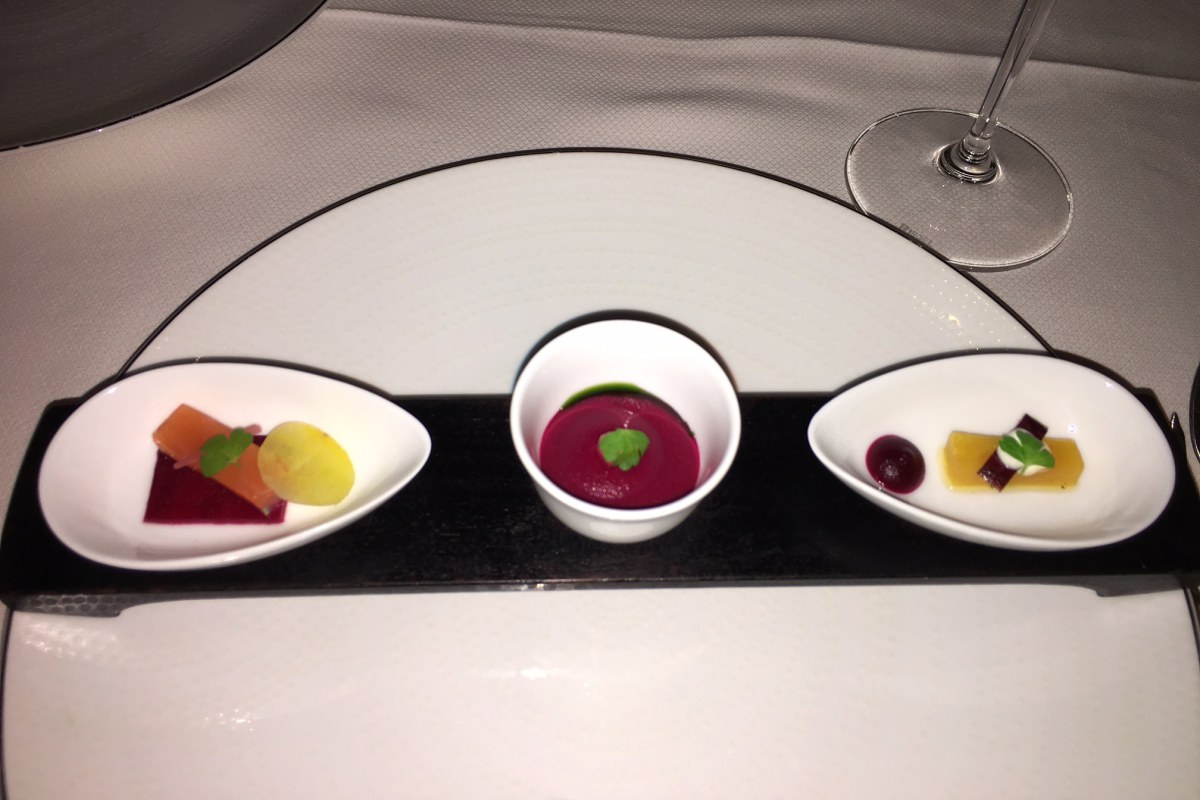 We were then offered bread from an extensive bread basket, with our favorites the buttery brioche and the parmesan roll, although there were several other choices, including baguette, multigrain, and buckwheat, among others. French butter and two types of salt were offered alongside, including a black salt.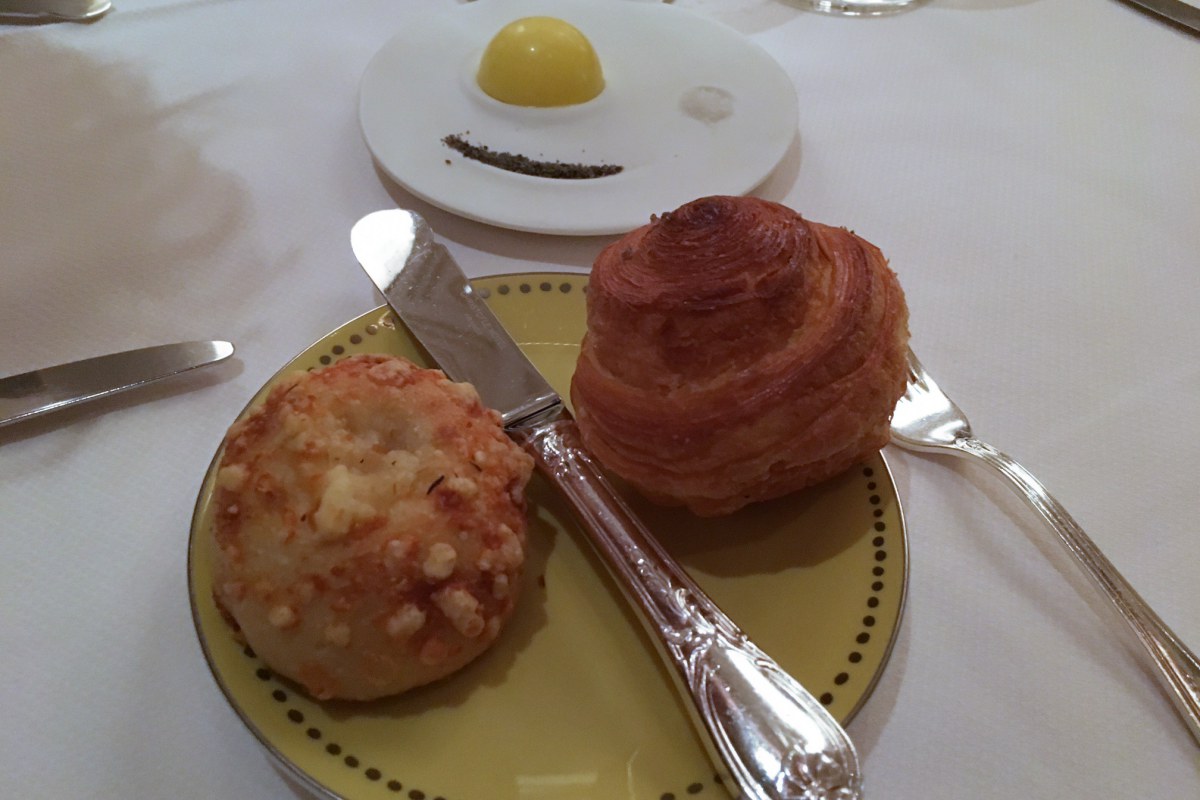 For our cold appetizers, my husband chose the Pintade, a terrine of guinea hen with foie gras and black trumpet mushroom, served with hazelnut toast and honeycrisp apple confit. We both enjoyed it, but this dish was overshadowed by the other dishes we tried that evening.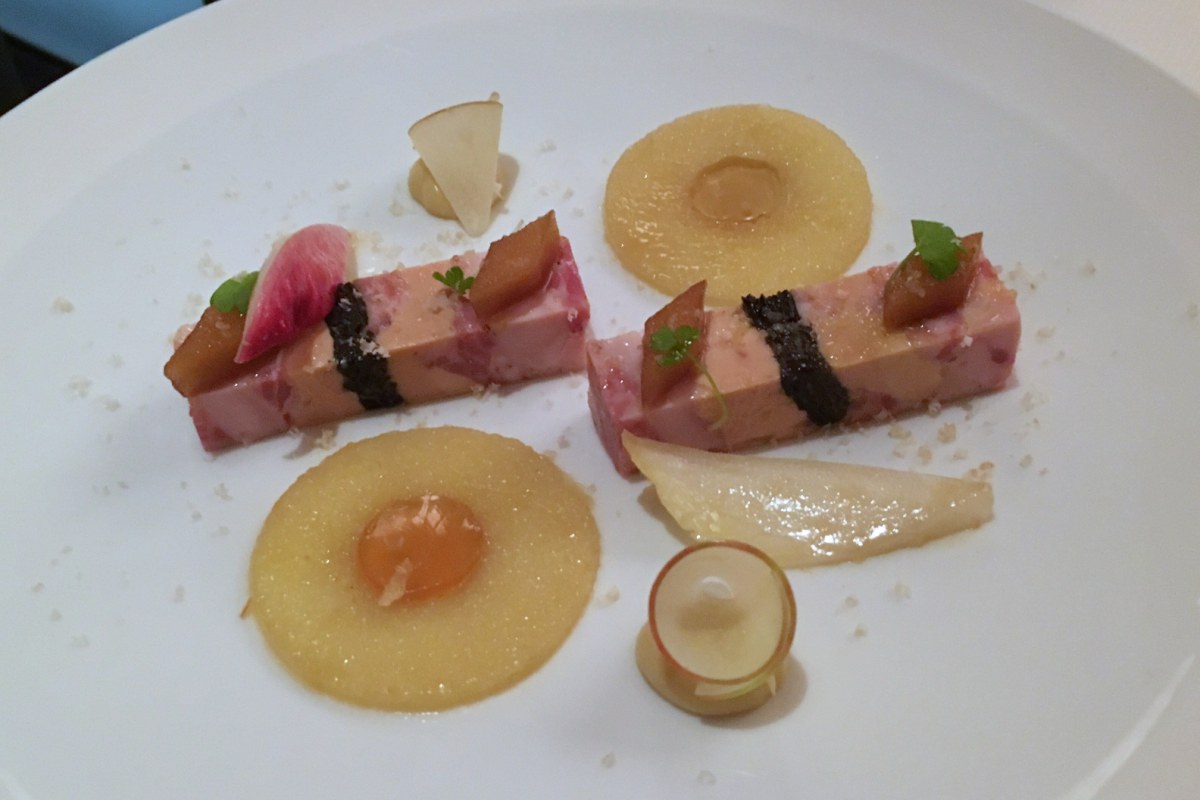 My appetizer, the Seriole, included wasabi marinated hamachi presented with white sturgeon caviar, with additional hamachi wrapped in Boston lettuce and served with a Meyer Lemon coulis. I couldn't have been happier with this dish, since the freshness of the hamachi remained front and center, complemented but not overpowered by the wasabi and coulis. It also was a good choice to start with, given the richness of the other dishes I'd selected.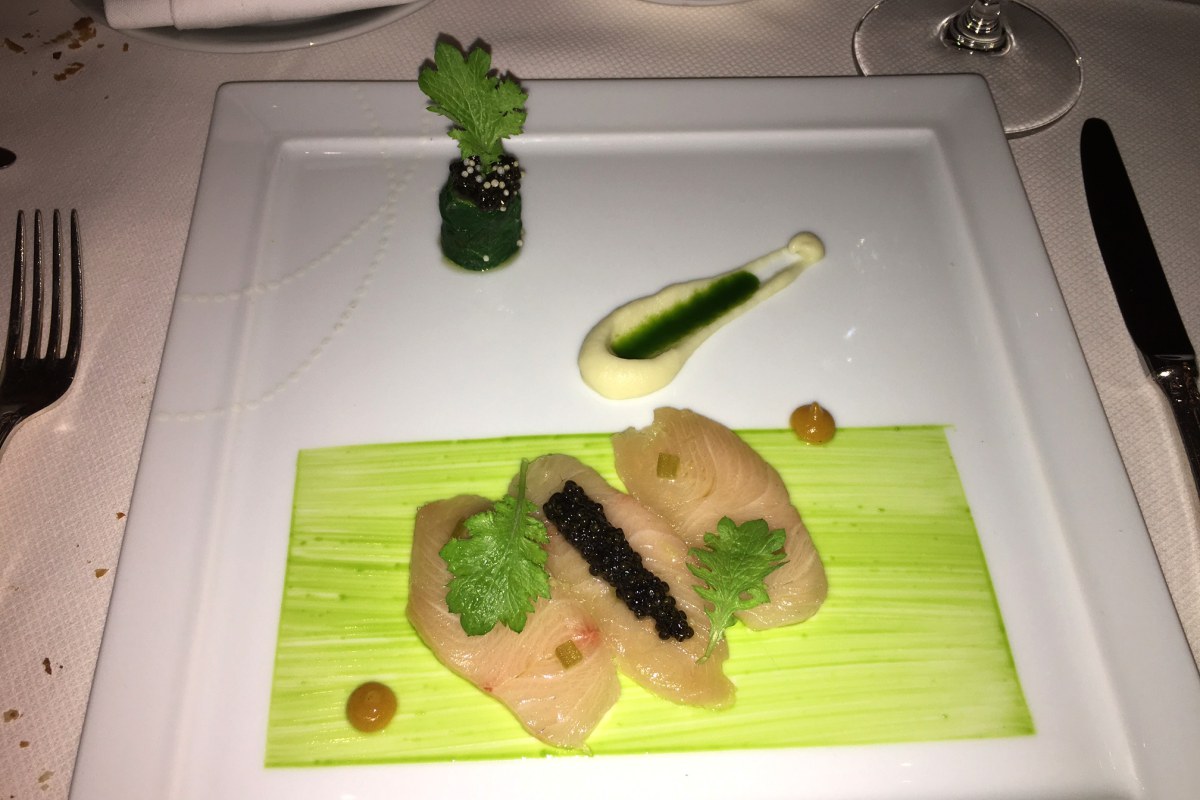 Our warm appetizers nearly stole the show. My husband's seared foie gras was prepared and flambeed in vodka tableside, then expertly plated with pomegranate sauce. This is a must-order if you enjoy foie gras.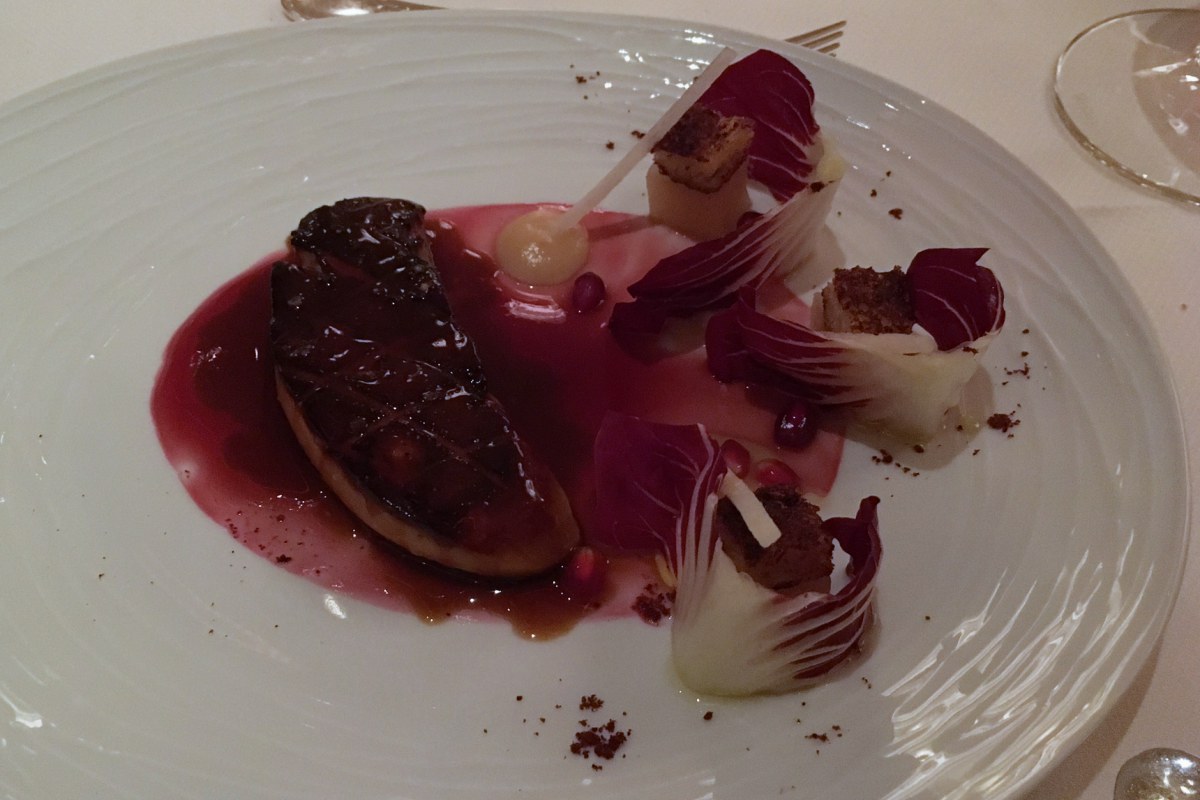 My Perdix Rouge was a generous serving of a pithivier, a French savory pastry, with layers of choice ingredients: partridge, quail, foie gras and black truffle. This too was quite rich, but fantastic with its game meat, creamy foie gras and truffle encased in warm, flaky pastry.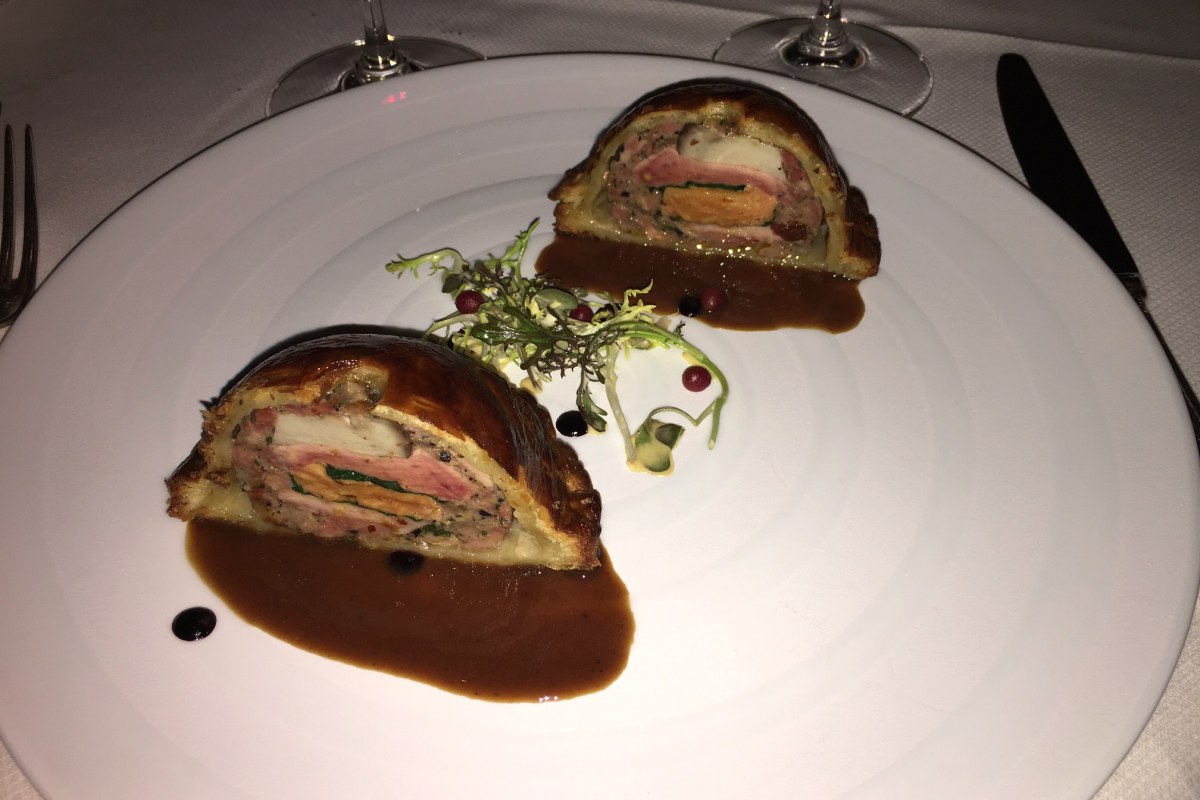 Thankfully, given our rich hot appetizers, our mains were nicely portioned. My husband couldn't resist ordering the veal tenderloin with gorgonzola, given how much he enjoys steak with blue cheese. I managed a tax bite, and it was incredibly flavorful and tender.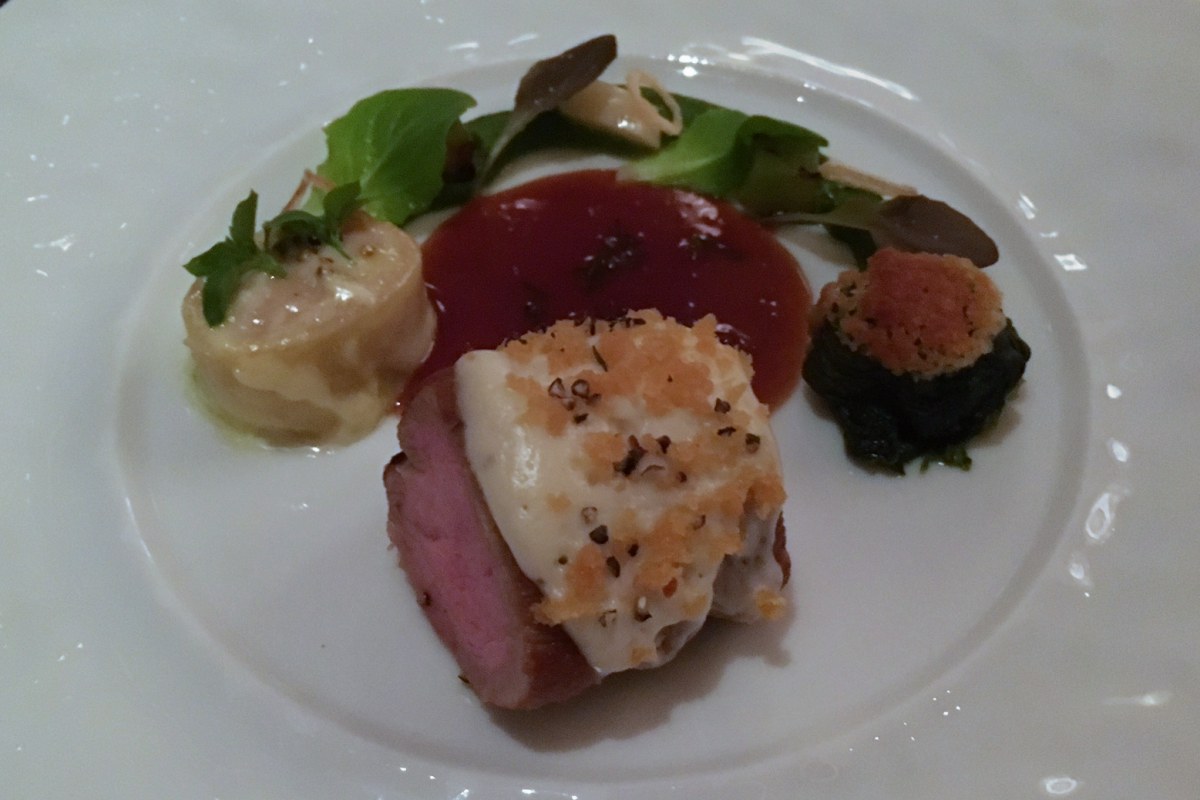 I opted for the cacao nib crusted venison, which had just been added to the menu recently, and it's my favorite venison dish to date. I'd never have thought of crusting venison with cacao nibs, but it was an inspired combination, and well paired with creamy grits, piquant red cabbage, and bright bursts of flavor in the form of New Jersey cranberries.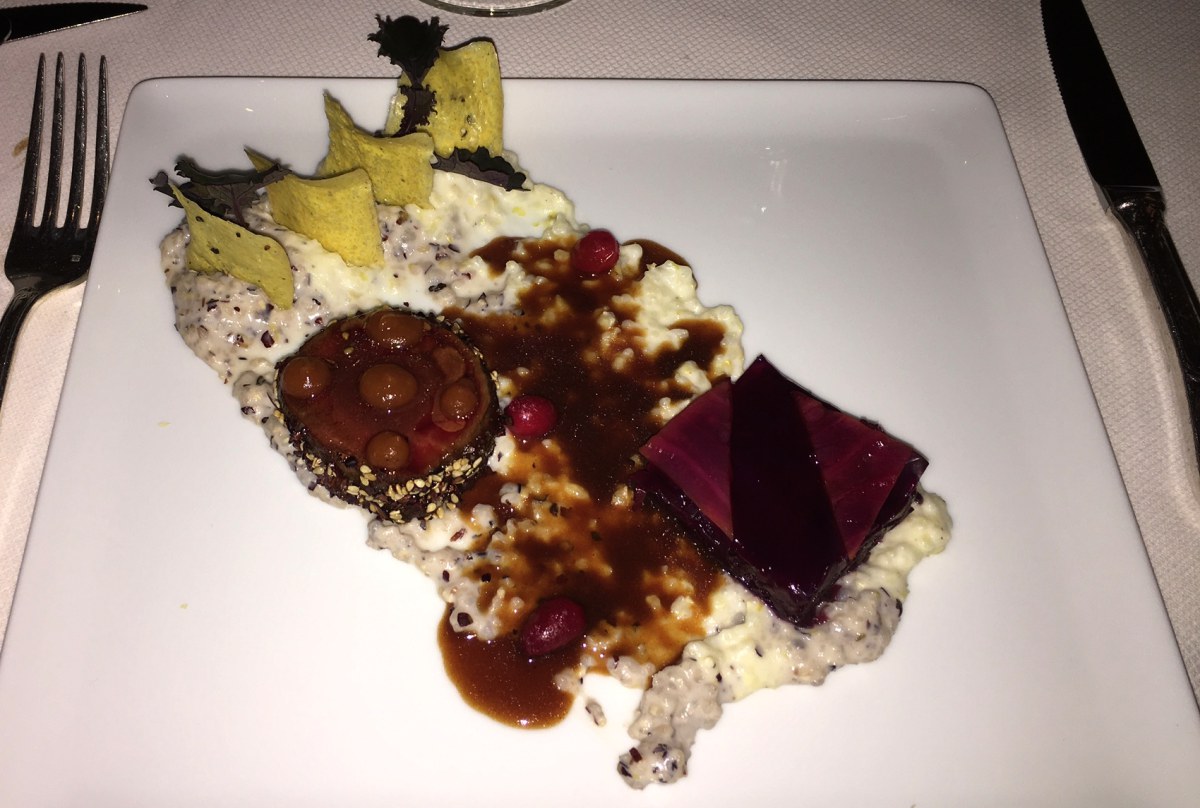 For dessert, we both gravitated towards chocolate, and fortunately there were two different chocolate desserts to try. My husband's Elvisia featured dark chocolate from the Dominican Republic, with a refreshing pine needle ice cream and citrus notes from the Grand Marnier gelee.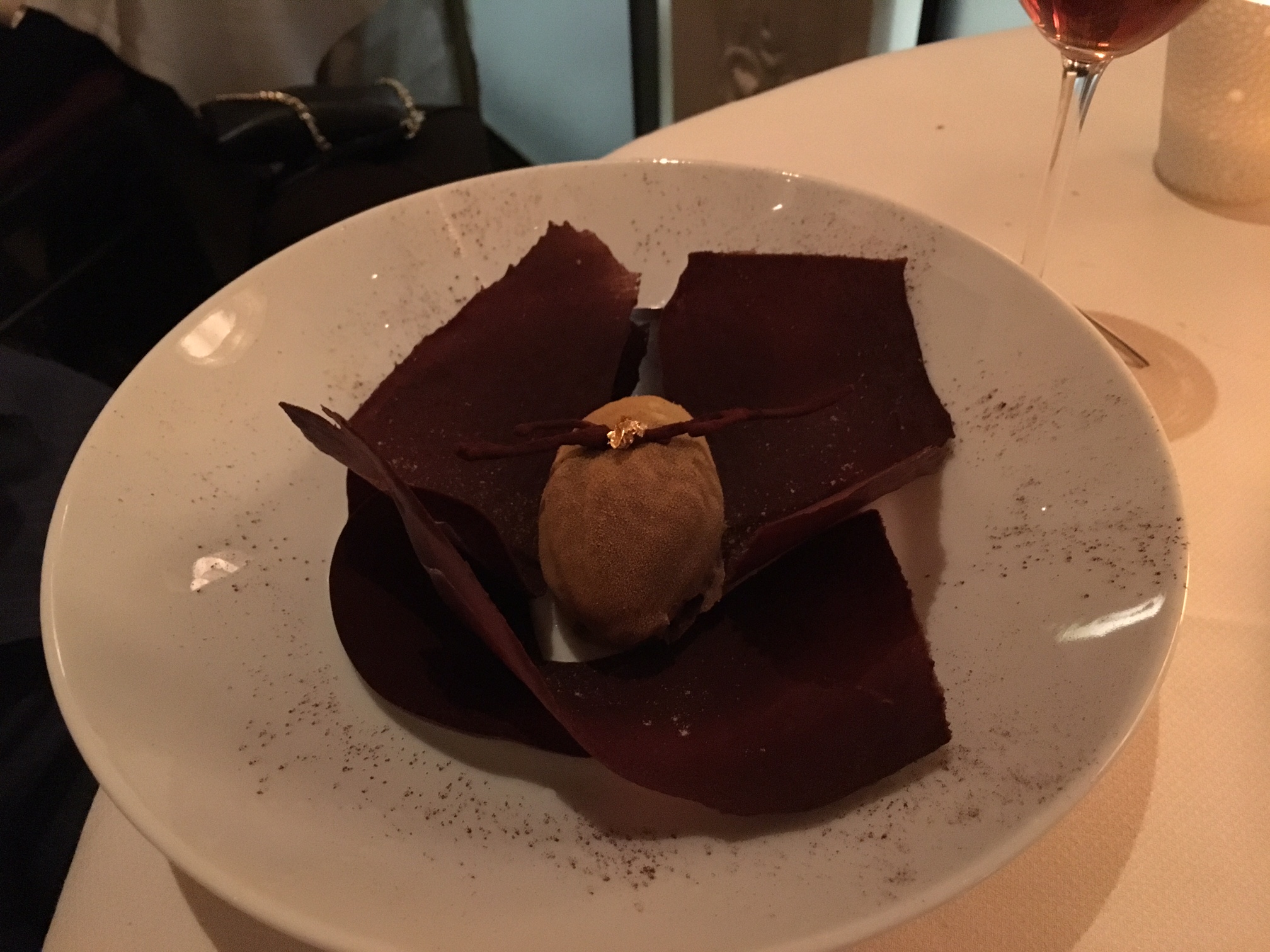 My Bolivie dessert included both creamy and crunchy textures from its chocolate cremeux, Ma Khaen Berry ice cream, and roasted cocoa nib. There was also a lovely complimentary pear dessert, with a candle ensconced in a white chocolate, to celebrate my belated birthday.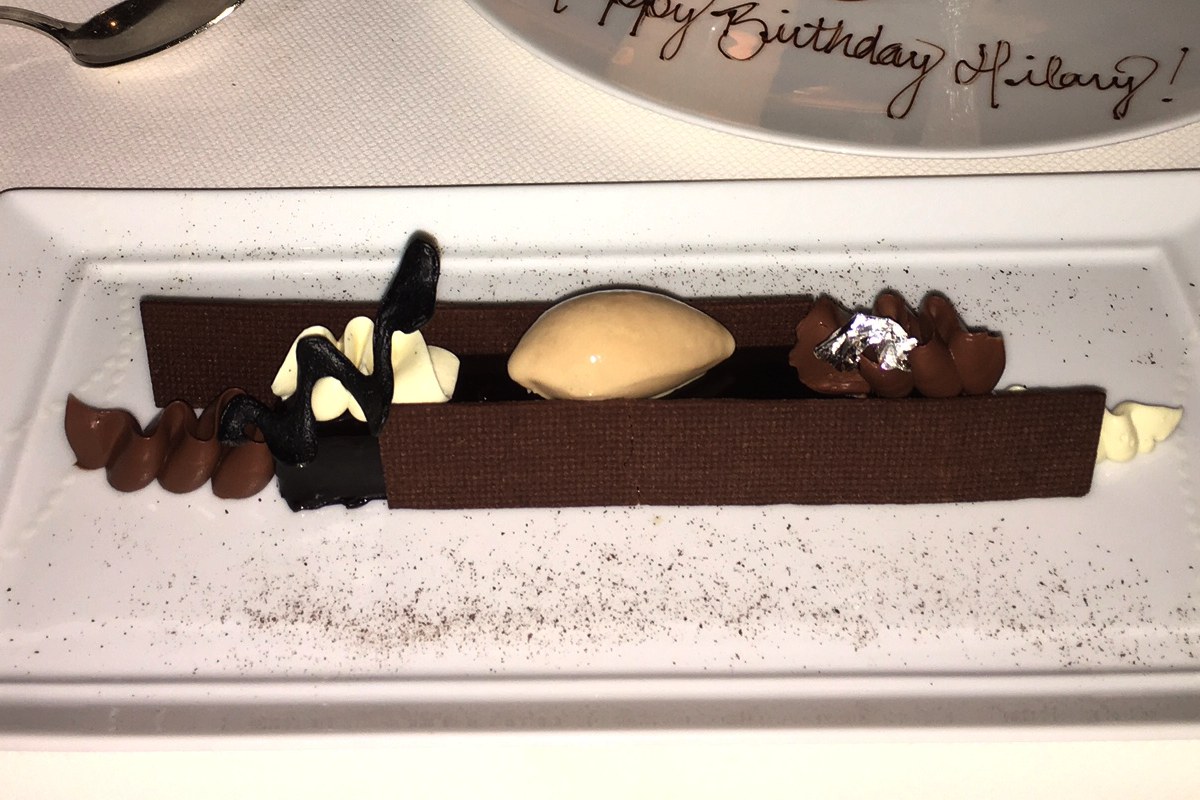 We were also offered freshly baked madeleines and a trio of mignardises, which we took home for our son, plus a canele each–one of my favorite underappreciated French pastries. And Daniel's version, which we heated up for breakfast the next day, was the best I've had in NYC.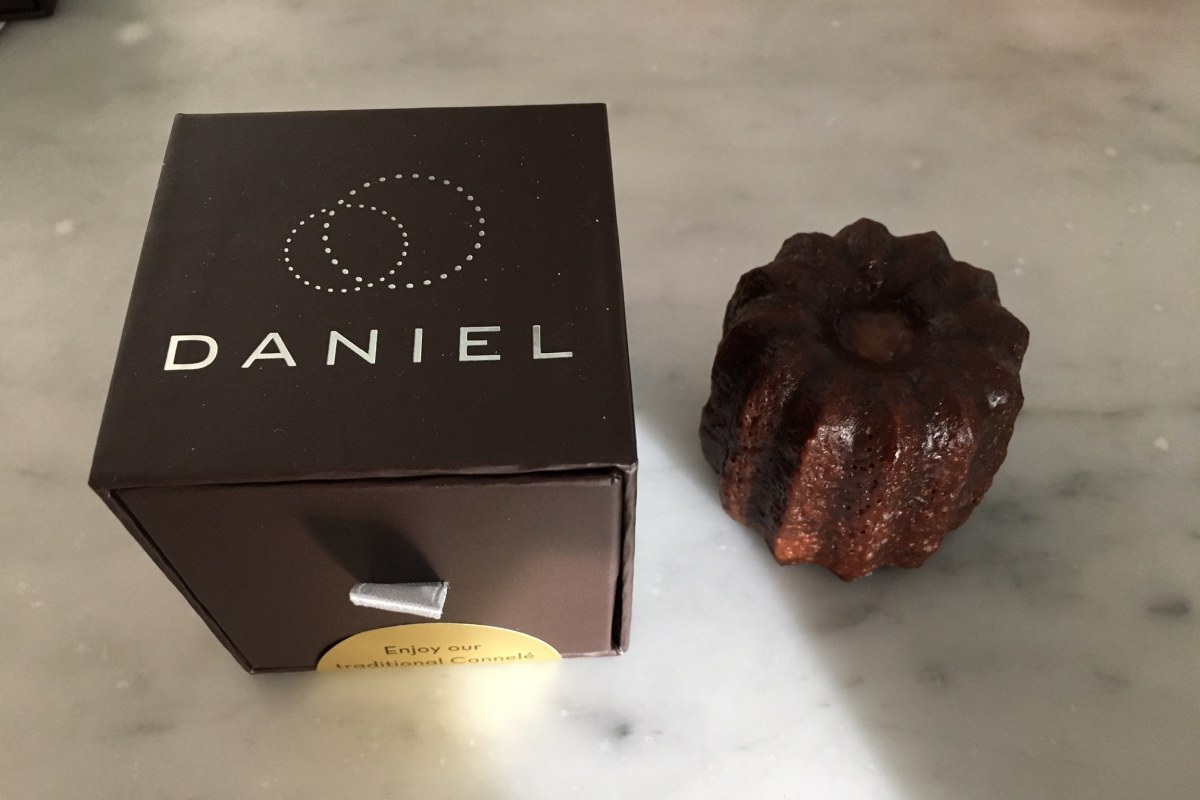 The Verdict
Daniel is easily the best French cuisine I've enjoyed in NYC in recent memory, and we're already plotting a potential return visit for my husband's birthday. I enjoyed it much more than The Modern, which pales in comparison, even though it's also a 2 Michelin star restaurant. If you've loved Michelin star French cuisine in France but have been disappointed by U.S. Michelin star experiences, Daniel is the perfect place to be transported to France.
Highlights for me were the breads, particularly the brioche and parmesan roll; the hamachi appetizer; the seared foie gras with pomegranate; the savory pithivier pastry with partridge, quail, foie gras and black truffle; the cacao nib crusted venison with grits and cranberries; and both the Bolivie and Elvisia chocolate desserts. We also appreciated the careful pacing of the meal, excellent service from all team members, seeing the kitchen, and meeting Chef Daniel Bouloud himself. At this point, it's my favorite special occasion restaurant in NYC.
If you've been to Daniel in NYC, what was your experience?
Recommended Posts
The Modern NYC Restaurant Review, 2 Michelin Stars
Aska NYC Restaurant Review, 2 Michelin Stars
Red Compass NYC Review: Great Georgian Food
If you enjoyed this, join 200,000+ readers: follow TravelSort on Twitter or like us on Facebook to be alerted to new posts.
Subscribe to TravelSort on YouTube and TravelSort on Instagram for travel inspiration.
Become a TravelSort Client and Book 5-Star Hotels with Virtuoso or Four Seasons Preferred Partner Benefits