We're a huge fan of Daniel Humm's Eleven Madison Park, so on Father's Day, we decided to try out The NoMad Restaurant, Daniel Humm's new restaurant in the NoMad hotel. While certainly still upscale, it's a more lively and less rarified environment than Eleven Madison. There are several areas to it–The Atrium, which would be delightful for breakfast, brunch or lunch, with its pyramidal glass roof and abundant natural light during the day; the two-level Library where an eclectic literary collection creates a cozy setting for light fare and drinks; the Bar, wheren mixologist Leo Robitschek crafts a well-curated selection of custom drinks; and The Parlour, the preferred room for dinner, with its romantic dim lighting, plush deep burgundy chairs, mirrors and open hearth, where you can see chefs at work.
We arrived right on time for our early reservation (since we had the munchkin with us) and appreciated that although our son was easily the youngest person in the room by at least 20 years, he was treated just as courteously as any other diner. They even brought him a cushion to sit on so that he could be at a more normal height at the table.
Our server arrived, asked our water preference, and offered us drink menus, in addition to the food menus that were already at our place settings. The sommelier arrived soon after, with a separate wine list.
From reading prior reviews, we knew we wanted to try the whole chicken for two, which sounds strange (who orders chicken when they go out, except the unadventurous?) until you read the description, and see that it's made with truffles, brioche and foie gras…call it the most decadent chicken dish you've ever ordered. For wine, my husband opted for one of the summer Rieslings by the glass, while I ordered a Cabernet Franc, since I wanted something more robust, even though not perhaps the best match with the chicken. A "better" pairing would probably have been the Nebbiolo.
The NoMad doesn't serve amuse bouches, but it does serve the best complimentary bread I've had in NYC, apart from the buttery rolls at Eleven Madison Park. On our visit, it was zucchini focaccia, and even though zucchini is one of those vegetables I was never fond of, the thin slices on the piping hot focaccia were a nice touch both in color and flavor–not bitter at all. It was gone so quickly, that we asked if we could have another piece, and our server was happy to oblige.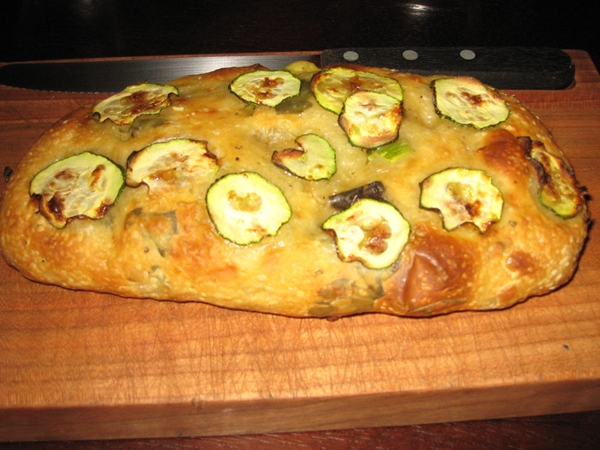 We had also ordered sweetbreads in croustillant form, which is reminiscent of an amuse bouche that Eleven Madison Park used to serve. At the NoMad, the presentation is simpler: rolls, rather than cones–but the flavor pops. I just wish they could have included a couple more of these, since there are only four in a $9 order.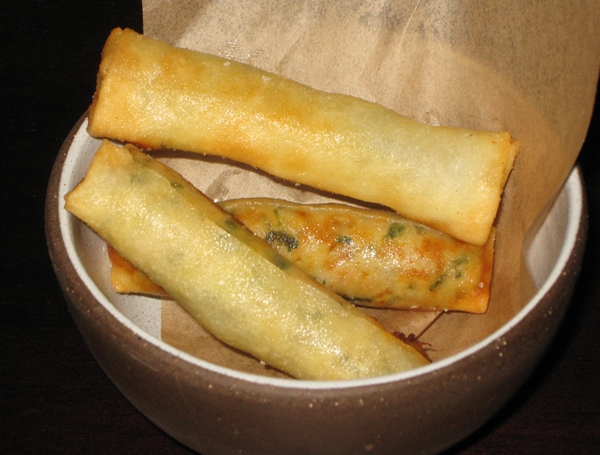 The whole chicken was first presented to us whole, crispy skin and stuffed with herbs–then taken back to the kitchen to prepare in two portions. At this point I also asked about being able to take home the rest of the chicken and bones (so that I could use it for my own stocks and sauces), but was told that the chef doesn't allow this. More on that later.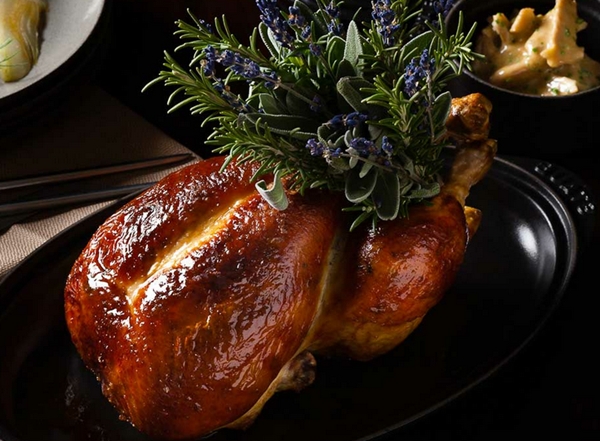 Each of us was served a chicken breast, plated with truffled potato puree and white asparagus. The meat is moist, and between the meat and crispy skin is a truffled foie gras brioche mixture.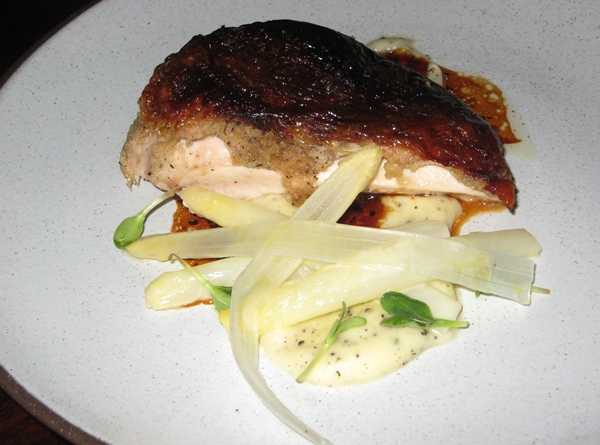 Perhaps even better (at least since I'm a fan of dark meat and mushrooms) is the separate portion of dark meat tangled with more truffles, morels and maitake mushrooms. My husband and I spooned a little of this over the white meat–sublime.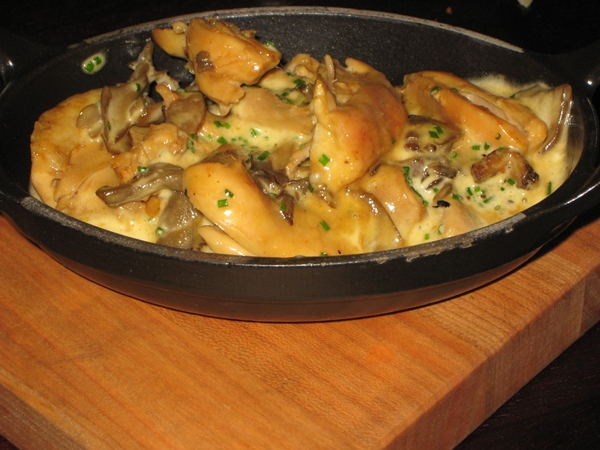 Meanwhile, the munchkin was very happily busying himself with the tagliatelle with King Crab and Meyer Lemon. It's an appetizer portion, which meant that it was perfect for him, since we also gave him some of our chicken.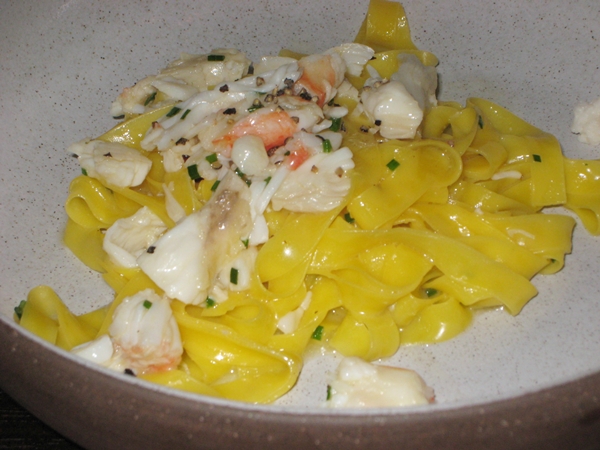 Everything was delicious, but at least for our hungry family, it's a very good thing that they were willing to serve us two portions of the delicious focaccia–without that, we'd have still been very hungry. That's because the chicken we were served, while magnificent in terms of flavor, are far from the entire meat of that chicken. This is also why I wanted the rest of the chicken and bones. Clearly, the chefs count on using the rest of the meat from the chicken, along with the bones, in the restaurant's own stock and other recipes. So just be aware that you're not *really* getting a whole chicken.
To conclude, we decided to order one dessert and split it. We gave the munchkin a choice between lemon and chocolate, and to our surprise, he chose lemon. Good decision. Encased in the seamless shortbread crust was tangy lemon curd, and alongside almond shortbread crumbles and ricotta. I got exactly 1 bite of this, but that was ok since we definitely plan to come back–and next time I'll order my own portion of this dessert 🙂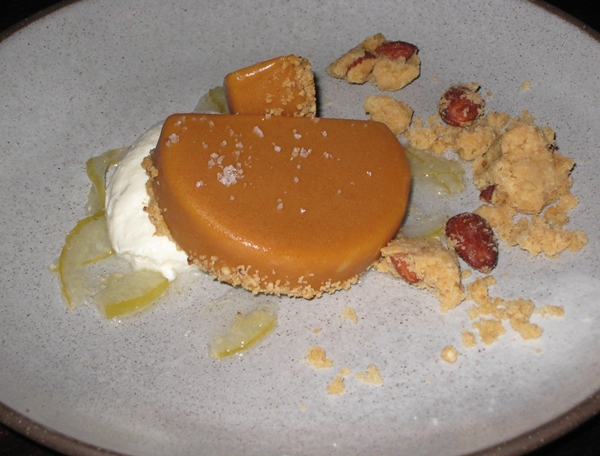 I also ordered a decaf cappuccino, which was perfectly foamed and came with pistachio biscotti.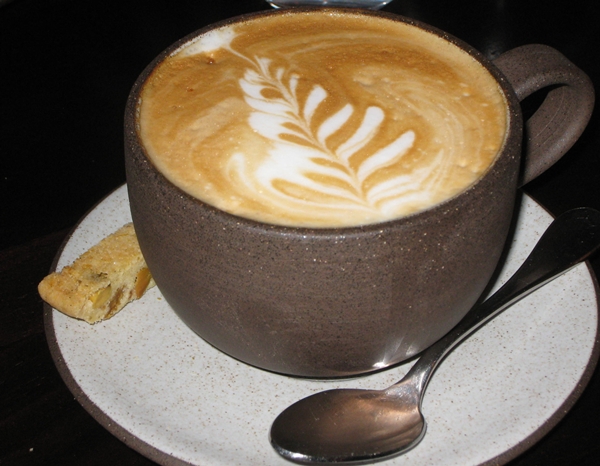 The verdict: Fantastic–not one dish was a miss. As mentioned above, the only thing I was very disappointed with was the chicken policy–you don't get the whole chicken. It's a pretty expensive place for us, given how much my family eats, but I know we'll go back. Don't forget, if you have the British Airways Visa, until July 31 you can get a $50 credit for each of two dines at any Michelin star restaurant in New York City, so that would argue for going to Eleven Madison Park (3 Michelin stars; The NoMad is new so it doesn't have any yet), since if your dining companion and you both have the card, you could split the bill and receive a total of $100 off your meal. See British Airways Visa Offers $100 Off 2 NYC Michelin Restaurants…Again! At the NoMad, one way to save, if you have a special bottle of wine, is to pay $35 corkage. In our case, 3 glasses of wine between the two of us was of course more than that.
And for families, it's definitely a place I felt fine taking my son to (especially as he enjoyed not only the food but also the ambiance and the music and behaved appropriately), whereas it will be some years before I would take him to Eleven Madison Park. If I had to critique, apart from the not getting the whole chicken aspect, I'd say service is not the strongest point. Everyone was professional, and there seems to be a high ratio of staff to guests, at least in the Parlour, but it's not as efficiently run an operation as Eleven Madison Park–we did wait a few times when trying to get someone's attention. If you go, definitely reserve in advance, especially if you want to dine in the Parlour or at a peak time.
Related posts
Eleven Madison Park, NYC Restaurant Review
British Airways Visa Offers $100 Off 2 NYC Michelin Restaurants…Again!
Per Se Salon NYC Restaurant Review
20 Best Cities in the World for Foodies
Check out and apply for the Best Travel Credit Cards.
If you enjoyed this, please follow TravelSort on Twitter or like us on Facebook to be alerted to new posts.
Become a Member to find your perfect luxury or boutique hotel at up to 50% off: TravelSort Hotels