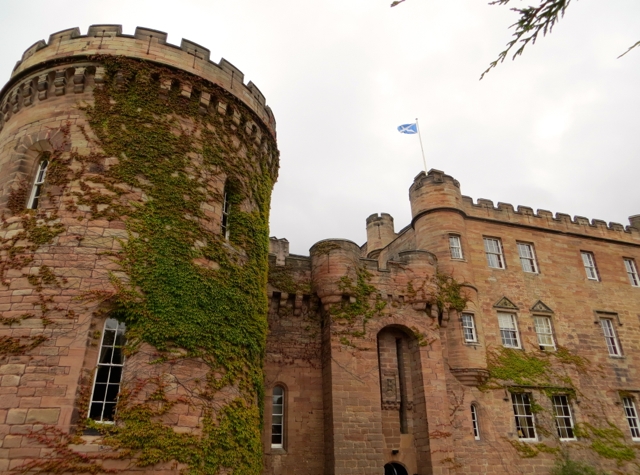 This Dalhousie Castle Review is part of a UK and France trip report including flights in British Airways in New First Class, Singapore Business Class and Singapore Suites, and stays in a Scottish castle and 5-star hotels in London and Paris. For the prior posts, please see:
British Airways New First Class 777 Review
British Airways Galleries Arrivals Lounge London and Concorde Room
Singapore Business Class Review NYC (JFK) to Frankfurt
Petrus London Restaurant Review
Dalhousie Castle, in Bonnyrigg, Scotland, has quite a history. As I wrote in Best Castle Hotels in Scotland, it was built over 800 years ago and counts among its guests King Edward I, Sir Alexander Ramsay and Oliver Cromwell, among others. It's been a hotel since 1972, and I remember attending a medieval style banquet in the Dalhousie Castle Dungeon with my family when I was 12 years old and we were living in Edinburgh for a year. This post covers Dalhousie Castle, themed rooms and breakfast, but a future post will be about our Dalhousie Castle falconry experience, which was quite a thrilling experience.
Getting To Dalhousie Castle
Dalhousie Castle is in Bonnyrigg, and there really aren't good public transportation options to get you there; you're best off either arranging a taxi, for about £30, or renting a car at the airport. There is free guest parking at Dalhousie Castle.
Check-In
It's a little anticlimactic to enter the imposing castle, go down a few steps and see a very normal looking hotel reception, but we were checked in quite smoothly and efficiently. This is not a 4 or 5 star hotel, so don't expect omnipresent or amazing service, but, as the British are wont to say, "it does what it says on the tin."
The staircase and upper floor are beautiful and decor is in keeping with castle's history: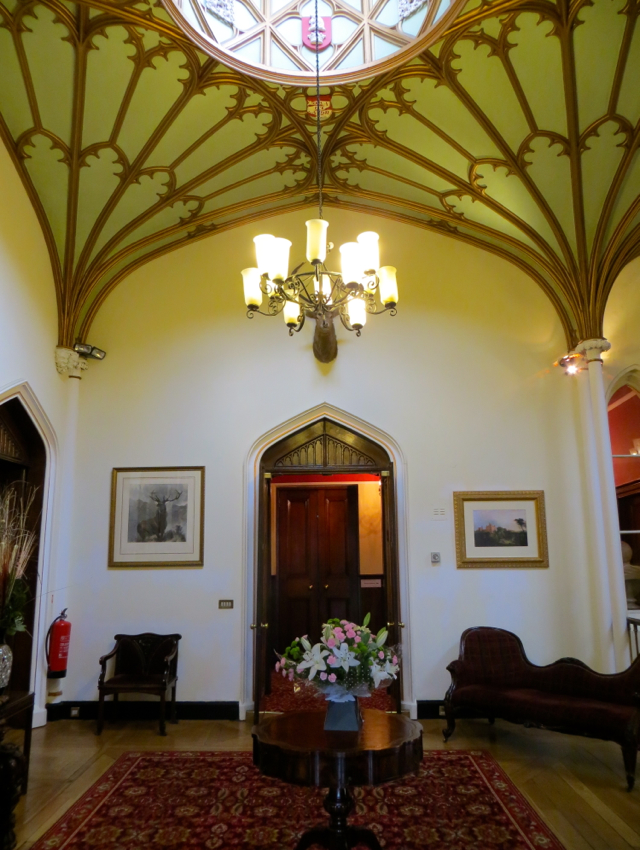 Dalhousie Castle Rooms
I highly recommend that you book one of the Themed Four Poster Rooms, or even Executive Themed Rooms or Themed Suites if you're feeling flush. There are also more basic Castle Rooms, as well as rooms in a separate Lodge that generally get rather poor reviews. Select a Castle Themed Room instead, and preferably on a higher floor for a view of the surrounding countryside, as long as you can manage the stairs (there is no elevator, so Dalhousie Castle is not a good choice for guests with mobility issues).
I had made two separate reservations, our first night directly with the hotel, and our second night via an online booking agency since rooms were unavailable directly from the hotel.
For our first night, we were given Room 8, a Themed Four Poster Room that even had a door opening out to a terrace. The day we arrived was a bit rainy and overcast, the next morning we had a lovely view: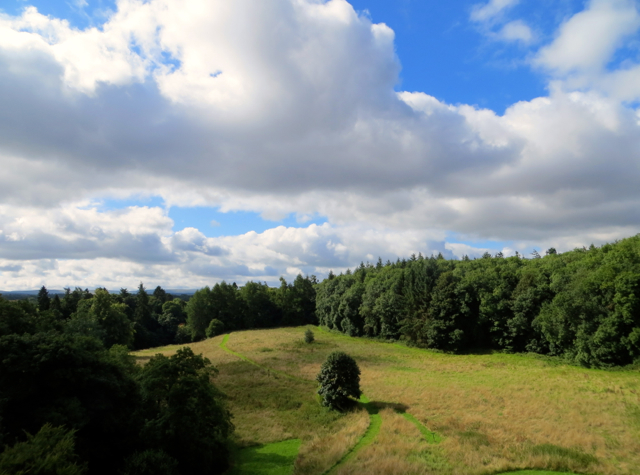 The four poster bed was actually quite comfortable, and my husband and I slept well in it: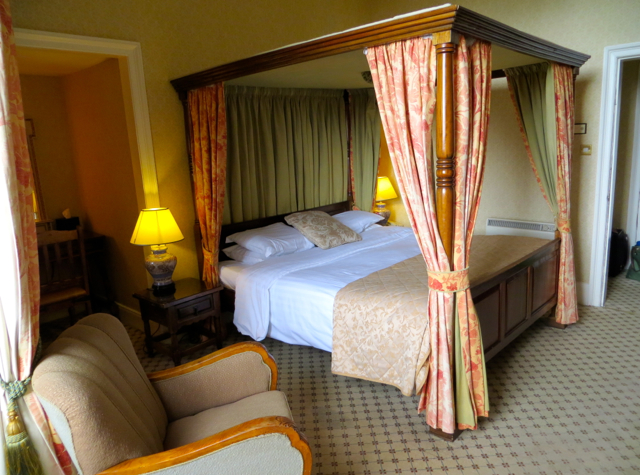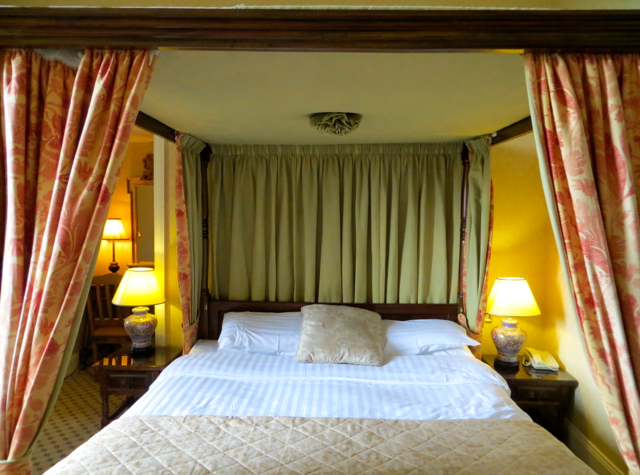 The bathroom was basic, with a shower-tub combination, but everything worked fine and water pressure was good.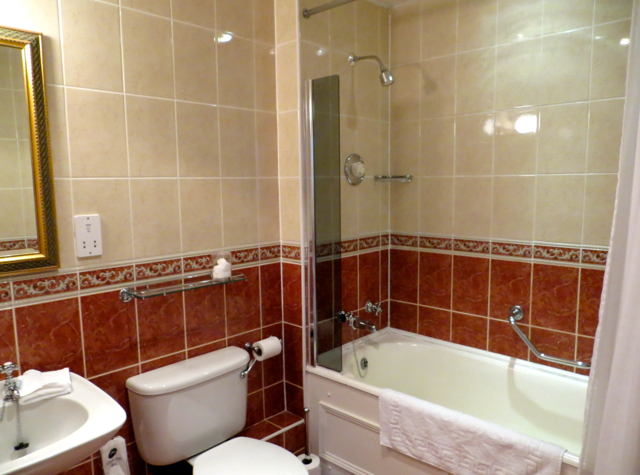 There was also a hot water kettle for tea and bottled water: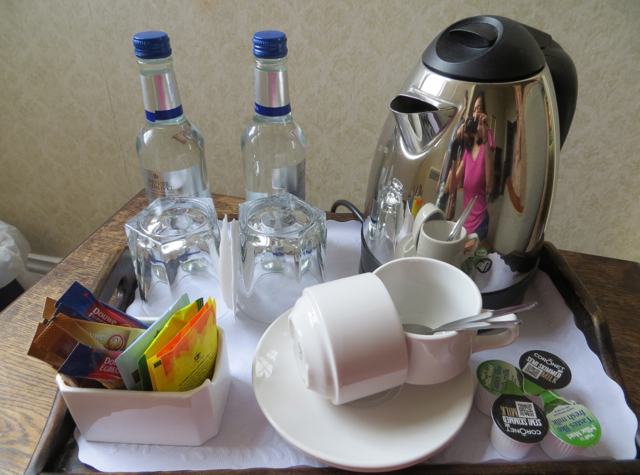 Our second night, we had to move, since a wedding party was checking in that night and Room 8 was one of the rooms reserved by the group. We were told we could leave our packed bags in the room, and they would be placed in the new room, along with the munchkin's extra bed.
Well, we got back after visiting our friends, and were given Room 11, but our bags were nowhere to be seen, and neither was the extra bed for the munchkin. So we went back to reception to inquire, and since the munchkin's extra bed wouldn't fit in Room 11, we were given a complimentary upgrade to the Edward I Room at the top of the castle, with a little adjoining study in one of the castle's towers.
Meanwhile, the Night Porter discovered that our belongings were exactly where we had left them, in Room 8, and fortunately untouched by the new occupant, who had assumed they belonged to someone in the wedding party. Eventually our bags and the extra bed made it up to our new room and we quickly got settled and went to sleep.
I enjoyed the unicorn fabric used for the four poster bed and drapes: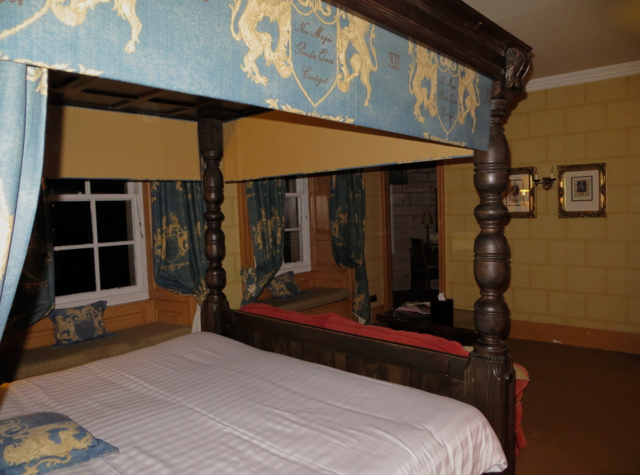 The bathroom was nicer than that of Room 8, with a separate bathtub and glass enclosed shower: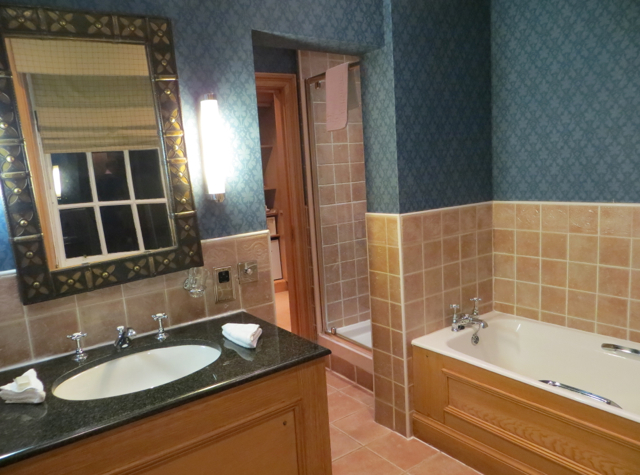 And the tea making facilities also included Scottish shortbread, a nice touch: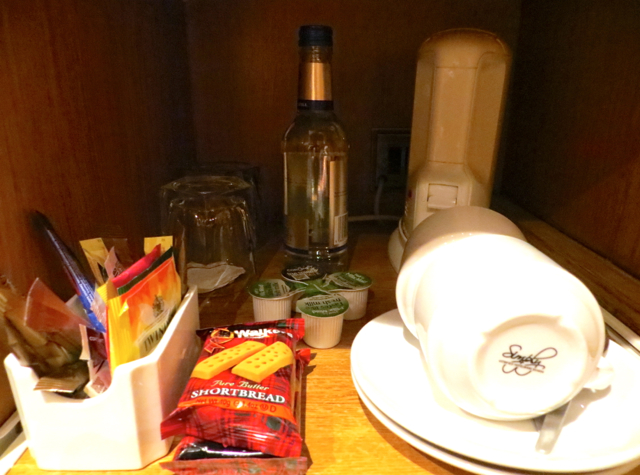 The Dungeon
The munchkin would happily have spent his time exploring the dungeon, which we went through to get to the Orangery, but had to content himself with a photo in front of a suit of armor given that we spent most of our time with our Scottish friends. While there's nothing official offered by Dalhousie Castle, I've heard that you can sometimes persuade the night porter to take you on an impromptu night tour with ghost stories, which sounds like good, creepy fun.
We didn't have the opportunity to try dinner in The Dungeon, but have heard positive reviews, if a bit pricey for the portion sizes.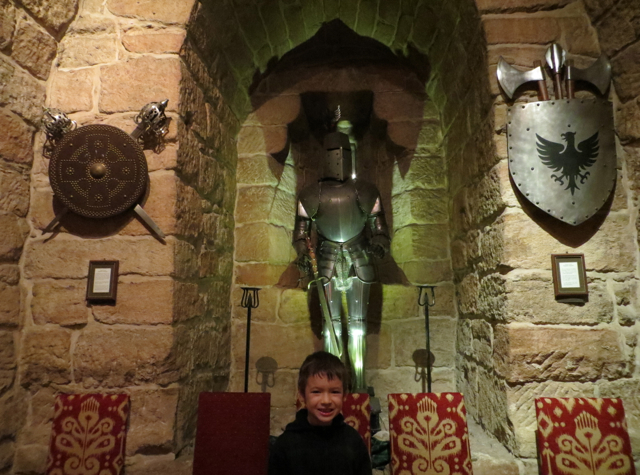 Breakfast in The Orangery Restaurant
I didn't expect much of the included breakfast, so it was actually better than I expected. First of all, the setting, on a sunny day, is lovely, since as its name implies, it's a a glass enclosed "winter garden" atrium-like space: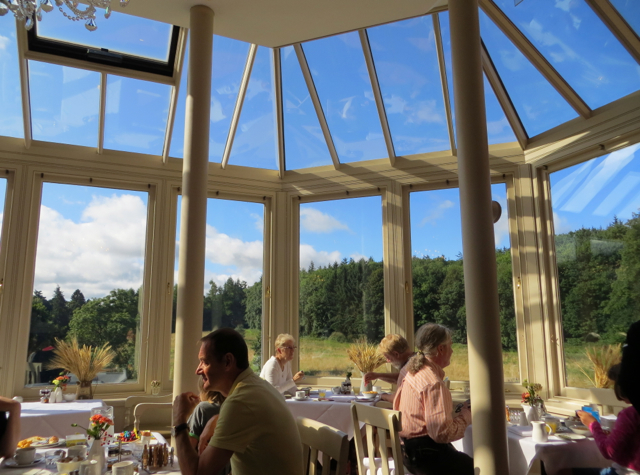 The cold buffet portion was small, but included 3 types of juice, breakfast pastries, yogurts, cereal, cut fruit (although some of it had definitely seen better days), cold cuts, and cheese.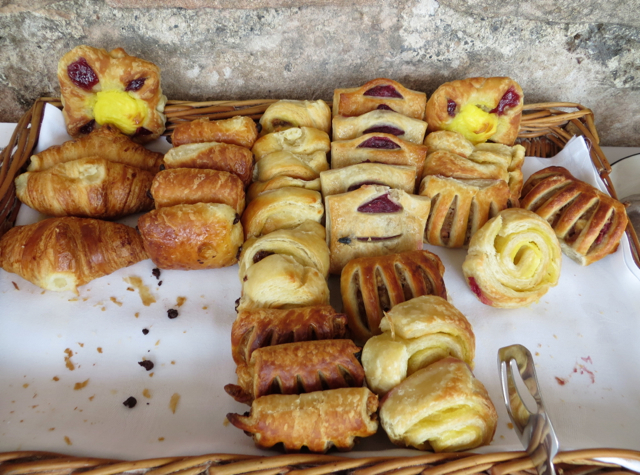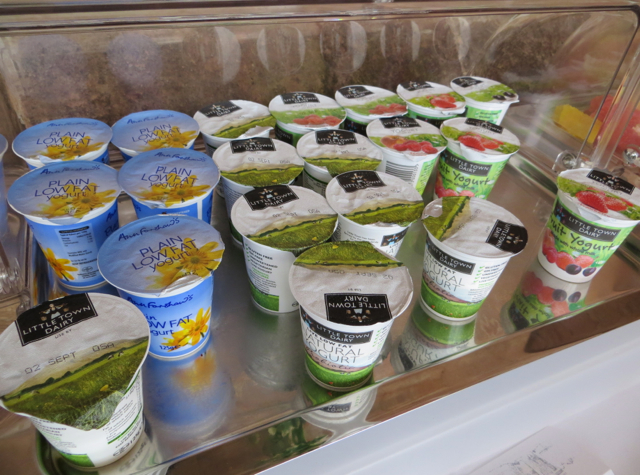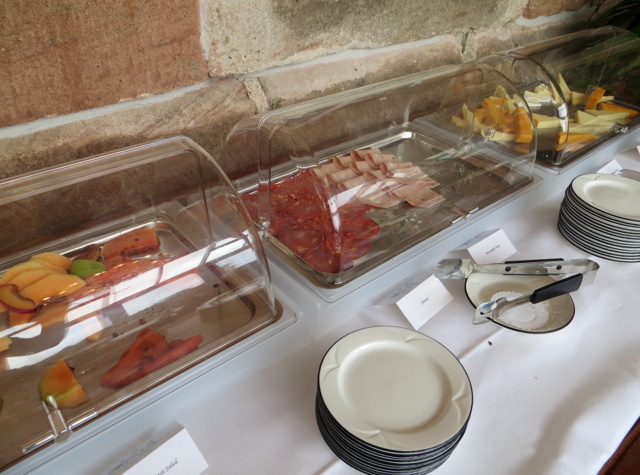 There as also a hot breakfast choice available from the breakfast menu: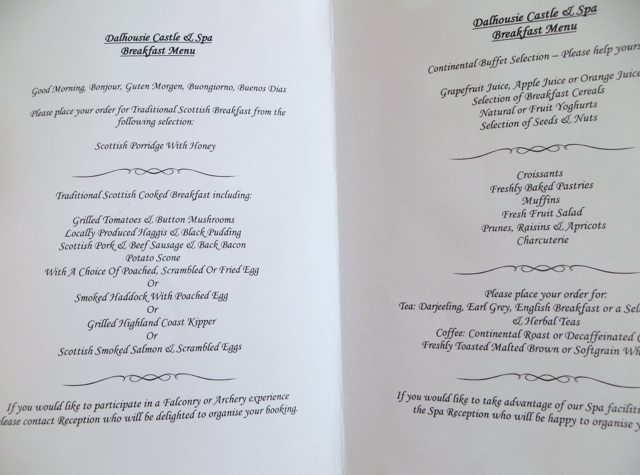 Both days my husband and the munchkin chose the Scottish smoked salmon and scrambled eggs, which were quite good: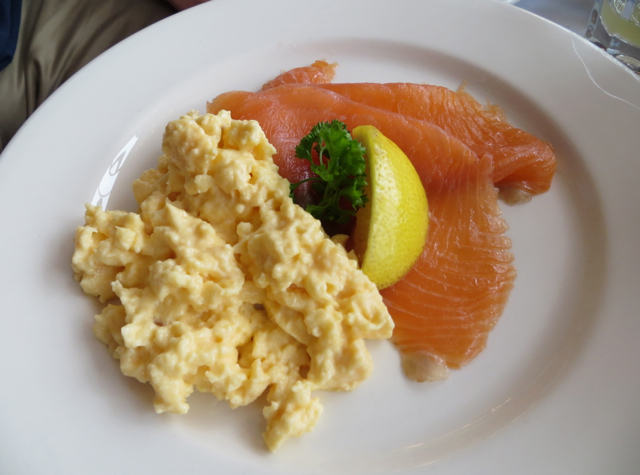 The second day I opted for the Traditional Scottish Cooked Breakfast, which included your choice of poached, scrambled or fried egg, grilled tomatoes, button mushrooms, haggis, black pudding, pork and beef sausage, bacon and a potato scone. My husband made a face when I gleefully offered him some haggis, but it was actually all very good–including the haggis and black pudding.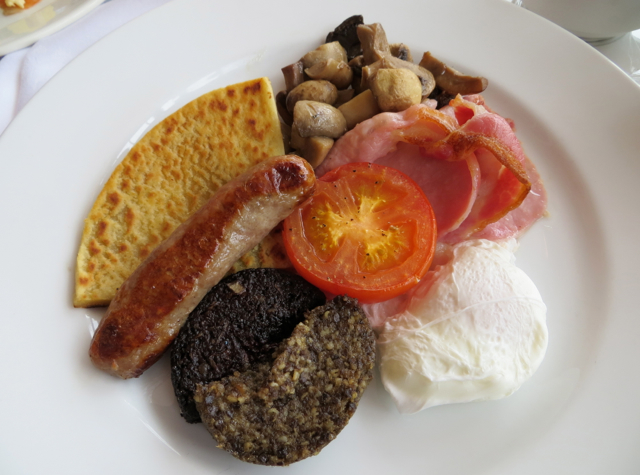 The Verdict: Don't expect an overly fancy or luxurious stay at Dalhousie Castle, but it you moderate your expectations, it's a great castle to stay at and explore for a family vacation. Since the themed rooms are each individually decorated, I recommend that you look at the photo gallery and book with the hotel directly (or book with TravelSort) to help ensure you book a room that you'll enjoy. Your chances of being upgraded are better when staying during an offpeak time, so try to (unlike us) avoid the Edinburgh Fringe Festival and weekends, when there are more likely to be more guests and possibly wedding parties.
If you've stayed at Dalhousie Castle, what was your experience?
Related Posts
Best Castle Hotels in Scotland
Adventure Travel Guide to the West Coast of Scotland
Cosy Restaurants and Thriving Culture in Edinburgh, Scotland
Need Award Booking Help? Our fee is as low as $75 per ticket if you book your hotel through us.
If you enjoyed this, join 90,000+ readers: please follow TravelSort on Twitter or like us on Facebook to be alerted to new posts.
Become a TravelSort Client and Book 5-Star Hotels with Virtuoso or Four Seasons Preferred Partner Amenities!
Disclosure: I paid for my own stay at regular rates.