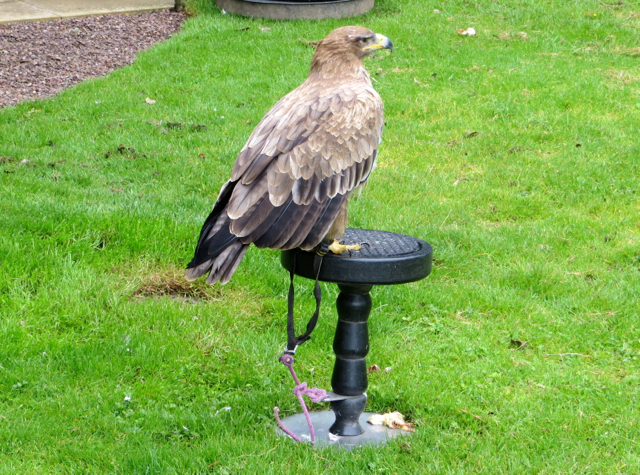 This Dalhousie Castle Falconry Review is part of a UK and France trip report including flights in British Airways in New First Class, Singapore Business Class and Singapore Suites, and stays in a Scottish castle and 5-star hotels in London and Paris. For the prior posts, please see:
British Airways New First Class 777 Review
British Airways Galleries Arrivals Lounge London and Concorde Room
Singapore Business Class Review NYC (JFK) to Frankfurt
Petrus London Restaurant Review
Dalhousie Castle Hotel Review, Scotland
Dalhousie Castle offers falconry, and while I wouldn't have thought that birds of prey and kids should necessarily mix, I couldn't help but notice that there were Children's Activities offered. Here's the description:
"Children's Activities – 45 minutes, £25 per child
The Children's Activities are designed for children up to the age of 12 years old. The experience is spent flying two of our owls, who have extremely gentle, playful and tactile personalities. The Mews house a variety of species of varying sizes to cater for any age, from our small and very cheeky Mexican Striped Owl 'Nimue' to our large and irresistibly soft Great Grey Owl 'Navajo'.
Guaranteed to thrill any child, they will put on the falconer's glove and fly the owls for the duration of the activity. As the owl swoops to their glove, they will also learn more about these magical creatures."
Ok, I thought: a small owl seems perfect for the munchkin–he'll get a hoot (pardon the pun!) out of a small owl swooping down onto his gloved hand for its meal.
And when we checked in, we got a glimpse, in fact, of the diminutive owl "Bandit," who would be used in a wedding that weekend, so I thought that perhaps for the falconry experience, munchkin would be flying Bandit.
We made our way to the Falconry Mews, which are just behind the castle. And as I soon as I pointed out the sign and path, the munchkin didn't need any encouragement–he can be seen running out of this photo 🙂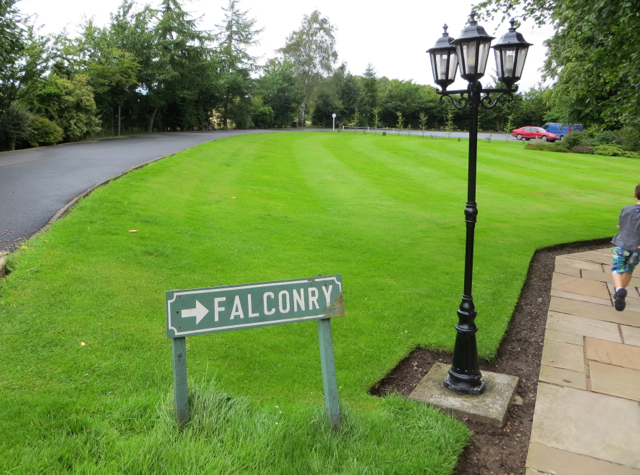 At the Falconry Mews, several hawks, an eagle, and other birds of prey sat on their perches. They're tethered when at their perches, and we learned that among them were the Harris Hawk (one of the most popular birds used for falconry); Common Buzzard, Tawny Eagle, Falcons, Merlin and Kestrel. We learned that the Harris' Hawk can live 25 years or so in captivity (although typically half that in the wild) and that typically the smaller birds of prey have longer lifespans.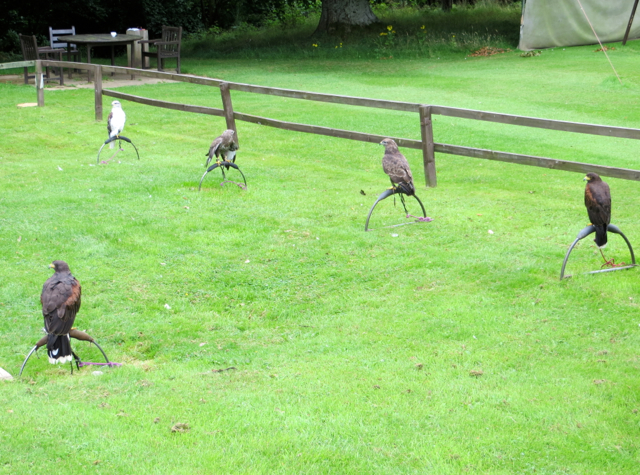 Inside the Falconry office was Bandit, the Barn Owl we'd seen earlier, along with the little Mexican Striped Owl "Nimue," while larger owls were in cages.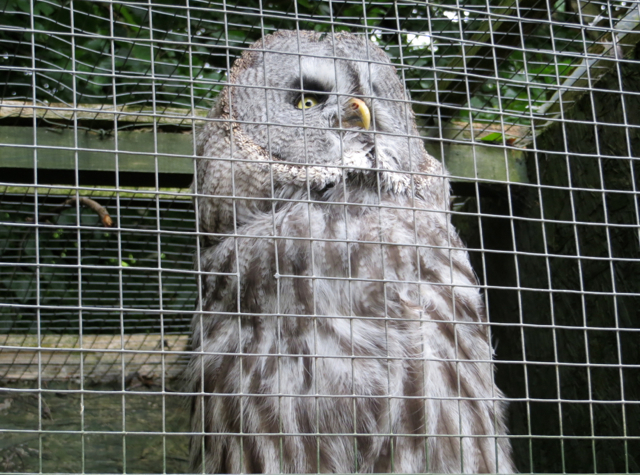 I still need to download my video from our falconry experience, but in the meantime, here are a few photos of the munchkin. Contrary to my expectation of the munchkin only flying one or two of the smallest owls, he was in fact first given a Harris' Hawk to fly, then a large tawny owl (who was initially reluctant to come to the glove at all, although hunger eventually won out, since the birds are called to the glove with a piece of meat).
Must say that with their speed, shrieks and the way they ferociously devoured the proferred meat, these birds would have made their dinosaur ancestors proud.
First, with the Harris' Hawk: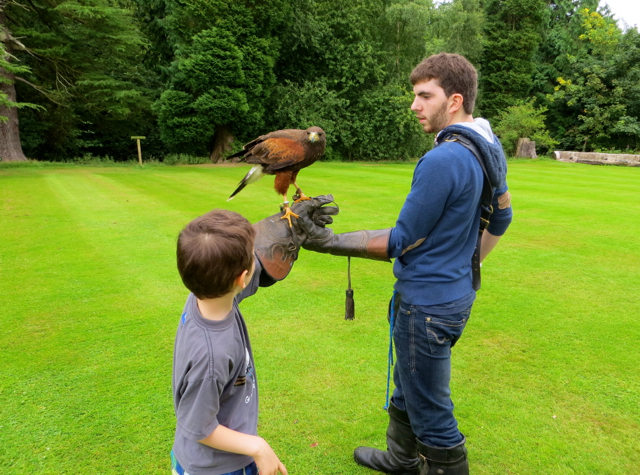 And here with the owl (even though it's a blur of feathers as it alights)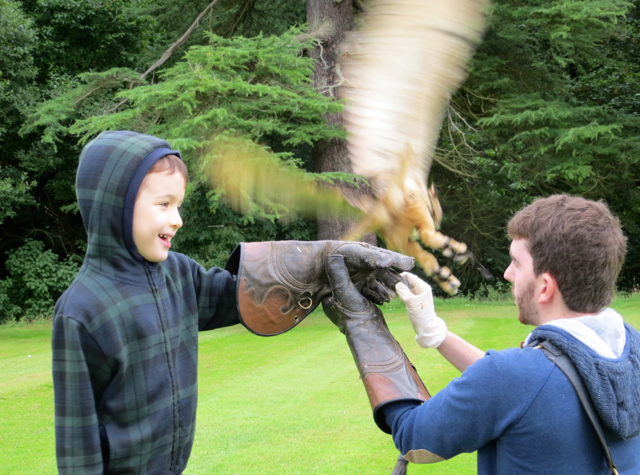 Even I got a chance to call the owl to the glove: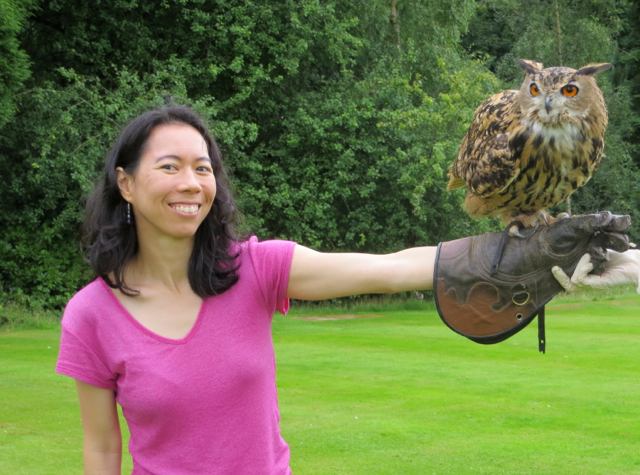 Since the birds were actually quite heavy, the munchkin didn't have the stamina to last the entire time so he also enjoyed watching the falconer finish feeding the owl. And yes, the owl is being fed a dead chick, so this activity is perhaps best avoided if you'd rather not see that.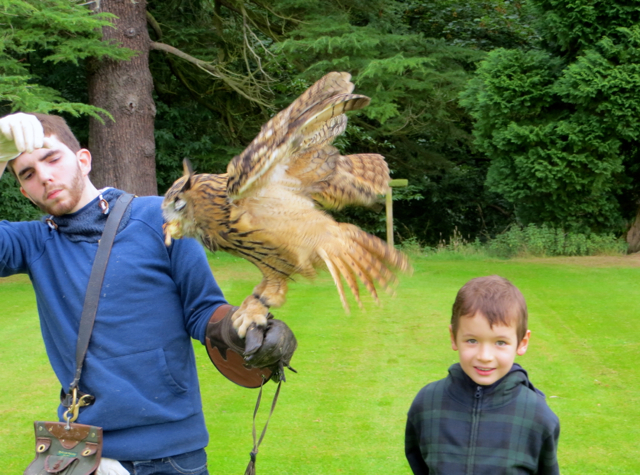 The Verdict: Falconry at Dalhousie Castle, even the Children's Falconry Experience, was more adventurous than I thought. Even my 5 year old was supported in flying a Harris Hawk and a large owl–and these are not particularly light birds (hence support from the falconer in keeping my son's arm steady was essential). If you're especially squeamish you may not want to do this activity, since these birds of prey are aptly called such and you'll see what they're eating. But otherwise, highly recommended if you're staying at Dalhousie Castle or another Scottish Castle that offers falconry.
Related Posts
Dalhousie Castle Hotel Review, Scotland
Best Castle Hotels in Scotland
Adventure Travel Guide to the West Coast of Scotland
Cosy Restaurants and Thriving Culture in Edinburgh, Scotland
Need Award Booking Help? Our fee is as low as $75 per ticket if you book your hotel through us.
If you enjoyed this, join 90,000+ readers: please follow TravelSort on Twitter or like us on Facebook to be alerted to new posts.
Become a TravelSort Client and Book 5-Star Hotels with Virtuoso or Four Seasons Preferred Partner Amenities!