Link: Hyatt Visa – 2 Award Nights at any Hyatt, including Park Hyatts
Link: Ink Bold
The good news: Daily Getaways is offering several Hyatt packages today at 1pm ET, where you can effectively get Hyatt points for about 1 cent each. Even though the packages refer to Category 3, Category 4, etc. Hyatt hotels, you can use the points for stays at any Hyatt, including Park Hyatt, which is arguably their highest value use. There is also a presale for one of the packages at 12 noon; you need to get the presale code from the Hyatt Facebook page
The bad news: These points packages are extremely limited, and will sell out *very* quickly. Also, only one of them offers a presale, and it's only for 20!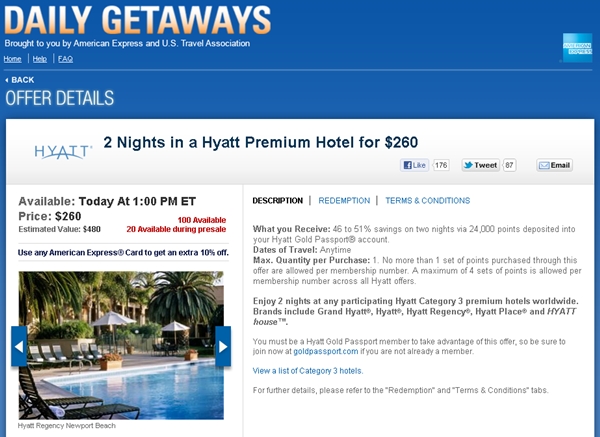 Here are the details of the points packages you can purchase. As you can see, the cheapest one, for $260, offers the best deal.

Tips:
Make sure you have a Hyatt Gold Passport account, so that you can enter your Gold Passport number when purchaseing the points. Sign up for Hyatt Gold Passport
You can only buy 1 points package per Hyatt Gold Passport number. Try to get your spouse or travel partner to also buy a package–you may not both be able to purchase one, due to the high demand, but hopefully at least one of you will!
To try for the presale of 20 packages, go to Hyatt's Facebook page at 12 noon for the code. You actually don't have to "Like" the page to see it
Use an AMEX card to get 10% off your purchase price. Even better, first use an Ink Bold card to purchase an AMEX prepaid card at Office Depot (where you'll get 5x Ultimate Rewards points on your purchase) then use the AMEX prepaid card to get 10% off this or any Daily Getaway!
Don't despair if you don't manage to purchase any of the Hyatt packages–they do go extremely quickly. Here are four other options to save on Hyatt hotel stays, including at Park Hyatt properties:
If you don't already have the Hyatt Visa, you can apply and receive 2 free nights in any Hyatt worldwide with the Hyatt Visa. If you're a Platinum member, you'll receive 2 certificates, each good for a suite upgrade on a paid stay of up to 7 nights. Don't forget that through May 11 you can use a Visa Signature card, such as the Sapphire Preferred, to get a Hyatt Platinum trial, so definitely do that before applying for the Hyatt Visa. See
Best Park Hyatt to Stay 2 Free Nights with the Hyatt Visa
. If you're a Diamond member at the time you apply (including a Diamond Trial), your 2 free nights will be in a suite.
2. Hyatt Stay Certificates
Don't forget that Hyatt Stay Certificates are good at most Park Hyatt locations, even including locations such as the Park Hyatt Tokyo. The Park Hyatt Paris, Park Hyatt Zurich, and Park Hyatt Milan are notable exceptions, and are not available with Hyatt Stay Certificates. Unfortunately, Park Hyatt Maldives has also been removed. But for most other Park Hyatts, you can use an Inspire Certificate, which costs $319. Note that you won't get points though, either for your certificate purchase or for the stay. For more on Hyatt Stay Certificates and how to check availability, see
30 Percent Hyatt Bonus Points-Buy Points or Use Hyatt Stay Certificates
3. TravelSort Bookings
4. Apply for Credit Cards to Earn More Ultimate Rewards Points
Since Ultimate Rewards points transfer 1:1 to Hyatt virtually instantaneously, you can use credit card bonuses to get free Hyatt stays: