One of the things that often lures people to American Airlines (and the OneWorld alliance as a whole) is that top tier elites get international first class lounge access when traveling internationally. Perhaps it's more hype than anything else, but there's something exciting about being able to use an international first class lounge when traveling in business or (especially) coach class.
When you compare the top tier elite programs of American and United, a lot of things look similar, from unlimited domestic upgrades to systemwide upgrades to waived fees. Therefore it's the little things that differentiate the programs that the two airlines offer. One of those things is that all OneWorld Emerald members (like Executive Platinum members) get access to international first class lounges. That's thanks to the fact that OneWorld has three alliance wide elite tiers – Ruby (the lowest tier), Sapphire (the middle tier), and Emerald (the highest tier). When traveling internationally, Sapphire members get business class lounge access while Emerald members get first class lounge access.
Compare that to Star Alliance, where there are only two alliance wide elite tiers – Silver and Gold. Silver members don't get lounge access, while Gold members get business class lounge access. Typically, any mid-level elite tier in the alliance comes with Gold status. In other words, middle and top tier elites are typically being grouped together and being granted access to the same lounges when traveling internationally.
But as a United flyer I was always mystified by OneWorld's policy. I've flown United internationally fairly often, and it's not unusual to see 30 or 40 1Ks (top tier elites) on an international flight. Given that, can a first class lounge really feel "first class" while accommodating not just first class passengers, but also top tier elite members? I mean, United has about a dozen departures to Europe from Chicago in the evenings, so if each of those flights had 20 top tier elites (which is a conservative estimate some days), could the first class lounge really accommodate 240 more passengers, and possibly their companions?
Over the past few months I've sampled just about all of the "flagship" first class lounges OneWorld has to offer – the Cathay Pacific first class lounges in Hong Kong, the Qantas first class lounge in Melbourne, the Japan Airlines first class lounge in Tokyo, the British Airways first class lounge in London, and the American first class lounge in Chicago. As a basis of comparison I've tried just about all the "flagship" first class lounges that Star Alliance has to offer, like the Lufthansa first class lounge/terminal in Frankfurt, the Thai Airways first class lounge in Bangkok, the ANA first class lounge in Tokyo, the Asiana first class lounge in Seoul, the Singapore Airlines first class lounge in Singapore, the Swiss first class lounge in Zurich, etc.
So, how do they compare? Is first class lounge access for top tier elites ultimately a competitive advantage and something that should be considered when trying to decide between elite tiers, or does it devalue the first class experience to the point that it's not a worthwhile benefit?
Before answering that question, I should probably clarify that to me, one of the most important aspect of a first class lounge is that it's a quiet environment in which to work. I know that might sound crazy, but it's true. While I appreciate a nice restaurant in the lounge, I'm going to be fed well on the plane if I'm flying first class, so it's not that important to me. So "exclusivity" is nice to the extent that you don't have to fight over a seat or listen to some obnoxious person yelling into their cell phone right next to you.
Well, after sampling all of the OneWorld first class lounges mentioned above, my conclusion is that OneWorld first class lounges are, on the whole, really, really nice business class lounges, though don't feel all that "first class."
Cathay Pacific has two very nice first class lounges in Hong Kong, for example. There's plenty of seating, the alcohol selection is good, and they have a small restaurant area. It's almost always full, though, so you're often sharing seating areas with others.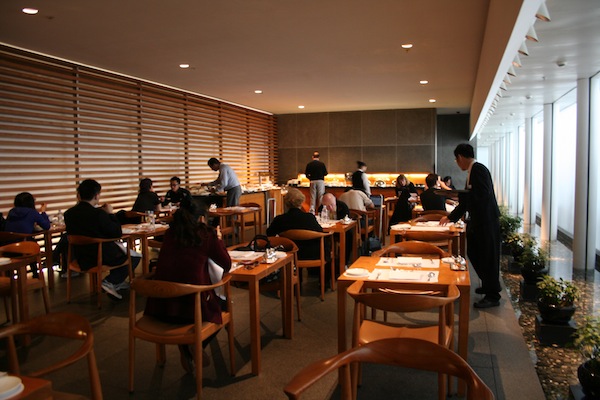 I've found the same to be true in the Japan Airlines first class lounge in Tokyo, where the lounge can be absolutely packed in the afternoon. The nicest feature is that you get a 10 minute massage on a space available basis, though it's more a teaser than anything else.
The biggest disappointment for me was the British Airways first class lounge in London, especially the new one in Terminal 5. In theory it's British Airways' flagship lounge, though it really is just of business class quality, and a mediocre one at that. It's packed, the food selection is limited to chips and cookies (there is a small menu, though I couldn't find a single waiter willing to take my order), and there's just nothing special about it. I've found the same to be true at just about all the British Airways lounges I've visited. In San Francisco, for example, the Terraces (business class) lounge is probably nicer than the first class lounge. The only difference between the two lounges is that there's a door separating the first class lounge from the rest of the lounge.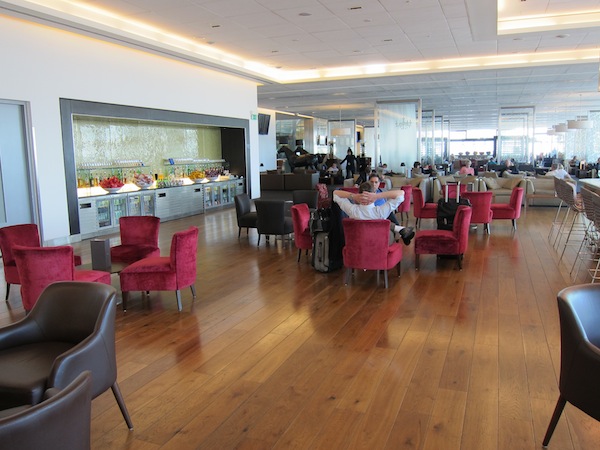 In a way, though, British Airways has countered the "problem" of having too many people with first class lounge access – they limit access to the Concorde Room to those flying first class. It's an easy (though debatably disingenuous) move that's prompted out of the necessity to offer first class passengers a better experience than you offer your top tier elites. After all, it's only reasonable that someone paying $15,000 for a first class ticket gets a better ground experience than a top tier elite paying $50 for a ticket from London to Frankfurt.
Just a couple of days ago I was at the American Airlines Flagship Lounge in London. If it weren't for the sign on the door, I wouldn't have known it was a first class lounge – it was packed, the food selection was mediocre, and it was loud.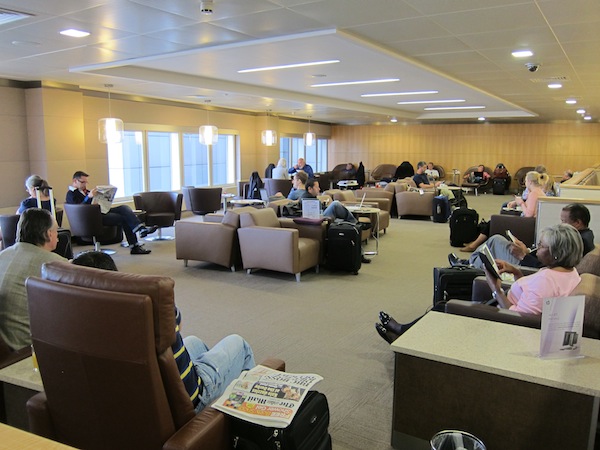 The one exception to the above is the Qantas first class lounge in Melbourne, which I found to be phenomenal. It featured a full service restaurant and spa, where even those entering on account of their elite status can get a complimentary 30 minute back massage or facial. It was also fairly quiet, but that was probably just a function of there not being all that many Emerald members that day.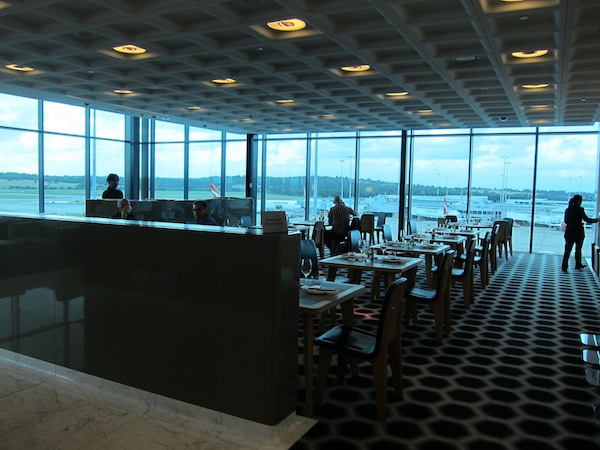 You can compare that to Star Alliance first class lounges, which also range in quality substantially. On one end of the spectrum you have Lufthansa's first class terminal in Frankfurt and Thai Airways' first class lounge and spa in Bangkok. The Lufthansa first class terminal features a full service restaurant, bar, day rooms, shower rooms, etc., and passengers get driven to their flights in a Mercedes or Porsche.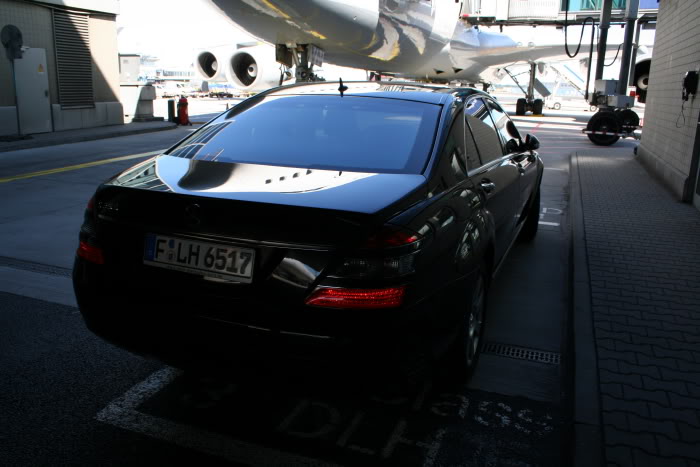 Along the same lines, Thai Airways picks up first class passengers at their connecting flights and drives them to the first class lounge. Their first class passengers get what amounts to a semi-private living room with butler, and receive a complimentary hour-long full body massage.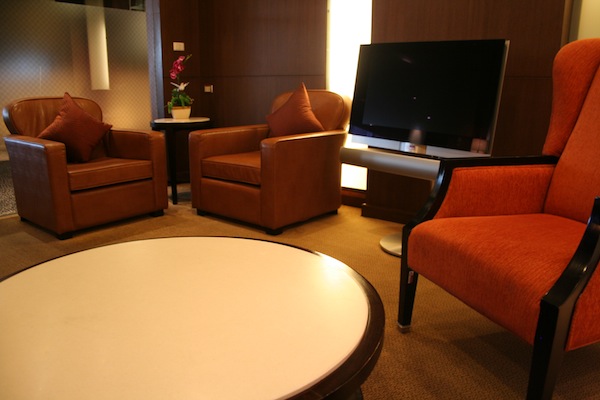 Not all Star Alliance first class lounges are quite as extravagant though. The ANA first class lounge in Tokyo and Asiana first class lounge in Seoul, for example, are two perfectly nice lounges, though nothing spectacular. What differentiates them though from their OneWorld counterparts is that they're never packed, so you have a bit of "personal" space and can relax, instead of having to fight with others over seats, food at the buffet, etc.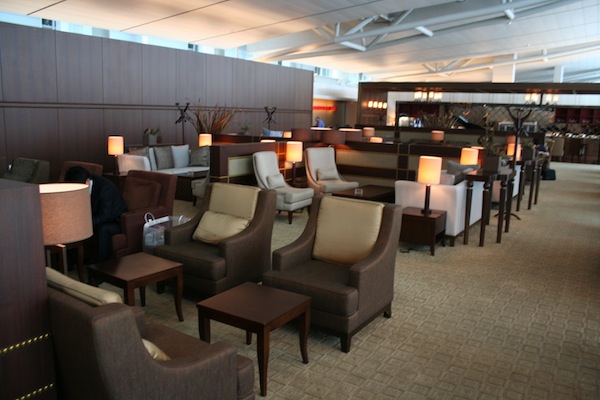 So at the end of the day the difference isn't drastic between the two alliances. I'd say that OneWorld Emeralds have a great benefit in being able to access first class lounges, because at worst, they're on average equivalent to top business class lounges (or mediocre first class lounges). It's definitely a nice perk and competitive advance. To a large extent it's great because I feel less of a need to redeem miles for first class. If I can fly business class and still access the first class lounges, it's one small thing bringing the two products closer together.
At the same time, if you're actually flying in first class, I'd say generally Star Alliance offers better lounges, not just because they have some truly impressive lounges, but because they're just quieter and more "exclusive." Read more on my picks for the Airines with the Best First Class Ground Services.
Star Alliance

OneWorld

Top Tier International Lounge Access

Business Class Lounges

First Class Lounges

Best First Class Lounges

Lufthansa First Class Terminal, Frankfurt

Thai Airways First Class Lounge and Spa, Bangkok

Qantas First Class Lounge, Melbourne

Worst First Class Lounges

UA First Class Lounges

BA First Class Lounges

AA First Class Lounge, London
Need Award Booking Help? Our fee is as low as $75 per ticket if you book your hotel through us.
If you enjoyed this, join 200,000+ readers: please follow TravelSort on Twitter or like us on Facebook to be alerted to new posts.
Become a TravelSort Client and Book Your Hotel with Virtuoso or Four Seasons Preferred VIP Amenities!