Nowadays it's pretty easy to feel as if your "reward" tickets aren't much of a reward anymore, when you're hit with phone ticketing fees, processing fees, close-in ticketing fees, etc.
While ticketing fees in and of themselves probably won't affect whether or not you book an award, it can be useful to know the different fees, and also when it's possible to avoid them. So let's compare the award ticketing fees of several major airlines, and also how to avoid them:
Aeroplan (Air Canada's Frequent Flyer Program)
Aeroplan has a pretty good online booking tool, so most Star Alliance awards can be booked online, where there are no ticketing fees.
However, if an itinerary is complicated, such as having two stopovers (a great value for business class to Europe, covered in The 10 Best Value Premium Cabin Award Tickets), or traveling from the US to Asia via Europe, etc., bookings need to be made by phone where a $30CAD phone ticketing fee applies.
Aeroplan's agents are among the most competent out there (See Comparing Airline Call Centers When it Comes to Award Bookings), so I don't for a second mind paying that, since they don't waste my time. It's also worth noting that Aeroplan doesn't charge any close-in ticketing fees, so you won't be charged an extra fee for booking close to departure.
Alaska Airlines
Alaska charges a $15 ticketing fee per award reservation booked by phone. Furthermore, there's a $25 partner award fee for redemptions that involve one of their airline partner airlines, be it on their website or over the phone.
Alaska does waive the phone ticketing fee for their MVP Gold and MVP Gold 75K members (middle and top tier status). However, everyone has to pay the partner award fee if traveling on one of their partner airlines.
Alaska doesn't have any close-in ticketing fees.
American Airlines
American's website only lets you book awards for travel on American through their website, which is the only way to avoid the phone booking fee.
If you're booking an award on a OneWorld partner or a complicated ticket on American, you have to pay the phone ticketing fee of $25 per ticket. Furthermore, American charges a close-in ticketing fee of $75 if you redeem your miles for travel within 21 days of the travel date.
It's worth noting that Executive Platinum members are exempt from the phone ticketing fee, while all AAdvantage elite members are exempt from the close-in ticketing fee.

British Airways
British Airways' website is fairly useful for booking award tickets. The website will let you book tickets for travel on British Airways without problems, even if you're including a stopover in London. They'll also let you book travel on most of their OneWorld partners on the website, though not if you want a stopover anywhere other than London or an open jaw.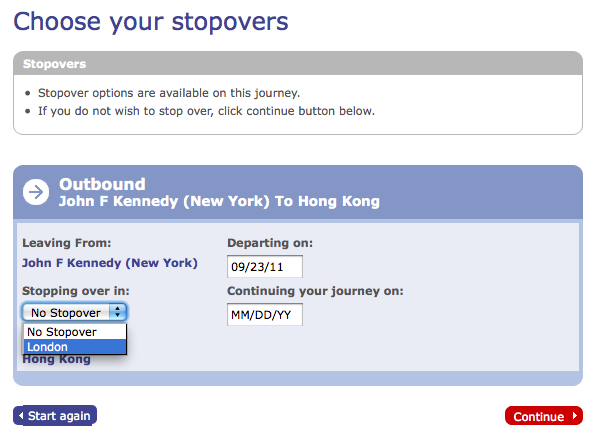 While British Airways doesn't charge a close-in ticketing fee, they do charge a phone ticketing fee of $20, though it's very easy to have them waive it. If a booking can't be made online the agents are supposed to waive the fee. This includes things like wanting a stopover, getting an error message on the website, wanting to book an open jaw ticket, etc. The thing is, agents often won't proactively offer to waive the phone ticketing fee, so I usually employ a two-part strategy.
First, right when I get on the phone I say (for example) "I was trying to book an award ticket for travel on Cathay Pacific online, but the website isn't letting me have a stopover. Do you know if there's a way to get a stopover in Hong Kong online?" They'll almost always respond "oh, that's not possible online, though I can help you by phone" to which I respond "okay, great." Then when it comes time to pay, they'll usually proactively say "since you weren't able to book this online I've waived the phone ticketing fee." If they don't automatically say that I'll usually ask "and is there a ticketing fee in there?" If they say "yes," I just say "well isn't that waived because I wasn't able to make the booking on ba.com?
Almost always they'll immediately say "of course, sorry about that," though sometimes they'll pretend like it's more difficult, by saying "let me check with a supervisor." Still, they're supposed to waive the phone ticketing fee, and I've yet to ever pay it. Unfortunately I haven't heard of anyone being able to have the phone ticketing fee refunded after the time of booking, if you're just now realizing that you paid it.
Continental/United Airlines
Continental and United both charge a $25 per passenger phone ticketing fee. While United's website only lets you book select partners through their website, Continental's website is very thorough. However, if the routing is complicated or you're flying an airline that they don't display online (like Swiss), you're probably best off calling.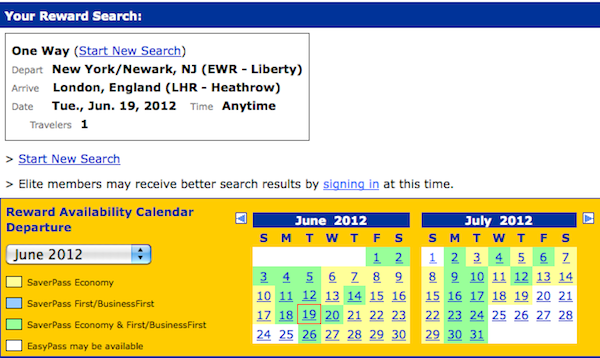 So while there's no way around the phone ticketing fee, what I'll first try to do is book the itinerary online, because often times it actually all works out on the website, even when I don't expect it.
Both airlines also charge close-in ticketing fees of $75 for travel booked within 21 days of departure.
It's worth noting that the phone ticketing fees and close-in ticketing fees are waived for top tier elites (Platinum and 1K members). The close-in ticketing fee is also reduced to $25 for Gold/Premier Executive members and $50 for Silver/Premier members.
Delta Airlines
Delta has one of my favorite phone ticketing fee policies, and I'm guessing more people end up unnecessarily paying phone ticketing fees with them than with any other airline.
They charge a $25 phone ticketing fee for tickets purchased over the phone. The key word there is purchased, as opposed to held. This means you can call SkyMiles and have them hold a ticket for you (just say you're not quite ready to ticket yet but want to secure the space), and once they give you a confirmation number just go to Delta's website and ticket the reservation yourself. Just enter the confirmation number on Delta's website which brings up the itinerary, which should display a "Redeem Now" button. Once you click it you'll be prompted to log-in to your Delta SkyMiles account, where you'll be able to ticket the reservation.

Many of Delta's airline partners can't be booked on Delta's website, so if you hold an award for travel on one of Delta's partners by phone and the website gives you an issue when trying to ticket there, call web support. They'll waive the booking fee.
So no one should ever be paying phone ticketing fees for awards booked on Delta.
Phone ticketing fees on awards are waived for Diamond, Platinum, and Gold members regardless of the situation, however.
Delta does not charge close-in ticketing fees.
US Airways

US Airways is another funny airline when it comes to award ticketing fees. They only let you book awards for travel on US Airways through their website, so they waive the phone booking fee for Star Alliance award reservations made by phone (the fees are usually $30 for a domestic/Canada itinerary and $40 for an international itinerary).
That being said, they instead hit you with a "Dividend Miles Processing Fee," which is $25 for a Continental US/Alaska/Canada award, $35 for a Latin America/Caribbean award, and $50 for all other awards. So essentially you're thinking they're nice when they offer to waive the booking fee, but instead you pay for another fee, which serves the same purpose.
It's worth noting that agents often won't automatically waive the phone booking fee. So when you're given the total cost of the award, ask for a breakdown of the taxes and fees. Expect to have a Dividend Miles processing fee in there, though if there's a phone booking fee in there, ask to have it waived.
US Airways also charges a close-in ticketing fee of $75 for travel booked within 14 days of departure.
The close-in ticketing fee is waived for Chairmans Preferred members, though the processing fee is not.
While I hate being nickel-and-dimed, at the end of the day I can live with award booking fees, given that they can get me $20,000+ international first class tickets for pennies on the dollar. That being said, I won't pay them when I don't have to!
Airline

Award Ticketing Fees

How to Avoid Them

Aeroplan (Air Canada)

$30 CAD for phone ticketing (needed for 2 stopovers, complex awards)

Not waived, even for elites

Alaska

$15 fee for phone ticketing

$25 fee for awards booked on partner airlines

MVP Gold/MVP Gold 75K members are exempt

Not waived, even for elites

American

$25 fee for phone ticketing

$75 for travel booked within 21 days of departure

Executive Platinum members are exempt

All AAdvantage elite members are exempt

British Airways

$20 fee for phone ticketing (needed for stopovers on Oneworld partners, open jaw itineraries)

Ask if phone ticketing fee was included, and if so, request waiver as ticket isn't bookable on the BA Web site

Continental/United

$25 fee for phone ticketing

$75 for travel booked within 21 days of departure

Waived for Platinum and 1K members

Waived for Platinum and 1K members

Reduced to $25 for Gold/Premier Executive members

Reduced to $50 for Silver/Premier members

Delta

$25 fee for phone ticketing (But no charge to hold the ticket)

Waived for Diamond, Platinum, and Gold members

If non-elite, simply have agent hold a ticket and give you the confirmation number; you can then ticket it online for free

US Airways

$30 phone ticketing for U.S./Canada

$40 phone ticketing for international

Dividend Miles Processing Fee:

$25 for Continental US/Alaska/Canada

$35 for Latin America/Caribbean

$50 for all other awards

$75 for travel booked within 14 days of departure

Ask for it to be waived if booking a Star Alliance award (since can't be booked online)

Not waived, even for elites

Waived for Chairmans Preferred members
Related Posts