If you've tried redeeming miles before, chances are that you've been in a situation where you found some great flights with award space, only to take some time to think it over and later find out the award space is no longer there. Along the same lines, maybe you've transferred points from a program like American Express Membership Rewards to a specific airline without holding the award ticket, only to find that the award space disappeared or cost has gone up while you were transferring points.
It's scenarios like these that make it useful to understand under which circumstances you can hold award tickets, so you can be sure you never miss out on a great award ticket again.
So let's compare the policies of various airlines when it comes to holding award tickets.
Aeroplan (Air Canada's Frequent Flyer Program)
Unfortunately Aeroplan doesn't allow holds of any sort on award tickets. It always frustrates me when airlines have this policy, since it can be tough to coordinate flights, hotels, etc., all at once. At the very least the airlines that don't allow holds should let you cancel within 24 hours of making the booking should the rest of your trip not come together.
If you're transferring points from Membership Rewards to Aeroplan and are concerned that the space may disappear in the gap between when you find the availability and when you transfer the points, you can get a bit creative by doing it all at once.
First make sure that your Membership Rewards points are ready to be transferred by linking your Aeroplan account to your Membership Rewards account correctly. Instead of transferring the points immediately, call up Aeroplan and explain to the agent that you want to initiate the booking process and are ready to transfer points at a moment's notice.
They should be able to start with the ticketing process by locking in availability, adding your name to the ticket, etc. When that's confirmed just go to your Membership Rewards account and take care of the actual transfer, as the points will post instantly. I have found most Aeroplan agents to be more than happy to cooperate with this method, and it's a way to avoid having miles in an account that you can't use due to a sudden availability change.
Alaska Airlines
As of last year,Alaskano longer allows holds on award tickets. That being said, they allow you to redeposit awards for 24 hours at no additional cost, and allow you to make one free change within 72 hours at no additional cost.
American Airlines
American has the most generous award hold policy of any airline I know, allowing award tickets to be held for five days (through midnight the fifth day), as long as you're holding the space at least two weeks before departure. Within two weeks of departure you can only hold award space for one day.

American doesn't let you hold award tickets for travel on their OneWorld partners through their website, so you have to call their reservations department to do so. If you want to hold a ticket for travel on an American flight, you can do so via the website.
British Airways
British Airways has exactly the same policy as Aeroplan. They don't allow holds on award tickets of any sort. Therefore if you're transferring points from another program you're best off calling British Airways and starting the ticketing process, and once they're ready to process the payment just transfer the points.
Continental/United Airlines
While Continental and United have streamlined a lot of their award policies, the way their ticket holds work are slightly different. United lets you hold award tickets for 72 hours by phone without asking any questions, while Continental only lets you hold tickets for three days (through midnight the third day) if you don't have enough miles in your account to redeem for the award.
On the surface that's annoying, though it's very easy to get around. For the time being you can transfer miles freely between your Continental and United account. If you have enough miles in your Continental account for an award ticket but want to hold it, you can simply transfer enough miles to your United account so that you no longer have enough miles for the award in your Continental account. The other option is to hold the ticket with a OnePass account that doesn't have enough miles, and then later switch the OnePass number on file from which you want the miles to be pulled.
The other workaround is to just outright book the award ticket through United since you can transfer miles freely between the two programs, though I far prefer dealing with Continental for making award bookings since they have a system which auto-prices award tickets, meaning there's less of a chance of having an agent make up rules.
Continental also lets you hold award reservations online when you don't have enough miles, though a credit card number is required to do so, which scares a lot of people.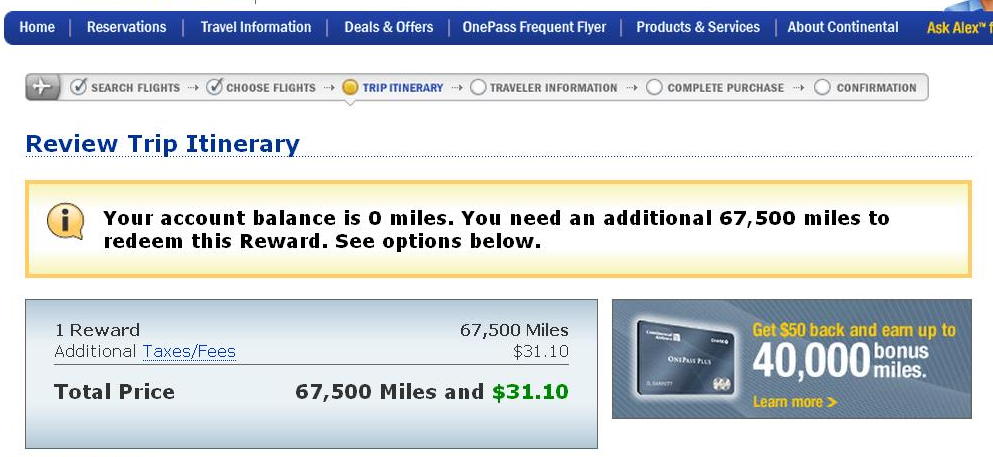 Delta Airlines
Delta makes it easy to hold award tickets, at least on the surface. You can hold award tickets on delta.com for up to two days (through midnight the second day). Just pretend like you're making a booking, and on the last page you'll be given the option of purchasing the ticket immediately or holding the itinerary. Once you hold the itinerary you'll receive an email confirmation reflecting the hold.

But there's one issue – their holds are incredibly unreliable. If you want to make a change to a ticket hold and call reservations to do so your hold might just be reduced by a day without you knowing. So be sure to confirm the hold time, and even then, I always recommend checking Delta's website shortly after midnight to make sure the ticket is still on hold. If it isn't, chances are that the award space went back into award inventory and you can rehold the ticket.
US Airways
US Airways allows three day courtesy holds (through midnight the third day) no questions asked. They don't even require you to have enough miles in your account for the award, so you could literally hold a ticket, then buy miles, and then ticket the reservation, which is a risk-free strategy.
Hold Myth #1: You can usually extend your hold
While we're on the subject, I wanted to clarify two other things that I often get questions about related to the same subject.
The first question is related to the extension of holds. For a variety of reasons people may want an extension on their ticket hold, and often ask me whether it's possible. When a partner airline is involved (for example, if you're booking a United award ticket for travel on Lufthansa) the airline isn't actually able to extend the hold period, because after the specified hold period the airline that operates the flight takes back their award seat. So even if an agent offers to hold a ticket for longer, chances are that the individual segments will just disappear from the held reservation.
That being said, if your flight is on the airline through which you would be ticketing, they technically can extend the hold. That's not to say they will or should, but it's something they're actually able to do. I find Delta to be fairly good about extending holds for travel on their flights, though haven't had the same luck with most other airlines.
Hold Myth #2: Award space always goes back into inventory
Another related question is whether award space goes back into inventory when you cancel an award ticket hold. In other words, if you needed a hold of more than three days, could you hold the award space for three days and then exactly at midnight (when the hold expires) call back to rehold the itinerary? The short answer is "sometimes."
Airline inventory management is very complicated. It's quite possible that airlines may adjust the number of award seats they want to release, they just sold several seats, or they're not feeling especially generous. When that happens the award space that you were holding may very well not go back into inventory. So while I'd say 90% of the time it does go back into inventory, it's no guarantee. Also, the further from the departure date you are, the better the chances of the award space going back into award inventory.
Hopefully this will save a few people from mistakenly transferring miles only to find out inventory has changed. Always hold those tickets when you can and don't leave anything to chance!
Enter to Win a Stay at a 5-Star NYC Hotel Suite with Central Park Views!
Airline

Hold Policy

Contact

Aeroplan / AirCanada

No holds allowed
Tip: start ticketing process to lock in availability, then transfer MR

(800) 361-5373

Alaska Airlines

No holds allowed
May redeposit awards within 24 hours at no cost

(800) 307-6912

American Airlines

Awards may be held 5 days if at least 2 weeks prior to departure date
May hold for 24 hours if within 2 weeks of departure date
Can hold ticket only via website if traveling on American

(800) 882-8880

British Airways

No holds allowed
Tip: start ticketing process to lock in availability, then transfer MR

(800) 452-1201

Continental Airlines

May only hold for 3 days if you don't have enough miles in your account
Tip 1: Transfer miles to United and hold via United
Tip 2: transfer miles to your United account
Tip 3: Hold the award with a OnePass account that doesn't have enough miles, then later switch the OnePass account #

(800) 344-1411

Delta Airlines

Can hold up to 2 days using Web site
Tip: Delta holds very unreliable: always double check after midnight to see if still on hold, and confirm remaining hold time if you call Reservations to make a change

(800) 323-2323

United Airlines

May hold for 72 hours if you don't have enough miles in your account
Tip: Continental autoprices awards, so you may want to use Continental for award booking as you're less likely to have an issue with an agent mispricing an award

(800) 864-8331

US Airways

Can hold up to 3 days
Tip: Put award on hold before buying US Airways miles during one of their bonus miles promotions

(800) 428-4322
If you enjoyed this, please follow TravelSort on Twitter, like us on Facebook or become a Member to be alerted to new posts.