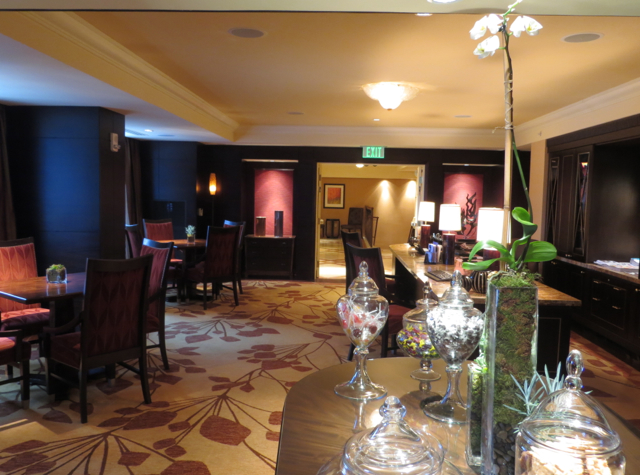 This Club Lounge at the Ritz-Carlton Denver review is part of a Denver trip report. For the prior posts, see:
Hyatt House Denver Airport Hotel Review
Ritz-Carlton Denver Hotel Review
Ritz-Carlton Denver Club Lounge Rules
Ritz-Carlton Club Level rooms are quoted for single or double occupancy, although children under 13 sharing a room with parents are complimentary. The Ritz-Carlton Web site notes that third and fourth guests over 12 years old are charged $50 per person per night, although the letter I received when checking in stated that a $100 fee per person per day fee would be charged starting with a third guest in the room, as well as for additional guests not staying at the hotel. Since a few other Ritz-Carlton Club Room rules that I checked noted a $100 per extra person fee, I assume that is the correct fee and the Ritz-Carlton Denver Web site simply hasn't yet been updated.
Ritz-Carlton Denver Club Lounge Food and Beverage Presentations
It used to be that the Ritz-Carlton Club Lounge's five food and beverage presentations were breakfast, mid-day snack, afternoon tea, evening hors d'oeuvres and candies and cordials. At least at Denver, there's no afternoon tea, but instead something billed as "Afternoon Snack" although we never experienced it as we were always out and about in Denver during this time. The timing of the presentations is as follows:
Continental Breakfast: 7am – 10am
Mid-day Snack: 12pm – 2pm
Afternoon Snack: 2pm – 4pm
Evening Hors d'Oeuvres: 5pm – 8pm
Candies and Cordials: 8:15pm-10pm
Continental Breakfast, Ritz-Carlton Denver Club Lounge
Breakfast is often my favorite meal of the day, and while the Ritz-Carlton Club Lounge breakfast is billed as "continental breakfast" it offered a very good selection of smoked salmon, fresh fruit and berries (no raspberries though, unfortunately), cheeses and cold cuts, plain Greek yogurt and a yogurt parfait, a hot egg dish as well as soft boiled eggs, and juices. The main area I thought was lackluster was the selection of breads and pastries. Although I love excellent pastries, none of them looked good enough to waste calories on.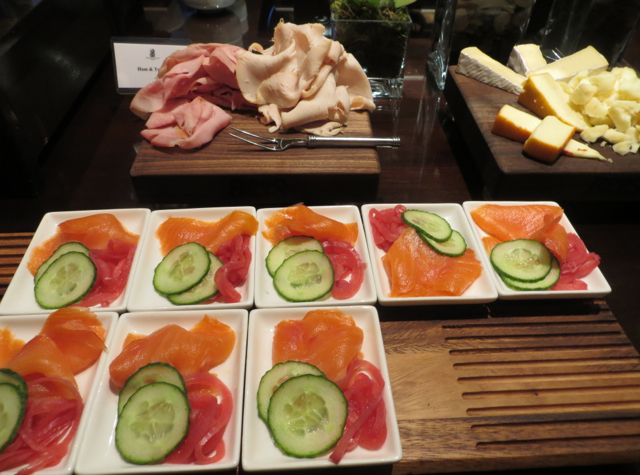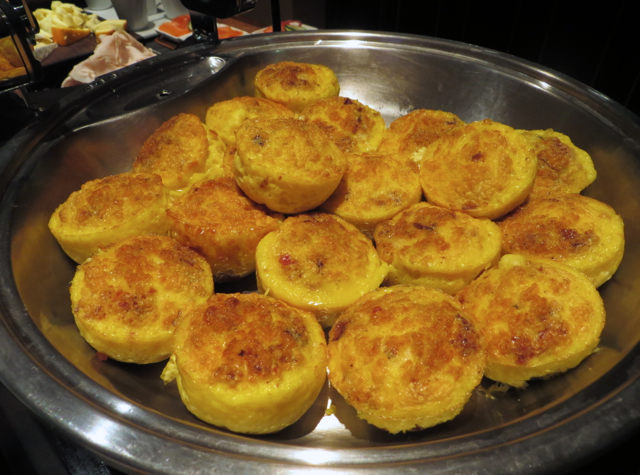 Mid-day Snack, Ritz-Carlton Denver Club Lounge
The mid-day snack is a light lunch offering consisting of two types of sandwiches, salad, a hot soup of the day, crudites, cheeses and crackers, and the cookies and whole fresh fruit that are always on offer (apples, oranges, bananas). It's perfect as a light bite, although I recommend that you not miss breakfast as there are more selections then.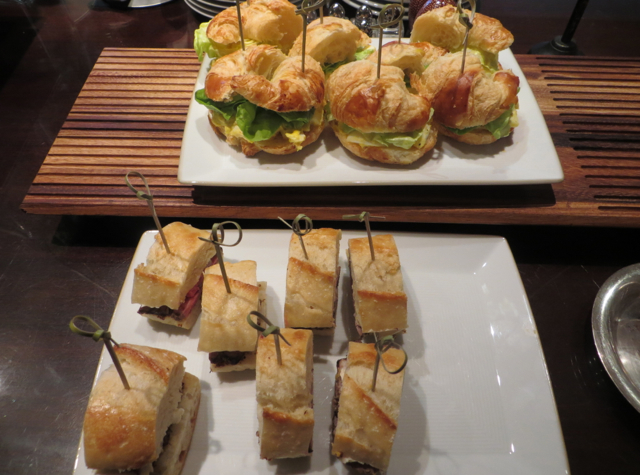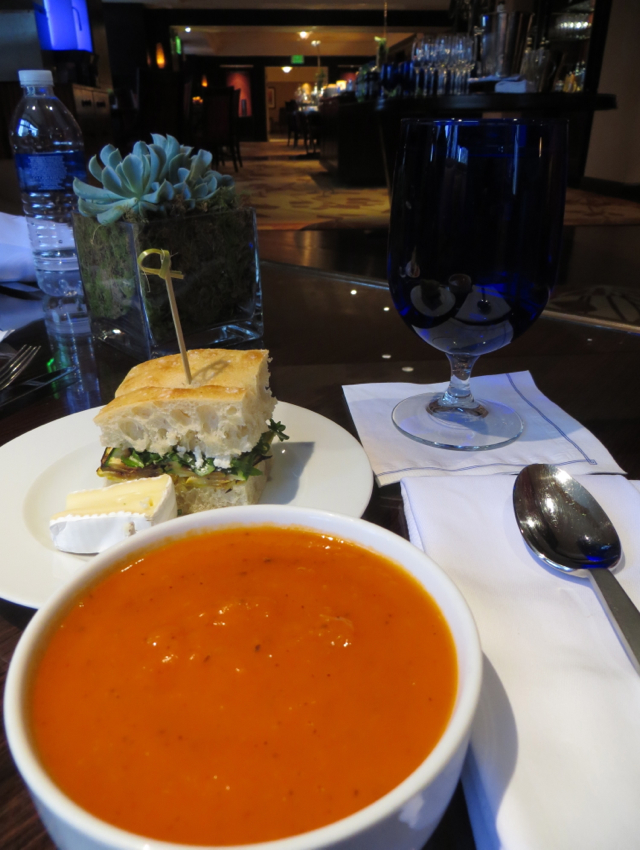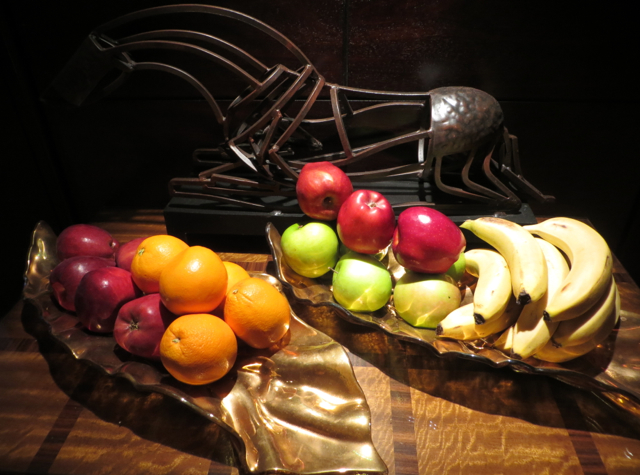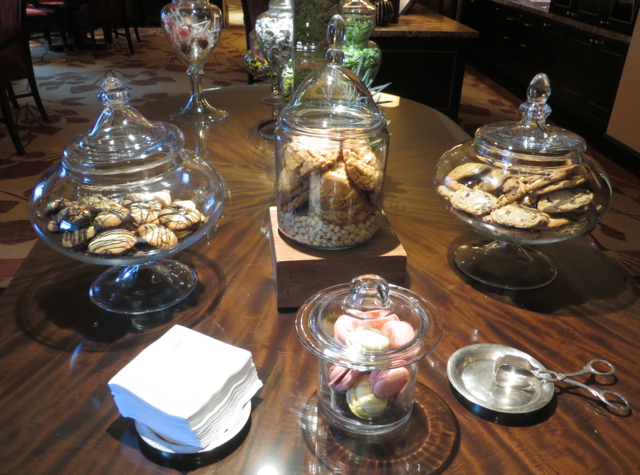 Evening Hors d'Oeuvres, Ritz-Carlton Denver Club Lounge
Evening hors d'oeuvres included similar crudites, crackers and hummus as the mid-day snack, but offered a hot appetizer instead of the soup and a couple types of cold appetizers. One of our evenings the cold appetizers were gazpacho in shot glasses and poached tuna, while the other evening, which happened to be the Super Bowl, there were bites of steak with blue cheese crumbles and buffalo chicken wraps. The hot appetizer one night were mini quiches, and the other night were savory phyllo pastries.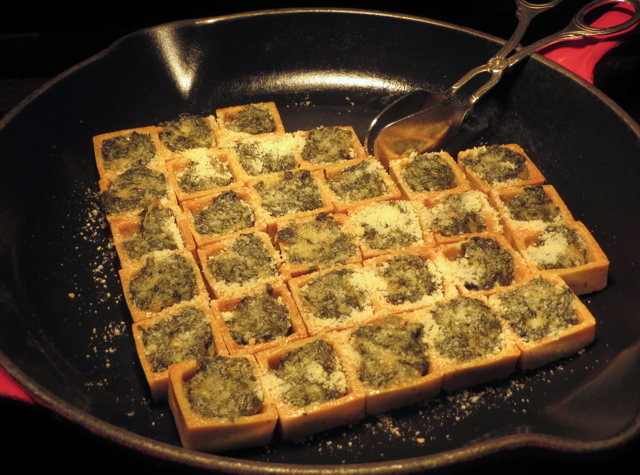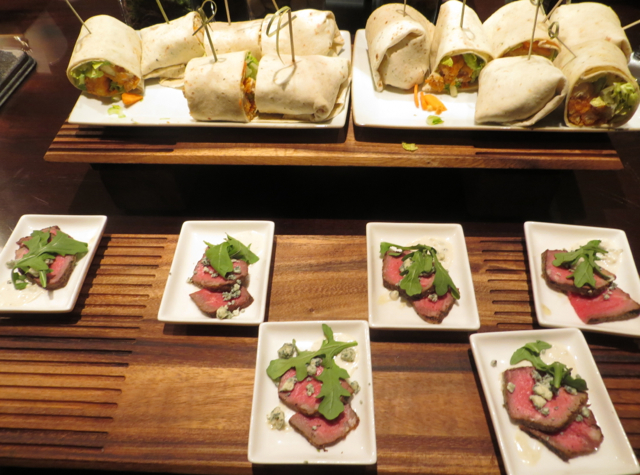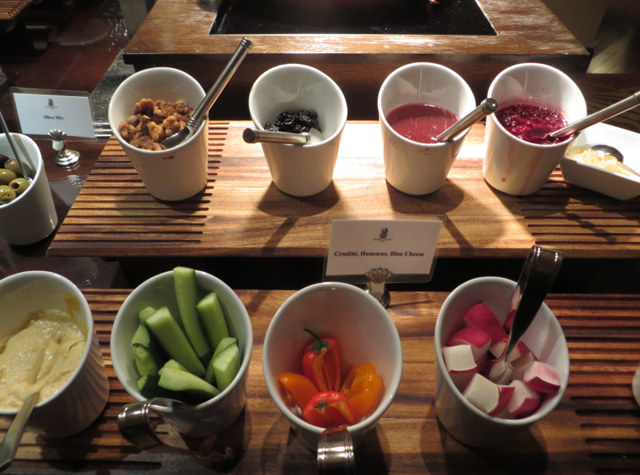 Candies and Cordials, Ritz-Carlton Denver Club Lounge
Candies and cordials were something of a disappointment, as so few were served that you needed to be there soon after 8:15pm for there to still be a selection. This layered chocolate dessert was decent, although not particularly memorable: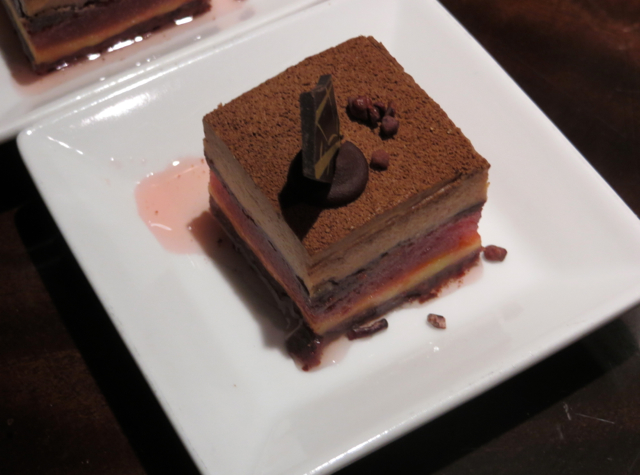 And the candies were nothing to write home about: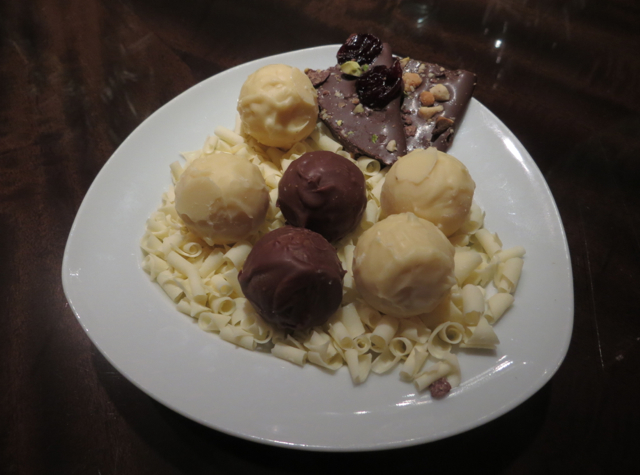 The all day cookies, such as these macarons, were as good or better than this food and beverage presentation, so I wouldn't go out of your way to come back for Candies and Cordials.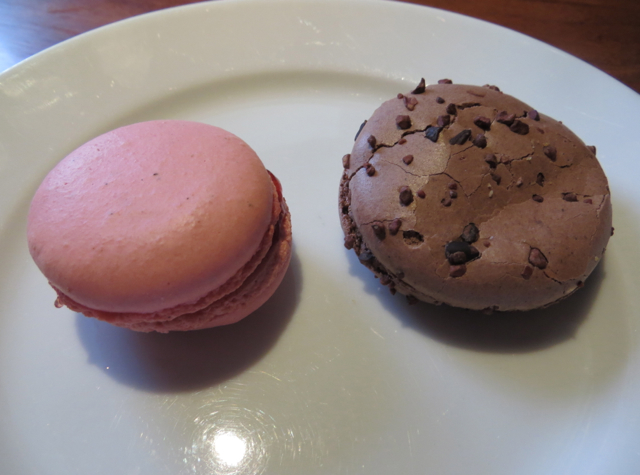 The Verdict
While not as lavish as some other Ritz-Carlton Club Lounges that I've experienced in the past, let alone the excellent Four Seasons Executive Club Lounge (one of my all time favorites) the Ritz-Carlton Denver Club Lounge met our needs well. It was incredibly convenient, traveling with a kid who nearly always seems to be hungry, to be able to have a quick bite of something fresh to eat, and have it all included in our room rate.
The offerings I would most love to see upgraded are the juices, which I wish were fresh squeezed, the espresso drinks (which at least from this machine I'd say were mediocre) and the teas (which instead of Tazo, would be nice to upgrade to Mighty Leaf or Mariage Freres).
Disclosure: I booked my stay with a travel professional rate.
If you've stayed on the Club Level and visited the Club Lounge at the Ritz-Carlton Denver what was your experience?
Related Posts
Ritz-Carlton Denver Hotel Review
Best Ritz-Carlton Third Night Free, Fourth Night Free Offers
Ritz-Carlton Rewards Card: 70,000 Points and $200 Gift Card: Worth It?
Four Seasons Denver Hotel Review
Need Award Booking Help? Our fee is as low as $75 per ticket if you book your hotel through us.
If you enjoyed this, join 90,000+ readers: please follow TravelSort on Twitter or like us on Facebook to be alerted to new posts.
Become a TravelSort Client and Book 5-Star Hotels with Virtuoso or Four Seasons Preferred Partner Amenities!