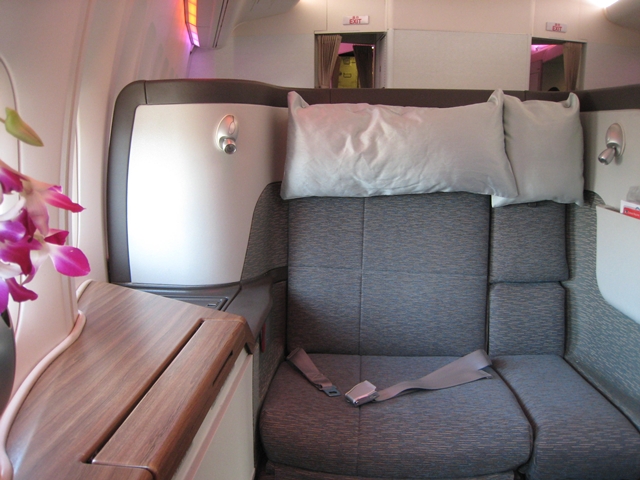 About a year ago, Citi AAdvantage Platinum Select credit cards introduced several new benefits, including earning 10% of your redeemed AAdvantage miles back from award bookings – a 10% award refund or rebate, if you will.
Even though the limit is 10,000 AAdvantage miles per year per person, I love this benefit, since it has the effect of bringing a one way Cathay Pacific First Class award down to 60,750 AAdvantage miles (usually 67,500 AA miles). Cathay First Class tickets from the U.S. to Hong Kong can easily run over $26,000 roundtrip, or $13,000 one way, so getting one way in First Class for 60,750 miles is akin to a nominal value of 21.3 cents per mile! Now, of course, your personal valuation is likely going to be quite a bit lower, but it's still an incredible value.
Getting back to the Citi AAdvantage 10% award rebate: while this benefit has been around for awhile now, I still get questions about which cards it applies to, how it works, when the refund appears, etc. So here's a quick FAQ that I hope will be helpful if you haven't used this benefit of your Citi personal cards.
Which Citi AAdvantage Cards Are Eligible for the 10% Award Rebate?
You'll receive the 10% award rebate if you hold the:
Citi Platinum Select AAdvantage Visa

Citi Platinum Select AAdvantage World MasterCard
The CitiBusiness AAdvantage cards and non-Platinum Select cards do not qualify for this benefit.
Is the 10% Award Rebate Per Card or Per Person?
The 10% award rebate is per person; so even if you happen to have two Citi Platinum Select AAdvantage Visas, you'd still be limited to 10,000 AAdvantage miles max as your mileage refund, per year. Since your spouse or partner and you can each get the refund, make sure you each have a Citi AAdvantage Platinum Select card and that you redeem an award from each of your accounts, so you can BOTH receive the 10% rebate, up to 10,000 AA miles each per year!
What's the Maximum AAdvantage Miles I Can Get Refunded?
The maximum is 10,000 AAdvantage miles per calendar year. So even if you redeemed 200,000 AAdvantage miles from your account, you'd receive an award rebate of 10,000 miles, not 20,000.
Is the 10% Award Rebate Only for American Flights, or Also AA Partner Flights, Hotels, etc.?
The rebate applies to all AAdvantage mile redemptions, including flights on partners such as Cathay Pacific, hotel stays, etc. whether booked on AA.com or by phone.
Do I Have to Pay with the Citi AAdvantage Card to Receive the 10% Award Rebate?
No, you don't have to pay with the Citi AAdvantage card to receive the 10% award rebate. You just need to ensure that you are the primary cardholder for the Citi Platinum Select AAdvantage card and that the card is linked to your AAdvantage account.
How Soon Will I See the 10% Award Rebate in My AAdvantage Account?
Although the Citi AAdvantage card terms state "please allow 6-8 weeks after your redemption for the American AAdvantage bonus miles to post…" in my experience they're reflected as soon as the award redemption itself appears in you AAdvantage account. This is great, since it makes those saved miles available for further AAdvantage award bookings.
What's your experience earning the 10% award rebate with your Citi AAdvantage Platinum Select card?
Related Posts
Citi AAdvantage Credit Cards: New Rules to Earn 130K AAdvantage Miles
Maximizing Awards Using American AAdvantage Miles
Award Program Info for Citi AAdvantage Platinum Select Visa
Cathay Pacific First Class Review Hong Kong to New York
Need Award Booking Help? Our fee is as low as $75 per ticket if you book your hotel through us.
If you enjoyed this, please follow TravelSort on Twitter or like us on Facebook to be alerted to new posts.
Become a Member to find your perfect luxury or boutique hotel at up to 50% off: TravelSort Hotels