Macy's Santaland is part of a Christmas tradition for many families and even out of town visitors, but I'll confess this was my first time ever visiting it, despite living in NYC for several years now with a young kid. But this is the first year the munchkin has really been talking much about Santa, and there are only a few years when kids truly believe, so I thought about taking him this year, even though I wasn't keen to brave any long lines. Then the horrific tragedy in Connecticut took place, and I grieved for those families, who will likely never be able to view the holidays in the same way again. I also vowed to myself to seek out more of the kinds of experiences my son would enjoy, such as visiting Santa, and take less for granted. Time to prepare for our first Santaland visit.
Thanks to a comment on a MommyPoints post I knew that there was in fact a Macy's Santaland Express Pass available via the Macy's iPhone app. Here are some tips and screenshots to help you find it:
1. After Downloading the Macy's App, Click "Stores"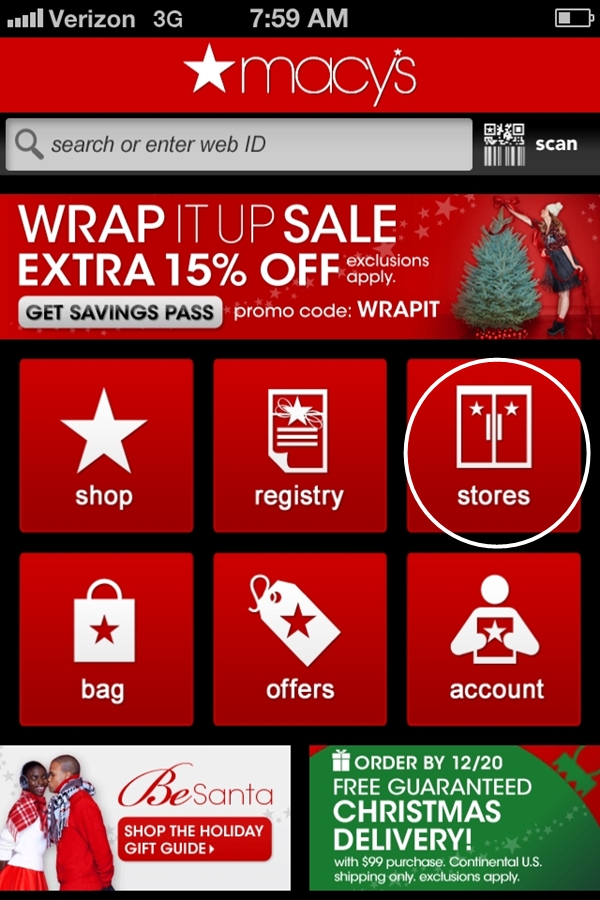 2. Next Click on Macy's Herald Square
Macy's Herald Square is the 34th Street location. Don't worry if the app doesn't respond immediately. It will eventually get you to the next screen, just be patient.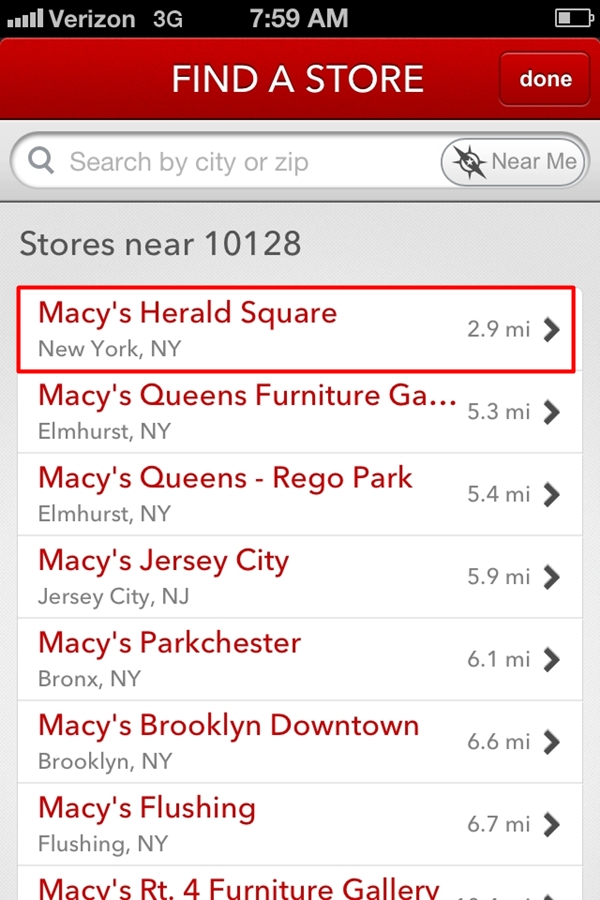 3. Click on the Santaland Banner to Reserve Your Day and Time
You'll be able to scroll through the next few days and see available times and how many passes are available for each time. If you can, try to select an earlier time, as it's less likely you'll encounter delays earlier in the day.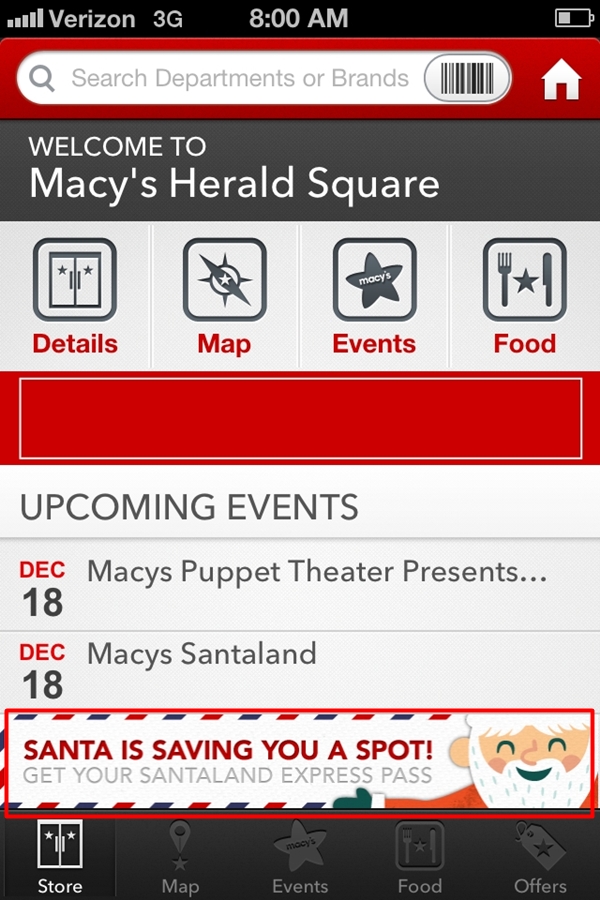 4. View Your Santaland Express Pass Confirmation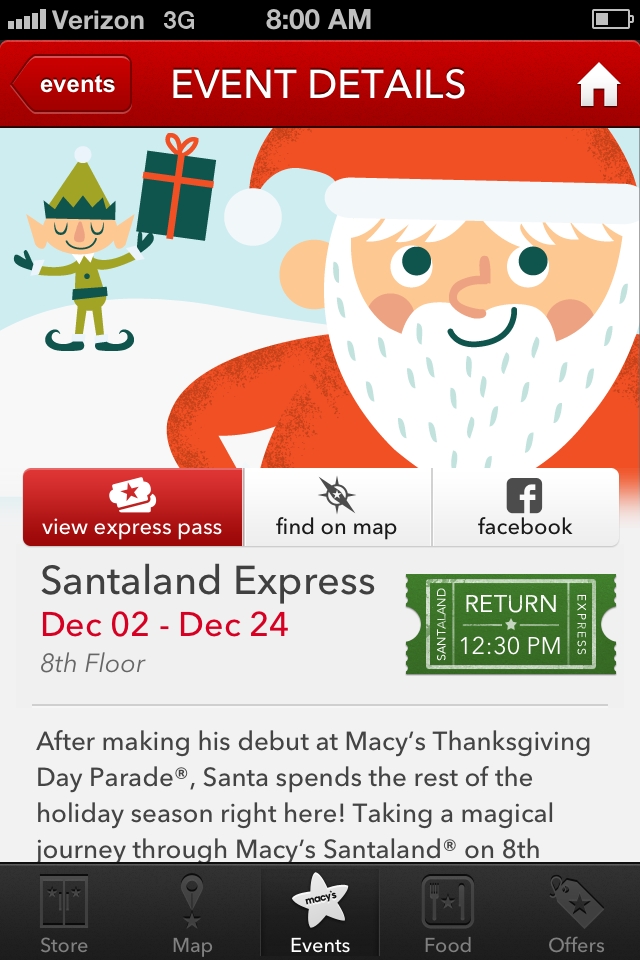 5. Get to Macy's Herald Square
Macy's at Herald Square is at 151 34th Street. You can take the B, D, F, V, N, Q, R, W, 1, 2 or 3 trains to 34th street, or walk a bit from the A, C, E stop at 34th and 8th, or from the 6 stop at 33rd and Park Avenue.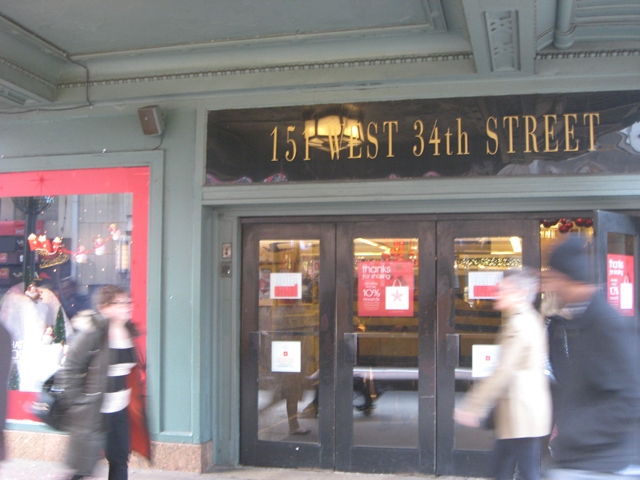 6. Go Meet Santa!
Once you enter the store, take the elevator up to the 8th floor and walk over to the Santaland Express Pass sign on the right, where one of the cheerful elves will check you in on an iPad (Santa's high tech these days!) You don't even need to have your iPhone with you, they'll just confirm your child's first name.
We actually had to wait around 10 minutes because the family ahead of us had many children, but that just served to heighten the anticipation! And the elves couldn't have been nicer, joking around with my son.
Finally, it was our turn, and after some initial shyness, it was all smiles: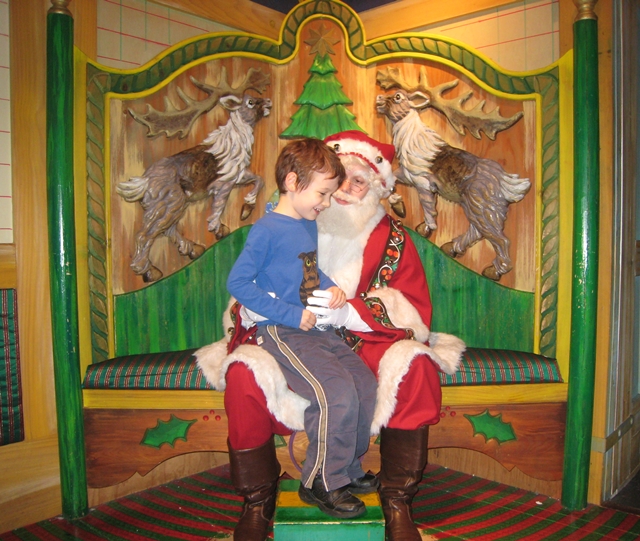 Santa talked to my son not only about what he wanted for Christmas, but about the North Pole and the reindeer, and my son was rapt. I wondered how Santa would answer if my son started asking some of the questions he asks us, such as where exactly Santa lives in the North Pole, how his flying sleigh works, how Santa gets into houses that don't have chimneys, etc. but fortunately the munchkin was too shy or awestruck to ask questions.
You can have them take professional (if pricey) photos for you, or you can simply snap your own, as we did. The cheery elves hand you a cute Santaland button on your way out, which my son wore with pride and showed off to daddy that night over dinner.
Have you visited Santa at Macy's?
Related Posts
Macy's Santaland NYC 2013 with Express Pass
Best Kid-Friendly Luxury Hotels in New York City
Delicious Christmas Desserts and Sweets From Around the World
Tips for First Time Visitors to NYC
Need Award Booking Help? Our fee is as low as $75 per ticket if you book your hotel through us.
If you enjoyed this, join 90,000+ readers: please follow TravelSort on Twitter or like us on Facebook to be alerted to new posts.
Become a TravelSort Client and Book Your Hotel with Virtuoso or Four Seasons Preferred VIP Amenities!