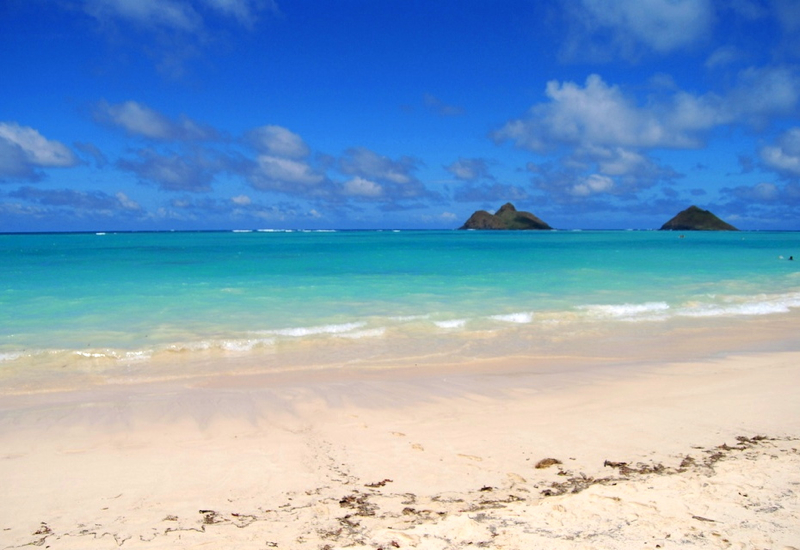 Are Hawaii interisland flights cheaper with miles and points or as paid tickets?
TravelSort reader Dave writes "What are the best and cheapest miles and points options for interisland Hawaii flights? Or should I just buy a paid ticket? My family and I have tickets next summer to HNL and want to visit another island, probably Maui."
Hawaiian Islands
As most of you know, Hawaii is the name for both the island chain and for the largest island, called Hawaii and nicknamed the Big Island. Here's a map of the islands; note that those that you can visit, with their airports for helpful reference are:
Oahu: Airport = Honolulu (HNL)
Maui: Airport = Kahului (OGG)
Kauai: Airport = Lihue (LIH)
Hawaii: Airports = Kona (KOA) and Hilo (ITO)
Molokai: Airport = Ho'olehua (MKK)
Lanai: Airport = Lanai City (LNY);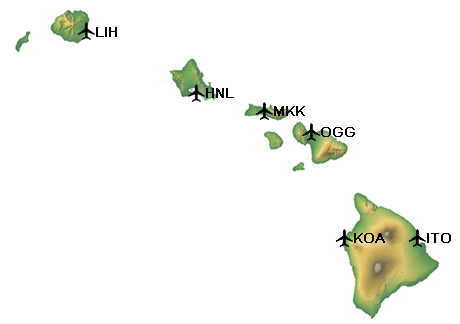 Interisland Flights and Flight Routes
The nonstop flights between islands are ~35-45 minutes.
While there are flights to each of the other islands from Honolulu, not all of the other islands are connected to each other by nonstop flights. So for example, if you want to go to Lanai (LNY), there are flights from Honolulu, but you can't get a nonstop flight there from Kauai (LIH) or Kona, Hawaii (KOA). Many folks would combine it with a trip to Maui, since you can take a ferry between Maui and Lanai.
Hawaii Interisland Flights: Paid Tickets
Given how short the interisland flights are, I'll only discuss economy flights. While it's possible to fly domestic first class on Hawaiian for some routes, unless it's already included as part of your domestic first class award ticket from North America, it's not worth paying or redeeming miles for such a short flight. Here are typical paid costs for these nonstop routes:
HNL-OGG: $65-85 one way
HNL-LIH: $65-85 one way
HNL-KOA: $90-95 one way
HNL-LNY: $70-85 one way
HNL-MKK: $70-75 one way
We'll look at awards using miles and points below, but even if you value each mile at 1.8 cents per mile, that would give you $90 for the 5000 award redemptions, so these redemptions are basically a wash, and not worth using miles and points for if you have a higher value use (say an international first class or business class award) that would get you up to 15 cents in nominal value, and perhaps 4-8 cents in real value, depending on what you would otherwise be willing to pay for the flight.
Because of this, Hawaiian interisland flights can be worth paying for:
1. Meet Minimum Spend
If you need to meet minimum spend, especially with a card that also bonuses travel in some way, such as the AMEX Premier Rewards Gold card (3X for airline spend) or Sapphire Preferred (2X for all travel spend) then buying cheap Hawaii interisland tickets can make more sense than redeeming miles.
2. Earn Miles
If you fly Hawaiian, you can earn Hawaiian miles for interisland flights. For most discounted Hawaiian interisland tickets you can't earn United or American miles. For United, you would have to be flying on a United codeshare *and* be on a United flight from the mainland U.S. to be able to earn United miles. For American, there is no mileage credit if your ticket is in fare class K, L, O, Z, which accounts for most cheap Hawaii interisland tickets you'd be likely to purchase.
Hawaii Interisland Flights: Award Tickets with Frequent Flyer Miles and Points
1. Use an Open Jaw to Eliminate an Interisland Flight, Saving Time and Miles
One of the best options, if you know which island(s) you want to visit, is to book an open jaw so that you fly into one Hawaiian island and out of another. That way you just have to get a one way ticket from the first island to the second island.
For example, you could book a United award flight into Maui (OGG) from LAX, SFO or Denver, and return from Kauai (LIH).
2. United Airlines: 5000 MileagePlus Miles for Hawaiian Airlines or Island Air One Way
While it's possible to pay fewer miles (see Virgin America below) I still think United is a better deal for many folks, who are more likely to have United miles than Virgin America Elevate points, whether from credit card bonuses, flying or bonus spend. It especially makes sense if you have a ton of United miles, given the United devaluation (although the devaluation doesn't affect interisland Hawaii flights) since many international first class awards on partners are becoming so expensive that you're better off using American AAdvantage or other miles, particularly for Asia and the Middle East.
Don't forget that just $1000 in Amazon spend earns 5000 miles with the Chase Freedom this quarter, or anytime with the Ink Bold/Ink Plus (see 5X on all Amazon spend).
I recommend selecting a Hawaiian Air flight if the time works for you; bigger planes and better on-time record vs. Island Air.
3. Virgin America: 3000 Elevate Points for Hawaiian Airlines One Way
If you do happen to have Virgin America Elevate points, this can be a good value redemption if you can find availability for dates and times that work for you. But in my view it's still a pain, since you have to call Virgin America to book (cannot be booked online) and to ask for the $20 per ticket phone booking fee to be waived.
4. Hawaiian Airlines: 7500 or More Hawaiian Miles One Way
Hawaiian interisland awards are more expensive, at 7500, 8500 and up per one way award flight, but the Hawaiian Airlines MasterCard gives you a signup bonus of 35,000 miles, so 2 interisland roundtrips. It's also worth mentioning that Hawaiian offers more award flight options to its own frequent flyer members than to partners, so if you need a very specific time and have Hawaiian miles, it may be the only way for you to get it as an award.
5. American Airlines: 5000 AAdvantage Miles for Hawaiian Airlines One Way
American AAdvantage miles are worth comparatively more, after the United devaluation, so I personally wouldn't use them this way.
6. US Airways: 10,000 Dividend Miles for Hawaiian Airlines Roundtrip
Since US Airways requires roundtrip award travel, if you choose to do a one way you'll be paying the same as for a roundtrip award: 10,000 miles. Not the best award, especially since who knows how much longer the current US Airways award chart with 90,000 business class roundtrip to North Asia will last.
The Verdict: If you have more miles than you know what to do with, by all means redeem some of those miles for Hawaii interisland flights. But don't expect to get great redemption value for Hawaii interisland flight awards. I've personally done a combination of using up spare Hawaiian miles for the odd Hawaiian interisland award and buying cheap tickets using the card I'm working on minimum spend for.
What's your favorite way to get Hawaii interisland tickets?
Related Posts
Best Frequent Flyer Miles for Hawaii Award Tickets
Best Four Seasons Hawaii Offers: Maui Wailea, Hawaii Hualalai, Lanai at Manele Bay, Lodge at Koele
Honeymoon in Hawaii: Which Island and Which Hotels?
Things You Shouldn't Miss in Honolulu, Hawaii
Need Award Booking Help? Our fee is as low as $75 per ticket if you book your hotel through us.
If you enjoyed this, join 100,000+ readers: please follow TravelSort on Twitter or like us on Facebook to be alerted to new posts.
Become a TravelSort Client and Book Your Hotel with Virtuoso or Four Seasons Preferred VIP Amenities!