If you recently received a Chase credit card and discover there's a better bonus offer for the same card, you can often get Chase offer matching for the bonus, by sending Chase a secure message. Here's how it works:
Are You Eligible for Chase Offer Matching?
You must have applied for the Chase card that you're trying to offer match within the past 90 days. Anything over that and you'll be rejected, so don't procrastinate on this.
The offer you're seeking to match must be publicly available. Don't waste your time trying to match someone else's targeted offer, even if you somehow get their offer code, since the offer code is for a specific name.
How to Send Chase a Secure Message
1. Log into your Chase Account
2. Go to the Secure Message Center link in the upper right and select "Send new message" from the drop-down

3. Next to "Credit Card" select "Rewards Inquiry" from the drop-down and click the blue "Go" button.
A new secure message window will open up.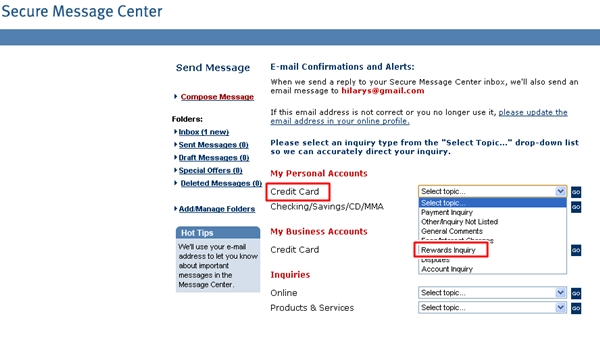 4. Select your account number and topic from the drop-downs, enter your secure message, and click "Send"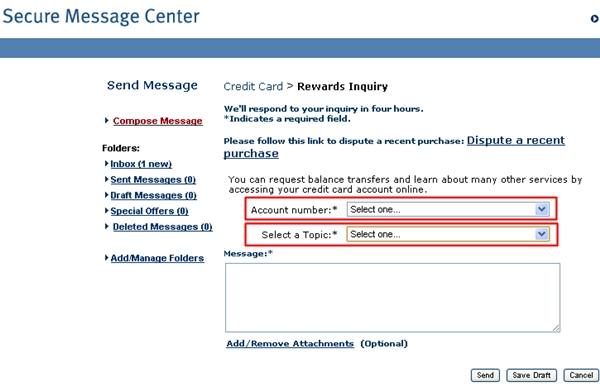 What to Write in Your Chase Secure Message
Even though you selected your account from the drop down, include your card type, the fact that you just received it (or the date you applied for it, if it was some weeks ago but still within the 90 day window), the bonus you will receive, the new offer info, and how long you've been a Chase customer (hopefully several years), including if you have a primary checking account with Chase. Here's an example that you can revise as needed:
Dear Chase Representative,
I applied for a new [Credit Card Name] on [Date] with a sign up bonus of [XX,000] points after spending $[XXXX] within the first [X] months.
Recently, I learned of a new offer for [XX,000] points, available here: [link to the better offer] I would be grateful if you could extend this offer to me as well.
I've been a Chase customer since [date, if several years ago]. My primary checking account and my primary credit card accounts are with Chase, and I hope to continue my banking relationship with Chase for many years to come.
Best regards,
[Your Name]
Current Chase Offer Matching
If you applied for the 20,000 point ($200 cash back) Chase Freedom offer within the past 90 days, you can send a secure message to bump the bonus to 30,000 points, because there is a 30,000 point offer (Update: removed link, since it's no longer available)
If you applied for the 40,000 miles Chase United MileagePlus Explorer card within the past 90 days, you can send a secure message to bump it to the 60,000 offer. Note that only 50,000 miles are easy to get (after first purchase), the other 10,000 miles require spending $25,000 in the calendar year, so this is effectively a 50,000 miles bonus for most people