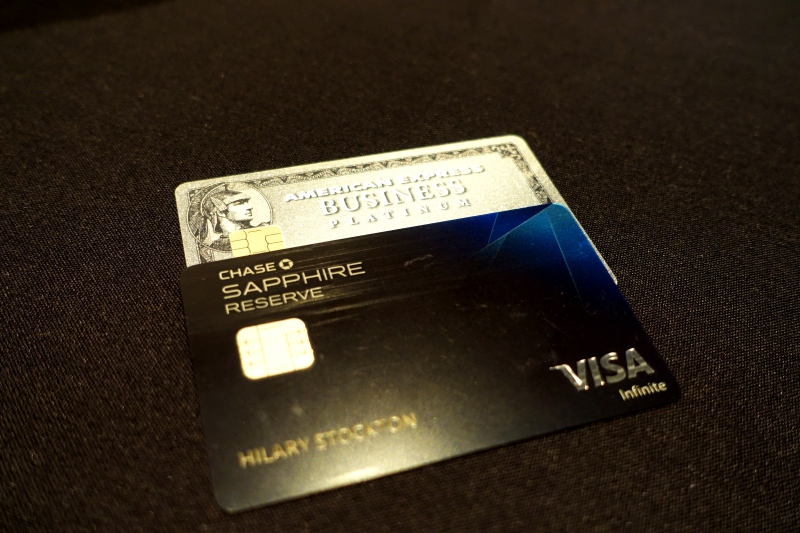 If you have the Chase Sapphire Reserve, should you keep or cancel the AMEX Platinum? TravelSort reader Jeff writes "I recently got the 100K Chase Sapphire Reserve, and am trying to decide whether to keep or cancel my AMEX Platinum card. On the one hand it seems like a lot of money to be paying $900 in annual fees for just those two cards, not to mention a few more credit cards I have. I love though the easy $300 travel statement credit with the Sapphire Reserve, so it's basically a $150 per year card, and I also like that AMEX has added 5X per dollar for airfare. I have my own business and typically spend about $8000 per year on airfare to see clients. Your thoughts?"
It's a great question, and one that many of us with the Chase Sapphire Reserve and an AMEX Platinum or AMEX Business Platinum are weighing or will be, when our cards come up for renewal (note that there are No More Prorated Refunds of AMEX Annual Fee). There is no one size fits all answer, as it really comes down to whether the benefits you get from the card compensate for (and hopefully exceed) the annual fee you pay. Here are the various aspects I recommend focusing on when making your decision:
Annual Fee: How Much of It is Essentially a Cash Rebate?
Both the Chase Sapphire Reserve and the AMEX Platinum have a $450 annual fee, including the first year. The Chase Sapphire Reserve provides a $300 travel statement credit that is rebated back to you on your statement after $300 travel spend, including airfare, hotels, train, taxi, car rental, subway/metro, and even Uber and Lyft. I think it's safe to say that most people (and probably 100% of those reading this site who are eligible for the card) will easily get that $300 statement credit, making it effectively a card with a $150 annual fee.
Things are different for the AMEX Platinum, however, where the $200 airline incidental credit is harder to get value out of:
You must first choose a single U.S. airline that the credit will apply to
It's an incidental credit, so it applies to things such as food and drink purchases (if billed by the airline), checked baggage fees, seat assignment fees, change fees but NOT airfare, mileage purchases, taxes on award tickets, upgrades–you know, the things that would be most useful. While it can be possible to get gift cards reimbursed for certain airlines, it's not an official use of the credit, so you have no recourse if you don't get reimbursed. See Maximizing the AMEX Platinum Fee Credit.
The Upshot: Think of the Chase Sapphire Reserve as $150 per year. The AMEX Platinum annual fee is somewhere between $250-$450, depending on how you value the airline incidental credit.
Earning Category Bonuses
The Chase Sapphire Reserve earns 3X for all travel and dining: airlines, hotels, cruise lines, travel agencies (including TravelSort), car rentals, parking, tolls, trains, ferries, subways, taxis, Uber are included.
The
AMEX Platinum announced 5X on Airlines effective October 6
 for personal AMEX cards, but this benefit applies only to airfare, not to other airline purchases. So that's a 2X premium to the Chase Sapphire Reserve that can make the card worth keeping for those who have high airfare spend.
Let's take the example of Jeff, the reader who asked about keeping his card, who has about $8000 annual spend on airfare. That would give him 40,000 AMEX Membership Rewards points, given the 5X category bonus, or 16,000 more points than the 24,000 Ultimate Rewards point he would earn if he used the Chase Sapphire Reserve.
Everyone values his/her points differently, but let's assume that he values both AMEX Membership Rewards points and Chase Ultimate Rewards points the same, at about 2 cents per point. That would make the 16,000 points premium worth ~$320. That's quite a bit, and means that if his airfare spend remains the same, he just needs to find at least $130 in other value to keep his AMEX Platinum and make it worth the $450 annual fee. Of course, for those who have minimal paid airfare spend or who value their points differently, the outcome will be different.
Lounge Benefit
Probably the area where the AMEX Platinum shines the most, apart from the new 5X on airfare spend, is with the AMEX Centurion Lounges. These are significantly better than most other domestic U.S. airline lounges, although unfortunately just in a handful of airports: NYC LaGuardia LGA, Miami, Dallas, Houston, San Francisco, Las Vegas and Seattle. So the degree to which you derive a meaningful benefit depends on how often you fly through these airports and spend time at a Centurion Lounge.
Both the Chase Sapphire Reserve and AMEX Platinum also come with Priority Pass Select membership, and the
Chase Sapphire Reserve Priority Pass Select lounge access
is more generous, since your accompanying guests enter at no extra charge, whereas the AMEX Platinum Priority Pass Select membership requires you to pay $27 per each guest.
The Upshot: In Jeff's case, I think his $8000 annual airfare spend argues for keeping both the Chase Sapphire Reserve and the AMEX Platinum, especially if he also gets value from the airline incidental credit and the Centurion Lounge benefit. For someone with low airfare spend, it's harder to make the case to keep the AMEX Platinum card beyond the first year, unless they derive significant benefit from the Centurion Lounge access.
Related Posts
100K Chase Sapphire Reserve Card Launched August 21, 2016
Chase Sapphire Reserve: Downgrade the Sapphire Preferred and Other Cards?
How to Get Approved for the 100K Chase Sapphire Reserve If Over 5/24
How to Check If You're Under Chase 5/24 to Qualify for the New Sapphire Reserve
Best Ways to Use 100K Ultimate Rewards Points?
Need Award Booking Help? Our fee is as low as $75 per ticket if you book your hotel through us.
If you enjoyed this, join 200,000+ readers: please follow TravelSort on Twitter or  like us on Facebook to be alerted to new posts. 
Become a TravelSort Client and Book 5-Star Hotels with Virtuoso or Four Seasons Preferred Partner Benefits!