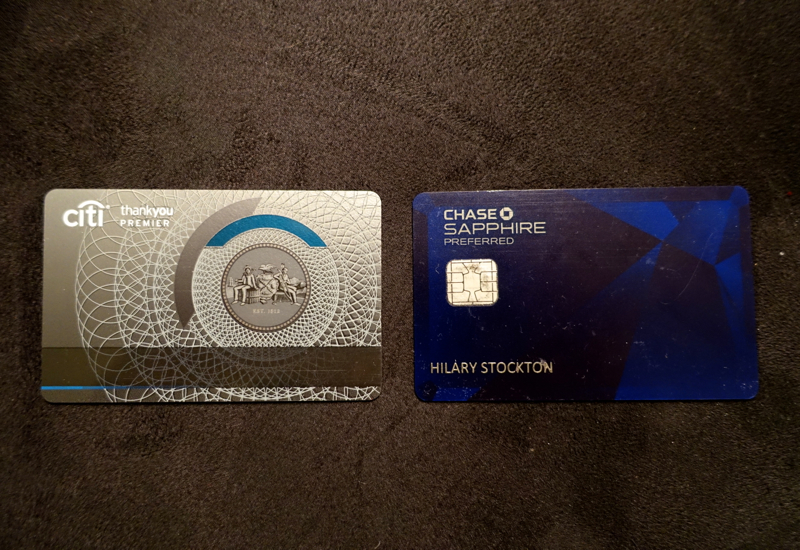 Update: Note that Chase now only permits one Sapphire card bonus of any type per 24 months.
If you get the Chase Sapphire Reserve should you downgrade your Sapphire Preferred and other credit cards? After being approved for the Chase Sapphire Reserve, I'm going through my existing cards and deciding whether to keep them, downgrade them to a no annual fee card, or cancel them altogether. Here's my thinking so far:
Chase Sapphire Preferred: Downgrade to Chase Freedom or Chase Freedom Unlimited
Chase Sapphire Preferred vs. Chase Sapphire Reserve
The Chase Sapphire Reserve is effectively $150 per year, since it provides a $300 per year statement credit for travel purchases; the Sapphire Preferred is $95 per year, so you're only paying $55 more for the Chase Sapphire Reserve. And for that extra $55 per year, you earn 3X on all travel and dining vs. 2X with the Chase Sapphire Preferred.
I value Chase Ultimate Rewards points at a minimum of 2 cents per point, which means that if you spend at least $2500 per year in the travel and dining categories, earning 3X for a total of 7500 Ultimate Rewards points, worth $150 at a valuation of 2 cents per point, you easily recoup the $150 fee. And that doesn't take into account the card's other benefits which everyone values differently, from Priority Pass Select lounge access to enhanced travel insurance, such as trip cancellation and interruption coverage up to $10,000 and trip delay reimbursement up to $500 per ticket for travel delays over 6 hours or unplanned overnight stays.
For me, the 3X for travel and better benefits of the Chase Sapphire Reserve mean that I plan to use it and my existing Ink Plus for virtually all business expenses going forward, and will downgrade my existing Chase Sapphire Preferred to either a second Chase Freedom with rotating 5X categories (since I already have a Chase Freedom) or a Chase Freedom Unlimited that earns 1.5X on all spend. Currently I'm leaning towards the former, since even with maxing out both my husband's and my Chase Freedom cards for the 5X grocery bonus, we've almost exhausted our Trader Joe's gift cards. It would be great to have $4500 of Trader Joe's gift cards at 5X to cover groceries and wine for the year, since wine is a much better deal at Trader Joe's in NYC than at our local wine stores. We'll also likely increase the restaurant gift cards we buy when restaurants is a 5X category; after all, 5X for dining is better than the 3X of the Sapphire Reserve, even though this only works for U.S. restaurants in the case of the Freedom, due to the foreign exchange fees. All international dining will go on the Sapphire Reserve.
Then for other completely unbonused spend, I'll continue to use my SPG AMEX, since I need to earn some more Starpoints anyway to top up our Miles & More account for a future Lufthansa First Class award.
Citi Prestige: Keep for 6 Months for 7X on Travel, Then Cancel
As I mentioned in Citi Prestige Retention Offers and Tips, I received an offer of 4 additional ThankYou points per dollar spent, total of 7X on all travel, for 6 months, up to a maximum of an additional 35,000 ThankYou points. This rewards up to $8750 in travel spend, so I'll initially be maximizing this offer when it comes to travel, before cancelling the card in 2017 (after of course taking advantage of the $250 airfare credit for 2017).
Citi ThankYou Premier: Cancel
The main thing the Citi ThankYou Premier had going for it was its 3X on all travel. Since I'll now get that with the Chase Sapphire Reserve and consider Ultimate Rewards points more valuable than Citi ThankYou points, there's no reason to keep the Citi ThankYou Premier. I don't spend enough on entertainment, which the card bonuses at 2X, to justify the $95 annual fee.
If you've gotten the Chase Sapphire Reserve, do you plan to downgrade or cancel any of your other cards?
Related Posts
How to Get Approved for the 100K Chase Sapphire Reserve If Over 5/24
How to Check If You're Under Chase 5/24 to Qualify for the New Sapphire Reserve
Best Ways to Use 100K Ultimate Rewards Points?
100K Chase Sapphire Reserve Card Launched August 21, 2016
How to Become a TravelSort Client
Need Award Booking Help? Our fee is as low as $75 per ticket if you book your hotel through us.
If you enjoyed this, join 200,000+ readers: please follow TravelSort on Twitter or  like us on Facebook to be alerted to new posts. 
Become a TravelSort Client and Book 5-Star Hotels with Virtuoso or Four Seasons Preferred Partner Benefits!