Receive 2x points for ALL dining and travel spend
We liked the Chase Sapphire Preferred Card as one of the
Best Cards for Sign-Up Bonuses
, with its 50,000 bonus points after $3000 spend within the first 3 months (some even got a bump to 100,000, although that deal is dead now). It has a $95 fee, but the fee is waived the first year, so there was really nothing to lose.
We like it even better now that it's offering 2 points per $1 spent on dining–so all you foodies out there (or if you simply hate cooking and eat out a lot) this is your card! Especially if you're a jetsetting foodie, since another card benefit is no foreign transaction fee.
Update: The Chase Sapphire Preferred offers 2 points per $1 spent on ALL travel (flights, hotels, taxis, trains, etc.) not just those booked through its Ultimate Rewards portal.
The Chase Sapphire Preferred Card is also offering 2 points per $1 spent for hotels and flights booked via its Ultimate Rewards portal, so there is the potential for 2 points for flights and hotels as well. Caveat on the hotels though: they only seem to be searchable and bookable in conjunction with a flight search and booking, so if you're only looking to book a hotel or you need to book an all-inclusive hotel you should call an Ultimate Rewards travel agent at 1-866-951-6592.
Here are the detailed Terms and Conditions of Earning these points, with the relevant sections on dining and flights and hotels booked via Ultimate Rewards highlighted: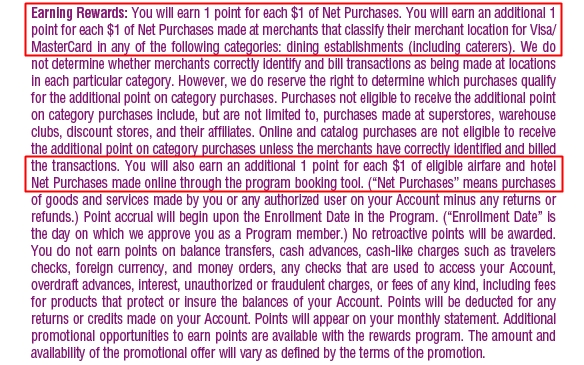 So, while it may be more hassle than it's worth trying to get double points for flight and hotel bookings, since only Ultimate Rewards bookings are eligible, the 2 points per $1 dining spend is a no-brainer and will prompt us to dust off the Chase Sapphire after collecting the bonus.