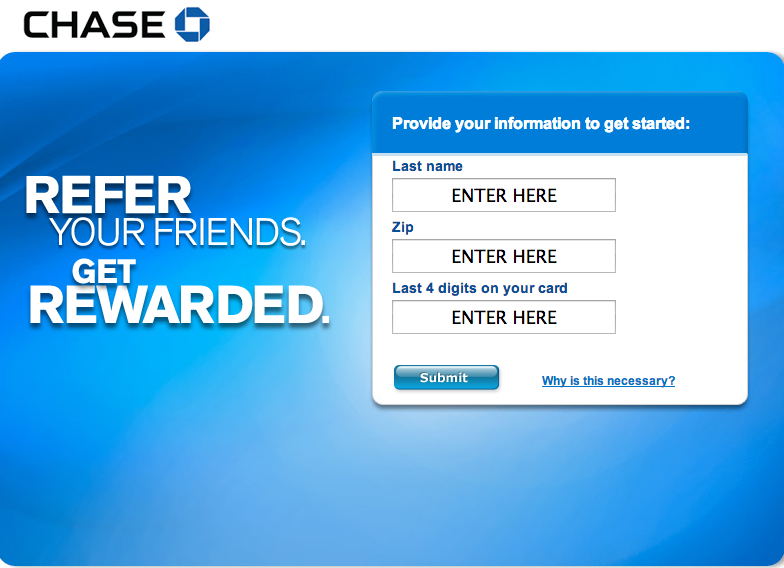 Chase Refer a Friend for the Sapphire Preferred and Freedom credit cards can earn you up to 50,000 points per card and is now open to more users than it was last year. For example, last year, neither I nor my husband were eligible to refer friends to our Freedom cards. Now we are.
The Chase Freedom only offers a 10,000 signup bonus, but I do recommend having the Chase Freedom for three main reasons:
It's a no annual fee card, so you can keep it forever, and it can help increase your average age of accounts which can help improve your credit score
The rotating 5X categories are a great benefit for a no annual fee card. Even if there are only one or two quarters that you max out the bonus, that adds 7500-15,000 points to your account (maximum of $1500 spend per quarter is bonused). It's no secret I think the 2014 Chase Freedom 5X bonuses are disappointing, but this quarter, Q2, my husband and I are definitely maxing out our 5X bonuses by buying gift certificates to our favorite NYC restaurants: 5X for all dining via the Chase Freedom all year round!
By having either the Sapphire Preferred or an Ink Bold or Ink Plus card linked to Ultimate Rewards, you can transfer those Chase Freedom points to your Sapphire Preferred or Ink Bold account, and transfer out to airline partners. After the United Award Chart Devaluation, I find that the best value is transferring to KrisFlyer, now that Singapore KrisFlyer is a Chase Ultimate Rewards Transfer Partner. Korean SkyPass can be another decent bet, especially when needing more than one first class award seat to Asia.
Update: I no longer have a referral for the Chase Freedom, so check with family and friends that have the card and are eligible for the Refer a Friend bonus, so that you can help them earn a bonus for referring you.
Chase Sapphire Preferred and Chase Freedom Referral Program Details
Receive 5000 bonus Ultimate Rewards points for each friend referred by the Refer a Friend Link by 6/30/14 who is approved and makes first use of the card by 9/30/14
Maximum bonus for successfully referring 10 friends is 50,000 Ultimate Rewards points (per card; so 100,000 points total possible if you successfully refer 10 friends for the Sapphire Preferred, and also 10 friends for the Chase Freedom)
Invite as many friends as you wish by June 20, 2014; but note the maximum 50,000 bonus points total per card, for 10 successfully approved friends who also use the card by 9/30/14
You must personally have the card you're seeking to refer friends to. For example, you cannot have the Chase Sapphire Preferred and refer a friend to the Chase Freedom, if you don't have the Chase Freedom yourself.
Invited friends must apply via your link (in the email, Facebook or Twitter message) in order for you to get credit for the approval. If your friend applies any other way other than your link, you won't get credit.
Please allow 6-8 weeks after a new cardmember's first use of the card for bonus points to post to your account
If a referred friend already has a Chase Sapphire Preferred or Freedom card or the email address is in AMEX's email opt-out database, no email will be sent
Chase Employees are not eligible to refer friends for this promotional offer
Here's the Chase Refer a Friend Page for the Chase Freedom card: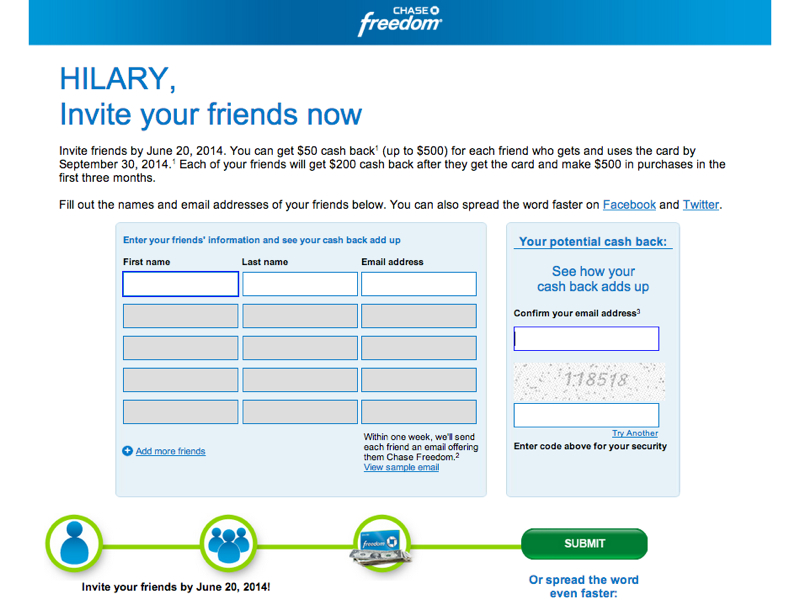 Do you plan to take advantage of the Chase Refer a Friend bonuses? Or would you like me to refer you to the Chase Freedom card?
Related Posts