Currrent best offer is Ink Bold – 50,000 points after $5000 spend in 3 months
One of the lesser known benefits of the Chase Ink Bold Card is membership in Lounge Club (part of Priority Pass) and 2 complimentary member visits each year. Now, many of you may either be flying mostly in business or first class or have elite status, and so already receive airport lounge access for the airline you're flying. On leisure trips though, especially if doing some short hops on low cost carriers in Europe or Asia, or the odd domestic coach flight on an airline you don't have status with, lounge access can come in quite handy.
A few pointers:
You do have to register online and provide credit card info in order to receive your Lounge Club card
After your 2 complimentary visits in a year, additional visits are charged at $27 per person
Search for Lounge Club Lounges. Note that as with Priority Pass, none of the United Lounges are accessible (access ended September 30, 2011). If you have the United MileagePlus Explorer card, you can get a couple lounge passes to United Club lounges each year. See our post United MileagePlus Explorer: 65,000 Bonus Miles for the current best offer. You can view lounge opening hours, amenities, such as showers, WiFi, etc.) There's also an app you can download.
Lounge benefits vary; for a few lounges, such as the JFK lounges, an immediate family member and sometimes a child is admitted free of charge. At most lounges, however, only the member and a child 2 or under is free, and additional family members or guests are $27 each
Admission to the lounges is only with the Lounge Club card; you cannot show your Ink Bold card to be admitted, else you'd be charged the normal day pass rates
Here's how to register:
Enter the invitation code you received in your Chase Benefits brochure "Welcome to Ink Bold"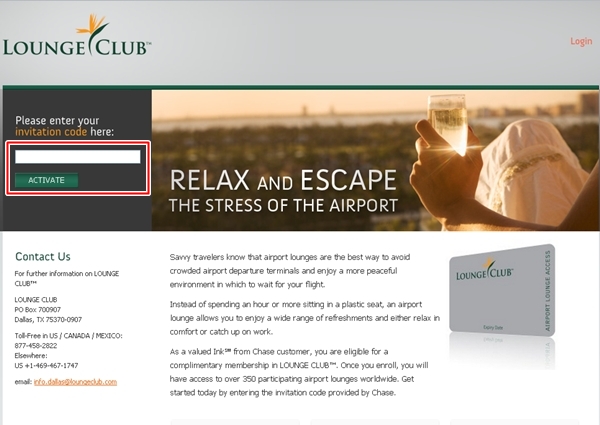 2. Click on "Enroll"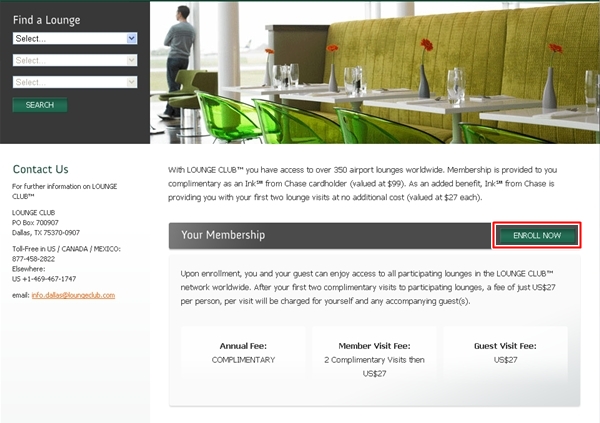 3. Fill in the requested information
Note that you'll have to provide credit card information. This is so that you can be automatically billed for any additional lounge visits over and above your complimentary visits.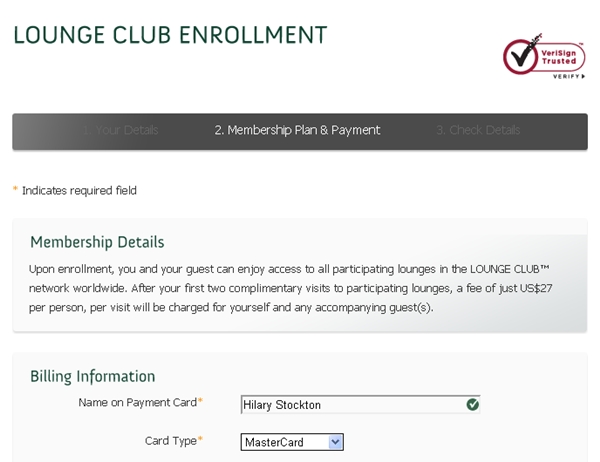 4. View your confirmation and wait for your Lounge Club card to be sent
You'll immediately see an online confirmation with your Lounge Club number, but you still need to wait for your physical Lounge Club card to arrive in the mail. They warn you that your member number or printout of the confirmation page will *not* suffice for lounge access. So if you think you may use this benefit, register now so that you have the card ready to take with you.