The Chase Freedom Rewards 5X bonus categories for 3rd Quarter are gas stations and restaurants, so this is a quick reminder to activate them if you haven't yet done so. Simply go to Chase Freedom: Activate 5% Cash Back and provide your last name, the last four digits of your card, and your zip code to activate your Q3 5X bonus.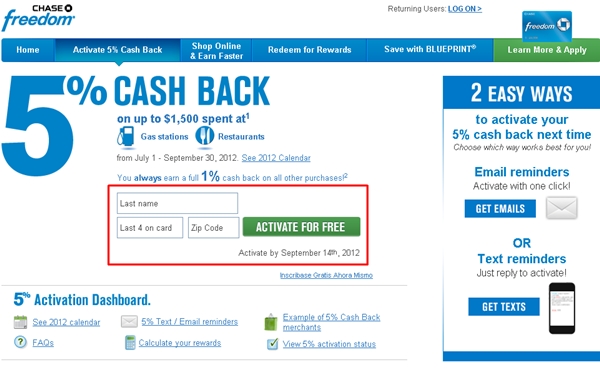 A few tips on Chase Freedom bonuses, and 3rd Quarter eligible bonus categories:
Eligible spend dates: July 1-September 30, 2012
You'll earn 5X points (or 5% cash back) on up to $1500 spend.
All auto gas stations qualify, but if truck fuel stations, boat marinas, oil and propane distributors and home heating companies and the like are NOT eligible for the 5X bonus
All fine dining, fast food and everything in between qualifies for the dining bonus, but restaurants located *inside* a larger merchant, such as Department store cafes/cafeterias, sports stadiums etc. aren't eligible. This means I won't be able to get Whole Food Grocery Store meal purchases to count, whereas for 2nd Quarter, these counted as grocery. Can't have it both ways though, so just be aware that only stand alone dining venues count.
If you don't already have the Chase Freedom, I highly recommend you get it, even with the currently lower 10,000 point bonus. Here's why:
Max out the 5X bonus categories to easily pick up 28,000 Ultimate Rewards points per year, in addition to other bonus points. The bonus categories are useful ones: Amazon, grocery stores, gas, restaurants, airlines, hotels
No annual fee: so you can keep it and use it to help improve your credit score, since a higher average age of credit accounts helps your score
Pair it with a Chase checking account so you can take advantage of Chase Exclusives bonuses: an extra 10% bonus on all your base points, and an extra 10 points per transaction. This really adds up, if you have a number of small transactions! There are usually bonuses for opening Chase checking accounts; in the past there have been $200 bonuses, but currently the best one I could find with a quick search is a $150 bonus that expires 7/15/12 You could try purchasing a code for a $200 bonus off of eBay, but be careful if you go that route–there are some scammers there. Check out our comparison chart for common purchases of the Chase Freedom vs. Sapphire Preferred vs. Ink Bold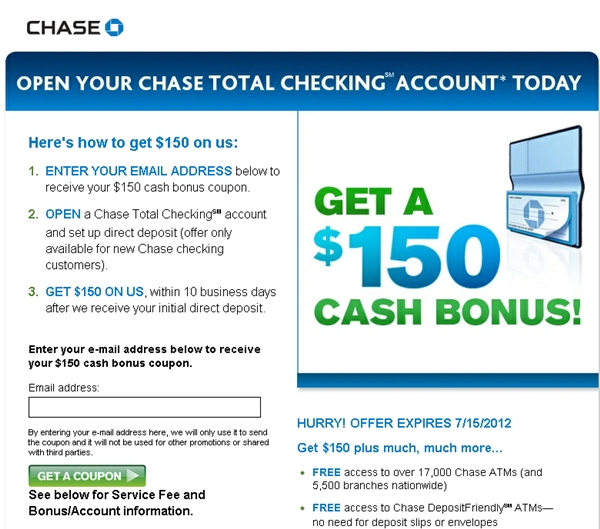 While I live in Manhattan and don't drive, so gas is a useless bonus category for me, I'm definitely looking forward to the automatic 5X points for ALL restaurant and cafe dining. And if you either live in New York City or will be visiting NYC, I have some restaurant recommendations for you, culled from years of NYC dining out and our restaurant reviews:
Fine Dining: Eleven Madison Park
This remains my favorite special occasion restaurant in New York City–with Daniel Humm at the helm in the kitchen and Will Guidara managing the business side of the restaurant, it's a must-try at least once, although my husband and I tend to go every year for our anniversary. I recommend opting for a lavish lunch (which is also a bit less expensive) and including the honey lavender duck, which can be requested as one of your courses for the 4-course menu. See Eleven Madison Park: NYC Restaurant Review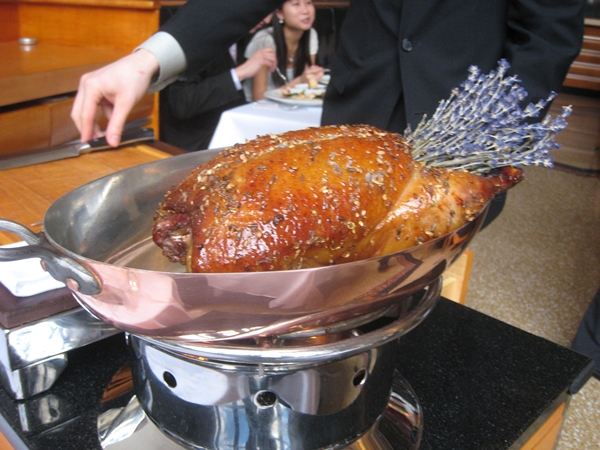 Brunch: Five Points or Traif
My entire family loves brunch, and we've had many, many brunches around NYC. Our favorites are Five Points, for their wood fired oven egg dishes, mac and cheese and churros with hot chocolate, and Traif, in Williamsburg (Brooklyn) for its bacon-wrapped blue cheese-stuffed dates and oven baked pancake. Traif doesn't accept brunch reservations, but Five Points does (and you should plan in advance, they do book up), so you could pick up some Open Table points if you reserve Five Points. See Where to Go for the Best Brunches in New York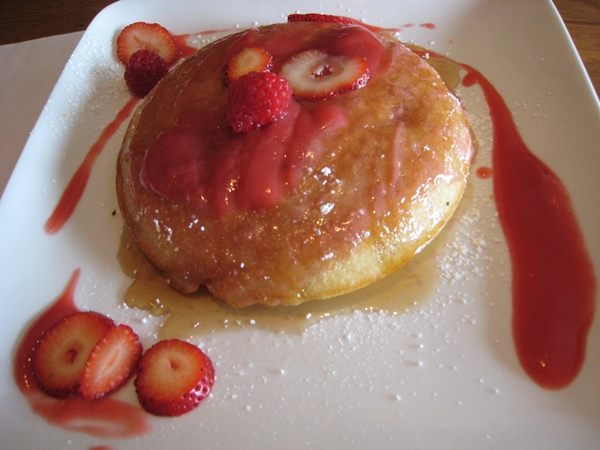 Delivery: Peking Duck from Wa Jeal
Our go-to Chinese delivery place is Wa Jeal, mainly for their Peking Duck, even though it's a Cantonese dish and Wa Jeal's main specialties are Sichuan. We also like their baby eggplant in chili garlic sauce and Sichuan pork dumplings. Their chicken with 100 chilis was good but actually too hot even for us! So you know it's authentic 🙂 The nice thing, too, is that you can request most any of the dishes to be made with no msg, no cornstarch, and to come with either brown or white rice.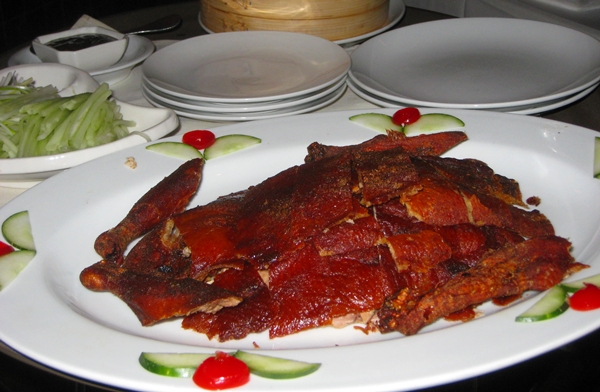 Gelato: Grom
No question, if we're in the mood for high quality gelato or have visiting friends that love ice cream, we go to Grom. Our favorite flavors are the Ciccolato Extra Noir (*very* dark chocolate, with chocolate bits); Pistachio; Crema di Grom (similar to egg custard, but with crumbled semolina cookies and chocolate shavings mixed in); and Raspberry Sorbet.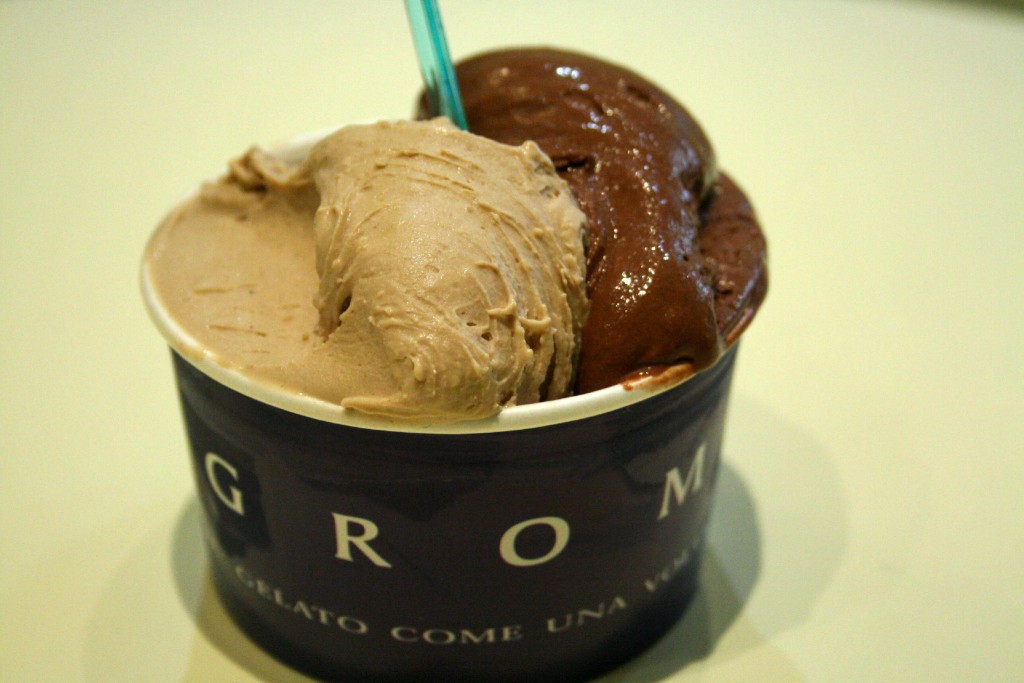 Best Virtual Visit to Russia: Mari Vanna
Mari Vanna is pricey, so forget Brighton Beach prices if you come here, but it serves arguably the best Russian food in Manhattan and is perfect for an adventurous date. Try one of the housemade infused vodkas, chased with the complimentary bread and radishes, and follow that up with the stars of the menu: borscht, beef stroganoff, Georgian khachapuri, and perhaps some blini for dessert. There's also a Sunday all you can eat brunch–nothing like some hearty Russian food to cure a hangover! See Mari Vanna NYC Restaurant Review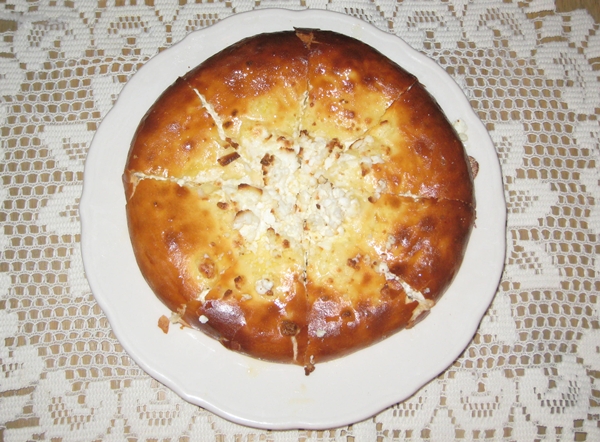 Related posts
Chase Exclusives Bonuses: Maximize Chase Freedom Ultimate Rewards Points
Chase Blueprint Review: Manage Chase Freedom 5X Rewards Bonuses
Which Travel Credit Card is Best if You Use Only Only One Card?
Need Award Booking Help? Our fee is as low as $75 per ticket if you book your hotel through us.
If you enjoyed this, join 100,000+ readers: please follow TravelSort on Twitter or like us on Facebook to be alerted to new posts.
Become a TravelSort Client and Book Your Hotel with Virtuoso or Four Seasons Preferred VIP Amenities!