Welcome to the third in our Chase Freedom / Trader Joe's series of maximizing Chase Ultimate Rewards points using the Chase Freedom card and Chase Exclusives while eating well for less. Here are the intro links:
Chase Freedom Rewards 5x Grocery Bonus Sunday Brunch: Tex Mex
Chase Freedom Rewards 5x Grocery Bonus Sunday Supper: Greek
Chase Exclusives Bonuses: Maximize Chase Freedom Ultimate Rewards
We're now up to $550 in spend via 10 transactions. With Chase Exclusives, that equates to:
550 base points
2200 bonus points (4x, on top of 1x base)
55 as 10% bonus on 550 base
100 for 10 bonus points for each of 10 transactions
2905 Total
Today's brunch, again using mostly ingredients from my favorite grocery store, Trader Joe's, is one of my family's favorites: Ricotta Pancakes Sure, you can sometimes find ricotta pancakes on menus, but they're not all that common, even in NYC. Our favorites to date were probably those at Five Points (one of our recommendations for brunch in Romantic Getaway to New York City) but you generally need to make brunch reservations well in advance. And while we did love the tiny taste we had of lemon ricotta pancakes at Locanda Verde, our then 2-year old managed to scarf down the 3 tiny pancakes by himself, apart from the two bites my husband and I snuck. For $17 plus tax and tip, that's a pretty pricey child's breakfast. So let me suggest you make enough for 3 hungry eaters with our version, which uses all of $7 for the prorated cost of ingredients:
Cost: ~$7 for 3 people (prorated for amount of ingredients used)
UR Points: 46 points for brunch; but see our total UR points above for total earned to date on grocery spend of $550
Preparation time: 20 minutes
Trader Joe's Shopping List, Ricotta Pancakes
Fresh Ricotta
Cage free eggs
Milk
Bourbon vanilla extract
All Purpose or White Whole Wheat Flour
Organic Apricot Jam (or your favorite flavor)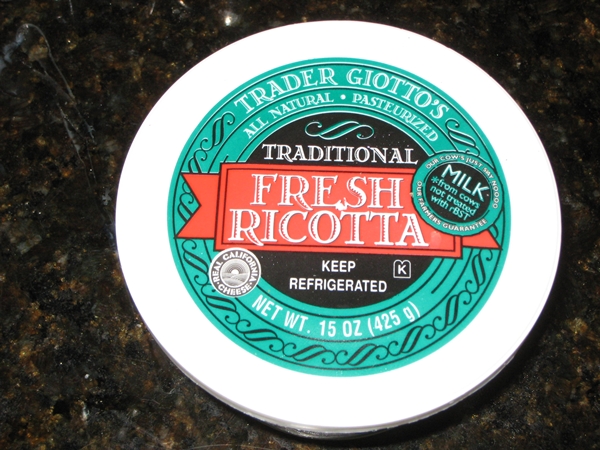 Ricotta Pancakes (Makes about 12 pancakes)
Preheat griddle to medium.
Separate 5 eggs, being careful not to let any of the yolk fall into the bowl containing the egg whites.
Use a hand mixer to beat egg whites at high speed. While mixing, add 2 Tablespoons of sugar. Beat until egg whites stand in stiff peaks.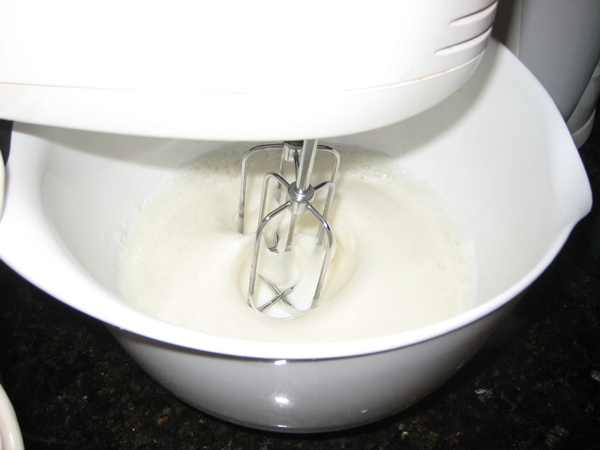 In bowl containing the 5 yolks, add entire 15 oz. container of Trader Joe's ricotta, 1/4 teaspoon salt and 1 teaspoon of vanilla (option: instead of vanilla, you could use a microplane to add Meyer lemon zest)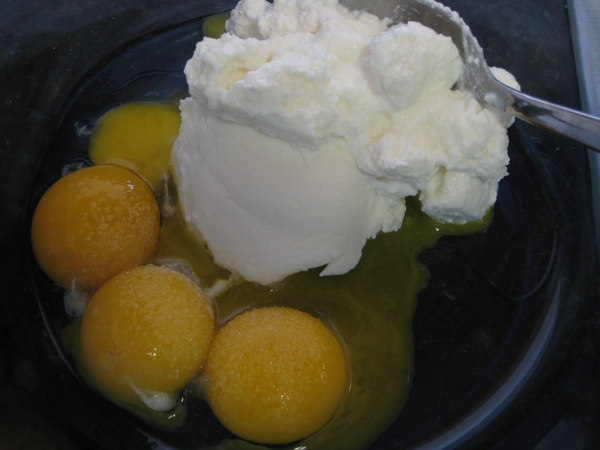 Add 1 1/2 cups whole milk to ricotta, yolk and vanilla mixtures and mix gently.
Mix together 1 1/2 cup flour and 1 teaspoon baking powder, and add to ricotta mixture, mixing until just combined–do not overmix.
Fold about 1/3 of stiff egg whites into batter to lighten, then fold in remaining egg whites. Batter should be very light and foamy.
Lightly brush organic butter in the spots where you'll cook the pancakes, and ladle about 1/3 cup of batter to form each pancake.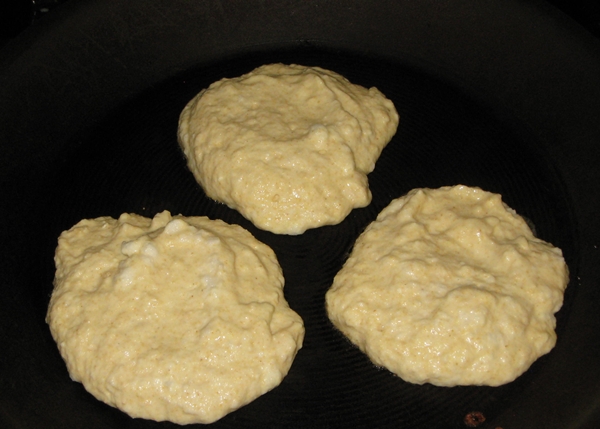 Cook for about 2 minutes, then flip, so that both sides are golden brown. These pancakes are very delicate and do take longer to cook per side than regular ones.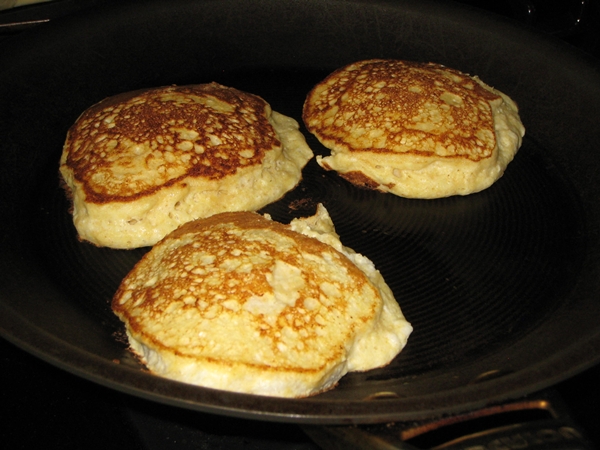 Spread your favorite jam on top (our favorites are Trader Joe's Organic Apricot jam and d'arbo Marasque Sour Cherry) and serve.