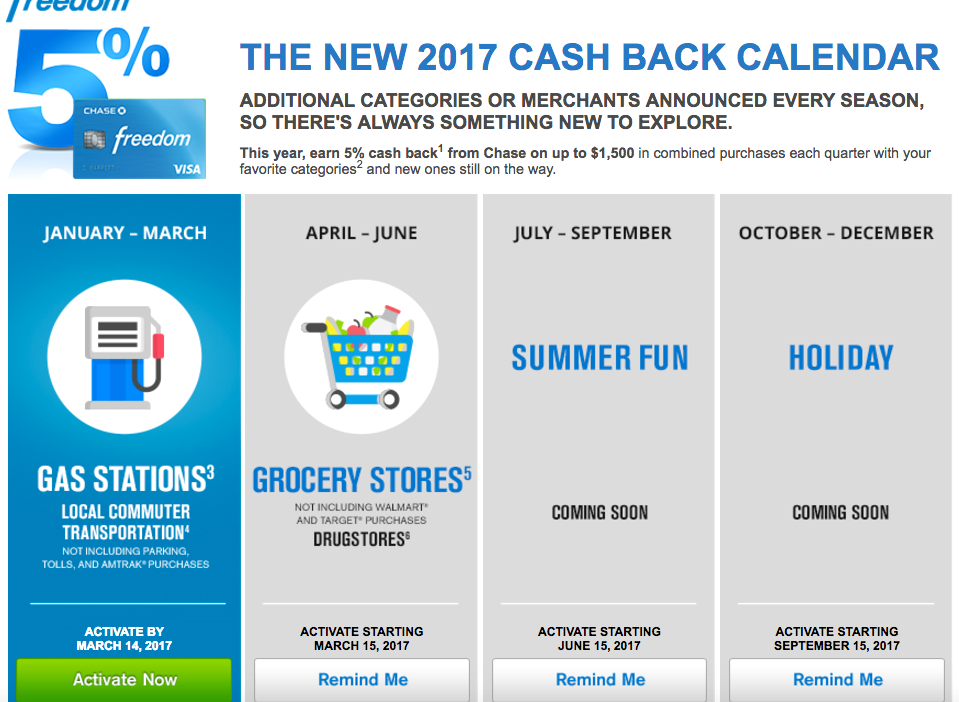 The Chase Freedom 2017 5X Categories are now available for Q1 and Q2, and you can activate your Q1 2017 5X categories now. Here's the Chase Freedom 2017 5X Calendar so far, also pictured above:
Q1 2017
Gas Stations
Local Commuter Transportation
Q2 2017
Grocery Stores
Drugstores
FAQ
What Does the Local Commuter Transportation Category Include?
Per the Chase Freedom 5X terms, this includes regional operators of local commuter passenger trains, subways, metro, buses, taxis (including Uber, Lyft) and ferries.
Note that not all transportation providers are included. For example, national trains such as Amtrak, airport shuttles and car services, parking garages, tolls, bridges, airlines, hotels, car rental agencies and the like are NOT included in this 5X category.
What Does the Grocery Store Category Include?
The grocery store category includes stand alone grocery stores, such as Trader Joe's, Whole Foods, Safeway, A&P, Fairway Market, Albertsons, Kroger, Vons and similar.
Keep in mind that Walmart, Target, and discount and warehouse club stores are excluded and will NOT earn 5X points.
Will Gift Card Purchases at Gas Stations, Drugstores and Grocery Stores Count?
I'm not Chase, but in the past, gift cards purchases have counted, and are a great way of maxing out the 5X category to earn 7500 Ultimate Rewards points per Chase Freedom 5X card, while giving yourself time to later spend down the gift card.
If you're NYC-based, as I am, it also enable you to get 5X on wine at Trader Joe's wine store. Not directly (since the wine store does NOT count as grocery) but indirectly, by buying Trader Joe's gift cards from the grocery store, and using them at the wine store.
How Do I Transfer Chase Freedom Points to Ultimate Rewards Travel Partners?
If I Have Multiple Chase Freedom 5X Cards, Can I Receive the 5X Bonus on $1500 for Each of Them Per Quarter?
Yes; the $1500 limit per quarter is per Chase Freedom card, across all 5X categories. So if you have two cards, you can earn 5X on the first $1500 for each of them ($3000 total) in that quarter's 5X categories, for a total of 15,000 Ultimate Rewards points.
Related Posts