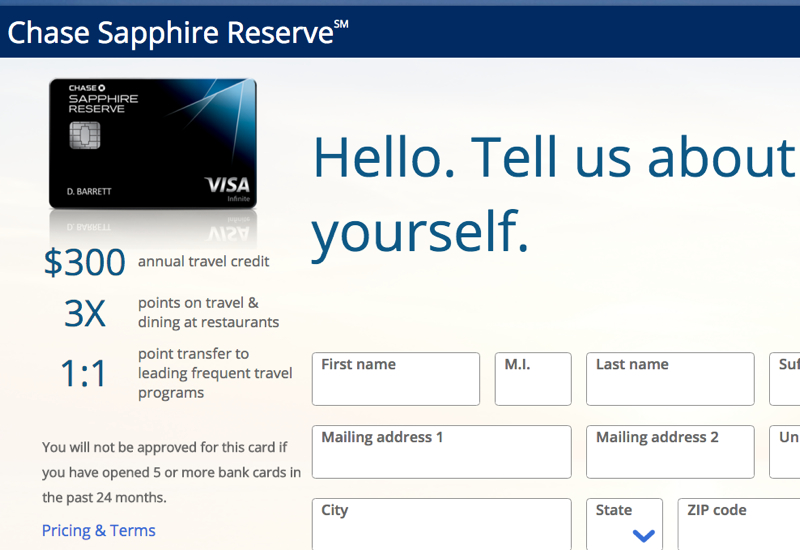 Update: The 5/24 language has been removed, but it still applies.
A Chase 5/24 warning is on the Chase Sapphire Reserve application, eliminating any doubt about whether Chase 5/24 applies to online applications, per Reddit. The Chase Sapphire Reserve application page now says "You will not be approved for this card if you have opened 5 or more bank cards in the past 24 months."
Fortunately, there are several exceptions and ways around this rule:
1. Many Business Credit Cards Do Not Count Towards Chase 5/24 as they are not reported to the personal credit bureaus. Specifically, AMEX, Bank of America, Citi and U.S. Bank do NOT report openings of new business credit cards to the personal credit bureaus. Note that Capital One DOES report business credit cards to the personal credit bureaus–just another reason not to waste hard pulls on any Capital One cards.
Note that while Chase also does not report new openings of business credit cards to personal credit bureaus, it does of course have a record of these card openings and these could count towards 5/24, although there's at least one account of an applicant who was 5/24 because of an Ink Plus yet was still approved online for a Chase Sapphire Reserve. Note, however, that 5/24 does apply if you're trying to get approved for an Ink Plus–many have been rejected for being over 5/24 when applying.
2. Store Cards and Authorized User Accounts Can Be Removed During Reconsideration
While being added as an authorized user or opening a store credit card does count against 5/24 when applying online such that your application will go to pending, most applicants have been able to get these removed during a Chase reconsideration call.
3. Pre-Approval in a Chase Branch
As I mentioned in How to Get Approved for the 100K Chase Sapphire Reserve If Over 5/24, if you're preapproved for the card, an in-branch application can get around 5/24.
4. Targeted Mailer
If you receive a targeted offer from Chase for a credit card that would normally be subject to 5/24, you should be able to be approved even if you're over 5/24.
5. Chase Private Client
While being a Chase Private Client doesn't guarantee you approval for any given card, it does increase your chance of being approved for a card, even if you're over 5/24. Your CPC banker can help with reconsideration, even if you're not approved automatically.
While Chase 5/24 isn't popular, I am glad that the rule is actually explicitly mentioned now on the application page. Not everyone follows travel credit card news and blogs or is willing to persistently call reconsideration, and this will hopefully prevent some people from unnecessarily wasting a hard credit pull on a card they wouldn't be approved for, at least not automatically.
Related Posts
Chase Sapphire Reserve: Downgrade the Sapphire Preferred and Other Cards?
How to Get Approved for the 100K Chase Sapphire Reserve If Over 5/24
How to Check If You're Under Chase 5/24 to Qualify for the New Sapphire Reserve
Best Ways to Use 100K Ultimate Rewards Points?
100K Chase Sapphire Reserve Card Launched August 21, 2016
Need Award Booking Help? Our fee is as low as $75 per ticket if you book your hotel through us.
If you enjoyed this, join 200,000+ readers: please follow TravelSort on Twitter or  like us on Facebook to be alerted to new posts. 
Become a TravelSort Client and Book 5-Star Hotels with Virtuoso or Four Seasons Preferred Partner Benefits!