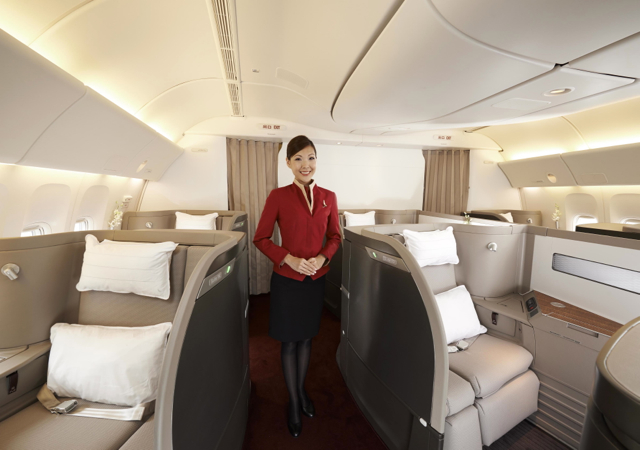 Cathay Pacific's seat assignment rules have changed in a couple important ways. While this isn't brand new, several Award Booking clients and readers have asked about it, so here are the new seat assignment changes and what it could mean for your next Cathay Pacific first class or business class flight.
All Cathay Pacific Seat Assignments May Be Made 1 Year in Advance
This is the good news. Previously, it was only possible to reserve seats 180 days in advance, so at least now you can select seats at the time you make your booking, rather than having to wait and potentially forget to select them 180 days out.
Note that Cathay Pacific first class and business class award seats can always be assigned in advance. For economy class, you'd need to be on a paid ticket in one of these fare classes: W, R, E, Y, B, H, K, L, M, V.
Cathay Pacific First Class Seats 2A and 2K Cannot Be Assigned in Advance, Unless You Have a Medical Reason
Ok, now for the bad news, concerning Cathay Pacific First Class. Previously, even though seats 2A and 2K were always blocked online, it was possible to call Cathay Pacific and request these seats, with the understanding that you could be moved from the seat if another passenger needed that seat.
Well, unfortunately, due to some passengers complaining in the few cases where they were moved from either 2A or 2K in order to accommodate another first class passenger who needed the seat, the policy has now changed: is is now impossible to book 2A and 2K in advance unless you are a passenger with a medical need.
Specifically, these are the two reasons you would be able to book 2A or 2K in advance:
You're traveling with a baby, and need a bassinet
You are in a wheelchair
If either of the above applies to you, don't forget to make arrangements at least 72 hours in advance. Here's the First Class seat map, showing the 6 first class seats, including 2A and 2K which offer bassinets if needed:

When do seats 2A and 2K open up, if they are not needed for a first class passenger in a wheelchair or traveling with an infant? It's possible (although not guaranteed) that you'll be able to select them 48 hours in advance of the flight via online check-in. But if not, then you'll need to request it at the airport, up to 4 hours in advance of the flight.
Another tip: If it appears that 1A and 1K are also blocked, when you go to Cathay Pacific's Manage Booking page, call Cathay Pacific at 800-233-2742 as 1A and 1K often are blocked in the online system, but can be assigned if you call.
What do you think of Cathay Pacific's new seat assignment rules?
Related Posts