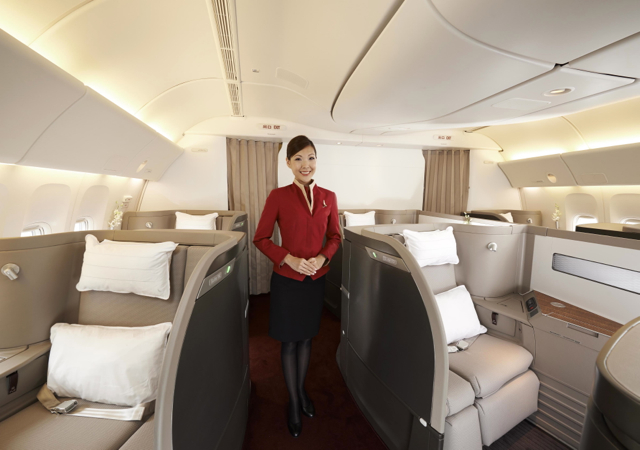 Cathay Pacific's New First Class is now available on the first Boeing 777-300ER, and per Cathay's press release, new First Class will be installed on all aircraft except the 747-400 by Q3 2014.
Cathay Pacific First Class remains my favorite first class product in terms of getting a great night's sleep, thanks to the very wide, comfortably padded seats, and also is a favorite when traveling with my son, since the seat is wide enough for us to sit side by side to read a book together. So what has changed?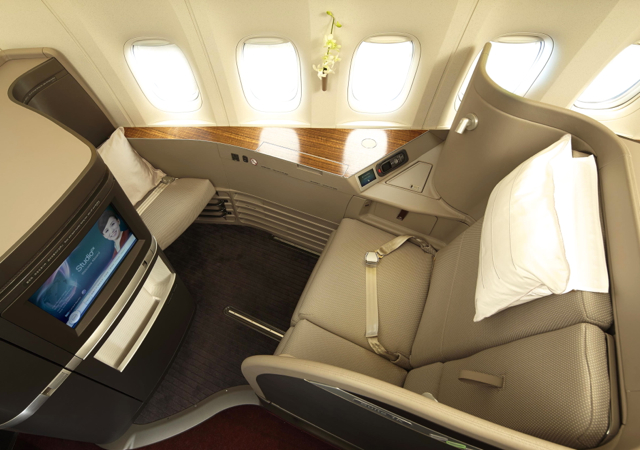 Cathay New First Class Features
Neutral color scheme: beige and brown
Leather wrapped suite interior
Custom fabric for seats
Thicker mattress
500 thread count cotton duvets, pillows and mattress
New 100% organic cotton pajamas by PYE (Hong Kong brand) will replace Shanghai Tang
More room in the personal storage closet and personal console
LCD touch screen controller for seat controls
New reading lights with wider angle: fewer shadows cast
More adjustable meal table, cup holder
It looks nice, but also more generic to me–a similar color scheme to Lufthansa's New First Class, although I definitely prefer the Cathay First Class product with only 6 seats in first class and greater privacy, compared to 8 in Lufthansa's new first class.
I'm probably most excited by the bedding improvements. I already found Cathay First Class very comfortable, but an even thicker mattress and softer sheets can only make it even better.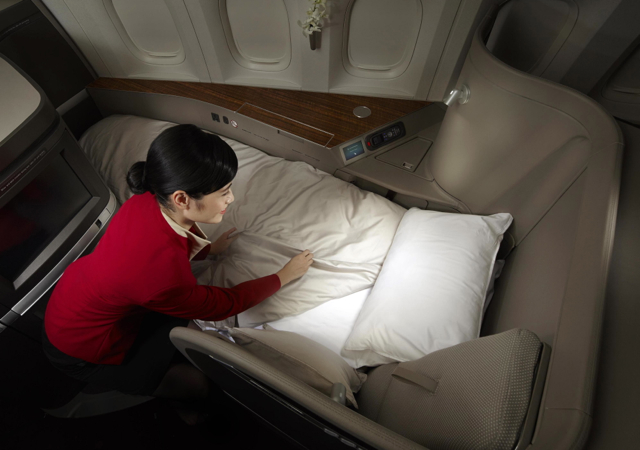 And while, if you're a Shanghai Tang fan, you may want to start hoarding those Cathay Pacific First Class pajamas before they are replaced, I'm also happy to see that Cathay Pacific is the first (as far as I'm aware) to introduce organic cotton pajamas. Cotton is one of the most toxic crops due to all the pesticides used, so you ideally really should wear organic cotton (or cotton that's been washed a ton of times and is no longer so toxic) next to the skin.
I was intrigued to read "…hand-crafted sculptural artworks have been installed. These individual artworks, made of copper and steel and created by Maria Lobo and Linda Leviton, have been individually etched and painted by hand, with a harmonious colour palette." I haven't been able to locate them, however, in the photos, so perhaps they weren't installed in time for these photos (or are very tiny!)
FAQ
How Many Planes Have the New First Class?
As of today, July 26, 2013, just one 777-300ER is fitted with Cathay's new first class. Others in the fleet (except for the 747-400s) will be refitted with the new first class by 3Q 2014.
How Do I Know If I'll Be in the New First Class?
Currently just one of Cathay's 777-300ER aircraft has the new first class, and it hasn't been assigned a set route. You can see where the plane has recently been here, which can help you figure out if you have a good chance of having it. I hope Cathay will consider making a new first class flight tracker, similar to Lufthansa.
Have There Been Any Changes Announced to Dining and Menus?
No, none are mentioned in the press release. My experience, as someone who grew up eating quite a bit of good Chinese food, is that Cathay's Western dishes are a better bet–particularly its caviar with Balik salmon appetizer, but even many of the Western main dishes tend to be better than their Chinese counterparts, at least if you appreciate really excellent Chinese cuisine. Still, cuisine is not really Cathay's strong suit–the seat/bed and consistently kind and polite service in Cathay First Class are why I love it.
What Are the Best Miles to Use to Fly Cathay Pacific First Class?
American Airlines AAdvantage or Alaska Mileage Plan miles are best, but note that the award booking calendar opens 331 days out, later than if you have Cathay Pacific Asia miles or British Airways Avios. Need help booking your award? Hire our
Award Booking Service
–just $75 per ticket when booking $1000 or more in hotels with us.
What are your thoughts on Cathay's new first class?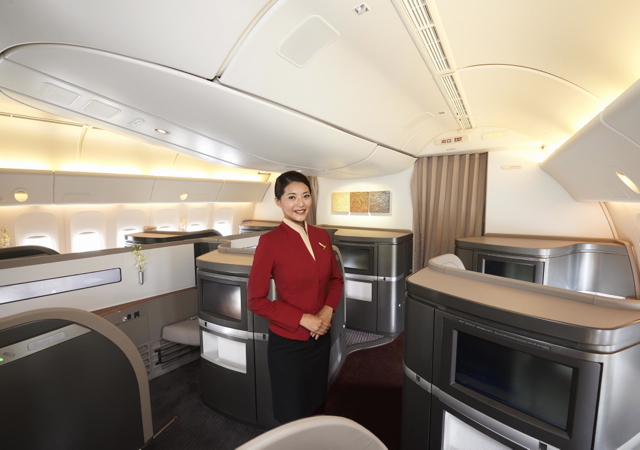 Related Posts