Cathay Pacific uses the British Airways Galleries Lounge at JFK Terminal 7 in NYC, so that's where the munchkin and I began our spring break travel just yesterday, as I mentioned in our Travel Light with Kids Tips. For some reason we weren't able to check-in online to print boarding passes, so we checked in at the first and business class check-in before proceeding through security. I was surprised at the 20 minute or so wait for security, but fortunately (for once) I'd left plenty of time, so I wasn't worried time-wise. I was pleased that it was just the regular metal detector, and not one of the body scanners. It's also nice that kids can now keep their shoes on when they go through–a little less hassle, which is always welcome for any parent traveling with kids.
I didn't find the British Airways Galleries Lounge to be terribly well signed after getting through security, but ought to have remembered where it was anyway, since I'd visited just 7 months ago when flying Cathay Pacific Business Class NYC JFK to Hong Kong.
I provided my lounge invitation (kids don't get their own) and we headed in. The munchkin pretty quickly spied the kids' room, which he had entirely to himself since there were no other kids his age in the lounge at the time. He enjoyed trying each of the manipulatives, before heading over to the books and picking out some old favorites, including "Good Night Moon."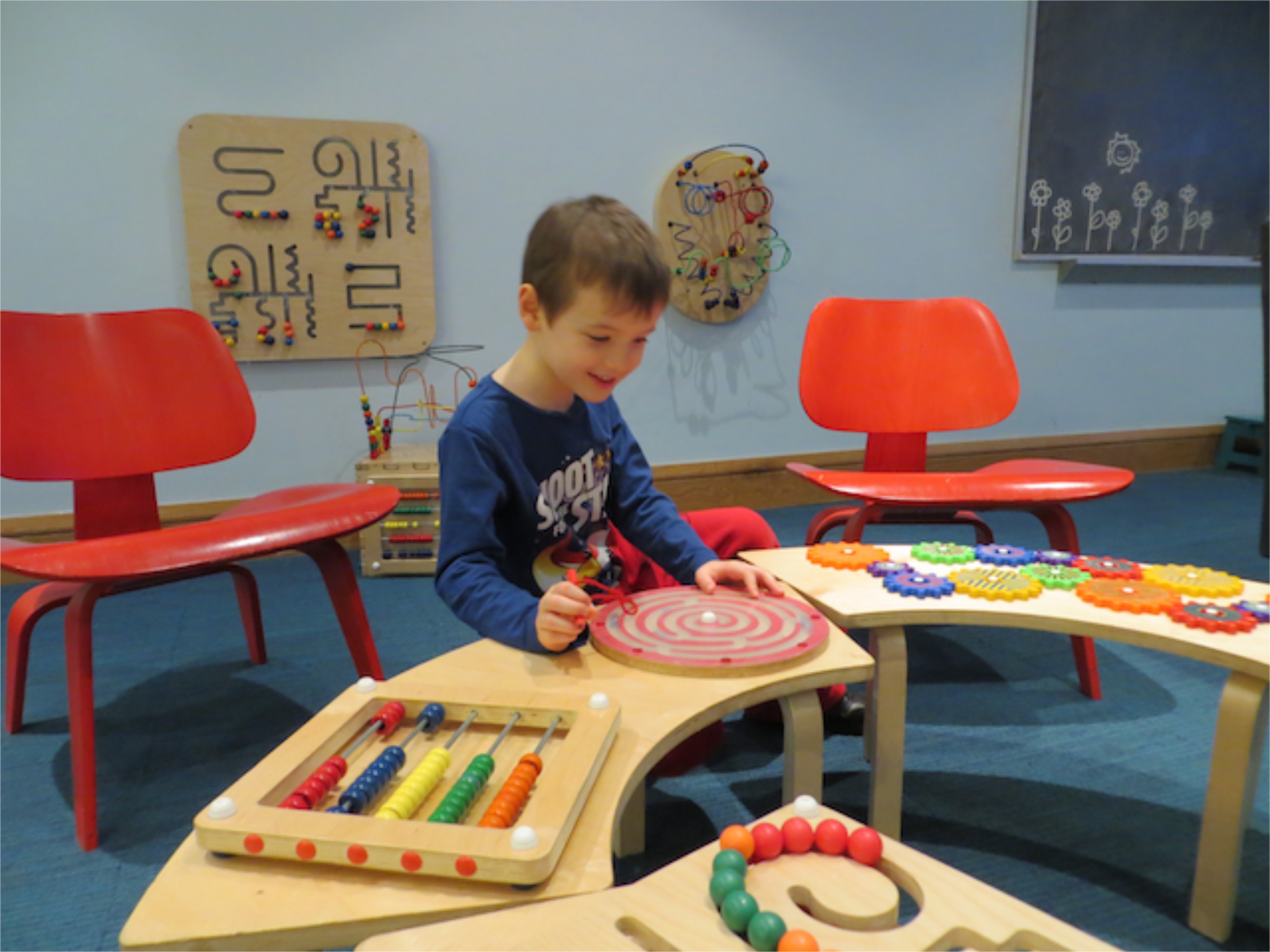 Meanwhile, I took a quick look around. The cafe area looked much the same, with sandwiches, oranges, apples, cookies, what appeared to be hummus, tomatoes, and in the refrigerated case, various drinks, yogurts (Danone) and cheese. Pretty basic and not that appealing, but better at least than what you typically find in the United Club or most other domestic lounges.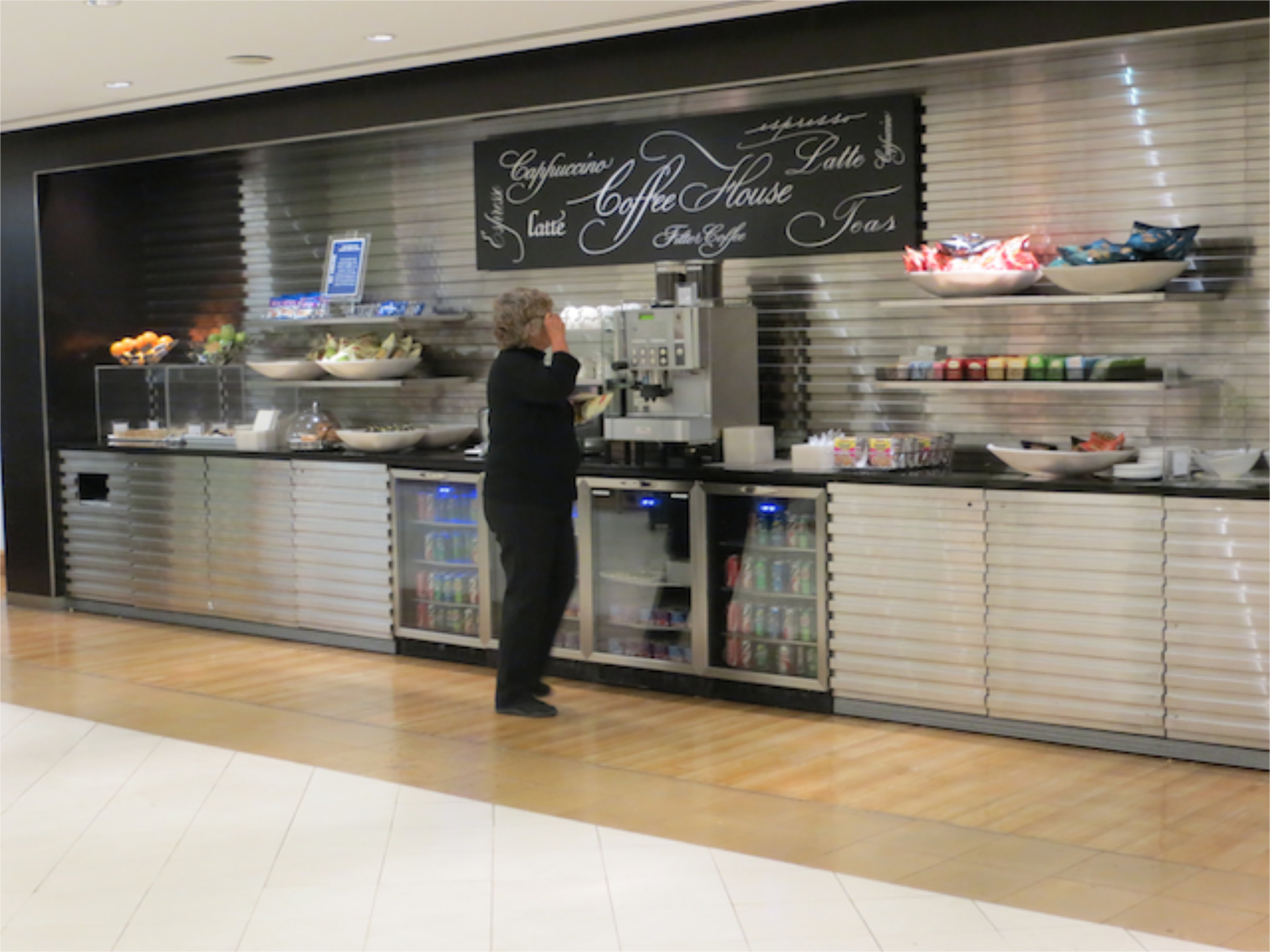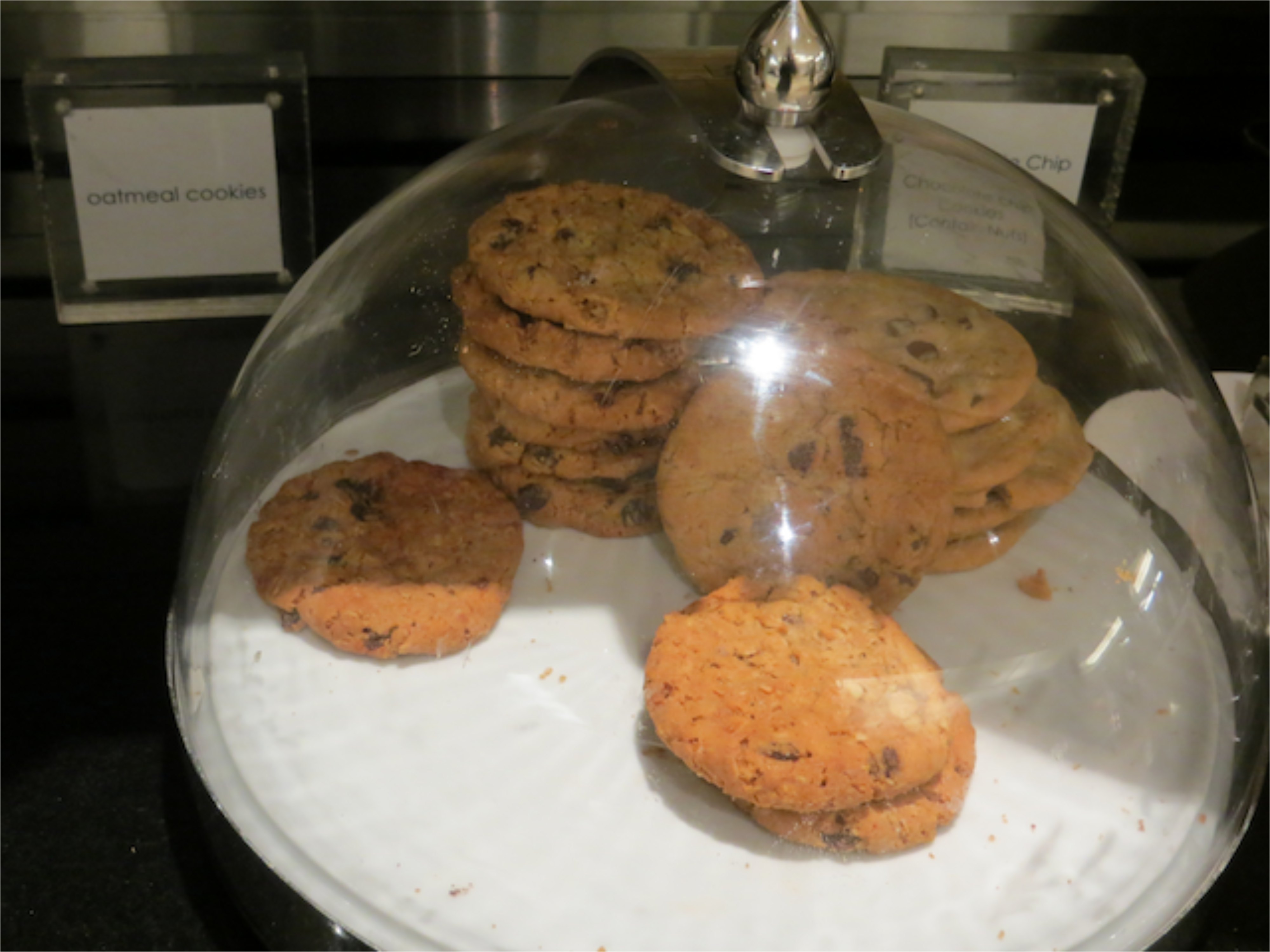 There's a bar area with a variety of wines and liquors: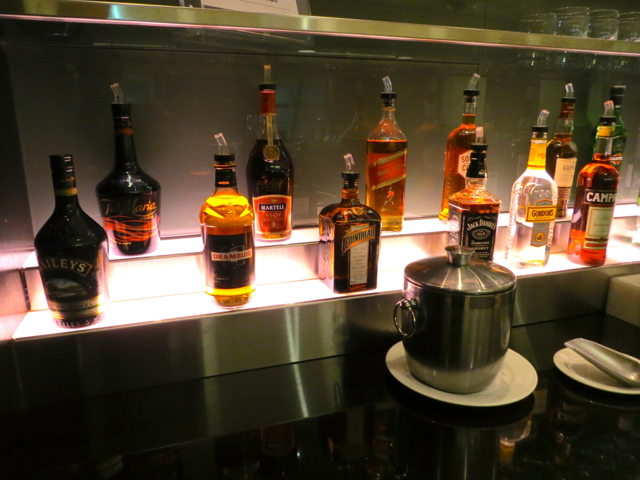 There's ample seating, and a fountain: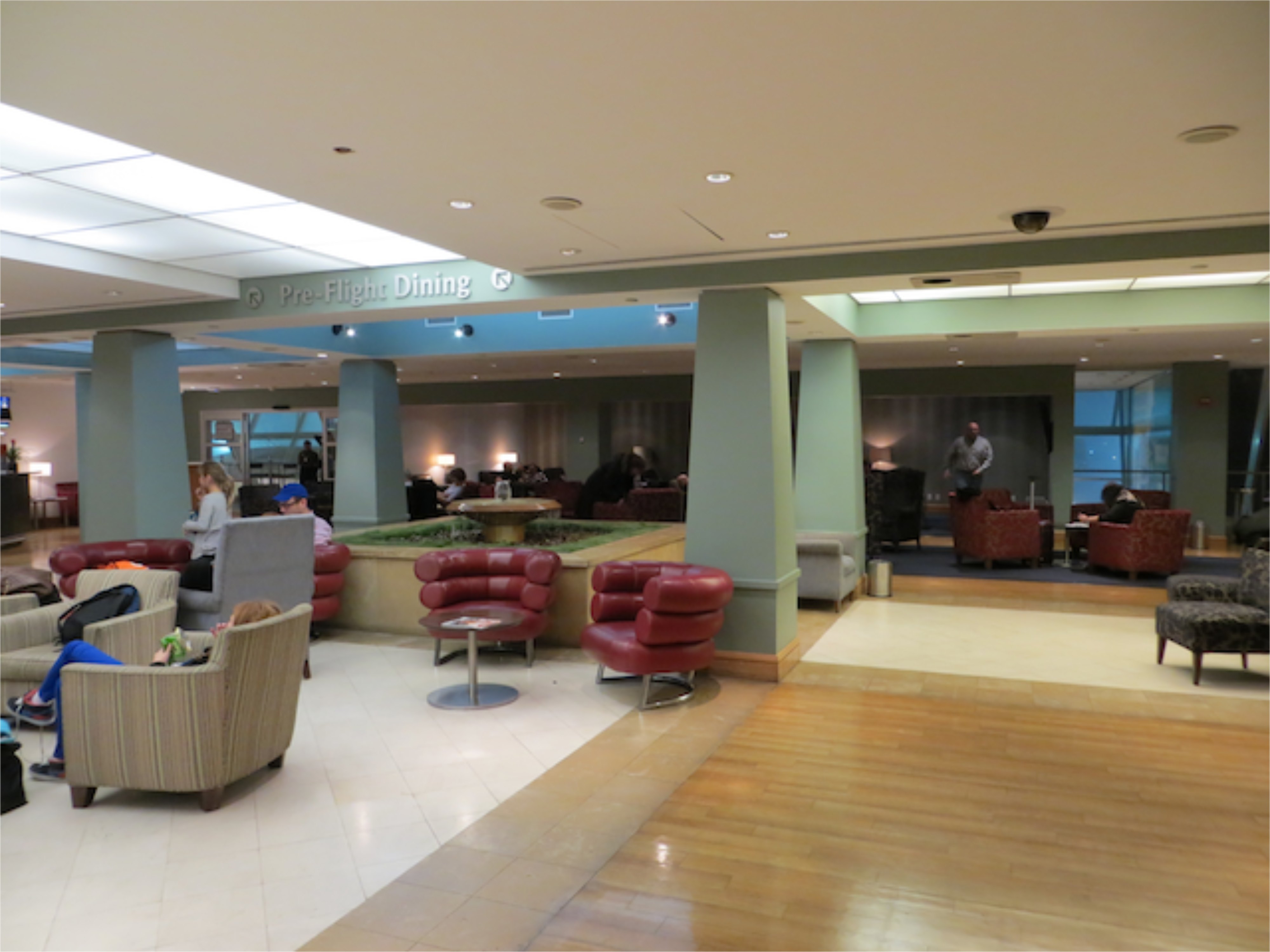 Since we were in Cathay First Class, we also had access to the Pre-Flight Dining, even though we didn't partake. Here's the menu: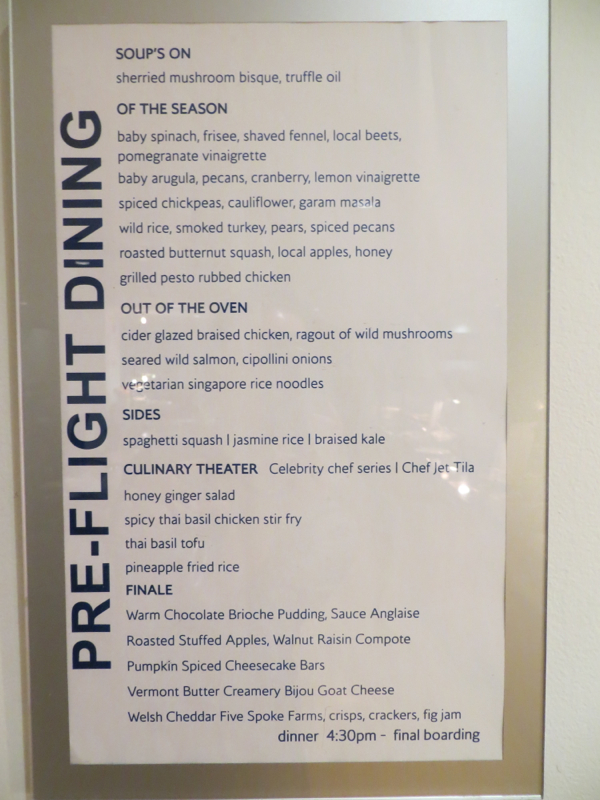 Some salads: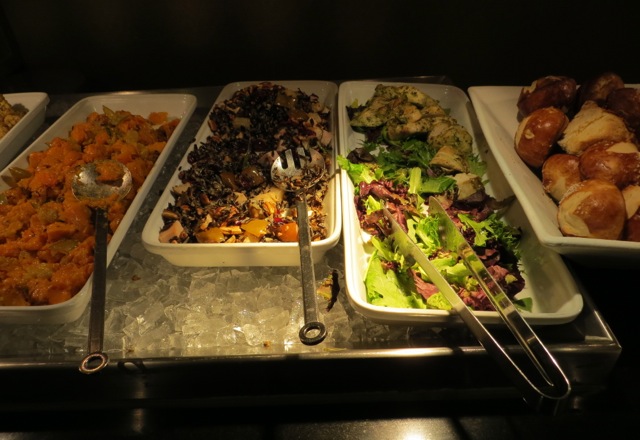 A couple of the main dishes: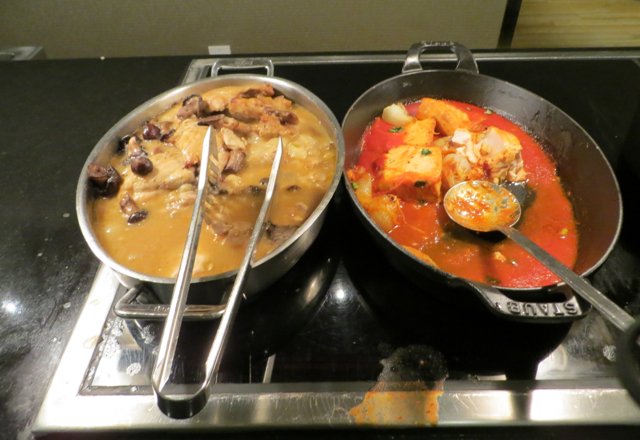 They were winding down service as I snapped these, so they may have looked a bit fresher earlier, but while there was certainly quite a bit of variety, none of it looked that great compared to what you'd expect to be served in first class. That said, it certainly is a nice option to have when you're hungry now and want to be able to maximize sleep on board the flight. To the chef's credit, when I mentioned I was just having a look in case my son was hungry and was wondering which foods didn't have the item he's allergic to, the chef very generously offered to make something special for him. Totally not necessary since there were quite a few things he could have eaten, but great initiative and much appreciated.
There's also an Elemis Spa, but note that treatments are reserved for British Airways First Class passengers; they aren't available to other passengers.
Overall, my impression from the last time remains: the British Airways Galleries Lounge is decent for killing up to an hour or so before your flight, but I wouldn't go out of my way to spend time here the way I might for, say, the Lufthansa First Class Lounge in Munich.
If you've visited the British Airways Galleries Lounge, what was your experience?
Stay tuned for our newest Cathay Pacific First Class Review in the next post!
Related Posts
Review of British Airways Galleries Lounge at JFK Airport
Review of Cathay Pacific Business Class 777-300ER NYC JFK to Hong Kong
Cathay Pacific First Class NYC JFK to Hong Kong with a Kid
Review: Lufthansa First Class Lounge in Munich
Need Award Booking Help? Our fee is as low as $75 per ticket if you book your hotel through us.
If you enjoyed this, please follow TravelSort on Twitter or like us on Facebook to be alerted to new posts.
Become a Member to find your perfect luxury or boutique hotel at up to 50% off: TravelSort Hotels